From fishing vessels to megayachts, Gulf Craft keeps seafarers afloat in style. Deputy Managing Director, Abeer AlShaali dives into the waters of a business born from passion that has grown to become a leviathan on the global stage of elite boatbuilding.
A NEW WAVE OF SEAFARING
There's something instinctual within our nature that draws us to the sea and being out on the water. For me, boatbuilding lies somewhere between science and magic."
Whether for trade, fishing, or the pioneering pursuit of curiosity into unchartered territories, mankind has always been drawn to the sea.
Throughout history, we have continually navigated the vast bodies of saltwater that encompass 71 percent of our planet's surface. In bygone millennia, the ancient civilisations of Egypt, Greece, and Phoenicia became famed for their craft with the advent of seafaring vessels. From rudimentary rafts hewn from logs, to domineering war and merchant ships, maritime history calls on a rich and varied legacy of boatbuilding.
Fast forward through the centuries, and reeds, wood and animal pelts have been replaced with fibreglass, aluminium and steel. In an age where the superyacht has become a signifier of status and celebrity, luxury leisure boating has exploded into a multi-billion-dollar industry.
Nevertheless, from the age of antiquity to modern day, the same undeniable magnetism of the ocean and the romance of seafaring endures.
It is an impulse that beats strongly within Abeer AlShaali, Deputy Managing Director of Gulf Craft – a leading manufacturer of superyachts and one of the top seven superyacht builders in the world.
"I have always been fascinated by boatbuilding – that you can take an idea, draw it, build it, and see it come to life," she continues.
This is precisely what Gulf Craft has excelled at for decades, with 2022 commemorating the company's 40th anniversary. This manufacturing milestone celebrates Gulf Craft's prestigious history in designing, building, and shipping boats across global waters through a vast distribution network from its base in the UAE.
"We are made in the UAE, and we are very proud of that, but we don't think of ourselves as an Asian builder or as a Middle East and North Africa (MENA) region builder. We are a boat builder for boat enthusiasts, and that's international," says AlShaali.
"We speak boat, and we have a passion for it."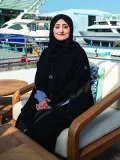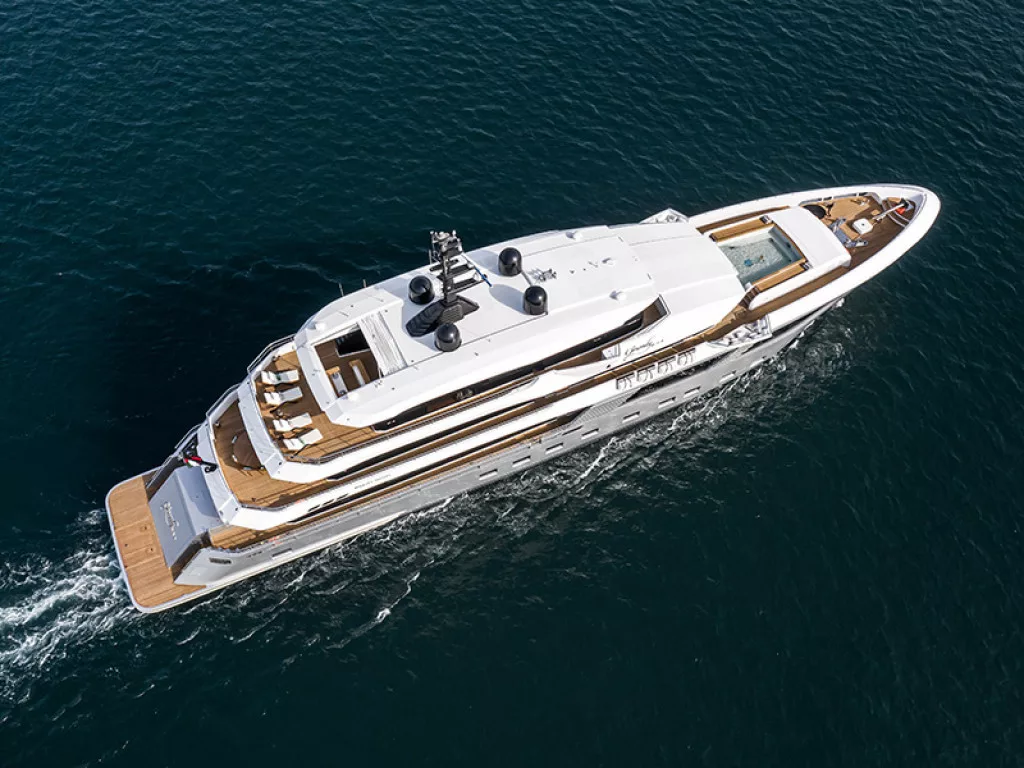 THE PURSUIT OF A PASSION
Gulf Craft was born in 1982 as the brainchild of its current chairman and AlShaali's father, Mohammed Alshaali – an entrepreneurial businessman and professional diplomat with an aptitude for identifying a gap in the market.
"It basically began with my father, his partner and his brothers looking at the cost of shipping boats into the UAE," explains AlShaali.
"He came from a strong background in boating, his grandfather and father both worked as captains, and everyone in his family had gone out to sea. It was a passion that they all shared," she recalls. "They began to study the size of the market, its potential, and shortly after the company was established."
Together, Gulf Craft's founding members sought to change a nascent market whose development was hampered by prohibitive shipping costs, a significantly underdeveloped marine infrastructure and a virtually non-existent skilled labour force. Regardless, an undeterred passion for the sea kept the idea afloat.
Navigating the choppy waters of a budding maritime environment, Gulf Craft began bringing the boating industry to UAE waters with the production of fishing boats. Although a far cry from the superyachts that have become synonymous with the Gulf Craft name today, such fishing vessels remain a key staple of the company's portfolio.
"We are not only superyacht focused – that's a key thing for Gulf Craft. We are interested in boats across the range regardless of size," affirms AlShaali.
Indeed, the company's diverse product range is a unique market differentiator in building all the way from 32 ft vessels to 175 ft, produced entirely in-house and under one corporate identity. Alongside the company's commercial line, Gulf Craft builds Majesty and Nomad yachts and superyachts, Oryx sport cruisers, and SilverCraft leisure family fishing vessels.
Complementing this expansive range are the unparalleled in-house capabilities which AlShaali credits as another standout attribute for Gulf Craft in producing these floating masterpieces.
"The company is more like five factories in one because we do our own joinery, upholstery, metalworks, carpentry and more – all of it is done in-house."
Although the challenging nature of the market conditions at the time of inception may have initially hampered the company, it was this lack of infrastructure that forced Gulf Craft's hand in developing its own expertise in-house, culminating in a vertically integrated operation that today represents one of its greatest advantages.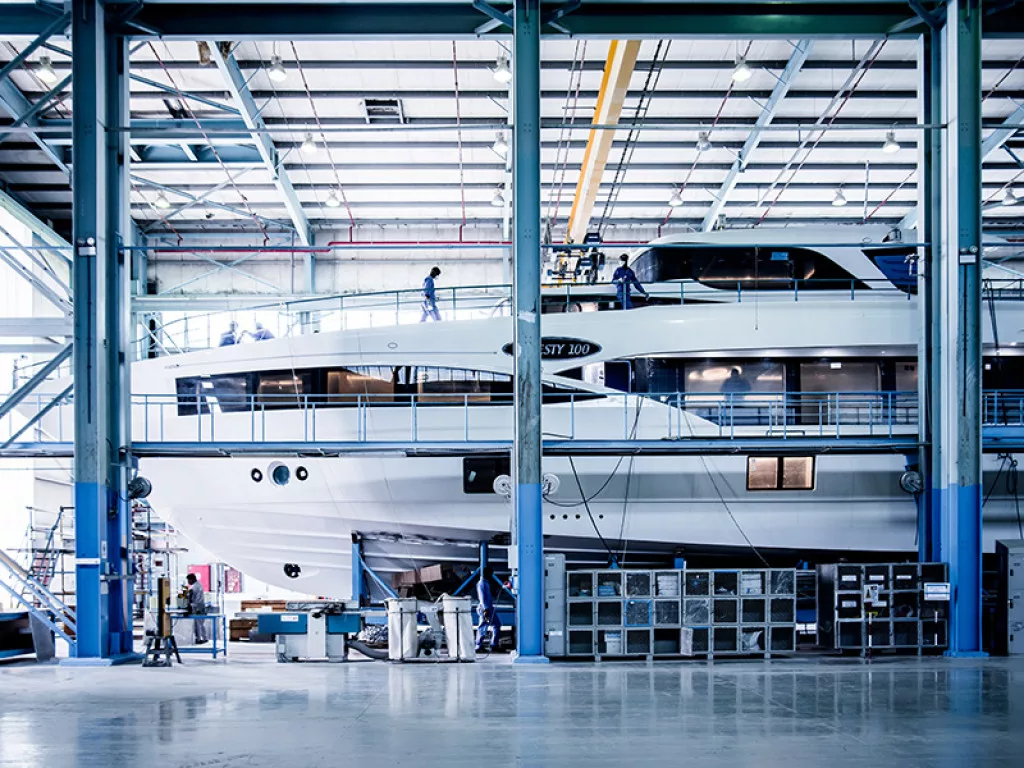 KEEPING IT IN THE FAMILY
Since AlShaali was invited by her father to take on a role at Gulf Craft, she has continued to echo the zeal and passion that is the company's bedrock, while also introducing her own vision with a particular emphasis on developing a local supply chain and enhancing opportunities for training and development.
"I never even think of it as a career – I grew up around boatbuilding with the factory constantly in the background. I always had an affinity for it," she says.
"The idea behind me joining was to carry forward my father's vision and legacy, to help to continue delivering on our quality and growth, while also bringing in international standards and cleaning up some of the processes and habits that had been formed over the years."
Although to a lesser extent than in 1982, Gulf Craft still confronts the weaknesses of UAE's manufacturing base. As such, AlShaali today leverages the Gulf Craft name to champion a strong focus on developing the Emirate's marine prowess.
"Being in an environment that doesn't have a strong manufacturing infrastructure, it's something that we are constantly working on," she says.
"Going forward, I would like to grow our supplier base locally, so that as we continue to grow, we bring up the people around us. My father is extremely supportive of this."
To be able to source niche products, such as marine-certified glass and pantograph doors from within the UAE, would be a major advantage for both the company, and the industry across the region.
This holistic vision also opens windows for building the future of the industry, training and educating the next generation of boatbuilders and manufacturers.
"For me also, it's a great opportunity to work with universities and schools to provide internships to students. I like to get very involved personally with that side of the business," AlShaali adds.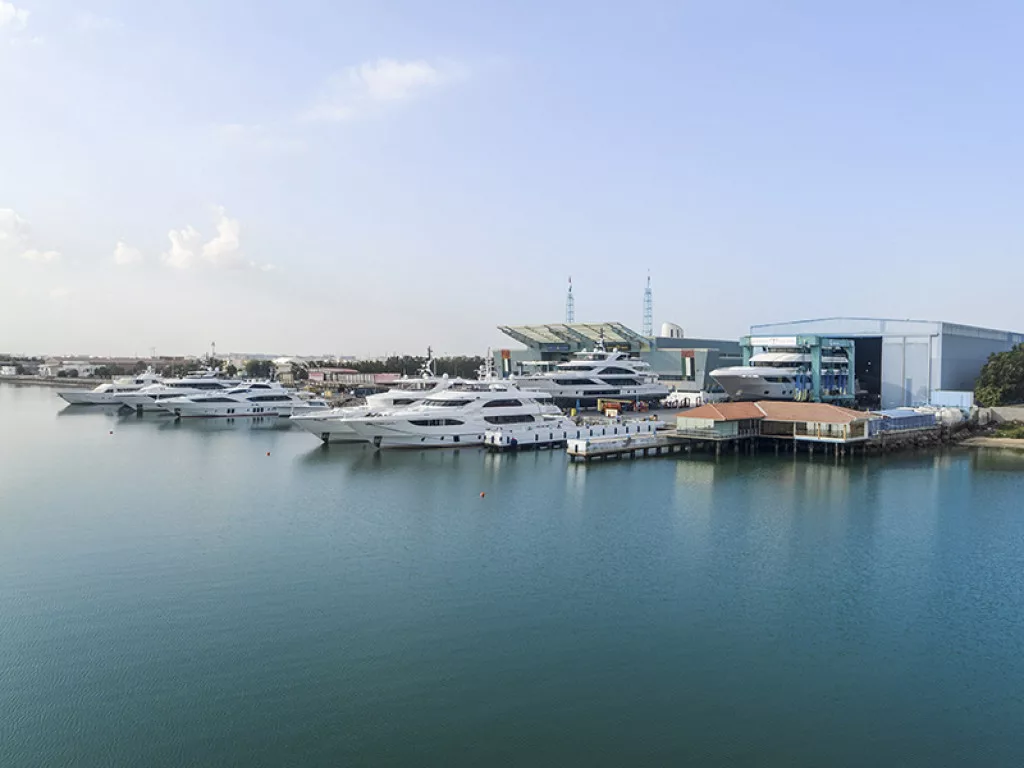 BEYOND BOATBUILDING
Although its products are arguably the greatest symbol of the Gulf Craft name, the company in its entirety comprises a broad network of different departments and expertise that work in synergy to keep the cogs of this well-oiled machine turning.
This entails internal production processes, such as concept, design and engineering, which have enabled Gulf Craft to build and develop its own brands, compared to other players in the market.
"What differentiates us is that we have not purchased brands – these are our brands that we have developed ourselves," states AlShaali.
Although the company may occasionally collaborate with external international firms for certain design elements depending on the project – as AlShaali says, "everything is a cooperation" – this in-house expertise remains a huge strength.
"We have had design firms say that they find it easier to work with us because we have that perspective and those design skills in-house. When they're talking to us, they're talking to the boatbuilder, to the guys who are going to understand the design, and that's been a great advantage."
This extends beyond the production process to client-facing departments including sales and marketing which fulfil a critical role in streamlining relationship management through one point of contact handling the customer's access to the diverse portfolio of products that Gulf Craft offers.
"We have the same clients who will buy a superyacht and a family fishing vessel from us. They choose to do that with Gulf Craft because they know we can offer that variety while being handled by just one relationship manager," she explains.
"We speak boat, and we have a passion for it"

Abeer AlShaali, Deputy Managing Director, Gulf Craft
CHANGING TIDES
As Gulf Craft moves forward into a period of extensive growth, investment is being made across the board within all these various segments – from recruitment, to products, service facilities and developing brand awareness in different markets – to ensure that the entire network advances as one.
A key example of Gulf Craft's recent investments is the launch of its new manufacturing facility in the Maldives where the company intends to strengthen its presence in a strategic market. Complementing this international outlook, Gulf Craft will continue to expand its global dealer network to reflect its interest in boating in its entirety.
"We like the challenge of adapting to the demands of boat and yacht owners from around the globe and we're committed to strengthening our product offering and our relationships – externally and internally – through the way we conduct our business and what we offer to the world," surmises AlShaali.
Two exciting new developments were announced in the Gulf Craft product range last year, after it declared the launch of the superyachts Majesty 111 and Majesty 160. The latter represents the pinnacle of modern boatbuilding.
"These boats show how we are always interested in creating something new," she says. "We are excited to go and show the world these new creations."
Under AlShaali's direction, Gulf Craft refuses to drift into the doldrums, keeping afloat on a continual tide of innovation and improvement.
"In any company, occasionally you need to do a kind of audit to sit back and re-evaluate processes. It can be easy when you're vertically integrated to continue moving in the same way, but it's essential that we continually re-assess," she says.
"We are committed to continuously improving our build techniques, processes, and whatever it is that we can do to create something better."
NEW HORIZONS
With its sights set on the future, Gulf Craft will maintain its leading position at the prow of the global boatbuilding and yacht manufacturing market.
"We are one of the premier shipyards in the world. We have sold boats from Panama to Tonga and we're proud of that. We will continue to ship wherever we can," shares AlShaali.
Gulf Craft's continued success since its inception is something of an anomaly in the superyacht world, with AlShaali highlighting an industry report documenting the traumatic decade following the financial crisis of 2008-2009. During this time, 50 percent of all superyacht builders in the world were forced to close following bankruptcy.
"The fact that we're still standing and growing after 40 years is testament to our capabilities."