Trading Line Group is charting new waters for Romania's future in remote piloting. We find out more with CEO, Paul Ivanov.
INTRODUCTION
Romania lies at the crossroads of European transport. Home to the mighty river Danube, the continent's second largest river is the lifeblood of riverine trade across Southeastern Europe, originating in the Black Forest mountains of western Germany and winding through 10 countries to the ports of the Black Sea coastline.
The port of Constanƫa lies at the nexus of this dynamic trade environment, as the hub of Romania's maritime connections with transportation routes connecting the region with the Black Sea, western Europe and the Middle East.
Trading Line Group (Trading Line) is the shipping company at the vanguard of efficient, premium cargo expediting along the breadth of the Danube. Today, Trading Line is playing a pivotal role in Romania's shipping landscape by advancing the company's agenda for remote piloting, heralding a new age of shipping for the industry.
PRIORITISING PERFORMANCE
When Paul Ivanov, CEO at Trading Line, first turned his attention to the shipping industry in 2011, he was entering the space as a complete novice.
"At that time, I knew nothing – I had no idea what a winch was! I was an IT guy and a network engineer," he recalls.
Prior to this, it was during his tenure as a councillor for the Deputy Chamber of the Romanian parliament where a business proposition prompted Ivanov's segway into the shipping supply chain.
Despite his shipping inexperience, Ivanov's entrepreneurial background served him in good stead, enabling him to champion the recovery of what was then a struggling shipping logistics company.
This spirit of astute decision making has been fostered in Ivanov since childhood.
"I started my entrepreneurial life at 16, when my father bought me my first computer," he shares. In a savvy business move, a young Ivanov began selling internet network access in 2001 to the neighbours within his apartment building. By 2007, his network had spread to half of the city and approximately 35,000 people. After selling the company in 2008, Ivanov had made his first million Euros, aged just 24.
Today, Ivanov oversees Trading Line's operations and its monopoly over shipping logistics on the Danube, advancing the company forwards as it seeks to modernise operations and retain its competitive advantage as a shipping partner of choice.
"By 2012, we had recovered enough to start buying our first vessels and began to develop the company. Since then, we have continued to buy new vessels every two years," he says.
To date, the company's fleet entails 26 dry cargo vessels, including 10 barges and two pushers, with an additional four tank vessels and further expansion on the horizon. Trading Line has the most modern fleet on the Danube, with high capacity and efficiency vessels, endowed with engines complying to the latest pollution regulations. "When investing in new vessels, we take a long-term view, with a focus on the sustainability of our transport solutions. We do not have an opportunistic approach; we do not take into consideration bargains on old polluting ships," says Mr. Ivanov.
Given the IT background of the owner, Trading Line is a digital disruptor of the shipping industry, with an in-house developed IT platform integrating all fleet and company processes, unmatched by other players in the industry.
Meanwhile, the company's CEO continues as a proud student of the 'Blue MBA' Executive programme at the Copenhagen Business School, where under the leadership of esteemed Programme Director Irene Rosberg – voted by All About Shipping as the Number One Woman in Shipping – he continues to learn and apply modern management theories and shipping economics.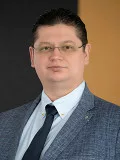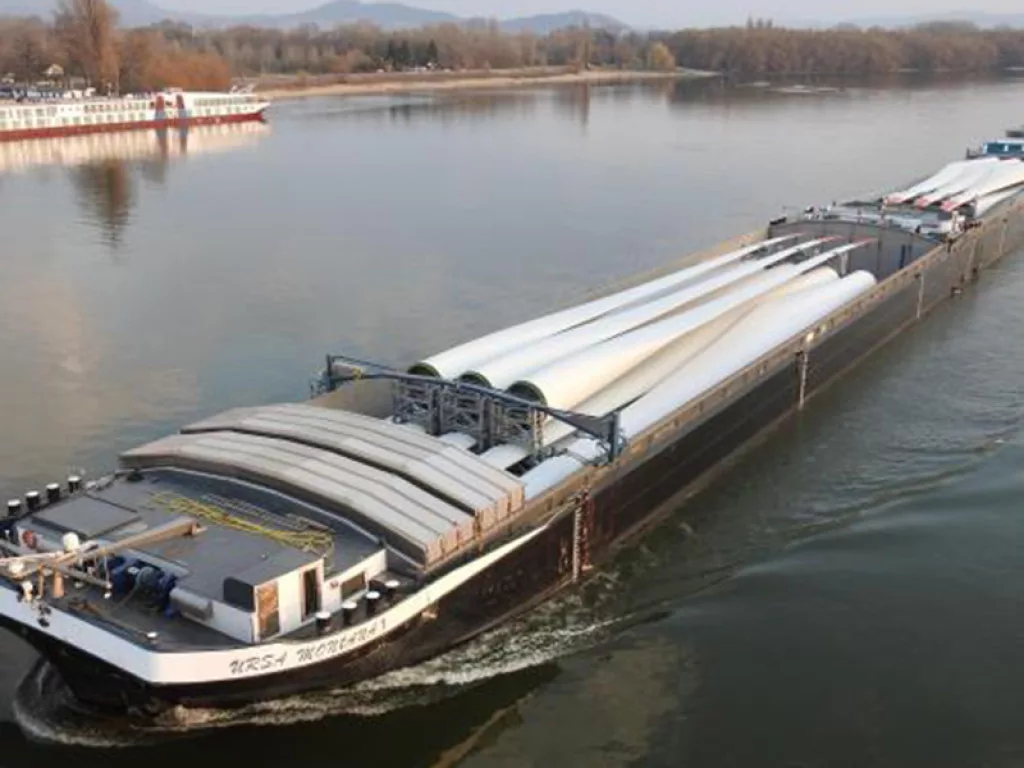 BREATHING NEW LIFE INTO AN OLD FLEET
Trading Line's key differentiator is that the company boasts the youngest fleet on the Danube, built in 2008 and seeks to further modernise inland vessels after considerable analysis of market behaviour.
"In this supply chain, you don't have much market innovation. You have actors who have been doing business in this area for years and in a very bureaucratic way," says Ivanov. It is here where Trading Line makes its difference, by bringing a new, modern energy.
"We have introduced new novelty things, for instance with how we began to implement automated email noticing. We have been pioneering changing the behaviour of our clients on one side, and on the other side through the suppliers," he tells us.
Indeed, although the Danube market hosts a worldwide fleet, Romania lags behind in new vessels, with the majority of its operational ships having been constructed between 1981-1990.
"The fact that we have so many old barges can be a real challenge."
This, combined with the significant expense of labour, represent the two key hurdles that Trading Line endeavours to overcome.
"Our business model is that we need to have two key elements – firstly, the speed of the fleet, and secondly, the performance," Ivanov elaborates.
In a bid to increase and improve both speed and performance, Trading Line set about the ambitious task of covering the length of the Danube on a data collecting mission. By so doing, the company implemented a database of all loading and unloading destinations, ranking each place in terms of speed. Each operating place was effectively profiled so that captains are aware of the location, its facilities and the moorings available.
The company therefore effectively marked its profits by improving efficiency, reducing the duration of load times and therefore the cost of labour.
"We optimised the fleets based on where we can load quickly. In turn, we wrote it into our contracts with clients that they would need to be able to discharge quickly," Ivanov explains. The plan worked, as clients soon became willing to pay a premium for the speed and efficacy of Trading Line's services.
"For a competitor of ours, it takes one month to take a vessel from Constanƫa to Serbia and back. We do that journey in five days."
Aside from the vessels themselves, Trading Line can also be hampered by aging port facilities, such as the dated floating cranes available at the Constanƫa port. To overcome these operational hurdles, Trading Line is investing in optimised equipment to further streamline operations and decrease idle time for the vessels. Currently, the company is investing in two new floating cranes that will make a significant difference.
In terms of labour, the industry as a whole must confront an aging workforce. New captains entering the market are hesitant to accept positions on older vessels, due to the less comfortable, and altogether noisier working conditions. This has resulted in a real demand for new vessels.
"We have a big problem with labour, where it is mostly old captains working on the Danube," says Ivanov. "Roughly 40 percent of the captains available are at pension age."
The slow discharging times for these older vessels is also a real deterrent. As an example, Ivanov highlights the performance log of the Shir Khan downstream vessel, which, after arriving into port on the 15th November, was not able to depart until the 21st, resulting in several days of costly idle time.
"On each vessel, we are losing so much time. Each captain for one month, works 700 hours, but the real sailing time is less than 100 hours.
"To sail these 100 hours 24/7, you need to have two captains on board and another two at home since they need time to rest. So, for just 100 hours of sailing a month, you need to pay four captains. Those other 600 hours are spent with the vessel either waiting, loading, or discharging."
"Our business model is that we need to have two key elements – firstly, the speed of the fleet, and secondly, the performance"

Paul Ivanov, CEO, Trading Line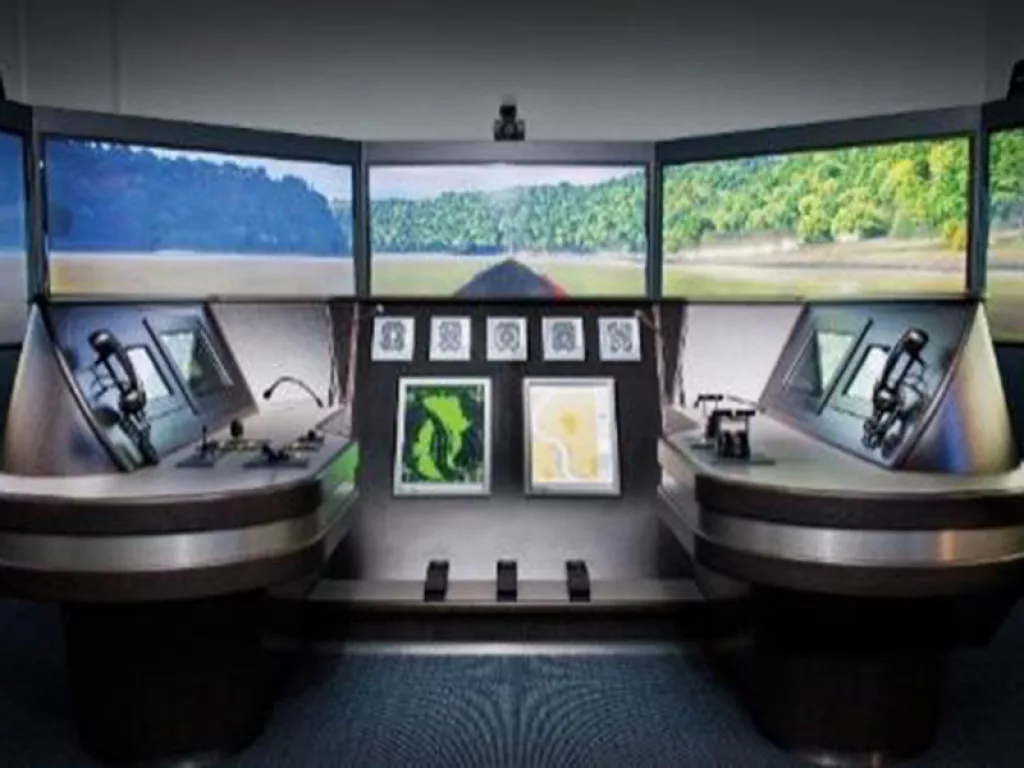 REALISING REMOTE PILOTING
In light of these issues, Trading Line is currently engaged in delivering an innovative solution that will seek to surmount the challenges posed by both labour and working conditions on the older barges.
"We are in the process of developing a remote operated captain, with a piloting centre that can be controlled from shore," shares Ivanov.
"By so doing, the captain can control the boat continuously and moor the vessel (using pylons), then connect to a new one. This means that same captain can operate four or five vessels in one month."
The significant savings resulting from this solution can then be allocated to new investments in technology for the company and focus on continuously upgrading and promoting the crew, having more sailing hours monthly and gaining more experience and better jobs.
Trading Line is in the final stages of defining an International Consortium for the Remote Piloting Centrum, and will be undertaking this ambitious venture with the help of several strategic partners, including specialists in semi and autonomous shipping, Seafar, Shipping Technologies, Marine AI, Sea Machines, Boning, Sintef Marine, Kongsberg Marine and many others.
The first stage of this development entails the construction of the Remote Piloting Centre in Galati city, as a strategic transport hub on the Danube. This will involve the construction of a €40 million state-of-the-art pilot centre in Galati city. The project is being implemented in European Synergy on the Horizon 2022 programme and the Government of Romania.
An architectural masterpiece, designed with a wave like façade to mimic the waters of the Danube, the remote pilotage centre will house piloting rooms equipped with 4D chairs for simulations and training. Meanwhile the Starlink ground station will provide the critical satellite technology to power operations.
By introducing innovative StarLink technology to Romania, the pilotage centre will also act as a research hub and interconnection centre through the internet exchange between both StarLink and terrestrial, thereby benefitting from the lowest latency in ship command.
Another major benefit of the centre will be the employment opportunities that it is able to provide for women seeking a career in maritime logistics, who typically aren't employed in captain roles.
Trading Line plans to develop a protocol with several maritime technology companies – including Seafar, Sea Machines, SINTEF, and Boning Ship Automation to name a few – who will devise the hardware to communicate from the centre with the black box of each vessel.
"We are challenging our technological partners to develop a protocol that the console can easily connect to each type of hardware that they develop.
"That black box then records the pilot's movements. Once all this movement has been recorded in each environment, for each type of hull and vessel, that black box can then use data mining to develop the digital twin," he explains.
In this way, the new robot who will drive the vessel is born. With such a wide variety of types of vessel, with varying sizes and levels of manoeuvrability, more than one algorithm is needed.
The project is also being delivered in partnership with the University of Antwerp, University of Athens and the universities of Constanța and Galati. In addition, after developing an initial concept map for the remote piloting centre, Trading Line received approval from the Ministry of Transport to develop, test and sail the remote vessels.
"We are taking a new step towards autonomous operations with remote piloting to store and to collect all movements of the captain to learn how to drive these types of vessel," concludes Ivanov.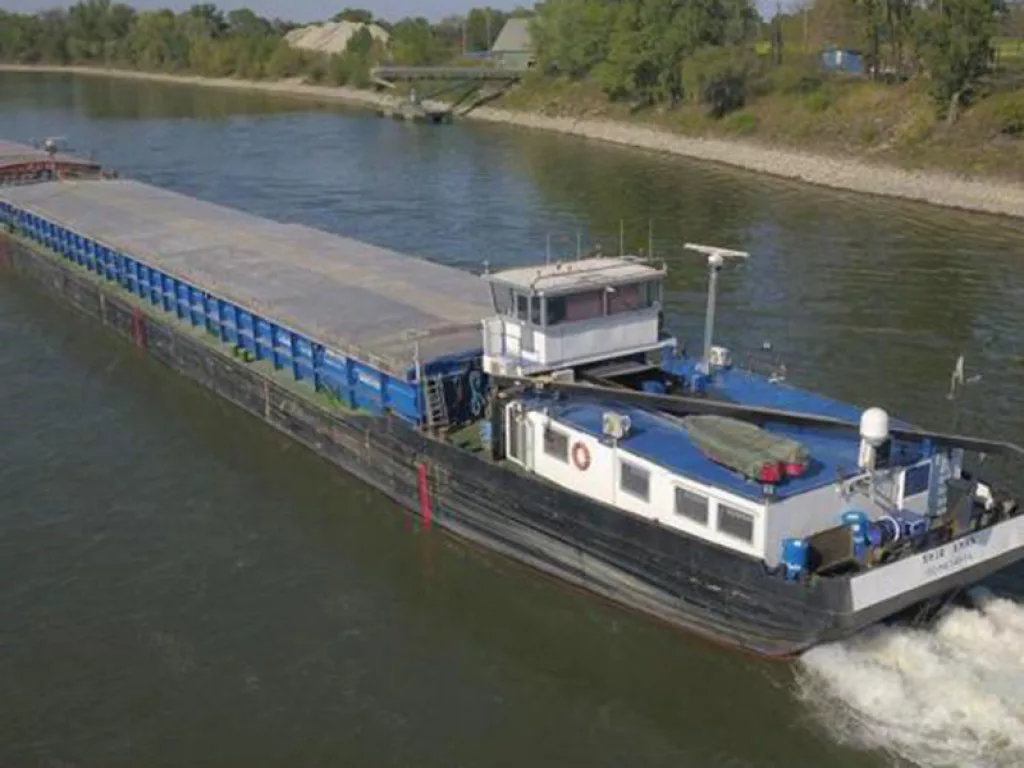 FUTURE HORIZONS
With the savings made from the trailblazing steps that Trading Line is taking into the realm of remote piloting, the company will continue to invest in modernising its fleets.
Ivanov envisages a new set of 14 vessels – River Drones, inspired by the Yara Birkeland Zero Emission maritime vessel, but re-imagined for dry cargo riverine operations. These newer vessels will contain on-board accommodation for just two sailors, with a high-tech server room operating as the vessel's data centre.
With a promising future ahead fuelled by innovation, Trading Line will continue to chart new waters in Romanian shipping.