Italian manufacturer Nice is at the forefront of Home Automation. Morris Carr, General Manager of Nice's Northern Europe operations, discusses the company's reputation as an innovator in the field and the potential of smart homes to create a world without barriers.
A HOME FOR THE FUTURE
Now more than ever, as lockdowns persist worldwide, our worlds have become defined by the parameters of our own four walls.
We put a lot of work into our homes, but what about a home that works for us? The future calls for a home that works to create the comfortable domesticity that we deserve – somewhere free from the toils of the workplace, equipped to enshrine your comfort and safeguard your security.
Increasingly, it is becoming apparent that the modern home, is an automated one. Since the 1990s, the home automation market and the development of smart homes has flourished, as we seek to take control over our own comfort with the touch of our fingertips.
More and more homes are connecting to the 'Internet of Things', as an increasing range of devices offer internet connection and a level of autonomy that enables them to communicate, gather information and take commands from their user, either through voice control or the touch of a button.
For the homemaker looking for harmonious solutions, Nice are the whole package, offering a range of automated solutions both in and outside the home that are easily controlled from the palm of your hand.
The Italian multinational reference company was founded in 1993 – when an automatic gate was the height of automated home technologies – and has since grown significantly. Now offering an impressive roster of products within the home automation and smart home sector, over the years Nice has strengthened its position in the industry.
Specialising in home automation, home security and the 'Smart Home' sector, Nice offers integrated and connected solutions of unparalleled variety for the automation of gates, garages, solar shading systems, parking systems, wireless alarm systems and home security, for residential, commercial, and industrial properties.
"The focal point which declares Nice's authority in the industry is the extent of the product range," comments Morris Carr, the General Manager of Nice Northern Europe.
For Carr, it is their sheer range of products, offering complete integration to create a true smart home solution, that distinguishes Nice from other competitors within this ever-developing field.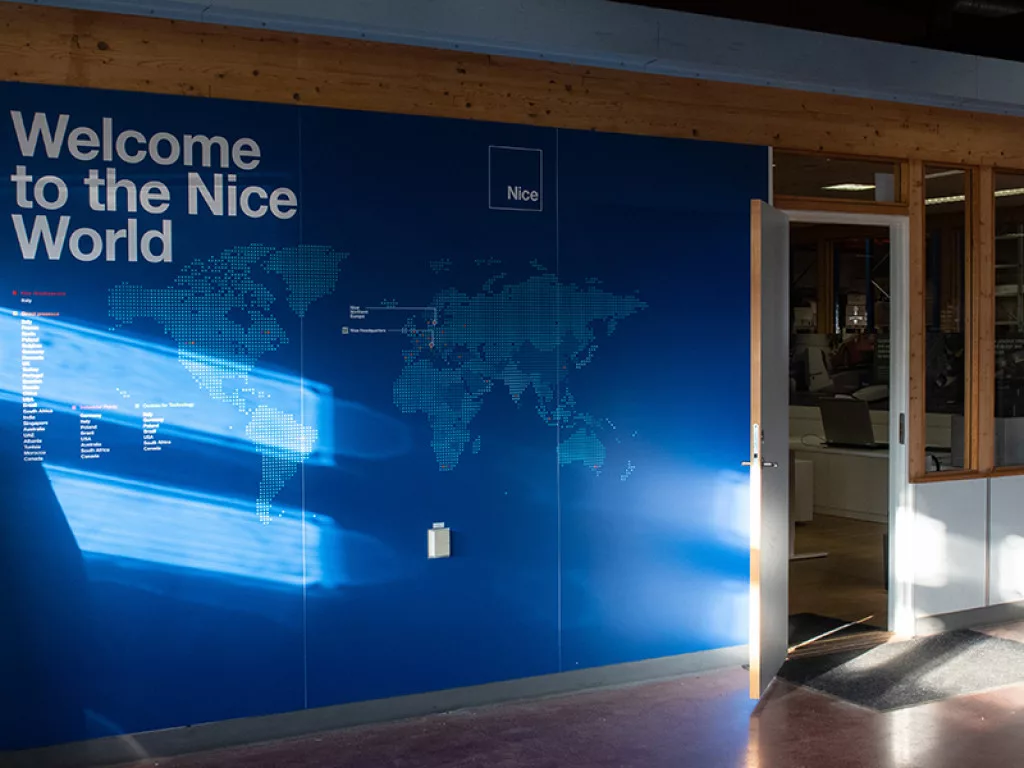 "I joined Nice almost seven years ago and began as an Export Area Manager based in Nice HQ in Italy managing the direct distribution networks and key accounts in central, eastern and northern Europe."
Tasked with developing business cases to identify areas for potential growth within the company, Carr recognised the opportunity presented by expanding the brand further into north European markets.
"I was then offered the opportunity of heading the project to create a Nice subsidiary for northern Europe – I naturally jumped at the chance, so I am subsequently acting as General Manager for Nice Northern Europe since June 2019. "
With nearly 30 years of longevity in the sector, Nice became one of the few companies worldwide to offer a complete range of integrated automation systems for residential, commercial and industrial buildings.
Carr goes on to comment, "thanks to the variety of models available, capable of responding to any preference, and the integrability between each other and with third party products through the most widely used communication protocols, with Nice it's possible to create a complete and easy to use smart automation system for your home."
The company's scope is wide, not just in the products that they manufacture, but also in their geographical remit.
"Nice distributes its products in more than 100 countries, with 24 subsidiaries located on all five continents. The company has 14 production plants and 13 R&D centres with a workforce of 2,300 people, helping to spread the Made in Italy concept around the world," Carr explains.
Although primarily a technological manufacturer, Nice never loses sight of the people behind the products, and it is this consumer-centric approach that universalises their appeal.
"Nice focuses on people, enabling them to simplify their daily lives with automation solutions that offer maximum control, safety and versatility – thanks to functional and emotionally designed products," Carr informs us.
Indeed, it is this emphasis on design that continues to set Nice apart. Their products showcase sleek, minimal aesthetics, thereby offering elegant design solutions that are quintessentially, Nice.
"Nice's high-quality solutions skilfully combine technology, design, innovation, digital connectivity and ease of use," Carr surmises.
By seamlessly blending functionality, style, and comfort, combining the three guiding tenets of harmonious design, Nice recognises the importance of making automation attractive and therefore more appealing to consumers. This is perfectly evidenced by their portable transmitters, such as the ergonomic 'Era Inti', designed to fit snugly in your pocket and palm.
In their dedicated pursuit of a 'smarter home', Nice has rightfully earnt a reputation as an innovator within the industry.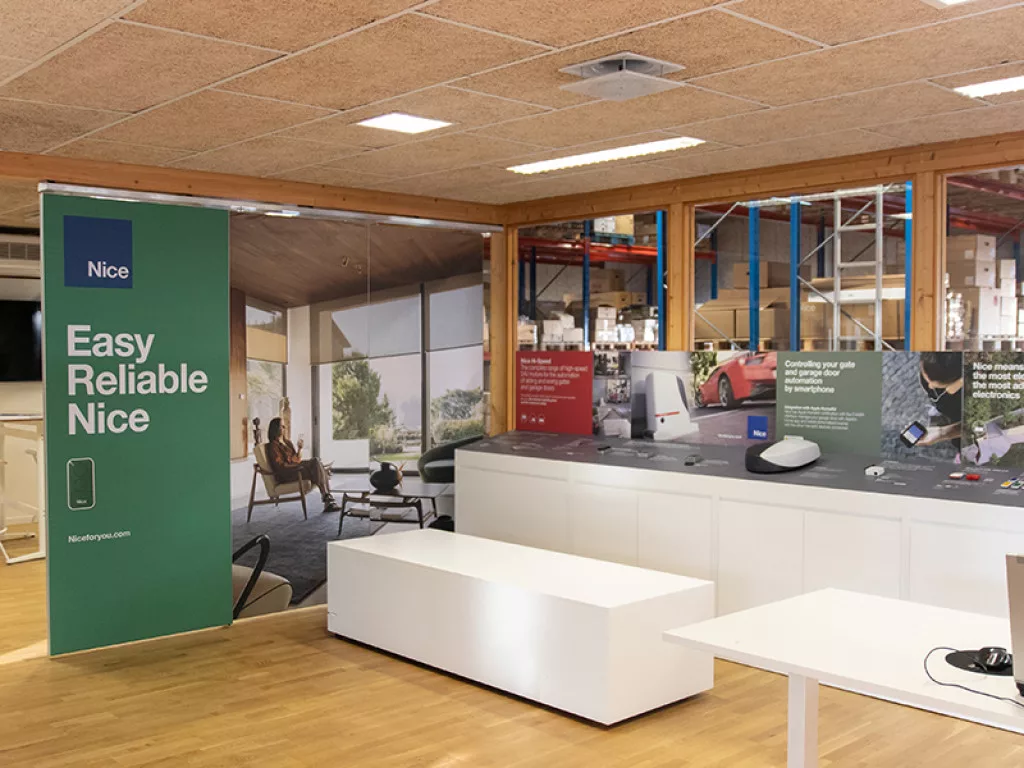 "The manufacturing industry represents value creation: it is a pragmatic sector where you have to bring a concrete solution to your customers' needs.
The industry is facing new challenges and those who do not embrace these with resilience and innovation will not be able to fully embrace the opportunities that lie behind every change," Carr concludes.
"By investing heavily into the latest manufacturing technologies, Nice can continue to bring new, exciting products to the market and remain the most innovative manufacturer in the sector as a result," he adds.
Nice embraces technological developments and endeavours to pioneer innovation to remain a worthwhile competitor in the field. R&D is crucial and a worthwhile investment that serves to streamline production.
"The digital transformation and other ongoing innovations make production leaner, with better control over each process, and resulting in higher quality products with less stock being held and faster delivery times. This goes hand in hand with the Nice approach of looking for ways which don't exist (yet) to find solutions to industrialise the products, which start as unresolved problems for customers, followed by a solution dreamt up by our R&D department to making the final product available on a global level in the shortest possible time."
"With more than 200 people distributed in 13 R&D centres spread around the world, Nice works hard to gain the best innovation. Every day, in fact, Nice carries out rigorous and accurate tests in its state-of-the-art in-house laboratories and testing centres to ensure the highest quality and safety standards of its products."
A common downfall in home automation can be a lack of integrability within an intelligent home– for instance between a variety of models and third-party products that may struggle to connect.
"An intelligent home is a place where devices communicate with each other. It means people can easily control their appliances, lighting, roller blinds, temperature, alarm, surveillance or watering system at a touch of a button, gesture or with a word."
This is where Nice excels, particularly with regards to their Smart Home division. This is largely thanks to the recent development of the Z-Wave® communication protocol feature – the height of connectivity.
Currently, Nice's Smart Home division is mainly represented by FIBARO, a Polish brand acquired by Nice in 2018, which produces one of the most advanced wireless smart home systems in the world.
"Full integration of all components of the FIBARO System and its modularity give users full control and the freedom to create the best solutions for their necessities. Moreover, the integration with the main communication protocols gives the customer the possibility to choose and combine products of different brands and constantly explore the endless possibilities of smart home solutions, with imagination as the only limit."
Nice follows two guiding principles – simplicity and safety. Now, sustainability has become an additional worthy concern.
"By developing solutions that optimise daylight and heat management in buildings, as well as offering photovoltaic powered automation systems, Nice recognises the value of sustainability," Carr informs us.
"Some of the initiatives put in place on this topic concerned greenery implementation inside the Gate & Door production plant in Nice HQ, equipping company cars with reduced CO2 emissions (hybrid or full-electric), and replacement of polystyrene in favour of cardboard in finished product packaging."
Sustainable initiatives are applied company-wide, pertaining to both the workspace itself and the products.
"One of the biggest adventures of the sustainability path regards the Environmental Product Declaration (EPD® certification) recently obtained, about the life cycle of some of our emblematic products. Nice has formally defined the stages of the life cycle of electric motors in its Product Category Rules (PCR) document. The PCR will be used as a guideline for the EPD® certification of all the products that fall within the electric motor category. Not only by companies that produce automated devices for screens, gates and garage doors, but also companies that operate in other sectors, such as automotive."
A key component to the company's success, supplier relations are central to all avenues of expansion that Nice pursues.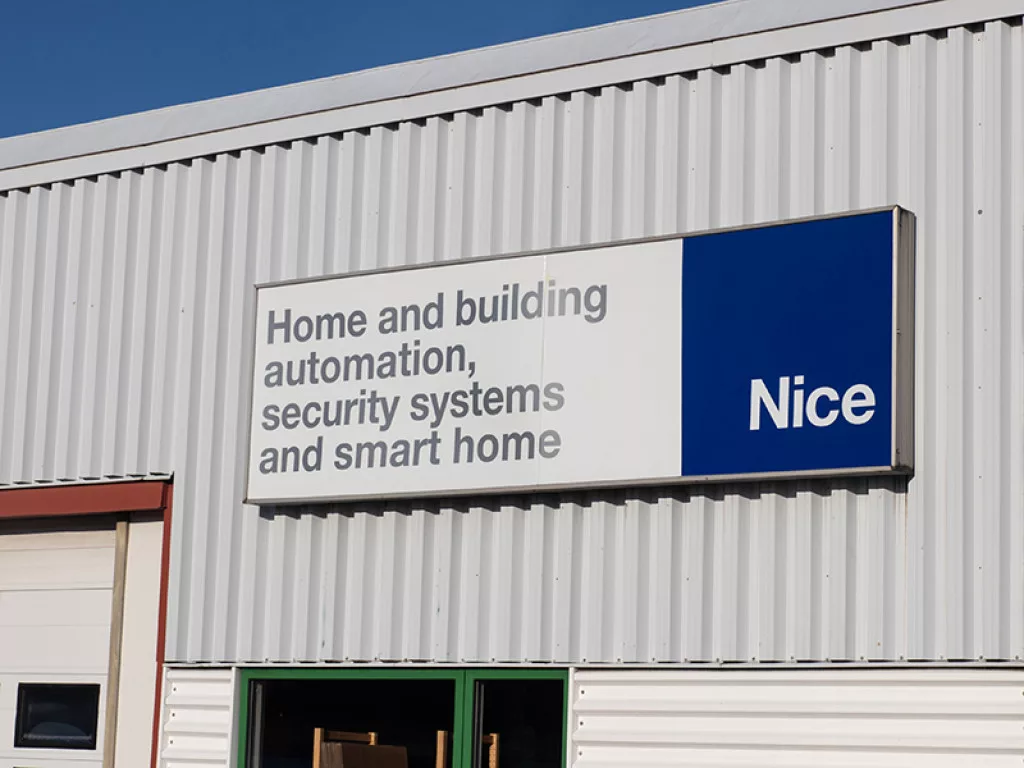 At just 28 years young, Nice are yet to solidly define their remit and the borders of their scope remain fluid. Adjustments continue to be made to the company's structure, particularly where it concerns their relatively recent expansion into Northern Europe.
"We have been working to establish a new structure, consolidating existing sales in the region and creating new procedures, a new team and dedicated Sales and Marketing strategies to best serve the requirements in the local market. We now have a complete team for the Nordics, with localised stock for fast deliveries, technical support for pre- and post-sales and a dedicated local sales team to ensure we can offer not only the best product selection, but also the best support for our customers."
By prioritising intuitive designs and offering smart, simple solutions in a complicated world, Nice embodies the future of intelligent living.