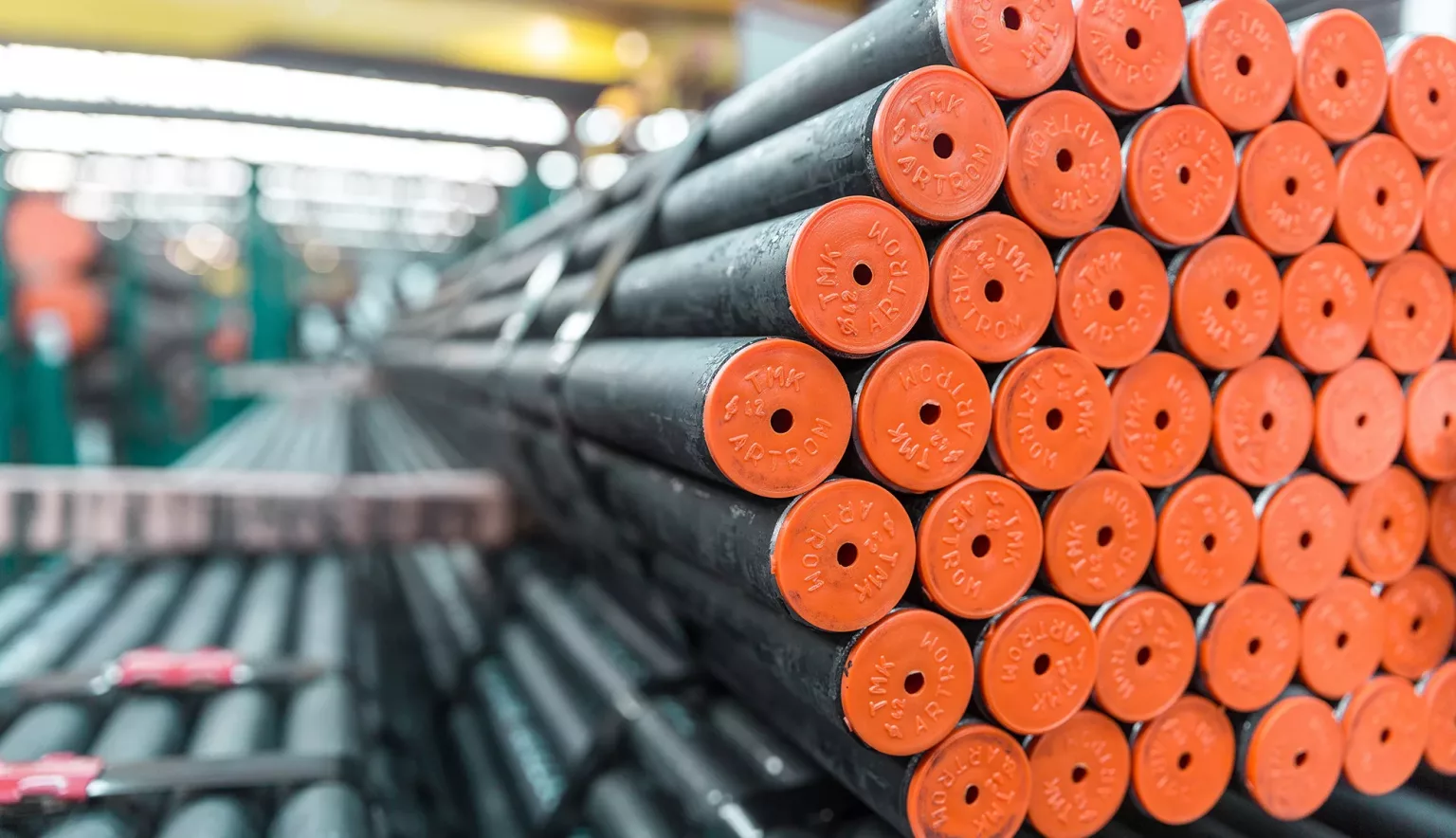 The Romanian Road to Sustainable Steel Pipes
CEO Adrian Popescu talks about the challenges posed by COVID-19 and the innovative improvements TMK-Artrom has made to better serve customers of the steel pipes industry
Writer: Marcus Kääpä | Project Manager: Thomas Arnold
In recent years Romanian steel pipes manufacturer TMK-Artrom has evolved markedly.
Based in the south of the country in Slatina, capital of Olt County, the firm has been a heavyweight player in the steel industry for decades – it is a leading manufacturer of seamless steel pipes for industrial applications across the board. Within these industries, engineering and automotive are two of the most prominent receivers of the company's products and services.
TMK-Artrom specialises in the production of mechanical tubes, pipes for hydraulic cylinders, pipes for automotive and energetic applications, as well as many other types of pipes, with 80 percent of its products being exported beyond Romania to places such as other European countries, the US, Canada, North African countries and so on.
Production processes such as heat treatments quenching and tempering, normalisation, stress relieving, annealing, normalising and tempering and others allow the company to cater to a variety of industry requests, fuelling its annual production capacity of around 200,000 tonnes of pipes.
Such products are then shipped to locations in and beyond Europe, making TMK-Artrom an organisation with a truly international reach.
The firm is backed by a workforce of around 1,500 employees, while TMK Resita, its raw material supplier, has a further 750 staff on its books. On top of this, group division include TMK Italia srl (Italy), TMK Europe GmbH (Germany), and TMK Industrial Solution (USA).
TMK-Artrom was founded in 1982 under its previous name "Intreprinderea de Tevi Slatina", and has been in the full swing of manufacturing since 1988. Renamed to "Artrom SA" a few years later, it then joined the TMK Group that resulted in the name it is known by today.
TMK-Artrom has therefore driven decades of steel pipe manufacturing, and its current CEO, Adrian Popescu, has had the privilege of working alongside the company for more than 35 years.
Indeed, Popescu has watched TMK-Artrom come a long way since he moved into the company's core senior team in 1992. For the now CEO, the change that the company has undergone represents a necessary adaptational advancement within the industry.
"Over the past years, we have realised that an extremely important and current change is shaping all our business processes as well as the company's market positioning. It is absolutely necessary to be a modern company, own the latest production technology, and manufacture high quality tubular goods," he says.
But even as methods of production shift and move forward, he reinforces a single value that has been around since the company's beginning and will remain despite global changes in industry.
"Our team is stable and works together in the same direction, like a real family. That is why we often say, 'Artrom is not our job, it's our home'. I always say that a stable management team can make or break the company, and I believe more stability creates more devoted workers," Popescu adds.
The CEO believes that keeping the company as modernised as possible with regards to technology and methods, at the same time as it being led by a devoted team and workforce, places TMK-Artrom above its competition.
Standing strong
However, the past year has presented challenges to many industries globally. With the COVID-19 pandemic ever present, sectors such as steel manufacturing have had to adapt to the fall in demands and incorporate new methods of production to fit new restrictions and practical requirements.
"Now it is an unfavourable period for all companies in our sector," Popescu says. "We are used to downturns, but this is not a classic one. It is occurring at a time of very low consumption and a considerable global production overcapacity that is challenging the business model of the industry's companies."
Adapting to a new reality is difficult for companies that have established themselves over many decades – however, Popescu believes that through modernisation and implementing new ways of working, TMK-Artrom will continue as a lead protagonist in its own industry.
"As a key player in Romania, TMK-Artrom must participate in the sector's transformation," he says. "There will be winners and losers.
"Even if the situation in the European market remains challenging with low demand, overcapacity and low prices of pipes, TMK-Artrom is accelerating its profound transformation based on solid strengths – the trust of its customers, key positions in the major markets, the expertise of our teams, the power innovation, and a strong commitment."
Currently, there are two other factories in Romania that produce similar goods as TMK-Artrom. This not only makes Romania one of the leading European countries in the production of seamless steel pipes, but also creates a high level of competition between those respected companies to manufacture at the best possible quality at the most competitive price.
And this competition has only increased since the industry downswing as a result of COVID-19. However, for TMK-Artrom, recent years have seen it enter extensive modernisation and transformations that have given it an upper hand.
The company transitioned from producing commodity pipes to those of premium grade; a change that sufficiently increased the value of its primary products. The firm also added customised sizing to its seamless pipes orders as to better suit customers' needs, giving them yet another advantage over alternative industry competition.
These internal changes have been well timed and have helped TMK-Artrom to weather the storm of COVID-19.
"We are permanently anchored to the realities of the market, and we try to anticipate the needs of our clients so that our commercial relations develop continuously," Popescu says. "Our clients have understood that in TMK-Artrom they have a reliable partner, always focused on their needs, and always open to finding suitable solutions."
A sustainable future
The company's recent investments have followed innovative new paths of industry production methods, not only making TMK-Artrom more efficient with a higher quality of product, but notably making the production process far more sustainable than it ever has been.
For instance, during 2018 it completed a substantial investment (€36 million) in the completion of a new heat treatment complex loaded with state-of-the-art technology.
The system has given TMK-Artrom the ability to perform various heat treatments, like quenching and tempering for lengthy industrial pipes with a much larger wall thickness (up to an impressive 60 millimetres), a rarity amongst other European producers and nor only. Where the lengthy pipe was previously less durable through necessity of thin walls for its design, the new complex allows for far more durable quality of metal that makes such pipes to have a better structure.
On top of this, the heat treatment complex metal production process uses sustainable technology that drastically lowers CO2 emissions in comparison to prior methods, while also being more economical with its average fuel consumption.
"All the investment from the recent years in TMK-Artrom aim to increase the share of high value-added products in the company's total sales," Popescu adds. "These investments were aimed to increase the productivity and profit of the company and increase the number of customers by reaching alternative areas of the market where only premium producers are accepted.
"Thanks to this, we can now proudly say that TMK-Artrom products have reached several hundreds of customers located in 75 countries on five continents." Popescu says.
Alongside such substantiated investments, the company has started an exciting ecological shift towards production for the electric vehicles market. The newer pipes produced by the heat treatment complex holds a greater physical endurance and industry potential than those pipes that were formed via the original methods of production.
In addition to these movements towards sustainable industry methods, the company also aims to help the EU reduce the total amount of CO2 emissions through the goods that it produces.
Here, TMK-Artrom is preparing its pipes for transport of hydrogen in Europe and not only, hydrogen representing an alternative to traditional fossil fuels that can sufficiently cut back environmentally damaging waste and emissions.
And within its own supply chain, key supplier TMK Resita utilises a process which means that TMK-Artrom products effectively contain around 98 percent recycled materials.
As for the near future, the company aims to increase the sales of premium products and its presence in what is a competitive European market that is increasingly being penetrated by non-EU participants who are subject to less stringent production measures and costs.
However, Popescu is confident that the company's mixture of quality steel and new more ecological and efficiency methods of production will carry sales forward in Europe and further afield. On top of this, the firm is also focused on keeping up with the latest innovative trends within the steel industry.
"We will continue to increase our production capacities, update our methods and market requirements, and advance our technologies so that we can continue to offer the products our customers' need," Popescu concludes.
VIEW TMK-Artrom BROCHURE