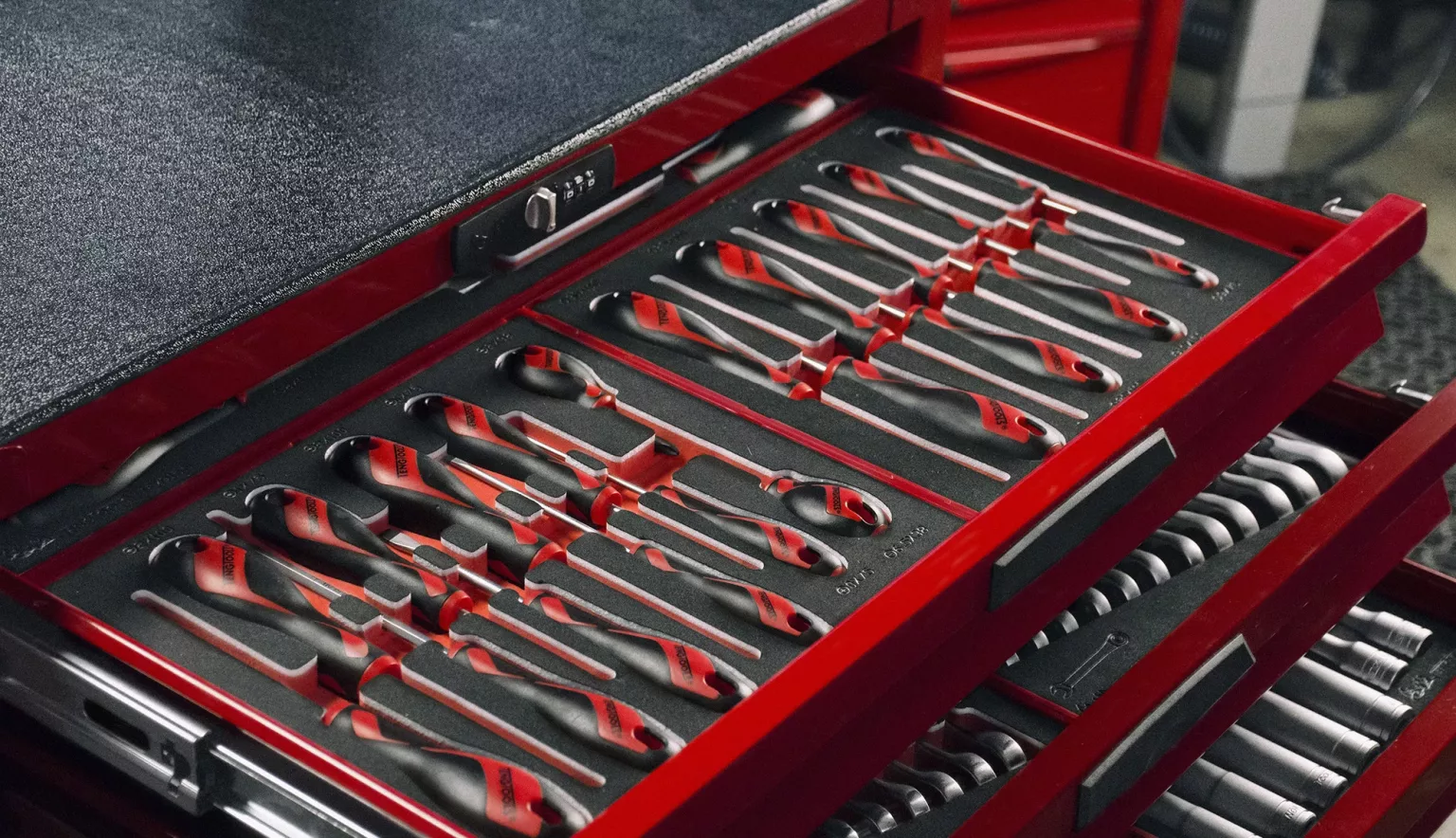 Power to the Tools
Despite the ongoing COVID-19 pandemic, Bergman & Beving's Tools & Consumables division continues to pursue an ambitious strategy of growth
Writer: Dani Redd | Project Manager: Matthew Taylor
My father and grandfather are characterised by being 'practical men with sharp minds'. They both ran their own small size businesses as entrepreneurs. Therefore, it came quite naturally to me to become an engineer, where I could utilise the practical skillset and sharp mind I hope I inherited."
These words are spoken by Oscar Fredell, who is Managing Director of the Tools & Consumables Division at Bergman & Beving.
The Swedish company is one of Europe's leading suppliers of products and services to the construction and manufacturing sectors, and Fredell has long nurtured aspirations of working for it.
"In around 2000, I travelled across the country with fellow engineering students in order to study the operations of the strongest distributor in Sweden – Luna Group," he continues. "Joining Bergman & Beving gave me the opportunity to lead that company, along with the other strong brands within the Tools & Consumables division. It is a dream come true."
When asked why, Fredell cites the company's strong entrepreneurial culture and its decentralised decision-making mindset.
"Bergman & Beving is full of extremely skilled people helping it to achieve its goal to build world-class brands for professional users within the manufacturing and construction activities," he adds.
class="blockquote">

"Tools & Consumables represents over 500 more brands on the Nordic market, and 40 percent of our sales comes from brands we own"
A strong growth mindset
Bergman & Beving was founded in 1906 to import technologically advanced industrial capital goods to distribute among Swedish industrial companies.
Fast forward over a century and the company now also designs and develops products for the manufacturing and construction sectors as well as imports them; its reach now extends well into northern Europe.
Central to its growth strategy is a focus on strong brands and sustainable proprietary products. It uses acquisitions to accelerate development – over the years it has acquired many successful companies within the sectors it represents. Through help with financial resources and brand development, it has enabled its companies to differentiate themselves on the market.
The company has three divisions: Building Materials; Workplace Safety; and Tools & Consumables. As previously mentioned, Fredell heads up the Tools & Consumables division, which owns five product brands.
"Tools & Consumables represents over 500 more brands on the Nordic market, and 40 percent of our sales comes from brands we own. We focus solely on professionals, and the products and services that professional industry and construction workers' needs," he explains.
One of its landmark brands is Teng Tools, which offers premium hand tools for stationary, and mobile storage solutions for workshop and industrial workers. With customers in more than 30 countries, it is poised for further growth.
Collectively, Tools & Consumables generates a revenue of $179.23 million. It occupies a strong position on the Nordic market, with a 25 percent market share, but Fredell believes that there is still room for growth.
When asked what differentiates the division from other tool suppliers, Fredell cites this strong growth mindset.
"50 percent of our staff consist of sales and marketing experts," he says. "That gives us a unique ability to support our resellers in driving growth and to support our users in how to choose the right product for the job, and then how to use our products.
"Globalisation and the internet have made it easy to find any product you need. The problem today is no longer on how to find a product, it is rather to find the right product for the job. We build most of our concepts and our skills around that trend."
Fredell also cites the division's ethos of simplicity as key to its ongoing success story. It strives to avoid complex bureaucracy and set clear goals that can be achieved with simple methods, while progress is monitored using simplified performance metrics. All of this enables the division to concentrate on what is important: building brands, marketing products, and accelerating growth.
Another factor which helps the brands in the division to stand out from the pack is its strong supply chains, which flow mainly through Ireland, the UK and the Nordic countries.
Its main hubs are located in Katowice (Poland), Bedford (UK), Gothenburg (Sweden), Ningbo (China) and Taichung (Taiwan). These hubs are located close to harbours, which optimises container flows as it necessitates minimal handling. An inbound flow of 400 40-feet containers comes annually from Ningbo and Taichung.
"We are renowned for our supply chain and logistics operations. We win new contracts and keep long-lasting partnerships as a consequence of that strength," Fredell says.
Staying resilient and agile
According to Fredell, it was the company's supply chain that enabled it to weather coronavirus effectively.
"We made an early mistake in April by forecasting a 20 percent volume drop on sales," he continues. "We did, however, see a 20 percent volume increase in sales towards the construction sector, which is why we ran short on stock in the Nordics in June. We were lucky to have such strong suppliers and producers and are therefore now back on track."
The division's main market, Sweden, remained more stable than other markets in which it operates, due to the less stringent lockdown measures enacted by its government. Luckily, as the company's main hub is based here, it was able to continue delivering products to customers.
Like most companies across the world, however, Bergman & Beving has faced challenges.
It had to implement many measures to protect its personnel in both its office and production environments, while maintaining efficiency. Such measures included increasing cleaning of spaces, splitting worktime to reduce the amount of people on shift, virtual meetings and measuring temperatures of staff when arriving at or leaving work.
"We ran an antibody test on all employees in August, with the result of zero personnel with antibodies. It seems we have kept our personnel and our partners safe so far," Fredell says.
Overall, he is not just impressed with the division's handling of the COVID-19 crisis, but with the industry overall.
"The Swedish industry has shown a strong ability in being agile and flexible. To me, that is good news regarding the state of Swedish industry and shows a general strength for the future," Fredell adds.
This leads him to an extremely optimistic outlook when it comes to the nation's industrial sector. Not only does Fredell feel the sector is beginning to emerge from the shock of COVID-19, but he also professes pride in the companies that operate within it – they are technologically advanced, relying heavily on automation and robots, which leads to globally renowned products. The sector has also shown its ability to successfully manage change.
Continuing to grow
With its trust in the resilience of the sector solidified, the Tools & Consumables division is poised to continue with its ambitious target: to grow 15 percent, year on year. According to Fredell, there are two main ways the target can be achieved – through working with the right customers and investing in innovation.
"We choose to sell to the most successful and most productive resellers on each market," he says. "They usually match well with us and our strong sales concepts. We have been able to sign a number of major contracts with those kinds of customers during the last 12 months, which is why we are confident in reaching and exceeding our targets once the market stabilises after COVID-19."
In the upcoming months, the company intends to focus on the customers it already has, helping them to increase their sales and become more profitable. However, Fredell also outlines ambitious plans to expand his division's largest brand, Teng Tools, to penetrate more markets beyond Nordic countries.
In regard to innovations, he alludes to some interesting products and solutions that will be emerging from the sourcing and R&D teams in the upcoming years.
"We have chosen to look even more long-term and invest even harder in innovation to secure long-term growth and customer loyalty for us and for our resellers," he explains.
A large part of this strategy has been the recruitment of senior research and development personnel.
This commitment to innovation and growth suggests that in the months following the coronavirus, Bergman & Beving will not just survive, but thrive as an organisation, not least in Fredell's Tools & Consumables Division.
VIEW Bergman & Beving BROCHURE