We speak to members of the Grimshaw team about the firm's global deliverance of architectural projects harbouring the elements of sustainability, quality and endurance.
ARCHITECTURE'S ENDURING SPIRIT
Architecture can be regarded as the face of civilisation.
For millennia, whether it be through statues, temples or tombs, mankind's mark has been its craft, and the ability to design and build monuments holding meaning and serving practical functions in equal measure.
This notion still exists today, and with increasingly innovative methods behind architecture as well as a wider recognition of present global issues, the sector merges elements of technology, modernisation and sustainability for the betterment of people and the planet.
A PRACTICE WITH HISTORY
Merging said elements in its various projects, Grimshaw stands as a key member of the sector.
The company became a partnership in 2007, and as of 2020 it marked its 40th year as a practice that continues to build its global reputation for design and client services worldwide, operating with over 650 staff across its offices in Los Angeles, New York, London, Paris, Dubai, Melbourne, and Sydney.
Since its establishment by Sir Nicolas Grimshaw in 1980, the firm has specialised in diverse high-performance, enduring, sustainability-focused and progressive architecture spanning from large-scale rail, aviation and infrastructure projects to major commercial, education, sports, arts and master planning projects.
"We're driven by seeking an enduring personality in our buildings," Keith Brewis, International Development Partner at Grimshaw, tells us. "I think that this stems from how the buildings perform, and in order for buildings to perform well, and to look elegant, we need to consciously engage with specialists, contractors, engineering consultants and others so that we know they can be built well and beautifully.
"This thought, dedication and enduring commitment gives us a place within the market and is why clients turn to Grimshaw."
And across the firm's global operations, there is a sense of reflective balance that mutually represents both the urban and natural world. A core element of Grimshaw's architectural design and function, this duality of purpose stands out as an aspect that echoes through its multiple projects, as Brewis comments.
"The practice has always thought about the relationship of buildings in both the senses of energy and their impact on the environment from the get-go; for the past 40 years," he informs us. "This has become almost a priority in terms of our mantra."
Embodying these elements are Grimshaw's various projects, such as those within the UK and UAE.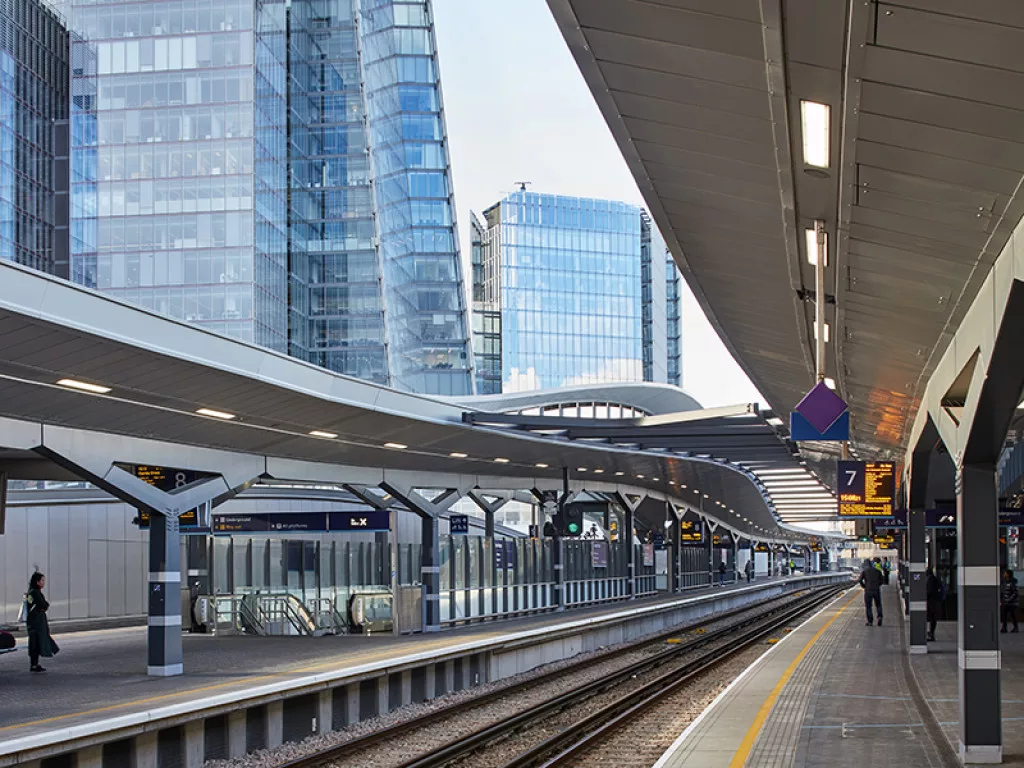 LONDON BRIDGE STATION
The new station is designed to accommodate over 90 million passengers per year in a new expansive street level concourse – larger than the football pitch at Wembley Stadium – which links two communities in Southwark for the first time since the Victorian period.
Operationally, the project creates a unified site that includes extended platforms, integrated new street entrances, three new through tracks, fewer terminating platforms and convenient links to onward travel.
Beneath the tracks, a grand street-level space that humanises journeys through its naturally lit concourse filtered through voids in the platforms above, flanked by timber lined soffits providing visual softness and warmth to the space.
"London Bridge is a really important hub and transport area," explains Annelie Thompson, Partner at Grimshaw's London studio. "Transport is at the heart of it, and it has also done a lot for the wider city as well in terms of visitors and of course serving its function for people throughout London."
The station has a rich history, it was the first railway station built in the capital in 1836. Grimshaw's project incorporates its layers of history by adaptively reusing spaces. The new concourse cuts through the existing brick viaducts and is connected to the Underground station by the shop lined Western Arcade, historically a site of a market when the station was first built. This link has been extended to over three times its original length with board marked concrete quadripartite arches inspired by the original brick arches whilst referencing the rich brutalist heritage of the South Bank.
"We had to keep in mind its history and maintain the integrity of the old while introducing the new," Thompson continues. "It was important to think about how the project impacts the area and people, and it is appealing to be able to see our work every day and how it has changed the lives of people around it."
"Thought, dedication and enduring commitment gives us a place within the market and is why clients turn to Grimshaw"

Keith Brewis, International Development Partner, Grimshaw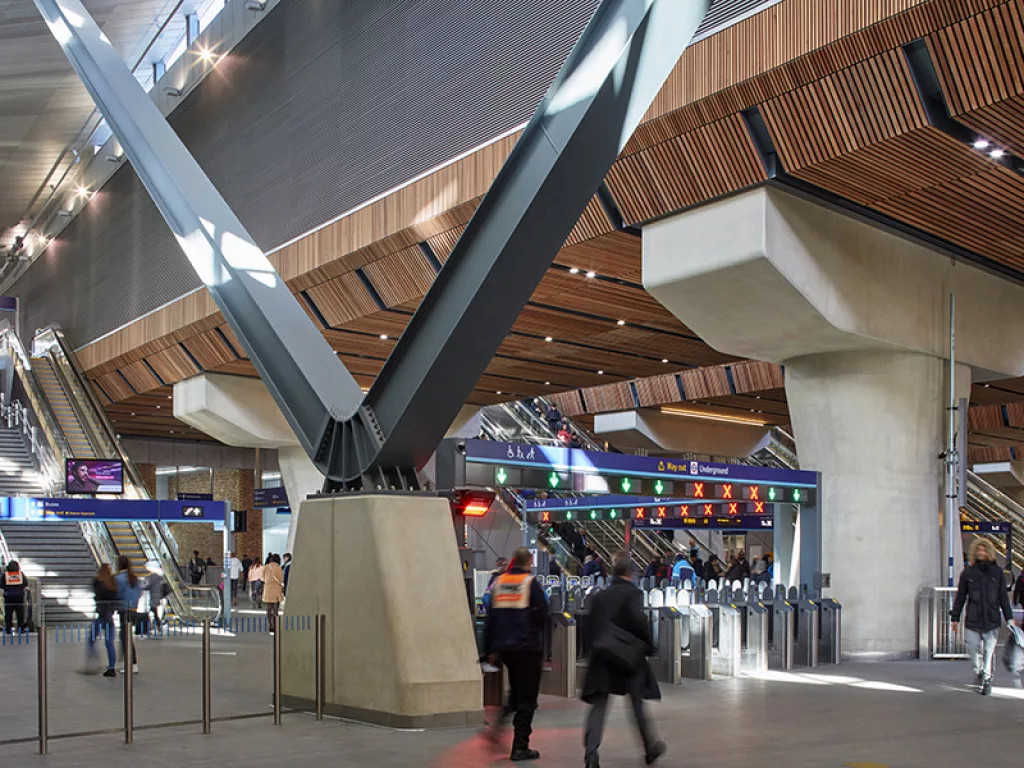 DUBAI EXPO 2020 SUSTAINABILITY PAVILLION
A fine example of Grimshaw's progressive projects, the pavilion aims to illuminate the ingenuity and possibility of architecture as society looks to intelligent strategies for sustainable future living. The pavilion is one of three at the expo, presenting the opportunity to deliver an aspirational message about the natural world, ecology, and technology to a global audience.
Drawing inspiration from complex natural processes like photosynthesis, the dynamic form of the pavilion is in service to its function, capturing energy from sunlight and fresh water from humid air, as Utley elaborates.
"As well as being important to the city of Dubai, the UAE and the global community, it's representational of the progress and the continued thinking of the practice over decades," he tells us.
"The project is really aimed to highlight the possibilities of architecture to provide intelligent and sustainable strategies. As we look to bringing about a sustainable future globally, this project stands out as a representation of what we can achieve worldwide, as it relies on natural processes such as complex central processes like photosynthesis. It captures energy from the sun, produces fresh water from the humid air, and explores sustainability in an innovative way. But it is also a project that is designed for learning and education."
Based in a prominent location, the pavilion structure works in tandem with the considered landscape of demonstration gardens, winding pathways and shaded enclaves to create an aura of magic punctuated by the sights, smells and tactile opportunities of nature.
The gardens surrounding the pavilion design are an integral part of the visitor experience, both experiential and functional, setting the stage for the exhibition contents within and creating gathering areas that will manage and distribute crowds while providing retail, food and beverage opportunities. An array of E-trees is distributed throughout the site. Following the path of the sun, much like a sunflower, they provide 28 percent of the energy required to power the building.
At present, Grimshaw's current projects under construction include a new member of the Eden Project family in Qingdao, China, Oman Botanic Garden in Muscat, Gunyama Aquatic Park and Recreation Centre in Sydney and a Science and Technology Building for Arizona State University.
Design work continues on five further Eden Projects in China and the UK, a number of high profile and strategic transportation projects in the UK, HS2 London Euston and Birmingham Curzon Street stations; and the practice is involved in developments for both Newark and John F Kennedy airports in New York as well as a new transportation hub at Shenzhen Bao'an International Airport.
Grimshaw continues to bring its enduring and sustainable architecture to various locations around the globe, and looking to the future it is safe to say that the practice's dynamic and innovative projects are worth watching in the years ahead.