From novel static discharger designs and radio silent tuneable antennas, to the first airborne LTE mission-critical public safety radio, Chelton has achieved a number of world firsts. We learn more about its success with President, Jason Abbott.
PIONEERING INNOVATION
Chelton exists today as a formidable force in the aerospace and defence manufacturing industry.
With a vast portfolio spanning Antennas, Avionics, and Land equipment, the company has been securing success in demanding environments since Chelton's inception in 1947, and has continued to define the aerospace and defence industry with numerous notable, world-leading achievements.
Furthermore, Chelton has continued to adhere to its founding principles to overcome immensely complex communication challenges and deliver fail-safe, pioneering technology to some of the world's most formidable militaries and public safety agencies.
"We specialise in the design, manufacture, and delivery of highly reliable and innovative aerospace, land defence, and commercial airborne equipment," opens Chelton's President, Jason Abbott.
"It is quite an achievement for Chelton to have been in the industry for over 75 years and is a testament to the worldwide reputation we have built for quality, capability, and reliability," he adds.
Boasting an expansive product portfolio, Chelton's capabilities span across both military and commercial industries. Antennas are the company's mainstay, having pioneered some of the most well-established technologies in the industry, such as tuneable and conformal antennas used in helicopters and fighter jets. This technology has most recently been developed for next-generation fighter jets such as the KF-21 Boramae.
Applying this sizable expertise, Chelton has also been able to extrapolate its collected knowledge from antenna development into avionics with its range of GNSS Anti-Jam and Mission Critical Communications products.
Elsewhere, the company's Land business unit spans areas such as Land Antennas, Air Traffic Control, Vehicle Intercom Systems, and Explosive Ordnance Detection. The development and skills for these departments are honed at Chelton's dedicated R&D and specialist manufacturing sites.
BECOMING AN INDUSTRY SPECIALIST
Today, Chelton's three distinct specialised business units operate out of the company's sites across the UK and Finland. These locations include Newmarket, Redhill, Joensuu, and its headquarters in Marlow.
Additionally, having been a key figure in the industry since 1947, Chelton has been able to work and partner with some well-known giants in the industry, from big original equipment manufacturers (OEMs) including Airbus, Leonardo, and Lockheed Martin to militaries and public agencies across the world, such as The HALO Trust.
These strong relationships have seen Chelton equipment installed and used on over 120 core platforms and counting, including some innovative and prominent projects such as the Korean KF-21.
To date, strong, long-term relationships with both OEMs and users have allowed Chelton to focus on innovative solutions that offer tangible benefits to customers and users. The company's technical teams are not isolated in the laboratories, but instead are out in the field able to enjoy close relationships and collaborate with customers.
"As an agile company, we are able to make quick decisions and maintain control of our own technology roadmap. This means that we de-risk new technologies in advance of engineering developments," explains Abbott.
"We use our own funding to drive our research activities, but with a clear understanding of customer sponsorship to take this to market. Our products are proprietary, highly engineered, rich in intellectual property, and predominantly exported to overseas customers," he shares.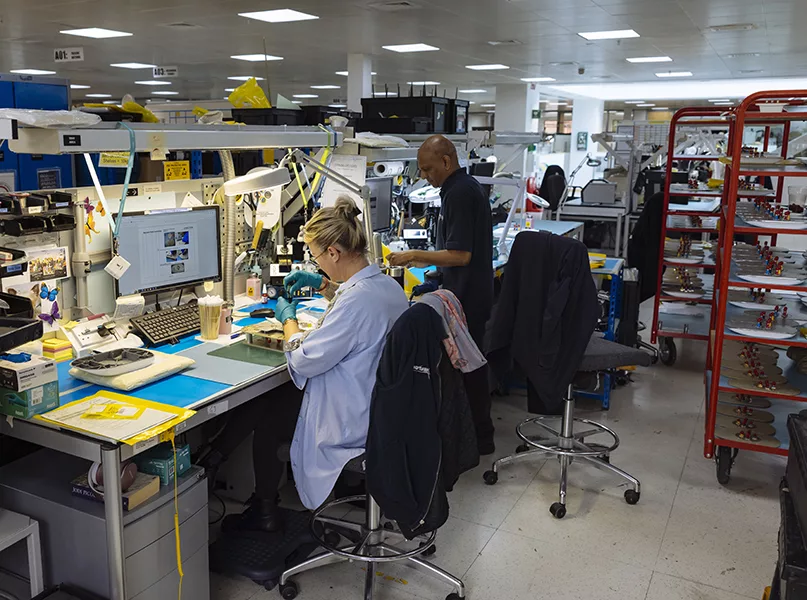 SERVICE WITH A DIFFERENCE
Over the years, Chelton has expanded its skills and product portfolio to be more than just an expert in antennas.
"We've defined the aerospace and defence industry with a number of vital achievements and global firsts. It is our special appreciation for the engineering aspects of the company that originally set such strong guiding principles, that we still follow today," Abbott sets out.
"The engineering skills that we hone mean we can develop world-leading and advanced equipment, including stealth technology with low observability solutions," he enthuses.
Similarly, Chelton wishes to reiterate that it is 'far more than just antennas', not just in its product range but also in the service it offers. From modelling and design configuration to testing and installation support, Chelton offers a full, end-to-end experience to ensure its customers receive the best possible service.
"Our technology and commitment to quality and continuous improvement, through automated manufacturing, for example, ensure our products are securing success for our customers in some of the world's most challenging environments," Abbott tells us.
"At the end of the day, we want to enable the advancement of aviation and defence products for our customers through innovation and engineering excellence, and ensure our technologies improve efficiency as well as safety."
Chelton prides itself on being on its customers' team, from product exploration and configuration all the way through to installation and aftersales support. Whatever a system's ambitions, Chelton is there to see it through and deliver technological excellence.
"Many of our customer relationships stretch back decades, affording us a deep understanding of their challenges, and allowing us to act like a development partner rather than just a supplier," Abbott excites.
It is Chelton's long-standing pedigree of serving customers for over 75 years that has resulted in established, long-term customer relationships. By delivering products that were developed many years ago, the company recognises that clients need a long-term, stable partner, and a safe pair of hands that they can depend on long into the future.
The structure of the company is set up to enable an agile response to its clients, and remain customer-focused, efficient, and flexible so that it can react quickly to meet technically challenging requirements.
Although Chelton has a wide range of commercial aerospace components, it differentiates itself through close customer collaboration. This may be as simple as supporting the integration of equipment onto the platforms, but also extends to full, custom developments that allow equipment to be built into the structure of an aircraft. These close relationships drive Chelton's technology roadmap and ensure that internal research is both innovative and relevant.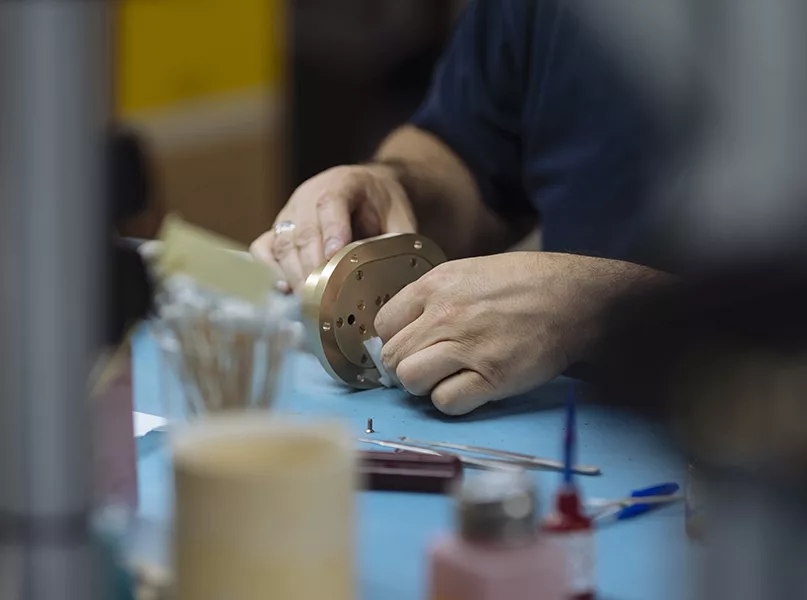 HARMONY ACROSS THE BUSINESS
Chelton has worked relentlessly to position itself at the forefront of advancing aviation and driving innovation across the industry.
As such, the company is now actively involved in developing cutting-edge aerospace and defence solutions that enhance safety, efficiency, and military capabilities.
"By integrating emerging technologies such as data analytics and automated manufacturing, we assure the very best and most technically advanced products for our customers that are suitable for now as well as the future," Abbott reiterates.
More broadly, collaborations and partnerships with other industry players, universities, research institutions, and regulatory bodies continue to play a significant role in Chelton's innovation strategy to shape the future of aerospace and defence.
"Our roots are as an engineering company, and our success is driven by the people behind the products. We invest in training and development to ensure engineering excellence runs through the veins of the company and secures its future."
Abbott believes that his responsibility is to continually improve the business by providing clear, strategic direction, opening opportunities for all employees, and operating the company with a set of values and behaviours that fit the business.
"Empowering and creating an environment for our people to thrive in is fundamental in making Chelton a great and fun place to work," he enthuses.
Some of the company's key drivers include constantly investing in and evolving both Chelton's people and its products, to both improve and excel across the market.
"We employ excellent people and develop highly technical products to serve our complex customer base, which enables us to be the market leader in our space," Abbott adds.
---
CHELTON'S ATTRIBUTES TO SUCCESS
Commitment to innovation and engineering
Chelton has consistently demonstrated a commitment to innovation by staying at the forefront of technological advancements and by investing in R&D to ensure its products and solutions remain cutting-edge.
Skilled and diverse workforce
The company's long-standing success is undoubtedly linked to its talented and dedicated workforce. Over the years, Chelton has fostered a culture of excellence and educated its employees to ensure the best in design, manufacturing, and customer support.
Customer-centric approach
Chelton provides tailored and bespoke solutions and services, along with exceptional customer offerings.
Global reach
Expanding its presence on a global scale has allowed Chelton to tap into diverse markets and gain valuable international experience, as well as build a vast network of customers and partners through strategic partnerships.
Quality assurance
Maintaining high standards of quality control and rigorous adherence to industry standards has earned Chelton a reputation for reliability and performance. This commitment to quality has led to long-term customer trust and a high Mean Time Between Failure (MBTF) rate.
Long-term vision
Chelton's ability to maintain a long-term vision while remaining agile in response to short-term challenges has been instrumental to its sustained success.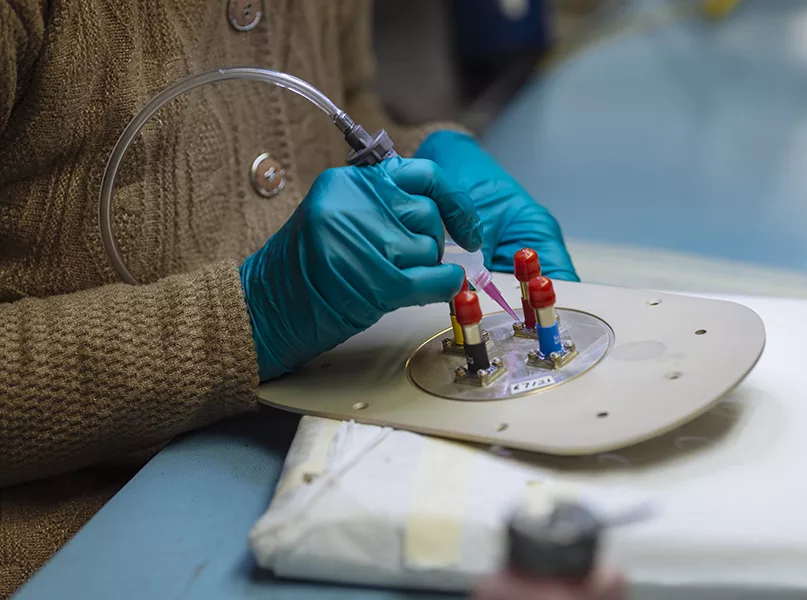 ---
FORWARD-THINKING PROJECTS
A key example of a long-term relationship that has been nurtured by Chelton, leading to an innovative product range, is the company's work with Korean Aerospace Industries (KAI). Chelton has been a partner to KAI for both helicopter and aircraft programmes, but in 2017 developed a range of advanced, fifth-generation fighter conformal antenna technology that was integrated into the skin of the aircraft. This represented a significant leap forward for Chelton and has helped drive international discussions about sixth-generation technology.
Chelton enjoys numerous established relationships with governments and humanitarian agencies that have allowed the company to develop world-beating Ground Penetrating Radar technology for mine detection.
"Our technology allows the reliable detection of even the most difficult threats, which are largely invisible to traditional metal detectors. This accelerates the time to clear an area and reduces the risk to de-miners," Abbott acclaims.
"Elsewhere, we also work on a number of projects delivering whole systems such as the UK Home Office's Emergency Services Mobile Communications Programme – the first of its kind – which will see an upgrade to the Emergency Services Network."
For this project, Chelton will be providing a new Aircraft Communications System based on TETRA and LTE, which will be used on emergency service rotorcraft across England, Scotland, and Wales.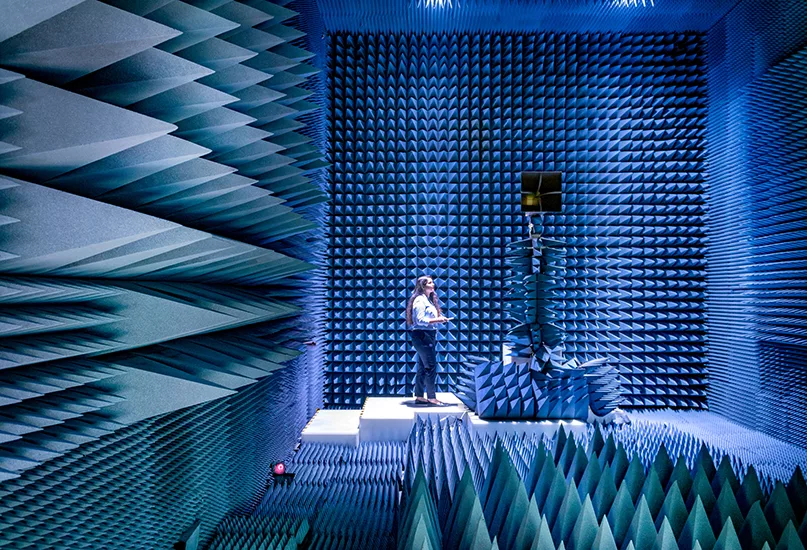 STABILITY AND GROWTH
After two years of acquisitions and rebranding, Chelton has now vigilantly reached a place of stability and growth.
"This has been driven not only by our excellent leadership team, but also by our exceptional workforce," Abbott says proudly.
"We have been able to identify positive actions to create a comprehensive mission, vision, and set of values to ensure that we hold each other accountable for our actions and build psychological safety in the workplace," he states.
This, along with a raft of other internal initiatives for Chelton's employees, such as family fun days, Christmas parties, volunteering, donations to fundraising activities, well-being events, and more, all build towards creating a happier, healthier, and more empowered workforce.
By guiding, coaching, and encouraging Chelton's teams, Abbott is aiming to create a collective feeling of pride and self-worth throughout the entire company.
"My job is to create an environment that people thrive in, whether they're old or young, technical or operational.
"It is my role to create a business environment where people want to come to work every day and are proud of our achievements," he continues.
At what is an exciting time for the defence and aerospace industry, the team at Chelton is very enthused about developing its technical capability and product range to meet these challenges and continue to prosper moving forward.