Wind turbine installations are a breeze for Windhoist, whose Managing Director, Euan Fenelon, highlights some key onshore and offshore projects.
WINDS OF CHANGE
"The wind energy industry is maturing. It's much more commercially driven now than it has ever been before, and performance expectations are much higher in terms of quality and safety."
Conscious of these heightened expectations, amid the global offshore wind boom, is the Managing Director of Windhoist, Euan Fenelon.
A leading wind turbine installation contractor, Windhoist offers heavy cranage, mechanical and electrical services to principal wind turbine suppliers in the market, including Vestas, Siemens Gamesa, Nordex, and more.
The Scottish company was established in 2005, after its founders identified the need for a UK-based mechanical and electrical installation turnkey supplier to the emerging wind industry.
Since then, Windhoist has delivered more than 11 gigawatts (GW) of capacity and invested in a number of key competencies, specifically to service the needs of the offshore wind sector. Today, it is part of The Windlogix Group (Windlogix), where Fenelon is also Chief Operating Officer.
"There are three companies within Windlogix (Windhoist, Stowen, and Hexis). Windhoist is the crane and installation side of the group, in which we do onshore and offshore wind farm installations," he explains.
Windlogix's modular concept allows the company to serve customers globally, whilst maintaining the same high levels of quality, HSE (health, safety and environment), and schedule adherence.
Launched in March, the integration of the three businesses will deliver a "one stop shop" service delivery ethos to the on and offshore renewable market, meeting expectations from the construction, through operations to the demobilisation phases of wind farm development.
With a wide spectrum of capabilities, the Windlogix model reduces interface risk for customers and adds value through synergies provided within the group.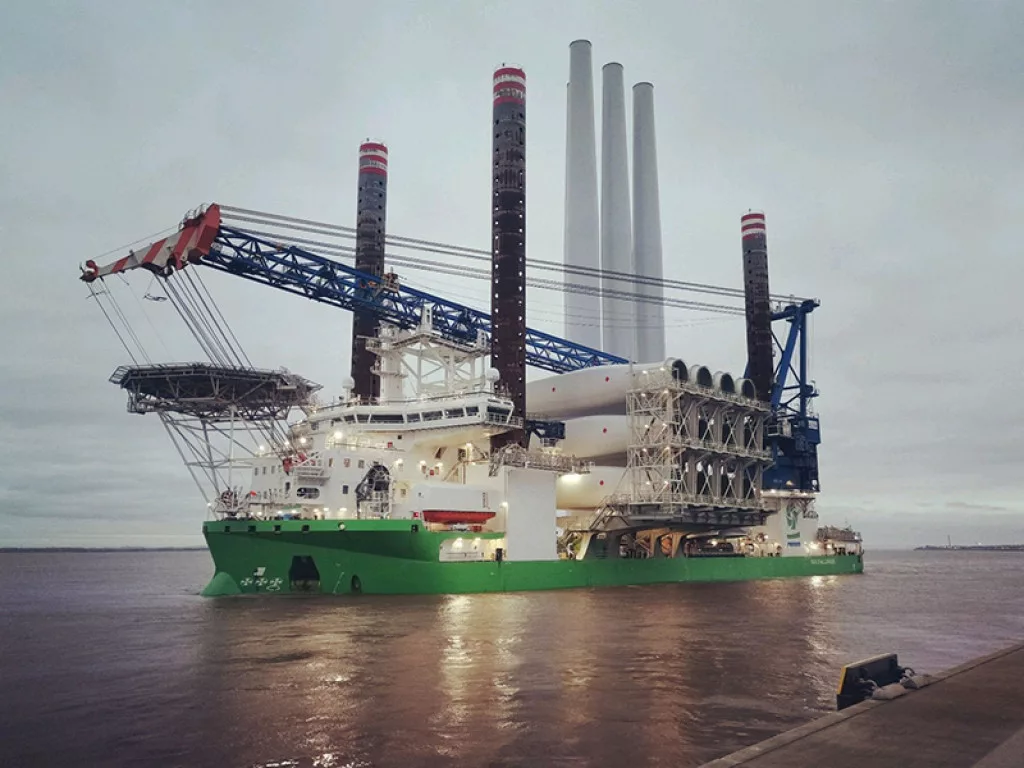 COMPREHENSIVE SUPPORT
Windhoist has an advanced suite of heavy lift craneage. Operating a comprehensive and diverse fleet of heavy cranes generally specialised for the wind industry, the company provides services including one-off lifts and multi-unit contracts, giving an all-round, complete solution.
"We have five main cranes and a number of support cranes in the business that deliver support on and offshore," outlines Fenelon.
"It can take up to 60 truckloads to move a Liebherr LG 1750, which is one of our biggest cranes, from one location to another."
The LG 1750 is a heavy lifting, lattice-tower mobile crane that combines the flexibility of a 750-tonne crawler crane with the mobility of a fast-moving truck crane from the same load category. Four extremely rigid, folding arms of generous size make up the star pattern supports, dominating the appearance of the crane's chassis.
"Highly competent staff are needed to drive these cranes because they are pretty complicated things. You can't just drive them on the road straight away, you need special permits," Fenelon continues.
"We have a core team that leads the installation of wind farms on and offshore, as well as electrical/mechanical personnel who deliver support to the sites, from full wind farm project management to supplying just one person to a project."
By utilising its multi-disciplinary in-house teams, Windhoist works with customers to ensure they achieve their targets and gain maximum return on their investment. Likewise, the company also works closely with a number of local suppliers to support its operations.
"The good thing is that local people benefit from local supply chains, they benefit from the wind being there, so we're quite keen to keep progressing with that kind of ethos.
"It also gets the local people on side when we're on site because you become quite the focus when you're building wind farms. It's a highly visible process, so you want to get on well with local suppliers as well as local people," emphasises Fenelon.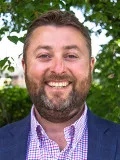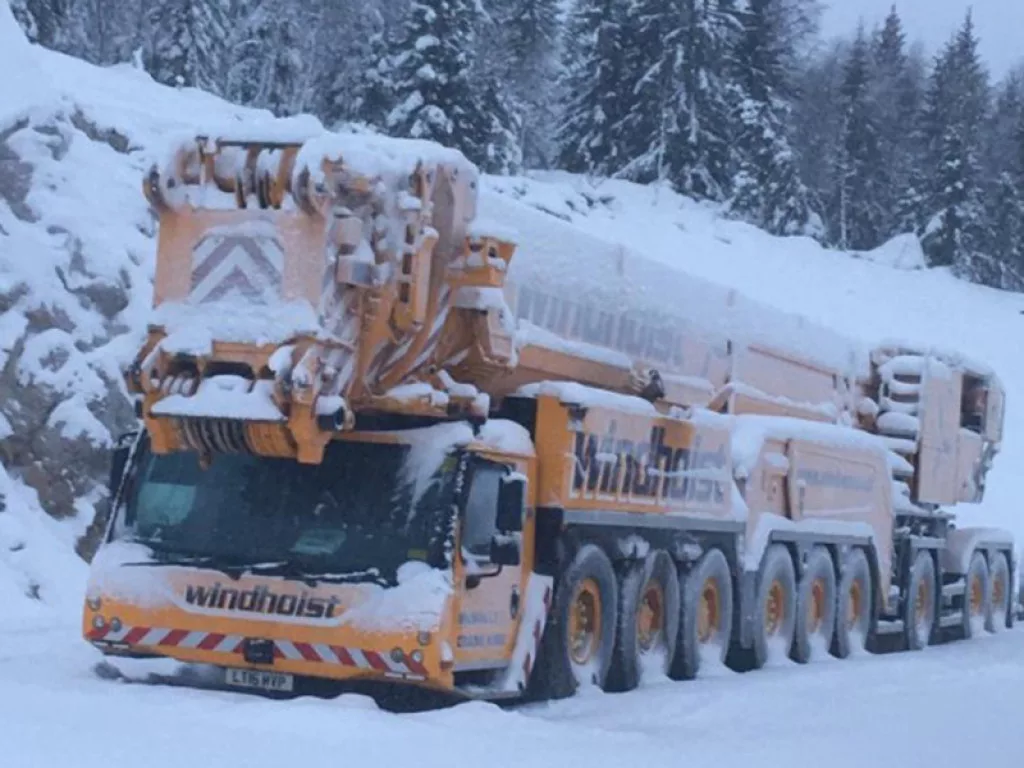 PROJECT HIGHLIGHTS
Onshore, Windhoist is providing full project management at the Kennoxhead wind farm cluster in South Lanarkshire, Scotland.
Boasting an anticipated installed capacity of 174 megawatts (MW), the cluster is being built in two separate phases, with the first expected to enter commercial operation in 2022.
"We're currently delivering projects in Scotland, Finland, Norway, Taiwan and Morocco, and we have done work all over the world.
"With 25 years of history in the industry, we have a lot of competent people here that have been delivering many different types of wind turbines. That in itself can be a challenge because every turbine you see nowadays is brand-new, there are new variations, but we have the experience to take on these new turbines having dealt with change before," Fenelon tells us.
Elsewhere, Windhoist recently completed the pre-assembly of 165 wind turbines at Hornsea Two off the Yorkshire coast, powering well over 1.3 million homes with green electricity.
Hornsea Two is located adjacent to Hornsea One, the world's largest offshore wind farm, where Windhoist also completed pre-assembly operations.
"The Hornsea Two pre-assembly was a very interesting process. We had two large jack-up vessels constantly rotating, each collecting sets of four pre-assembled wind turbines ready for installation offshore," reveals Fenelon.
"We effectively had two operations running, each with an LR1750 and LR1300 crane and full installation teams assembling the turbines 24/7, each servicing one of the two jack-up vessels.
"It was a considerable process which saw us deal with significant challenges, such as COVID-19, but we never missed the boat, were always on time, and our quality level was very high. Good collaboration with the client meant we managed to get over the line with very little health or safety issues."
Windhoist also carried out wind turbine pre-assembly work for the 588 MW Beatrice offshore wind farm, the second largest in Scotland. Beatrice's 84 wind turbines became fully operational in June 2019, providing enough wind-powered electricity for up to 450,000 homes.
"Beatrice, along with Hornsea One and Two, are the biggest offshore wind farms we've done. We also built one of the biggest onshore wind farms in Northern Europe, called Nysater in Sweden, comprising 114 turbines," Fenelon highlights.
"We understand all different kinds of challenging environments and how to deliver in them"

Euan Fenelon, Managing Director, Windhoist
COLD WEATHER EXPERIENCE
Completed in harsh conditions, Windhoist's huge experience in cold weather delivery was essential to the successful delivery of Nysater projects in Sweden.
Windhoist's experience has been gained on some of the most difficult sites seen in Europe, with floated roads, steep inclines, and meagre wind abatements providing numerous challenges to the company's crane operators and technicians.
Each site, no matter how difficult, is perceived by Windhoist as part of a learning curve, to develop a strategy that maintains high standards of safety, performance and quality in what is a high-risk industry.
"One of the projects that we're delivering is the second-most northerly wind farm in the world, 500 kilometres north of the Arctic Circle, and that brings all sorts of challenges that we are very much used to in cold weather delivery," says Fenelon.
"We've also delivered in the middle of Morocco, so we understand all different kinds of challenging environments and how to deliver in them.
"Obviously crane hire and the process of getting the turbines built is a highly time-dependent process, and you can only build in certain weather conditions, so we are always trying to find ways to help the client accelerate their programme, get ahead of the game, or react to weather issues when they actually happen," he continues.
Scale is a key driver of the offshore wind boom, as next-generation turbines will stand up to 250 metres tall and must be able to cope with some of the harshest conditions on the planet for more than 25 years.
Around 100 GW of offshore wind capacity is expected to be deployed globally by 2030, and whilst Europe has very much been at the forefront of this energy revolution, turbines are now being deployed in even deeper waters further from shore across the world, from Asia to the Americas.
Since its establishment, Windhoist has greatly expanded in terms of scope, geographical coverage, and employee numbers. Though the company is now recognised as the largest wind turbine installation contractor in the UK, with an increasing market share in Europe and beyond, further geographical expansion is set to breathe fresh air into the company's world-leading offshore operations.
"We want to diversify our clients and our geographies, those are the two big things," Fenelon affirms. "Everybody wants to build wind farms in the summer, especially in the Nordics where the winters are extremely harsh, so we'd like to diversify into winter work.
"We've got a number of main clients, but we really need to be in a bigger space, and that will come with geographical growth as well, where our clients are also working. It's an important part of the Windlogix strategy and we'd like to be delivering the same level of quality service in new geographical areas over the coming years. This has already begun with our work in Taiwan but we are ambitious about pushing into new geographies."