Launching into the digital age, Qatar Post is the national postal service provider on a transformation journey, as outlined by Jamal Sultan Al Mohammadi, Director of Sales and Marketing.
MODERNISING MAIL
Postal services connect people and markets.
Connecting Qatar to the world through a wide range of traditional postal services and modern digital solutions, is Qatar Post.
Established in 1950 as the General Postal Corporation, Qatar Post is the exclusive domestic provider of postal services in the Middle Eastern country, with more than 20 branches nationwide today.
Traditional postal services are in decline, however, and Qatar Post's strategic plan reflects a global shift to the delivery and fulfilment of online orders.
"We have recently updated our strategic plan for the next three years to reflect local and international trends facing Qatar Post and other postal providers across the world," opens Jamal Sultan Al Mohammadi, Director of Sales and Marketing at Qatar Post.
"A lot of our attention is on investing to be able to meet growing fulfilment demand, where we have expanded beyond traditional post to deliver e-government postal services, pharmaceutical prescriptions for local healthcare providers, groceries for large supermarkets, as well as opening up international sites for customers in Qatar."
In 2015, Qatar Post embarked upon a radical and comprehensive transformation programme, to embrace the digital era as a high-performing, digitally-enabled 21st century post office.
The strategic imperatives of the transformation programme were to enhance Qatar Post's service portfolio and customer experience, build best-in-class postal and fulfilment operations, and nurture the company's organisational capabilities.
Al Mohammadi soon became aware of this transformation, having worked for Qatar Post early in his career before pursuing opportunities to broaden his experience in other Qatari organisations and government departments.
"Qatar Post was modernising its services to become a more commercial organisation, with our Chairman and Managing Director, Faleh Al Naemi, leading the company through this process," he tells us.
"Due to my strong connections across many government sectors that would be key to Qatar Post's growth, I was asked to re-join the company and was soon appointed to my current role."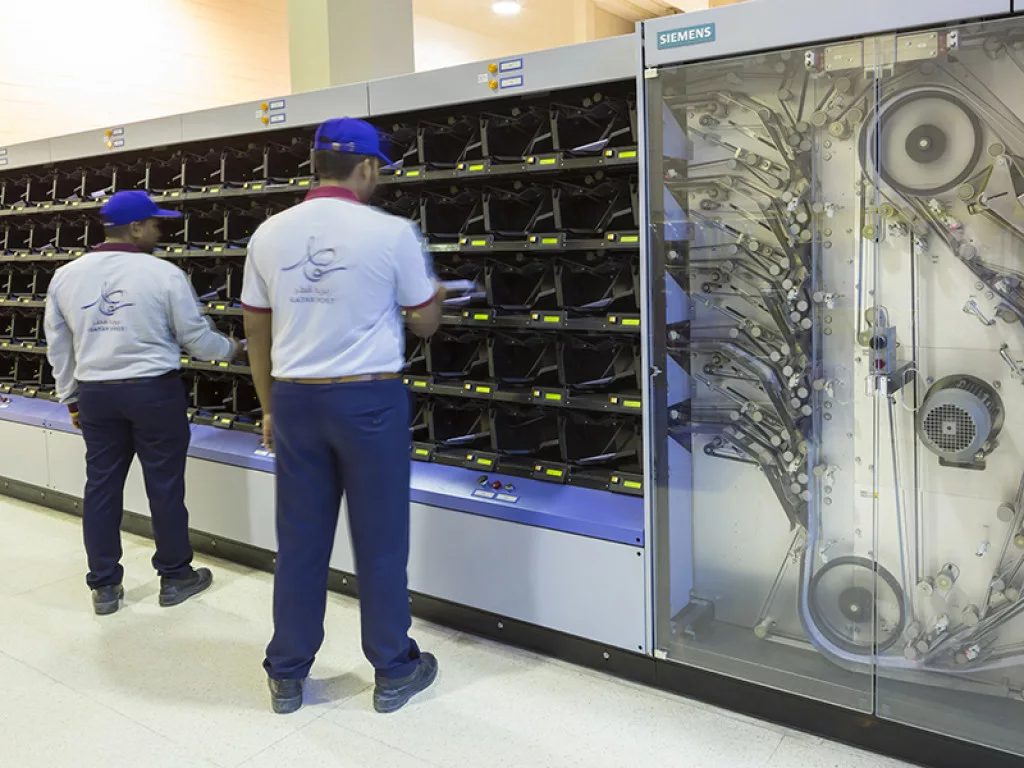 CUSTOMER EXPERIENCE
As the national postal service provider, Qatar Post tries to represent the best of Qatar in terms of service quality.
The company has consistently proven its operational excellence over the last few years, recognised in 2018 by the Universal Postal Union (UPU), the postal sector's primary forum for international cooperation, as the second-best performing post office in the world.
Whether visiting branches in-person, receiving a delivery, or dealing with the company online, Qatar Post strives to be an extension of the customer experience that its clients want their customers to enjoy.
"Although we have made great progress over the past six or seven years, we know that we can and will continue to improve and provide a better service," Al Mohammadi pledges.
Qatar Post's all-new delivery app, for instance, offers individuals as well as business customers a dedicated service for collection and delivery within four hours.
TAMM is the perfect example of how Qatar Post is both embracing the digital age and committed to service quality.
The app was introduced by Qatar Post after repeated requests for such a service from local entrepreneurs, who were starting up businesses and wanted a quick, convenient way to fulfil orders as they came in.
On-demand express deliveries are only the press of a button away with TAMM, which even includes in-built live tracking functionality to view the driver's location in transit, as well as proof of collection and delivery.
"Customers can request the service online through the website or Qatar Post mobile app, with the option of paying online via debit or credit card, or by cash on collection," explains Al Mohammadi.
In addition to TAMM, Qatar Post also offers WhatsApp as a digital communication medium for home delivery services, improving the digital customer experience yet further.
A Home Collection option has also been introduced, allowing customers to collect directly from their preferred location rather than visiting retail branches, as well as a cargo shipping service for those who want to send shipments internationally.
Cargo services are currently offered to select countries by Qatar Post, and will be expanded to other areas based on demand.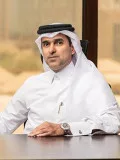 REFRIGERATED TRANSPORT
To offer a more comprehensive range of services, Qatar Post has also been trying for some time to deliver temperature-controlled products.
The COVID-19 pandemic proved to be the catalyst for such services, covering groceries and prescription pharmaceuticals in particular.
In partnership with supermarket chains such as Carrefour, SPAR, and Al Meera, Qatar Post assisted with refrigerated transport for home deliveries, whilst pharmacies relied on the company as a key partner during the pandemic, helping to deliver one million vaccines across the country.
"Our service has evolved from trialling various cooling containers to changing the profile of our vehicle fleet, meaning we now have the ability to support many organisations across Qatar," Al Mohammadi informs us.
Operating one of the largest vehicle fleets in the country, comprising a range of vehicles from motorbikes to large trucks, Qatar Post is able to serve the entire country in a timely and professional manner.
The company has also worked in partnership with delivery companies and retailers, in light of legislation protecting delivery drivers during peak temperature hours.
"It gets very hot in Qatar during the summer months. By adjusting our shift and service patterns, our vehicles have been able to fill the gaps in a safe and professional manner."
Refrigerated vehicles are just the tip of the iceberg for Qatar Post, however, in terms of what is required to deliver a safe, efficient, informative, and modern postal service.
"Nowadays, our customers expect fast, trackable deliveries that arrive in a way that is convenient to them, and our supply chain is increasingly complicated and global. We have to be much more proactive and coordinated to synergise various stakeholders to deliver to expectations," emphasises Al Mohammadi.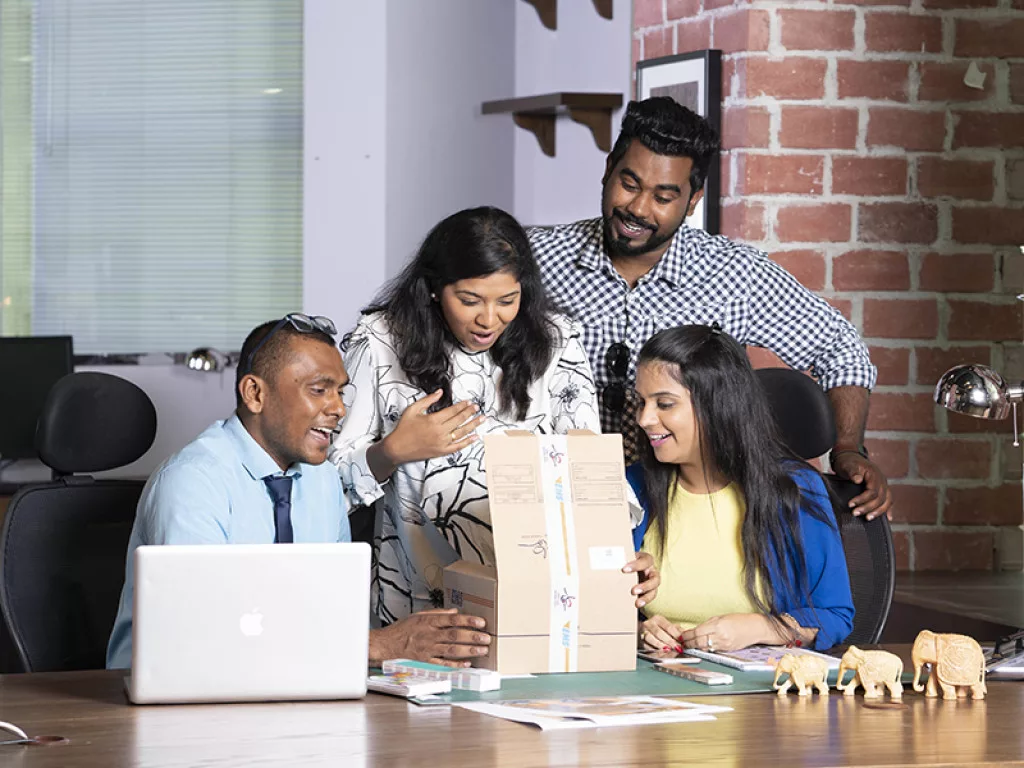 DELIVERING FOR THE WORLD CUP
With the 2022 FIFA World Cup just around the corner, the attention of the world will be on Qatar over the coming months as it hosts football's showpiece event.
At what is naturally an exciting time for Qatar, the World Cup will not only be a star-studded showcase of the world's best footballers, but a focal point for the change and progress made in the country over the past 20 years.
Qatar Post has been involved in a number of activities surrounding the World Cup, including the introduction of a series of stamps in the build-up to the tournament, available in branch and online.
The company has the privilege of being the only organisation in Qatar able to issue stamps, which offer an original way to commemorate special occasions such as the World Cup. Over the years, Qatar Post has issued many hundreds of stamps charting the historical events, achievements, and celebrations of the country.
As well as limited-edition World Cup stamps, a number of commemorative memorabilia items are also being sold in branch and online by Qatar Post.
Elsewhere, the company has been extremely busy with the delivery of Hayya Cards for the World Cup to fans based in Qatar, through a global network of partners all over the world. The Hayya Card will be used as a means of identification for all tournament ticket holders, and provide a number of services aimed at enhancing their experience while in Qatar.
"We are also setting up pop-up sites for the tournament in the main fan zone on the Doha Corniche, and for the many visiting media companies and their staff at the QNCC media centre," adds Al Mohammadi.
"Finally, we are managing all of the lost and found items at the official sites, following our successful delivery of the service at last year's Arab Cup here in Qatar. Again, we will be using our local and international delivery networks to reunite fans with any items they may have misplaced in all of the excitement."
"Qatar Post is modernising its services to become a more commercial organisation"

Jamal Sultan Al Mohammadi, Director of Sales and Marketing, Qatar Post
PEOPLE-POWERED POST
As well as providing training through professional bodies such as the police and Ministry of Interior, Qatar Post staff are encouraged to put forward creative ideas through an annual innovation award.
Staff can participate in the scheme by submitting and developing their ideas and proposals, before presenting them to an executive committee.
Ideas are then included in the business planning prioritisation process, with a ceremony honouring the winners.
"Award-winning ideas in 2021 included the Qatar Post Premium Service bundle and loyalty programme, the introduction of a delivery platform, and a postage stamp to honour heroes of the COVID-19 pandemic," Al Mohammadi reveals.
Going forwards, the people at Qatar Post will continue to play an important role in realising the company's vision, to be recognised as the best postal and logistics company in Qatar and across the Middle East and North Africa (MENA) region.
Al Mohammadi outlines a number of goals to be achieved by 2024, including a better digital experience for customers, the capacity to safely and efficiently process and deliver customer items, and the provision of services that support Qatar's national vision.
"We really care about giving our customers a great service, and we are open to adapting what we do to support the future evolution of the industry and the country," he concludes.