Jelle Klein Teeselink, Managing Director at HoSt Bioenergy, discusses how the company transforms waste into energy and other valuable end-products.
BIOWASTE TO BIOENERGY
Transforming waste into energy is invaluable.
Doing so while offering high-tech systems with efficient and clean conversion technology is even better. Enter HoSt Bioenergy.
The firm is a global industry-leader in the technology space that produces both sustainable energy and valuable end-products from residual streams which strive to help create a zero-waste society. As such, HoSt stands out as a leader in technological innovation that contributes to the success of a circular economy and the development and acceleration of the wider energy transition.
The organisation was founded in 1991 by Herman Klein Teeselink as a result of a joint venture between Holec Projects and Stork — two well-established suppliers of energy systems and innovative energy technologies. The business has always operated independently under family ownership, and with the second generation of management now in place and with over 200 employees across offices in seven countries, the future of the business is secure for the coming decades.
Over the last three decades, HoSt developed a full-technology suite built around renewable energy: anaerobic digestion, upgrading of biogas to biomethane, CO2 capture and liquefaction and bio-LNG, and renewable heat and electricity through thermal conversion of wood waste, RDF and waste which makes HoSt the most complete player on the market in terms of deepness of technology scope.
As a company, HoSt is a one-stop-shop in terms of technology portfolio scope where, alongside the building of bioenergy facilities, it also offers 24/7 service and maintenance and renewably energy as a service for heat, electricity, and gas where it has a portfolio of 10 own renewable energy plants that supply renewable energy by the end of 2021. To date, HoSt has built over 300 bioenergy installations in more than 30 countries across four continents of which the oldest facilities are now running more than two decades and are still operational.
Innovation and entrepreneurship are deeply rooted within the company with all technologies being the result of in-house development, included several patented technologies and a strong R&D pipeline for the coming years. HoSt has been able to streamline standardise its product lines thereby becoming industry leader in terms of efficiency, ROI, and sustainability, lowest emissions and innovations.
The current market environment is a huge opportunity for HoSt. "Our technologies with modularised setup are economically viable and easy to deploy worldwide where we see a lot of underlying momentum in the market," explains Klein Teeselink. "This is driven by an increased awareness of the required acceleration of the energy transition and new taxation on the usage of fossil energy. We see a lot of renewables getting cheaper due to maturing technology, wide acceptance that the energy transition should be accelerated, and fossil fuels becoming more expensive due to carbon taxing with renewables being cost competitive in many cases."
The Netherlands for example has a substantial agricultural sector with significant untapped feedstock which makes the country suitable for renewable gas production from manure.
"Anaerobic digestion of manure prevents methane emission from manure, because it no longer remains in the stable and is pumped to the digester as soon as possible. This combined with production of renewable gas is a pure win-win," says Klein Teeselink.
"Despite the Netherlands being an important market and our HQ sitting within the country, the larger part of our revenue is generated in countries outside the Netherlands with a strong focus on the US, UK, France, and Germany."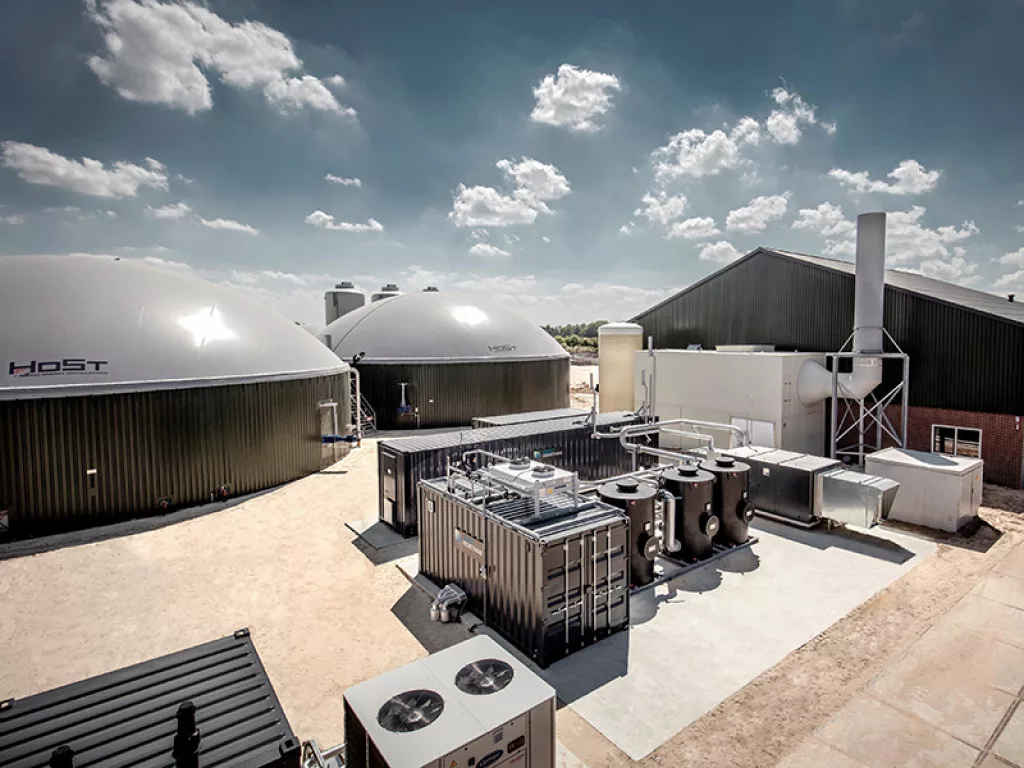 HARNESSING A SUSTAINABLE FUTURE
As the world continues to embrace a greener approach to operations across a plethora of industries, there is a growing interest in biofuels as the industrial environment of greenhouses, industrial processes and factories all begin to embrace greener alternatives.
As such, Klein Teeselink is convinced that all personal vehicles will eventually transition to electricity, however, for long distance transport in both road and water, bio-CNG and bio-LNG will play an influential role, one of the key in-house technologies of HoSt.
"The beauty of this solution is that both the technology to produce the bio-fuel and the vehicles are already there and are cost competitive (often even cheaper compared to fossil fuels) as people are already driving on CNG for decades – although in limited volumes," explains Klein Teeselink. "It's a quick way to decarbonise transport while solving the waste problem by transforming methane emitting waste into renewable bio-fuels.
"We try to advocate this solution by constantly quantifying the benefits, but also through research studies, working alongside the wider industry including utilities, universities and government bodies, but most importantly by leading by example through our own production facilities as by the end of this year we will have seven fully-owned bioenergy production facilities, and counting."
HoSt has recently established the cleanest bioenergy plant in the Netherlands through thermal conversion technology delivering renewable heat and electricity from waste wood.
The company has spent the last 10 years reinventing the technology of thermal conversion to produce renewable heat and electricity from residual wood and waste streams.
"The R&D effort resulted in not only the cleanest bioenergy plant on the market in terms of emissions and efficiency, but also, enabled through our unique modularised and standardised design, in terms of building speed, compactness all at a significantly lower cost compared to other plants," explains Klein Teeselink. "Both the design, the thermal conversion process and the flue gas cleaning technology are proprietary technology and fully in-house developed. Compared to natural gas solutions, nitrogen emissions are around 95 percent lower. We have now successfully made operational two facilities that produce renewable heat and electricity for greenhouses in the Netherlands with this type of design and technology."
TECHNOLOGY DRIVE
Klein Teeselink is full of optimism about the future of the renewables market generally given the global necessity of transitioning away from fossil towards renewable energy. He believes that geographically, HoSt is experiencing strong momentum in the US but also in France, the UK and Germany.
"In terms of technology, we get most excited about our projects where we combine several parts of our technology portfolio, so for instance building a biogas facility with CO2 capture and liquefaction to potentially liquefying the biomethane, and on the thermal conversion side deploying our unique plant design all over the world together with our own carbon capture solution."
Many companies are embracing technology into operations to allow for increased efficiency. This is especially true in sustainability as technology plays an influential role in solving the energy transition as the waste problem.
"Organic waste emits methane which is 20 times more potent for the environment than CO2," says Klein Teeselink. "Deploying technology to turning those residual waste streams into energy and valuable end-products is therefore solving two problems at the same time and essential to achieve a net zero state in the future."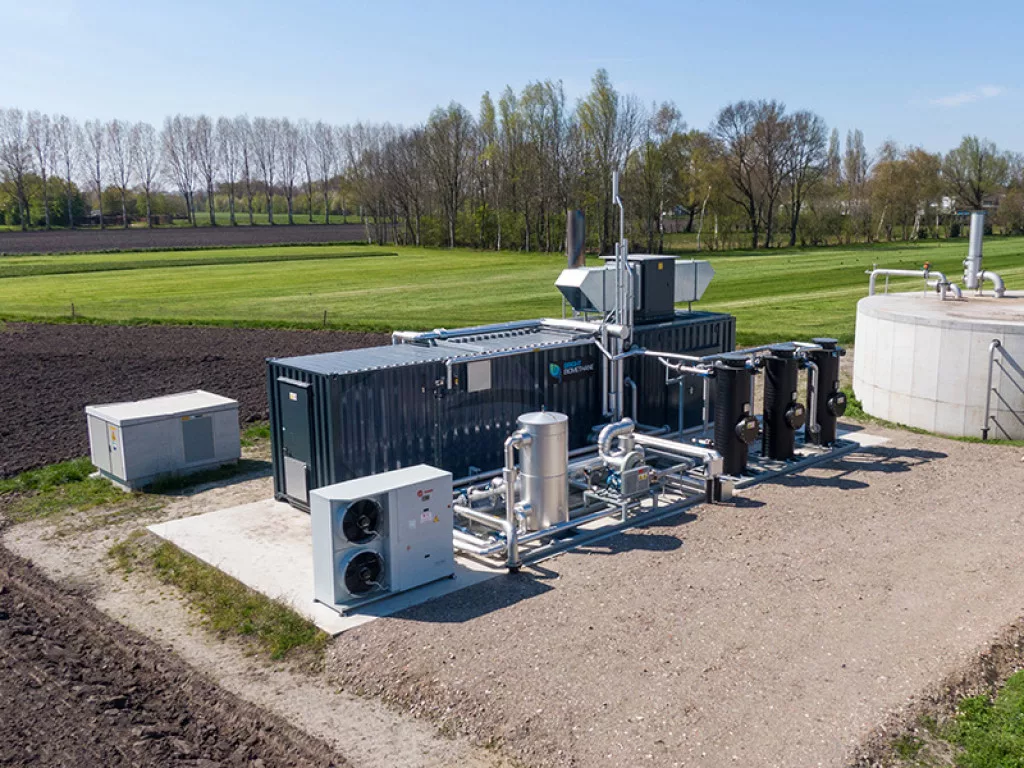 INFLUENTIAL RELATIONSHIPS
Developing key, strategic relationships with partners is an important component of achieving long-term success. For HoSt, these partnerships are at the core.
"A strong and stable relationship with suppliers is fundamental for success," he assures us. "We build our facilities so that they last for decades and don't degrade on quality. In order to achieve this, we place very high requirements on our suppliers. We also see the supplier relationship as broader than just supplier–customer relationship.
"Our commercial partner network functions as an extension of ourselves in the local markets. We therefore see them as a core part of our organisation. They make sure that we are known in the market, but also play an important role in educating countries on the advantages of our technological solutions and enabling countries to move towards zero waste societies. We mostly look for partners with the same philosophy on quality and innovation while at the same time having a true passion for the renewable energy."
Innovation is deeply rooted within the culture of HoSt as all technologies are fully developed in-house. According to Klein Teeselink, besides an in-house R&D team HoSt has several R&D facilities in the field of anaerobic digestion and thermal conversion.
"A good example is our fully-owned anaerobic digestion facility in Waalwijk, the Netherlands that produces biomethane, liquefied food-grade CO2 and bio-fertiliser," explains Klein Teeselink. "Here, new innovations and technologies are tested before commercialised. Two examples are our membrane upgrading technology to filter biogas to produce biomethane and our CO2 liquefaction technology to liquefy captured CO2 that can then be used in greenhouses or the food industry."
"The environment for talent is exciting as people get the opportunity to work at the forefront of the renewable energy transition in a highly entrepreneurial organisation"

Jelle Klein Teeselink, Managing Director, HoSt Bioenergy
TALENT MANAGEMENT
At HoSt, people are the heartbeat of the organisation. This means that retaining talent is vital and as a result of robust growth and high ambitions, it is hoped that business will be doubled in the years ahead. In order to accelerate recruitment, HoSt works closely with universities on R&D projects and also for the intake of trainees and interns.
"The environment for talent is exciting as people get the opportunity to work at the forefront of the renewable energy transition in a highly entrepreneurial organisation," discusses Klein Teeselink. "In order to innovate on a continuous basis collaboration and knowledge sharing at a company-wide level are both key to enable as part of your culture in order to succeed."
Harnessing a positive workplace culture that encourages, engages and empowers staff while ensuring they want to work for HoSt is important. As such, the company hosts business parties, encourages getting coffee for colleagues, provides an on-boarding gift, a card with a personal note from the team manager as well as a present and dinner at Christmas, birthday celebrations and many other initiatives to show how much each staff member is valued.
"Communication is vital, particularly when an organisation grows quickly," explains Klein Teeselink. "Additionally, we just started with a global quarterly management update session on the organisation, strategy, R&D, sales and results and additionally monthly Q&A sessions where the organisation is able to address questions to the management. Questions are of course not limited to these sessions, we feel it is important that colleagues feel heard at all times".
HoSt has a clear vision for the future. The firm foresees more of a holistic approach with waste to energy plants combined with CO2 carbon capture systems producing valuable CO2 alongside production of valuable end products such as bio-fertiliser. "The great thing is that all these technologies are readily available and provide attractive return on investment for investors and customers thereby providing a very economical win-win while contributing to a better planet," discusses Klein Teeselink.
Moving forward, HoSt has a mission to play more of an influential role into developing a zero-waste society and driving the energy transition. "We have all the technologies in-house and aim to deploy them all over the world," says Klein Teeselink. "We target to double in size every three years through organic growth and expansion of our product portfolio. Key priorities for growth in the coming years are the scaling-up our position in the US, further roll-out of our latest technological innovations around CO2 capture, bio-LNG and thermal conversion and expansion of our own to operate portfolio in Europe and the US, and beyond where the opportunities arise."