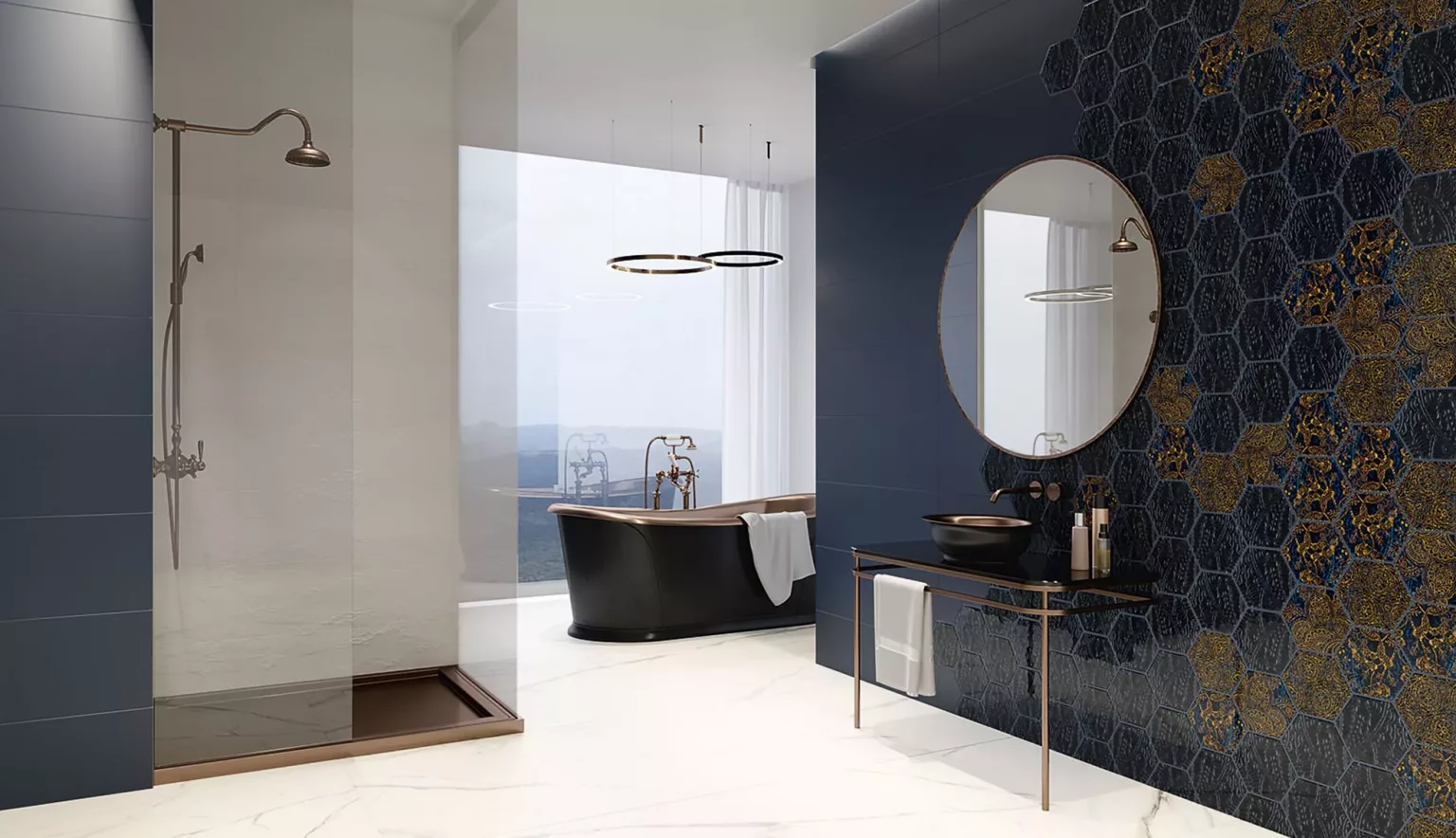 Poland's Queen of Ceramics
Ceramika Paradyz is determined to propel Poland to new heights in a European industry traditionally dominated by producers in Spain and Italy
Writer: Tom Wadlow | Project Manager: Matthew Taylor
Ceramics is big business in Poland.
Contributing more than €560 million to the annual GDP, the country produces around 100 million square metres of ceramic tiles every year, making it the third largest producer in the entire European Union behind Italy and Spain.
But it could be even better. According to Jurand Brzezinski, CEO of leading Polish ceramic tile manufacturer Ceramika Paradyż, the industry has historically lacked commercial focus on western markets, a factor which has allowed its Italian and Spanish counterparts to seize a competitive advantage.
"Equipped with the right tools and competences, Ceramika Paradyż aims to change that," he says.
"We have a sound strategy in place and made the first step already by strengthening our footprint in Germany, with the UK and France coming up next. Our ambitions do not stop on Europe, and will soon tackle high value markets in North America and MEA.
"Being a leader obligates us to be on top of all that's going on in the areas of marketing, design, technology and digital. We invest a lot in people, knowledge, research and state-of-the-art technology."
Indeed, the last three decades have seen the family-owned company emerge as a national leader in the production of ceramic tiles, its trendsetting capabilities seeing deliver innovative products to customers in 50 countries around the world.
Ceramika Paradyż is head quartered in Opoczno, a town in south-central Poland in the eastern part of Łódź Voivodeship where it has provided community and charity support ever since it was founded.
The company's facilities include five manufacturing plants and one of the most modern, automated high bay warehouses – such operations employ over 1,200 people, making the firm one of the largest employers in the region.
"Our product portfolio consists of a full spectrum of ceramic coverings, from wall and floor tiles, large format slabs, and clinker to glass decorations and ornaments," adds Brzezinski.
"During the company's 30-plus years, we have manufactured enough tiles to cover the whole area of the five smallest countries in the world – the Vatican, Monaco, Nauru, Tuvalu and San Marino – with three layers!
"The measure of our success, however, is not the scale of manufacturing, but above all the trust of our customers who for years have been using our products to create their dreamed-of interiors."
Brzezinski joined the firm in 2019, sensing the opportunity to bring some commercial innovation to an industry which has remained relatively unchanged in recent decades. Recognising the technical competencies of the Polish ceramic sector, he jumped at the chance to come on board and spearhead the next chapter of Ceramika Paradyż's development story.
"I have over 20 years of experience in managing organisations with strong growth ambitions," Brzezinski adds. "I have a passion for identifying new business opportunities, implementing pioneering strategies which increase sales, improving operations, and growing people.
"Ceramika Paradyż is a company with character, a strong brand, a well-established position on the regional market and ambitious plans for growth in exports. That is a foundation for further sustainable development.
"The owners, who have built the business from zero in 1989, nurture a culture of courage, respect, openness and care. This is a great place to work, and is abundant with potential to become a pioneer and leader of new solutions in the industry."
Standing apart
Indeed, the CEO states the company's wide manufacturing capabilities and tremendously skilled human capital as key factors that stand it apart in the field.
Ceramika Paradyż is the only manufacturer in Poland able to offer tiles in all available technologies, the firm determined to continue pioneering new techniques and processes in order to stay ahead of the curve and compete with international rivals.
Brzezinski's claims are backed up by a string of prestigious awards. It is the only Polish player to be recognised by three recognised international accolades, including the Red Dot Design Award 2016 for its Trakt Collection, and the iF Design Award 2017 for its Elanda/Elando collections.
The third and most recent is the Bronze A'Design Award for the Modernism collection of tiles.
"The Modernism collection is a true piece of art characterised by "Warsaw corsets" – mosaics, which are meticulously built from small, iconic tiles with characteristic notches and arches," Brzezinski describes.
"Inspired by Polish designs from the 1920s, it proves that true art does not age. The corsets were used to decorate the interiors of public buildings, as well as lobbies and staircases of private houses. We have brought those forgotten by history products back to life."
Ceramika Paradyż very much hopes to be on the receiving end of more prestigious awards in the future, this made more likely thanks to an ambitious expansion strategy which is centred around a €30 million investment into new manufacturing capabilities at one of its plants.
This will enable it to enter into completely new product categories not served by the ceramics industry and inaccessible to the company's competitors.
Specifically, it is investing in an innovative technology offering the possibility of a unique 'tile through' decoration in the entire ceramic tile. Thanks to this innovation, the Polish company will be able to offer an unprecedented range of large-format ceramic tiles with extensive decorative effects visible in the entire cross-section of the tile, even after mechanical edge treatment.
The project – a world first – has been preceded by industrial research and experimental development work. In November 2020, contracts will be signed with suppliers selected by tender, and the assembly of components of the modern production line will start at the beginning of the next year, with manufacturing planned to start in the first half of 2022.
Fuelled by innovation
Further, the onset of coronavirus has perfectly highlighted Ceramika Paradyż's thirst for innovation.
Anticipating that there will be a drastic drop in footfall to its showrooms, the company quickly realised the need to create a virtual experience for customers to visualise their concepts.
In another Polish industry first, it has created an online offering made up of three components. The Virtual Studio allows users to see selected collections of tiles in predefined, high resolution and photo-realistic spaces. Once a customer has made up their mind, they can use the 3D Planner to simply and quickly design and visualise the layout of their specific room.
Alternatively, they can book an online consultation with one of Ceramika Paradyż's interior designers to talk through process – at the end of the process, the customer walks away with a full design and shopping list, which they can fulfil in the online store.
"In just a couple of weeks, we have enabled a completely new digital journey, but we have not stopped there," Brzezinski adds.
"As we speak, we are fully revamping and re-platforming our ecommerce to the world renowned Adobe Magento 2 to make the digital shopping experience even easier, more intuitive and richer in relevant and in-context content, and will rapidly add new languages."
Such innovation and agility would not be possible without collaboration up and down the Ceramika Paradyż supply chain.
Brzezinski is quick to recognise the contribution of the company's partners. "We are very close to the customer and are usually first to identify new opportunities," he says. "By sharing our knowledge and experience, we provide fuel for innovation at our machinery and raw materials suppliers, what in turn allows us to design and manufacture products that have not been made before.
"We have many great and reliable partners from Italy, Spain and Germany, among others, with whom we have been cooperating since the establishment of the company. It is impossible to list and address each of them here, but I would like to thank them for being with us and helping develop our business."
Looking ahead, the CEO is all too aware of how important these relationships will be, the short-term future being centred around plans to return to the levels of growth seen before the COVID-19 pandemic arrived.
This involves intensifying product development and commercialisation activities, as well as kicking off new digitisation programmes. For instance, the firm recently installed a new CRM system and is currently building out the ecommerce offering as Brzezinski has already described, assets which Ceramika Paradyż will be able to leverage globally.
In terms of leadership and structure, the company is also in good health for the long term, Brzezinski concluding the conversation by paying tribute to the owner's proficiency in securing its legacy moving forwards.
"Most private businesses in Poland were established in the early 1990s," he explains. "This means that most of them are now facing the challenges linked to generation change and ownership succession. Companies from the old EU have gone through that in the 1970s and 80s, resulting in many private businesses collapsing or being acquired by multinationals. "Ceramika Paradyż is a glorious example where this challenge was successfully addressed.
With the change of the ownership structure in 2016, the second generation of the company's owners took over. Children of the founder – Adam Tępiński and Anna Tępińska-Marcinek – continue their father's traditions and pursue his values, moving the company into the 21st century.
"The founder, Stanisław Tępiński, always says: My greatest success is the fact that I had someone to hand over this company to."
VIEW Ceramika Paradyż BROCHURE