AFGlobal has been supplying major oil and gas players with technology, services and manufacturing capabilities for several decades, with 2020 earmarked as a new chapter for the company.
THE OEM FOR O&G
"With over 13 years in the oil and gas industry, I was asked to join AFGlobal (AFG) in 2019 and, having collaborated with them on previous projects, I knew they were not only a good company to work with, but also a company that was going places.
"I was very eager to bring my contacts and wealth of knowledge of the industry here. We have room to grow in the industry, and 2020 will be a new chapter for us."
Mark Lamyman is in no doubt about the future prospects of AFGlobal.
Joining the American oil and gas OEM as International Business Development Manager, he is determined to build on what has been a vibrant year for the firm, the UK office where he is based registering a number of landmark achievements.
The most impressive? Being told by a UK oil and gas giant that AFGlobal was its best supplier of 2019, a feat which Lamyman puts down to the company's agile, forward-thinking approach that he believes will result in repeat performance this year.
"We find original answers to client problems," he says, drawing on his previous experience dealing with AFGlobal as a customer.
"We can engineer most things for any client needs, as we are an independent company with large engineering knowhow, which also helps us to set new standards and deliver superior value to clients and employees while creating positive change for the industry.
"This I feel sets us apart from other companies within the sector, and we will keep pushing for more success in new regions with my 2020 business development strategy. From previous experience AFGlobal is incredibly flexible with the client – if you need a face-to-face meeting, we will be there, if the client needs us to design something that has not been done or proven before, we can do it."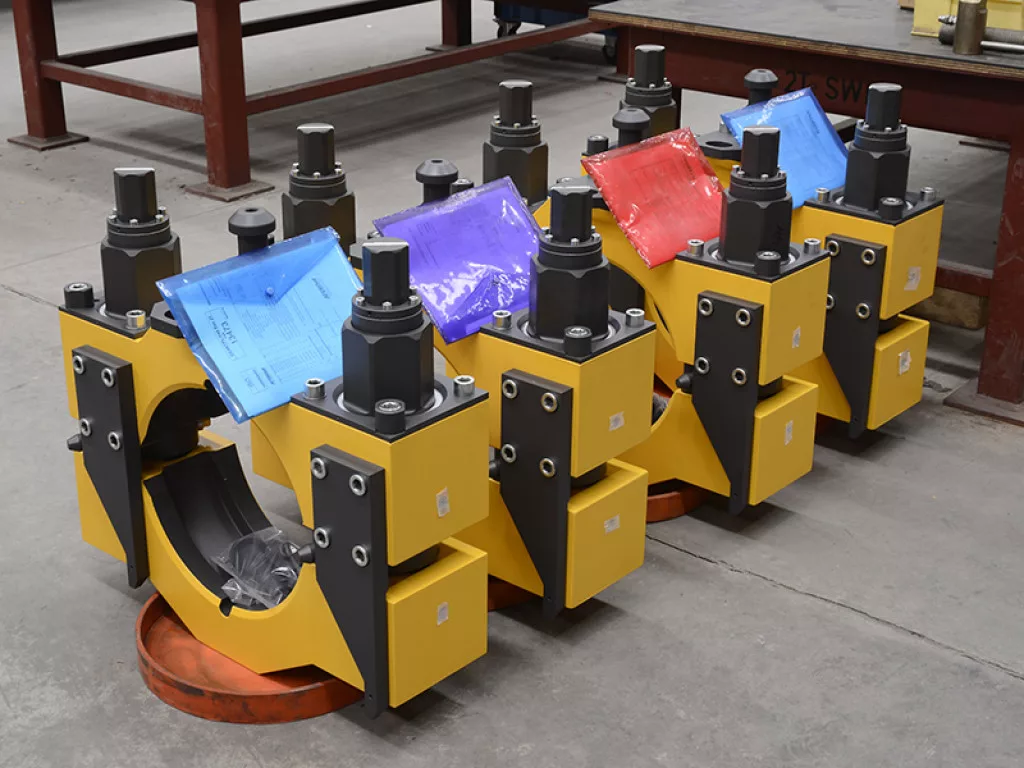 AFG IN ACTION
A glance at the current roster of projects proves Lamyman's point.
For example, the UK office is driving a development with the potential to change the industry and how subsea pipes are connected. Situated offshore in Southeast Asia, the joint venture involves a partnership with Aberdeen-based Cortez Subsea to produce an innovative solution for a Malaysian client.
The product in question is a subsea stinger deployed diverless connection (SDDC) system, the major benefit being the removal of diver operations resulting in a safer operation that costs 20 percent less than conventional methods.
It uses the tried and tested AFGlobal Retlock subsea clamp, which has been in service for over 25 years with a proven track record of accomplishment throughout the Gulf of Mexico, UK North Sea and Norwegian sectors.
Back home in Houston, the company announced in September 2019 the signing of a lease agreement with Drill-Quip to assume responsibility for its local forging operations, a deal which could see AFG acquire the assets if desired.
"AFGlobal also has other major projects ongoing throughout the world," Lamyman adds. "In 2019, Petrobras awarded us approval for our Active Control Device (ACD) for use on their wells in Brazil. This approval follows rigorous testing reviews at our Advanced Technology Centre in Houston.
"Awards and approvals just keep coming our way but, with that said, it is all about the efforts our staff put into their work to accomplish this."
Indeed, Lamyman describes his colleagues in the UK office as some of the best people he has ever worked with, AFG priding itself on staff development and training.
"Certainly, in the UK offices, we hold sales, engineering and project meetings and presentations with all our staff," he continues. "This gives vital information to our employees on what the market is doing, who our target market is, what projects we are bidding on, and more.
"All staff, from administration to shop floor, are involved so they know what is going on within the company. They are also all given training on the industry that we work in to give them that extra knowledge of who our customers are and where our products are used."
Crucially, all employees are trained in HSE practices, AFGlobal's uncompromising approach to safety resulting in the UK's seven-man offshore team carrying out over 12,000 hours of work without any incidents.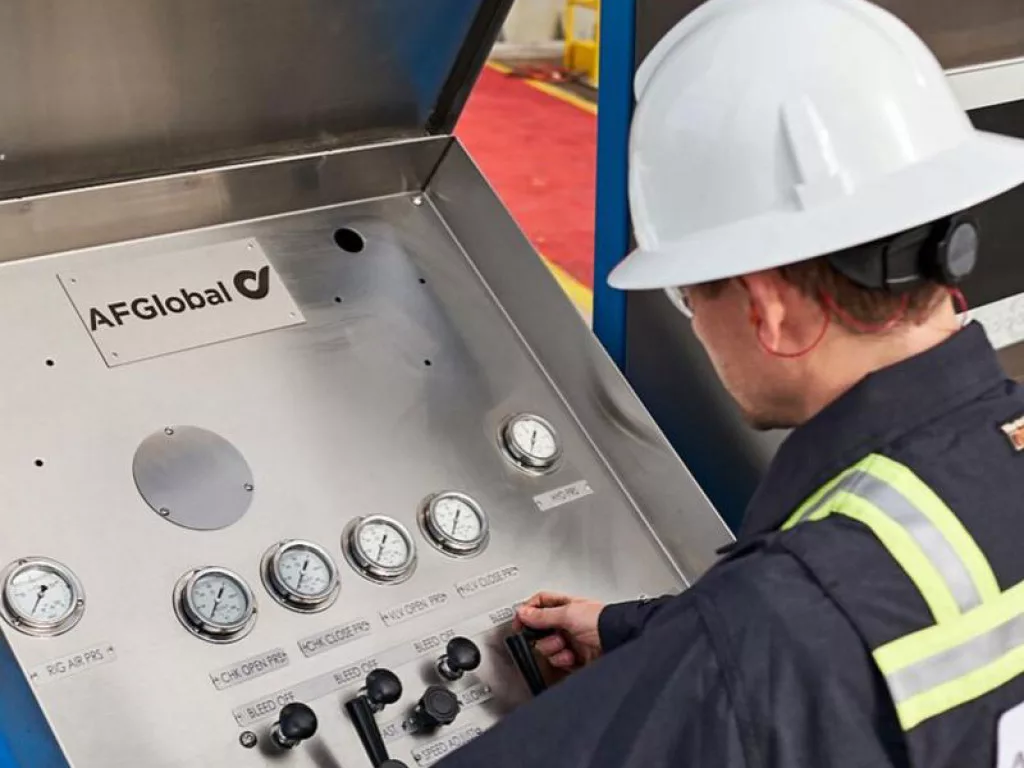 FUTUREPROOFING
As well as people, AFGlobal continues to invest heavily in technology, commitments which will serve to safeguard the company's future and enable it to better serve clients.
Last year saw AFG invest in modern manufacturing systems for the UK facility in order to remain competitive, vital in the eyes of Lamyman if the firm is to continue winning business in what is now a fast-moving global oil and gas industry.
"We have a very good range of products for the industries we supply, but without new products and technology we would eventually be left behind," he explains.
"This is one reason we are engineering new products. Sometimes you don't always see straightaway what is missing and what is needed in the industry, but by listening to the client you will soon find out and come up with ideas.
"If they have had leaking issues from a competitor's product then we can assist with this and if we do not have the product to fix the issue, then we can come up with a design and the technology to get the problem solved."
Sustaining this commitment to innovation is central to AFG's 2020 ambitions, the company also looking to improve its environmental footprint and gain ISO 14001 certification by July.
On the business development front, Lamyman highlights several promising avenues of activity for the year ahead.
"We hope to sign agent agreements for Qatar, UAE and Singapore to give us a wider reach," he says. "I am in talks with potential agents in all areas and should have it secured by May. We will be visiting these regions throughout the year to give the agents the full AFG support to get the results we need and to get the Taper-Lok product into new regions."
Developing a new range of Taper-Lok solutions is also high on the priority list. By the middle of 2020, Lamyman aims to have the designs approved for subsea and petrochemical applications, something he sees as critical to keeping ahead in the oil and gas arena.
Ultimately, it is his mission to get the product in front of as many oil majors as possible.
"It's an interesting one because it has been around since the 1960s, and companies are either using it all the time or have never used it," Lamyman adds.
"We have had some recent success with Reliance Industries in India with this, as they had leaking issues on a heat exchanger and we convinced them to try the Taper-Lok seals. There have been no leaking problems since and they are gradually changing out all heat exchanger seals to our system."
As the new 2020 chapter unfolds, AFG and Lamyman hope and expect Reliance to be one of many clients added to their portfolio of satisfied clients.