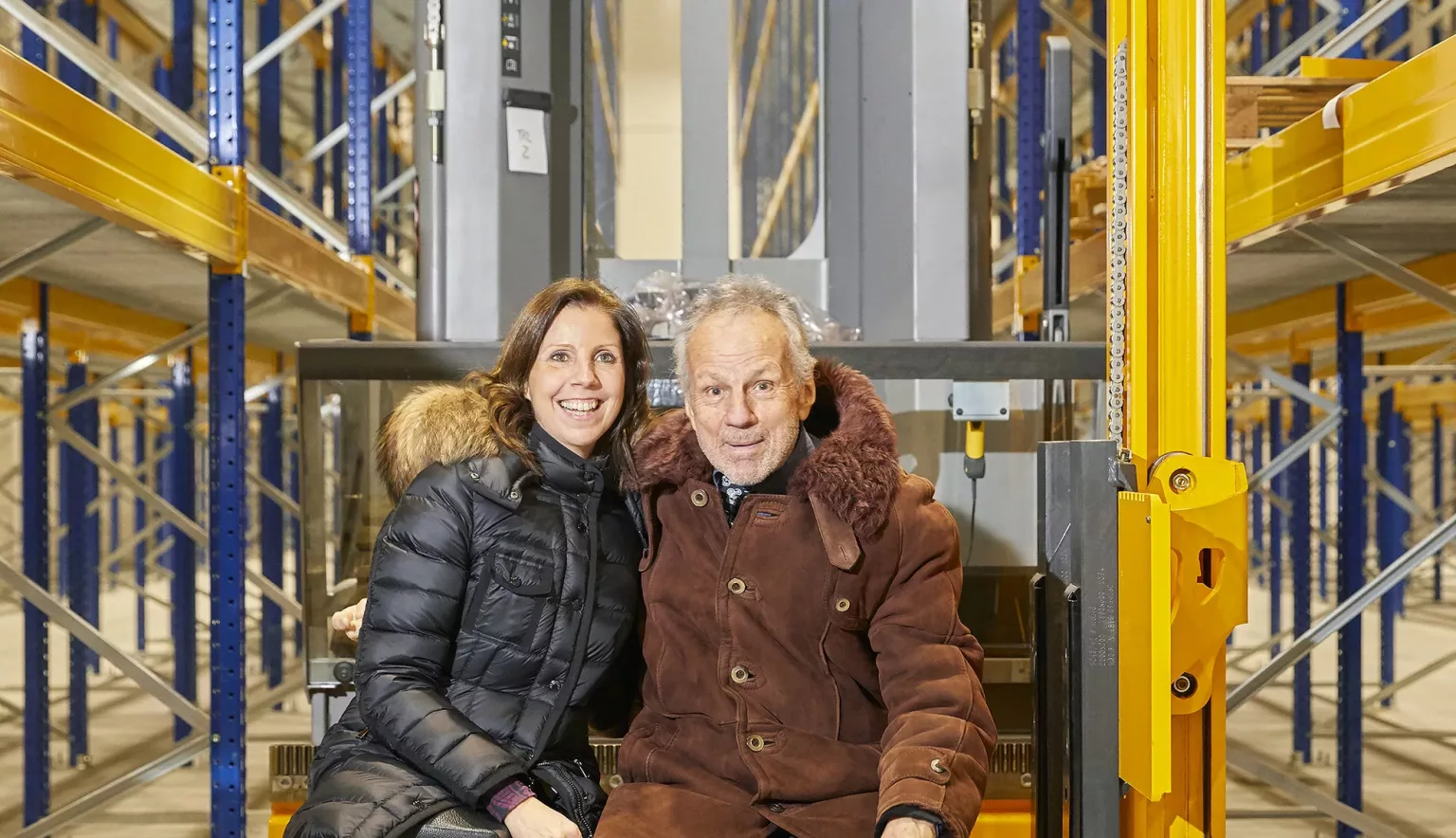 Shaped by Family Values
Lati Industria Thermoplastici (LATI) has been in business for 75 years, valuing long-term customer relationships and prioritising employee satisfaction
Writer: Dani Redd | Project Manager: Matthew Taylor
2016 was a big year for Italian Michela Conterno – she took over from her father as CEO of her family's company, Lati Industria Thermoplastici (LATI). She came onboard to deliver an ambitious 10-year strategy, industry 4.0, aimed at centralising LATI's industrial activities while modernising layouts, plants and machinery.
The process began with the creation of an automated, shelved and interconnected warehouse. The factory is entering its era of digitisation through IoT, a Manufacturing Execution System and a smart performance dashboard providing real-time insights. The next stage is to implement analysis and maintenance processes. Alongside that, LATI is investing further in automation and process innovation to improve its products.
"The final benefit of the investment path will be a greater awareness of our performance, higher efficiency and increased competitiveness," Conterno says.
"Digitisation is for LATI, a historical industrial company, an important change of mindset: for this reason, we work a lot on consulting and training to empower our people. We also reassure them that the digitisation process does not translate into FTE savings, but into dedicating free time for activities with a higher added value!" she adds.
This statement epitomises what LATI is all about. While it is a forward-facing company it is very much a family-focused organisation, something that permeates every aspect of the way it does business.
LATI was established in 1943 by Professor Cosimo Conterno, and over the ensuing decades was transformed from a local company to an international player in the thermoplastics industry.
"LATI is one of the most important European manufacturers of engineering thermoplastics for high performance applications: our compounds are transformed into components for durable goods in the electrical, electronic, industrial and transportation sectors," the current CEO says.
"We are leaders in flame retardant materials for the electrical and home appliance sectors, and leveraging on our core business we want to confirm ourselves as the reference partner for high added value technical solutions and become a leader in special compounds, ensuring sustainable development, respecting the environment and enhancing our people and knowledge."
The company occupies a niche position on the supply chain as an independent compounder, which means it can transform polymers via an extrusion process to give them special characteristics.
"We transform plastic into its opposite. Plastics burn and we prevent them from burning; plastics insulate thermally and electrically, and we make them conductive," Conterno explains.
"Compared to large vertically integrated chemical producers, which are usually focused on one or a few polymers, we are distinguished by freedom: the possibility to offer the customer the right polymer according to his application, choosing among more than 20 bases."
The company can draw on its many years of expertise in formulating and processing plastics to provide each customer with the exact formulation for their product requirements, something which distinguishes it from chemical contributors offering more standardised solutions.
Alongside its unique product offering, the CEO believes that LATI's family values are a key distinguishing feature of the company.
"Being a family business is another differentiation from other chemical-integrated companies because they are very often public companies. These companies always have a name, of course, but they don't always have a face," she says. "A family business means the family is inside the company; everyone knows each other and there is a continuity between the family and the company. Its reputation is vital – family is the foundation of the company's ethics, and social responsibility is in our DNA."
An added advantage of being a family company is that LATI can take a long-term approach to planning and investments. While managers of public companies are often required to bring in results and ROI in a maximum of three years, a family company such as LATI has the freedom to adopt a more long-term, 'patient equity' approach. One such example is industry 4.0, LATI's investment plan from 2016 to 2026.
"We can wait a long time for returns on our investment and in the meantime we can support the company through crisis events like the one we are facing right now, the recession after the COVID emergency. We can wait to get the same profitability level that we used to have," Conterno says.
Her father is the main shareholder of the company and in times of crisis does not withdraw dividends; instead he invests the profit in the company to provide continuity and future development. This means that LATI has been able to face the COVID-19 crisis without any personnel restructuring and is able to continue employing its staff through any low periods. This generates positive repercussions for the entire community.
"We are an alternative to capitalism: for us profit is not an end, but a means to create economic and social value," the CEO says.
LATI's family-centric attitude also extends to its relationship with its partners and suppliers, with whom it is looking to form longstanding connections.
"Most of our relationships, whether Italian or foreign, are historical. Our first customer, a leading company in the electrical sector, placed the first order at our French subsidiary in the year I was born – 1975. Since then, it has never stopped ordering and we have never stopped growing with it," Conterno explains.
LATI aims to generate customer loyalty through granting them the best solution for their product needs and a caring aftersales service. Meanwhile, as a company which customises formulas it seeks suppliers with similar ideals, who can support it in research and development activities through implementation of digitisation and automation.
class="blockquote">

"A family business means the family is inside the company; everyone knows each other and there is a continuity between the family and the company. Its reputation is vital – family is the foundation of the company's ethics, and social responsibility is in our DNA"
A sustainable ethos
Sustainability is one of LATI's strategic pillars and is a requirement of many of its customers.
The company is working on becoming more sustainable on several fronts. For example, it aims to create compound formulations free from substances harmful to the environment. It also uses biopolymers, which are materials derived from renewable resources.
However, Conterno does believe that plastics are sometimes unjustly accused of polluting the environment.
"I think it drives attention to the plastics itself, but we should be more concerned about human behaviour," she explains.
LATI organises campaigns at schools, explaining to students that while plastics can be used in a variety of applications, they can also be reused and reprocessed so they become resources instead of waste products.
"A circular economy is very important; we try to talk to schools about it and influence the opinions of the public and our stakeholders," the CEO adds.
Thermoplastics – which can be reprocessed and retransformed – are ideally suited to form part of a circular economy. LATI also buys regenerated plastics to use as raw material.
"Circular economy really is in our DNA," Conterno says. "During the Second World War my grandfather started an all-female factory focused on collecting and disassembling plastic parts so they could be re-transformed – we were recovering what was waste and re-entering it into the economy."
This was more to do with a paucity of materials than it was to protect the environment, but even so it instilled the principles of creating circular economies that LATI uses today.
Weathering COVID
LATI was a company started during war time, and it has weathered its share of crises over the decades, the most recent being the COVID-19 pandemic. Luckily, it began 2020 in a positive economic situation, with cash to face the crisis. Furthermore, its work was considered vital by the Italian government, meaning it didn't have to close during lockdown.
Of course, like many other companies within the sector, LATI faced a drop in demand for its products. However, this was somewhat mitigated by the fact that the company is very well-diversified, making products for many different sectors.
"We could also face this drop in demand because we have many products with a lot of added value; by selling products with a lot of added value, we could boost our profits," Conterno adds.
Furthermore, its factories were already set up for social distancing with long extrusion lines that mean workers are spread far apart. Personal protective equipment was already an onsite requirement, so there was never a shortage of masks. The company even used its 3D printers to create face shields for the local ER doctors taking care of COVID patients, which it donated free of charge, along with other medical materials.
Office staff were required to work from home during this period. Luckily, LATI had recently trialled a home-working programme. While take-up had been low (as employees preferred coming into work), it meant that the IT department was ready and able to implement mass homeworking at short notice.
"This was a great opportunity to enter and accelerate digital transformation; when people are forced to change, they accept it far more quickly," the CEO reflects.
LATI is now looking ahead, ready to seize opportunities in emerging sectors. It is expanding into several niche markets, such as e-mobility and the production of electric vehicles.
"This is a great opportunity because the electrification of cars, to be done safely, will require more and more thermally conductive plastic materials to dissipate heat, and self-extinguishing materials, which have always been our strong point," Conterno says.
The conversation concludes on an optimistic note, the CEO outlining several other areas for development including antistatic and heat-dissipating plastic for electronic sensors and control systems, as well as 3D printing with bio polymers.
"LATI has an opportunity to diversify. There are new trends we can benefit from, such as digitisation, sustainability and 3D printing. We are involved in all the sectors that will drive the recovery," she concludes.
VIEW Lati Industria Thermoplastici BROCHURE