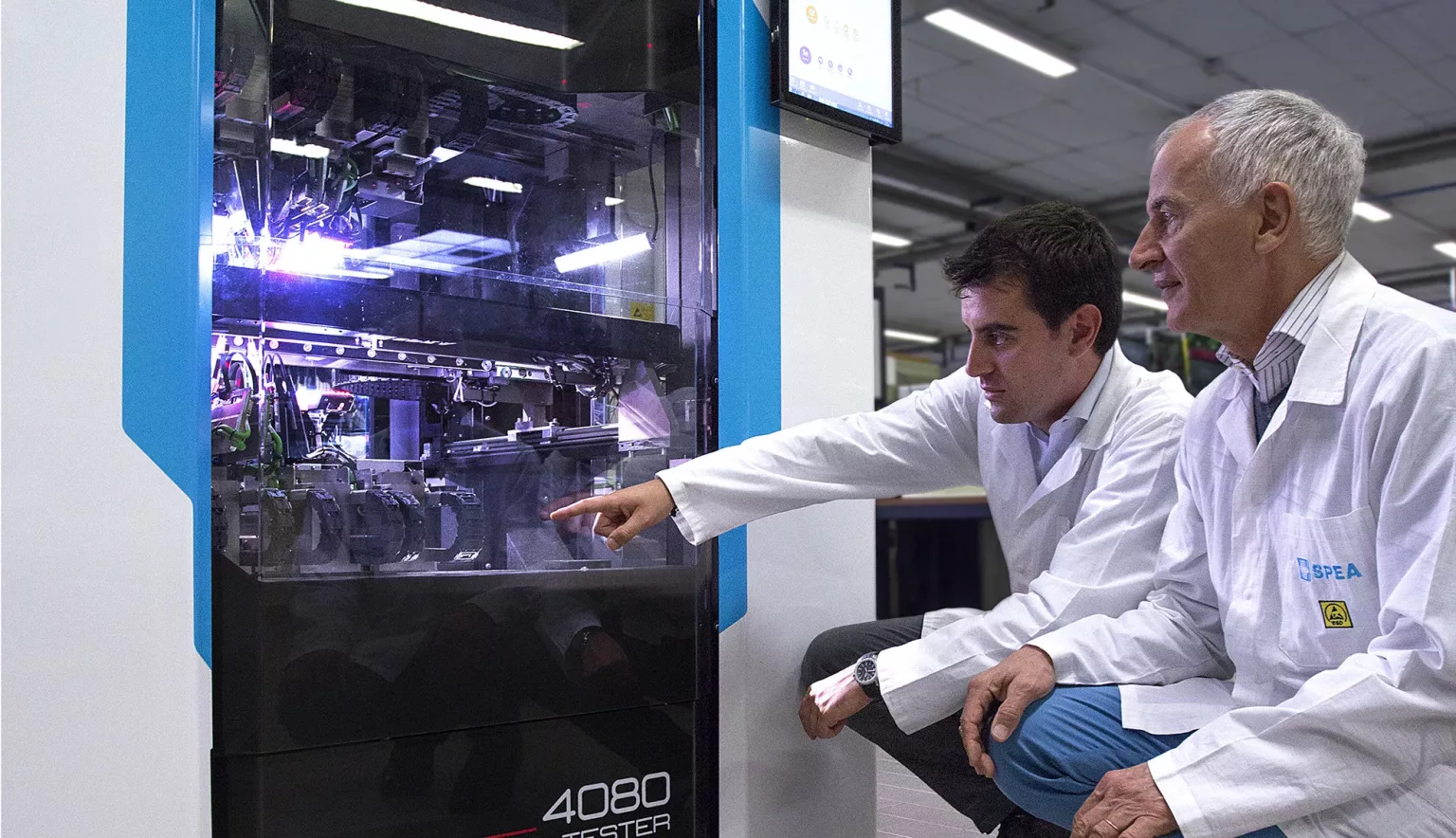 Standing the Test of Time
The story of Luciano Bonaria and his company SPEA – set up in the 1970s, today it stands proud as a go-to partner for vital electronic equipment testing
Writer: Tom Wadlow | Project Manager: Matthew Taylor
There are literally billions and billions of devices that require electricity to run.
From smartphones and vehicle components to home applicances and military equipment, we rely on electronic goods every hour of every day.
Since 2013, annual global electricity consumption has surpassed 20,000 terawatt-hours, more than double the yearly usage recorded at the end of the 1980s.
Be it growing populations or human innovation, there are many factors which explain the exponential rise in power consumption and the number of electronic products produced and used around the world – and one consequence of this is that the need for reliable, rapid and abundant equipment testing has never been more important.
Luciano Bonaria knew this when he set up SPEA in Torino, Italy, in 1976.
Today the firm stands as a leading producer of automatic test equipment (ATE) with clients all over the world from a raft of industries, including automotive, consumer, industrial, health and military, to name but a few.
Bonaria still serves proudly as CEO, a venture which even he admits was not on the agenda when he was working for GE's mainframe computer division as a test and design engineer in the early 1970s.
"Back then in my 20s I was happily employed," he recalls. "I conceived and developed very complex ATE for the mainframe computer boards, including a highly sophisticated and advanced memory tester for chips, boards and modules.
"Before then, in 1968, I was working for Olivetti and conceived and developed the testers for the boards of the first PC in the world, just invented by the company.
"Olivetti was growing into electronics, office and banking machines, and they had to test single board power supplies in high volumes. I was inspired to start my own company by the fact that Olivetti needed such testing capability, and by 1976 I was sure I could offer them a superior solution not available on the market.
"This type of ATE I was developing was not on the market – in-circuit testers were only available for analogue and mixed signal boards, not including power components. So, I suddenly decided to start my own company to produce ATE for the market, and that was the beginning of SPEA."
One customer soon became several as the company expanded into the rest of Italy and Germany in the early 1980s, this being a particularly receptive market to Bonaria's pioneering testing invention – not only is it able to detect every fault, it is also tangibly faster than any alternative.
First responders
Some 44 years on, now aged 72, and Bonaria still carries the same passion and level of enthusiasm for the company as he did on day one, his innovations still the cornerstone of electronic equipment testing today.
He has learned many a lesson as the company developed over the decades, not least in dealing with difficult geopolitical situations and ensuring that customers and employees are taken care of.
Gradually SPEA's remit increased into producing testing equipment for a variety of industries, a recent addition being the microelectronics field, an arena which the CEO describes as particularly exciting and fast-moving, making agility and speed to market an imperative for the company.
Indeed, SPEA's development has been defined by its ability to react faster than others, a feature which enables it to stand tall and boast an unrivalled portfolio.
"Still today the SPEA in-circuit testers have many advantages in fault detection capability over the closest competition, due to the superior test methods and test techniques required to test electronics, also including power components," Bonaria says.
"We have a strong reputation for making the highest throughput testers available on the market, for both electronic, semiconductor and MEMS and sensor devices. One SPEA tester typically does the job of two or three testers from other manufacturers.
"It is the combination of highest throughput and superior fault detection that means we can give to the customers the minimum reachable cost of test."
And it is the customer which is front and centre of the company's priorities. This is one major constant throughout the past 44 years, and something which the CEO is determined to continue placing at the heart of SPEA's activities moving forwards.
"I believe that one key step of the evolution and growing of SPEA is the capability to intercept and detect new technology through discussions with our customers," Bonaria continues.
"Every day our teams talk and listen to our customers – we try to do business on a technical but friendly level in a way that means all of our clients enjoy discussing with us new ideas and new needs. Partnerships with our customers is key."
Made in Italy
Another constant since Bonaria established SPEA is that the company remains proudly Italian, with the majority of its machines still made in the country.
The CEO intends to continue a strong manufacturing presence in Torino, the only exception being specific instances where equipment has to be produced in Asia. Once more this reflects the customer-first ethos, a major reason for keeping production local being the ability to react fast to customer demands and keep turnaround times as low as possible.
Research and development is also critical to this objective. Bonaria reveals that SPEA is expanding its R&D capacity at its Italian HQ in preparation for future increases in demand for ATE, both in terms of volume and variety of applications.
"SPEA recently conceived the necessary automation modules to satisfy the growing demand of fully automatic machines, able to perform the whole test and handling operations without an operator, overnight and over the weekend," he adds.
"This 'operator-less' capability demand is growing due to the lockdown situations caused by the COVID-19 pandemic. Customers see a huge advantage in having a single supplier that has full responsibility of the complete automatic machine, which takes care of designing, manufacturing and integrating everything necessary, including hardware-software applications."
One focus for the immediate future is the microelectronic field which Bonaria has already alluded to.
"This category is seeing a very rapid evolution," he continues. "New technologies and new inventions require new testing machines which don't yet exist. Our goal is to be able to invent, develop and deliver disruptive innovation to our customer before any competitor, in order to satisfy their new testing needs."
Indeed, this forms the crux of the CEO's plans moving forwards, the conversation turning to what the future has in store from a personal perspective.
Having built up the company for the past 44 years, Bonaria looks ahead to the next chapter.
"I want to carry on working for the next 20 years, maybe with the extra half day here and there spent riding my motorcycle through the mountains," he muses.
"I am fortunate that my son, Lorenzo, has been working in the company for 20 years now, and has taken on his own responsibilities – when the time comes, he will be running SPEA and I am convinced that the business will be in very safe hands.
"We are a brains company, and by that I mean I hire people for their minds, not an ability to push buttons or operate a machine. Most of our 700-plus people were graduates and students who we have invested huge amounts of time in developing them, what I like to call building brains. They are the future of the company and will determine its success for the next 50 years."
VIEW SPEA BROCHURE