Machinery manufacturing is a critical sector. We spoke to TRUMPF Group about the necessity of adaptation in the industry and the company's position at the forefront of laser-cut machine parts provision.
CUTTING EDGE TECH
Machinery manufacturing is at the forefront of advanced industry production, particularly within Europe and the Middle East.
Even in the face of the challenges posed by COVID-19, and the underlaying economic grind that has resulted from it, persistent adaptation has led the industry forward. This is especially present within Middle and Northern Europe, where the latest technological solutions and maximised usage of online tools and services have revolutionised the way manufacturing businesses operate.
Exemplifying this adaptation is TRUMPF Group. TRUMPF is one of the world's leading companies in machine tools, laser technology and electronics for industrial applications. It is a family-owned machinery manufacturing company that specialises in laser cutting technologies based in Germany, with many subsidiaries across regions such as the Nordic countries.
"Our main focus is laser technology applications for manufacturing for OEM Business, or integrated in our own machines tools, and other machine tools for sheet metal manufacturing," begins Reinhold Gross, Managing Director of Sales and Services at TRUMPF.
"With automation and logistic solutions, programming and production planning, and execution software we offer comprehensive sheet metal factories plus we offer all services needed to run and improve these installations on our customers site."
INDUSTRY 4.0 AND PROJECTS
One factor that sets TRUMPF above and apart from its industry competition is its ability to stay ahead, and remain ahead, of upcoming trends in business practices and operation.
"Industry 4.0 is not coming as a revolution, but as an evolution," Gross elaborates.
"There is no lightning-fast change, but it is instead an unstoppable development, which is unforgiveable to those that cannot adapt. There is a global increase in competition, there is a global shortage in skilled labour for sheet metal manufacturing and this leads to a higher productivity of the systems and to a continued further increase of the whole manufacturing processes.
"This evolution is a major driving force behind digitalisation in the industry. To improve processes the first thing that is needed is transparency, which means, sensors, software and connectivity. Having the transparency, we want to tweak the system towards higher performance. Then we need life-data, localisation, interaction with the Management Execution System, interaction with the machines and automation components, digital service connection, predictive analyses and eventually artificial intelligence."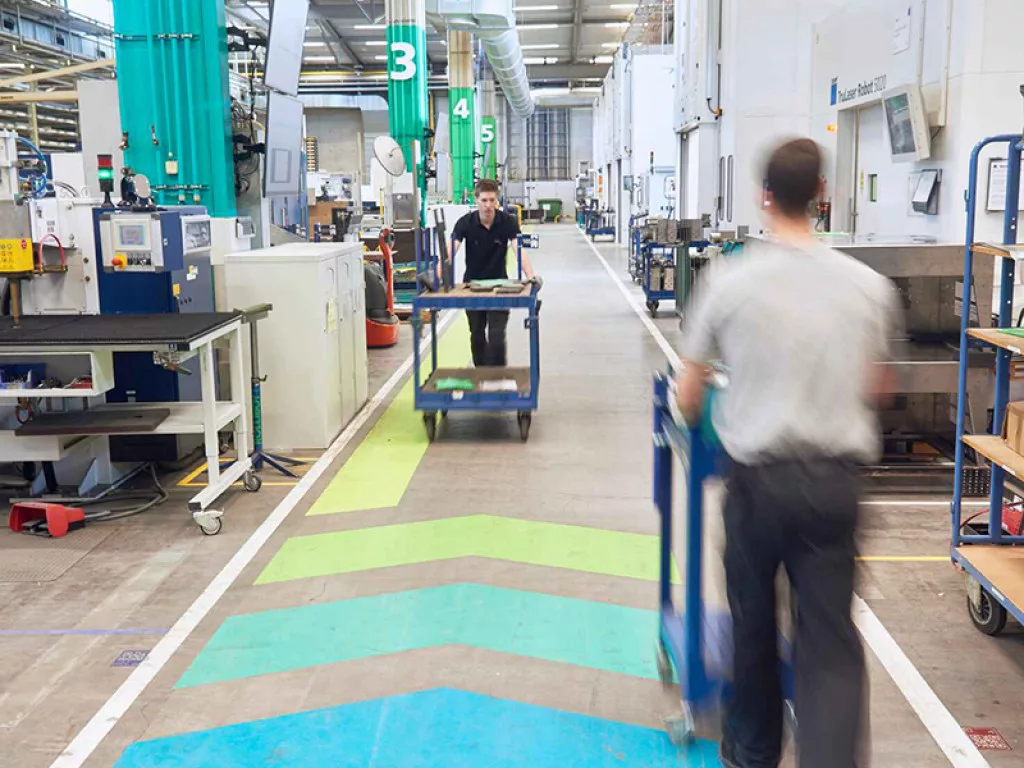 This digitalisation is key to answering the demand of a widening customer base by utilising the latest online means of communication and operation in the industry. This goes hand-in-hand with the high level of existing digital integration in the lives and workplaces of people in the regions – a factor that streamlines the relationship between manufacturing employees and their companies.
This movement towards implementing the most advanced technologies is embodied by TRUMPF's latest projects: three smart factories. These are based in Chicago (US), Ditzingen (Germany), and Taicang (China), each representing the future of the manufacturing industry, with the first Nordic-based smart factory coming within 2021. TRUMPF has also begun to work alongside customers on projects, widening its scope of company offerings for prospective collaborations.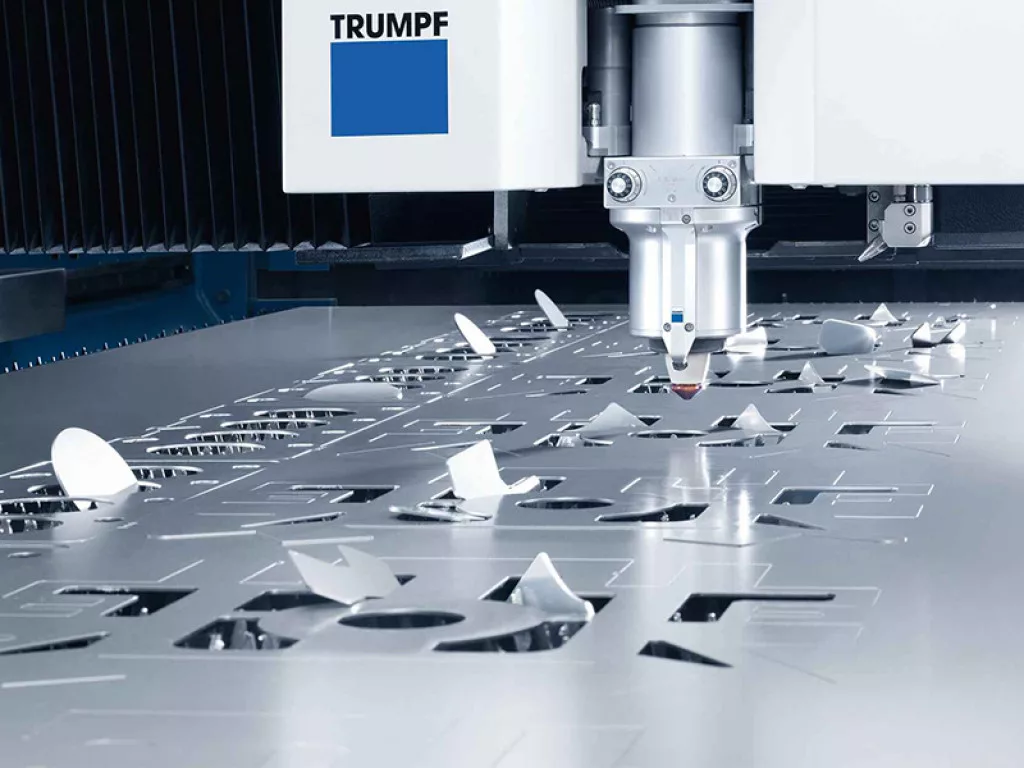 PEOPLE-CENTRIC BUSINESS
TRUMPF's nature as a family-owned company adds to its business focus regarding the quality of product and service for its customers spanning multiple industries. Having been a market and technology leader in the sector for almost a century the firm has a great reputation for reliability, providing its customers with the highest level of professionalism in machinery manufacturing, as well as arguably the best competitive position in the market for business partnerships.
With approximately 14,000 employees across 70 locations internationally, TRUMPF understands the value of increasingly people-centric operations having weathered the COVID-19 storm throughout last year and into the present.
As with many industries across the board, business supply chain partners form an essential part of company operations, especially for larger automated and integrated systems. TRUMPF prides itself in offering a long history of trust between itself, its customers, and its business partners, both old and new.
"As in other industries, the wide range of the physical and digital offerings cannot be supplied by a single organisation anymore. The complexity would just be overwhelming," Gross elaborates.
"For the sake of simplicity for our customers we try to be their single contact for everything they need to build the bases for their success. But for us the integration of partners in our portfolio and our delivery processes is playing a crucial role in our strategy.
"As we can see in other industries too, digitalisation is also leading to a more collaborative interaction along the supply chain. I personally regret that there is still a strong isolation of the European competitors in the machine tools business. In the car industry we see much more cooperation in certain technological fields."
This history of trust is one of TRUMPF's many core company values, among the equally as important high level of ethical standards, both socially and environmentally.
"A lot of the official programmes are run by the "Berthold Leibinger Foundation" with topics like the 'Berthold Leibinger Innovation Prize', a world-wide open competition for Laser Innovation Projects in the shape of a "small Nobel prize". On top of this, the TRUMPF buildings have for years already very high ecological standards with further improvements scheduled," Gross adds.
"The highest impact we have with our products, as we can reduce consumption of resources like steel, gas, electricity for our customers significantly by even offering them the connected savings."
Continuing through 2021 and into the new decade, TRUMPF aims to continue its high level of customer and supplier support in all areas, including the evolutionary path of Industry 4.0.
"All topics are directly connected to it, like our Smart Factory Consulting team, MES integration team, Software and Automation offerings, and like our Intralogistics and Digital Service offerings, will be further significantly increased," Gross assures us.
"And through the further growth of our customers we clearly plan on further growth of the company in the coming year, not just based on an improving economic environment, but also on the gain of market share."