Leading the green energy transition from Sweden, we speak to Erik Martinson, co-founder and CEO of SVEA Solar, about the company's efforts towards facilitating a solar future across Europe.
TOMORROW'S ENERGY COMPANY
Solar is booming.
Everyone is aware of the issues surrounding climate change, and in light of this, there exists a widespread drive to equip and utilise increasingly sustainable methods across businesses and domestic living.
At the forefront of the European green energy solutions space stands SVEA Solar. Operating out of Sweden with locations spanning Spain, Germany, Belgium, and the Netherlands, the company is made up of four primary businesses: solar, energy, chargers, and batteries. SVEA Solar provides the most advanced solutions to its customers, from individual house-owners and business buildings to entire solar parks, and industrial-scale usage within sectors such as agriculture.
"Our primary focus is on the field of solar, and this area is where we can optimise the energy usage for our customers," says Erik Martinson, co-founder and CEO of SVEA Solar.
"This allows them to choose a customised watt to use their energy at the same time as assuring the stabilisation of their grids. We are offering complete solar solutions that not only includes the supplying of the product, but also the installation, financing and maintenance to fully support our customers and answer their energy needs.
"What we're really aiming to do is to ensure that as many people as possible across Europe are smart in the way they produce and use energy. And it's not only about providing green energy; our aim is also to work within a broader ecosystem so that our customers never have to sacrifice everyday aspects of their lives while keeping themselves aligned with environmental welfare."
At present, the industry is an exciting one; a rapidly developing space in which SVEA Solar stands as a contributor towards combatting climate change.
"A lot of people are calling the industry the "solar coaster" because of its fast-paced nature regarding new technologies, knowledge, and the fast-growing environment," Martinson muses. "It is arguable and believable that in the future, solar will account for 70 to 75 percent of all energy across the globe."
According to Martinson, the demand for electric transport will completely phase out the traditional reliance on fossil fuel-based transportation, and this current period represents an exciting time of change spearheaded by progressive sustainable development that will lead to a greener future.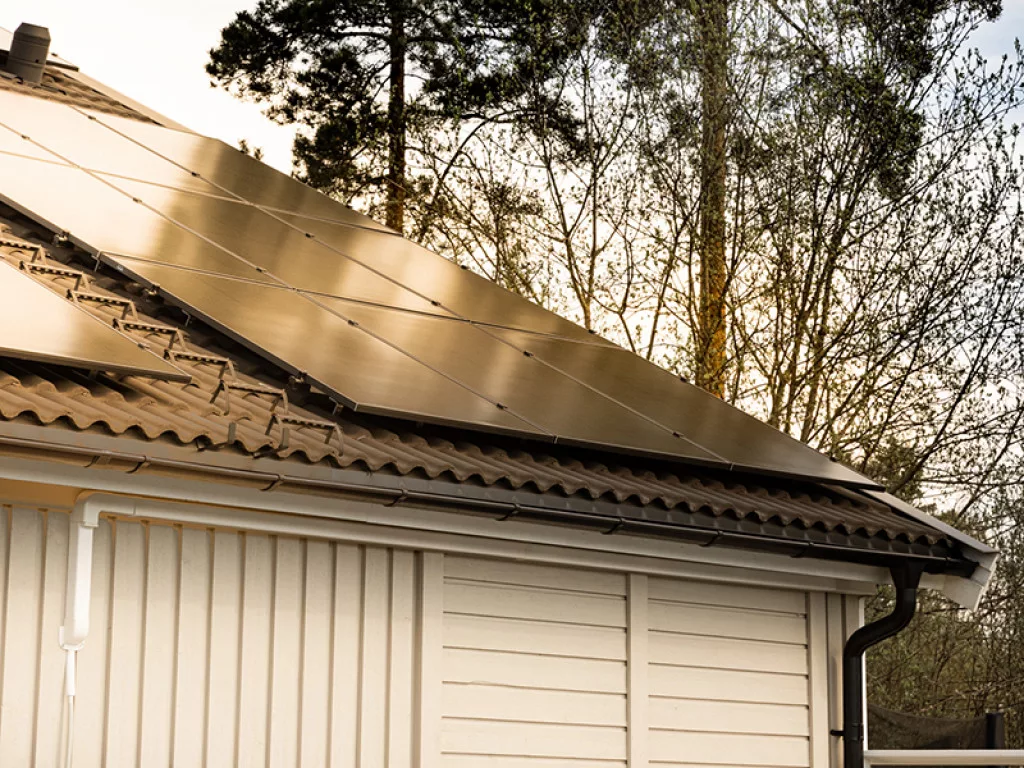 SOLAR GROWTH
SVEA Solar doesn't just provide battery storage or solar panels for the individual household, it connects customers through an electricity contract as to ensure that, in the process of helping its customers, it is also creating a community. In this way, every customer is interconnected to a grid that is shared, efficient and 100 percent renewable.
"We are exploding in our various markets, and we will be growing 100 percent this year," Martinson informs us. "In light of this, we are expanding within Sweden.
"In preparation for this growth we are building the largest photovoltaic (PV) power plant that will be completed this year and will produce 18 megawatts (MW) of clean and renewable power in the south of the country. We are also currently a primary choice in the residential market and hold a quarter of the market share in the country, so we are looking to gain similar shares in alternative markets that we are entering over time."
This is both a realistic and promising goal for SVEA Solar and stemming from this expectation the company is also investing heavily in its physical locations and IT infrastructure to best aid the all-important scaling of the business.
"It's not only about providing green energy; our aim is also to work within a broader ecosystem"

Erik Martinson, co-founder and CEO
AIM AND DEDICATION
Having come from rather financially humble beginnings, SVEA Solar has developed to its present level of potential through answering the demand of an increasingly sustainable Europe, and through the hard-working nature of its teams, as Martinson explains.
"We started out with student funding, or what was called CSN funding; in a basic sense around €1,000 a month from studying that went into the financing of the company," he tells us. "With this as our financial base we quickly and consistently worked on efficient spending and grew from there, building long term relationships with many suppliers and partners.
"For a couple of years now we have been working alongside Ikea in Sweden, Belgium, the Netherlands and Germany, and we are strengthening these relationships, and working very closely in order to scale up our business there."
SVEA Solar has also been working with multiple other energy companies across Sweden, each of which is vital to this growth. On top of this, SVEA Solar recognises that its employees are a critical part to its past, current and future results.
"Hiring dedicated and hardworking employees as well as attracting talent have been key factors towards our success and development," Martinson elaborates. "We have come from 200 to 500 employees, and by building a stable organisation we can ensure that continue to provide an excellent customer experience and brilliant solutions in the market.
"Our customers are the most important part of our business, and making and keeping them happy is at the centre of SVEA Solar; we could not achieve this without our talented people."
In this relatively new decade, SVEA Solar has built a plan for the coming years. On top of internal company investments and the PV plant based in Sweden coming this year, the company is adding to its capacity to meet the expected future demands of electrification, transport and industry-related solar.
"Our key priorities are to grow, as growth is in our DNA," Martinson informs us. "In order to make a positive impact on the climate we need this growth, and alongside this, ensuring our positive customer experience and bringing in the most talented people in the space are all paramount to the future of the company."
The company's mission remains positively sustainability-driven, and looking to the upward path of promising growth, it is worth keeping an eye on SVEA Solar to see the business expand its offers and solutions across Europe towards the future of a greener decade and beyond.