We revisit GO Plc and discuss the group's continued impressive growth in Malta's telecoms industry during the course of the past year, with CEO Nikhil Patil.
KEEPING MALTA CONNECTED
"Malta's telecoms industry is still going strong, and I'm happy to report that we remain one of the fastest growing telcos in the country."
GO Plc (GO) is one of Malta's leading communications service providers. It is the country's largest group of companies, boasting majority holdings in BMIT Technologies p.l.c. (BMIT), Connected Care Ltd, SENS Innovation Group Ltd (SENS), and CyberSift Holdings Ltd (CyberSift), as well as Cablenet Communications Systems p.l.c. (Cablenet) in Cyprus.
In the latest juncture of a journey that dates back over half a century, the first six months of this year have seen the GO Group achieve impressive revenues of €120.5 million, equating to a 13.7 percent increase on the equivalent period in 2022.
Revenue from its Malta based operations – predominantly GO and BMIT Technologies – grew by 9.5 percent, driven by a strong demand for fixed broadband, TV, and mobile services, where GO has continued to capture a significant share of overall market growth thanks to its suite of innovative products and services.
"As the first quad play provider in Malta, we provide mobile, fixed line, internet, and TV services to more than 500,000 connections," says Nikhil Patil, CEO of GO and orator of the opening statement.
"We also provide unrivalled services to the Maltese business community, including cloud, roaming, data networking, business IP, and managed services."
GO has achieved this by investing heavily in its true fibre-powered infrastructure, being the first and only Maltese operator to have access to three submarine cables connecting the islands to the web and the only one with a fully integrated fixed/mobile network for a seamless experience.
"GO has also registered notable growth revenue from roaming services and other international wholesale business, as well as an increased demand for bespoke technical solutions," Patil adds.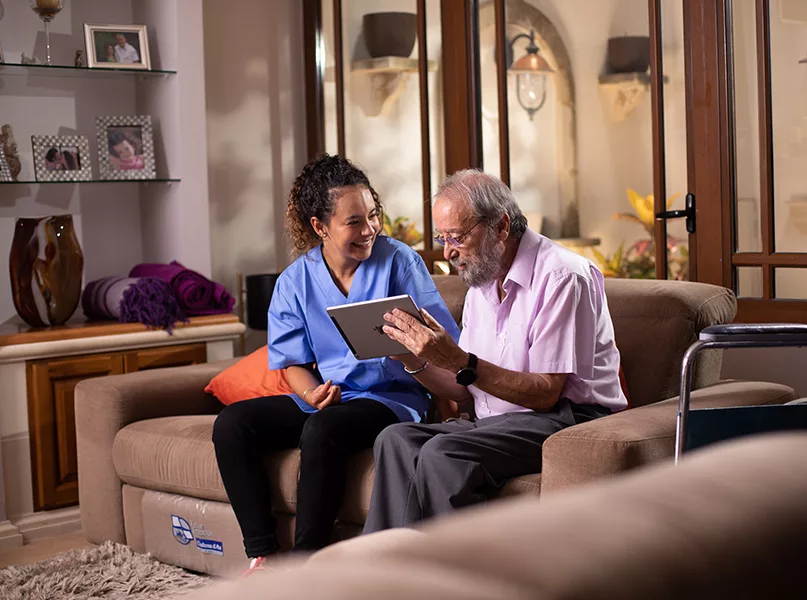 GROWTH AREAS
BMIT, one of six subsidiaries that GO has majority holdings in, likewise grew its total revenues by €2.2 million (17.3 percent) in the first half of 2023 compared to the same period in 2022, reflecting the company's focus on the growth areas of hybrid IT, cloud, and managed IT services.
BMIT remains Malta's largest provider of colocation and data centre services and a leading cloud and managed IT services provider, delivering to over 500 corporate customers across various industries.
Another GO subsidiary, Cablenet, has achieved an even more remarkable revenue increase of €7.2 million (24.1 percent), which reflects the subscriber gains resulting from a higher market share and expanded network footprint.
"The subscriber gains materialised across our residential and business customer bases for both fixed and mobile services, with the latter also being the division with the strongest subscriber and revenue growth," outlines Patil.
Complementing this growth in revenue is a strict cost discipline across all operations and group subsidiaries, which has enabled GO to convert a significant portion of the incremental revenues generated into profitability.
"The nature of our businesses and the expertise across the group has also enabled us to create greater efficiencies in our operations, for example, by engaging in the joint procurement of goods and services and sharing technical, commercial, and governance best practices," Patil elaborates.
Despite the ongoing challenge of inflation, GO has managed to maintain its administrative and operating costs at a similar level to last year.
Consequently, the group achieved its highest-ever biannual earnings before interest, tax, depreciation, and amortisation (EBITDA) of €45.4 million, an increase of €4.2 million (10.2 percent).
The group delivered a net profit for the period of €9 million, a remarkable increase of €3 million (49.4 percent) compared to the same period in 2022.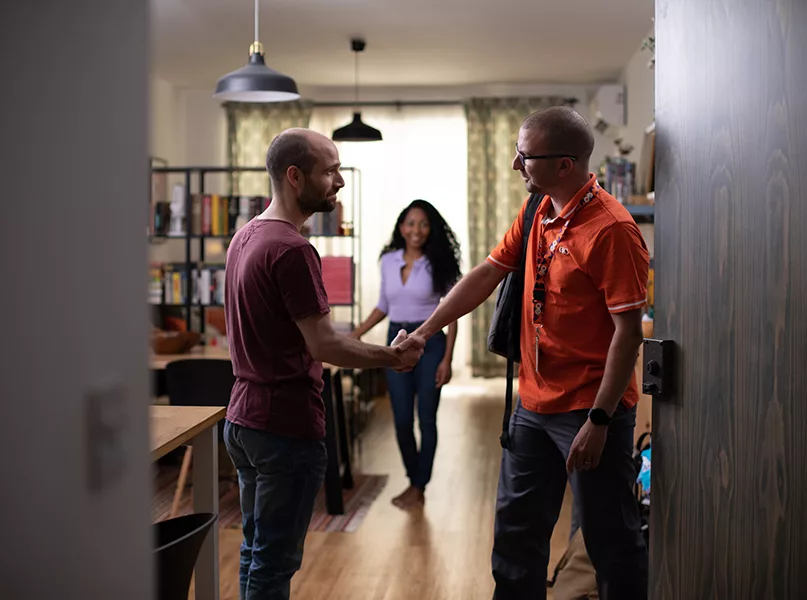 SENS INVESTMENT
Taking the Internet of Things (IoT) to new heights with a leap into green technology, GO acquired majority shareholding in SENS through an initial €1 million investment in March 2022, with the potential to increase to approximately €3 million.
SENS is an energy management company that leverages proprietary IoT-based technology to reduce energy consumption and associated costs for commercial buildings. It designs and builds customised solutions for clients that improve their business operations and efficiencies whilst also contributing to the environmental responsibilities that modern business governance and legislation demands.
Large hotels and commercial clients are served by SENS, such as the Westin Dragonara Resort and Intercontinental Hotel in Malta, the Kempinski Hotel in the Seychelles, the Beachcomber Group and Royal Palm Beachcomber Luxury in Mauritius, Marriott and the Ascott Group in the UK, and the Movenpick Hotel Apartment in Dubai.
All systems, sensors, and integrations are designed in-house, which enables SENS to offer the highest level of support to its clients. Essentially, the company specialises in the provision of room energy management systems (REMS) for the hospitality and health industries, including retrofit guest room management.
"REMS maintains guest room comfort at the highest energy efficiency and provides analytics related to room energy performance," explains Patil.
"The system enables the operator to control energy requirements to meet guest comfort prerequisites, seasonality, occupancy fluctuations, and operational requirements that affect energy efficiency."
SENS also focuses on building management systems (BMS) to produce energy-effective and comfortable environments in commercial buildings such as offices, retail complexes, and educational institutions.
Through its custom BMS, SENS brings all existing systems and controls – regardless of the manufacturer's hardware – together through applications based on leading open-source standards to improve building functionality and reduce costs.
REMS and BMS are integrated into the proprietary energy management and operations cloud-based platform, REACH™, which produces actionable insights from data collected from an operational building and automatically generates reports, KPIs, and alerts in real time.
The REACH™ platform has a user-friendly mobile app to alert the responsible person if KPIs veer from the allowable range and is designed to help businesses reduce their carbon footprint, lower energy wastage, and increase profitability.
"We are very excited about this investment because it bridges two areas that GO is very passionate about – IoT technology and environmental sustainability," Patil shares.
"We have long established ourselves as innovators on the technology front, so combining this with a company like SENS, which has experience in IoT and green tech, is a natural step forward in not only realising our sustainability ambitions, but helping our own customers, predominantly our business clients, to reduce their carbon emissions.
"SENS is a home-grown company that has created great value through its positive contribution to climate change, has created local job opportunities, and has huge potential to continue expanding in foreign markets," he continues.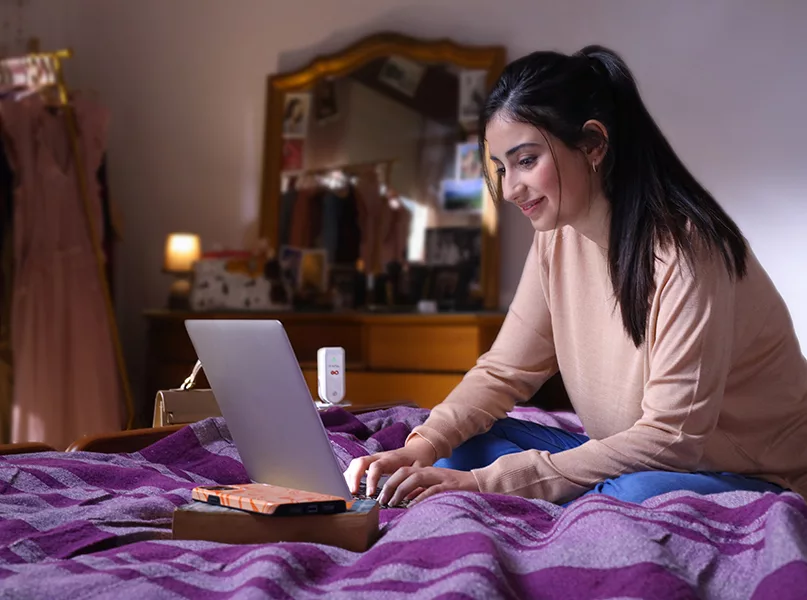 TRUE FIBRE ROLLOUT
One of GO's biggest nationwide projects to date, meanwhile, is its True Fibre network rollout, which commenced back in 2016.
A €100 million project, it makes GO the biggest investor in Maltese digital infrastructure and the only operator locally that is nearing the completion of a nationwide True Fibre network that goes right into the premises, be it a home, office, or other dwelling.
In clearer terms, the network does not stop at the sidewalk cabinets, as the fibre optic cable is delivered straight to the connected modem inside the premises. This means that users can enjoy the real benefit of an end-to-end fibre connection. It is well on track to reach nationwide coverage by the end of 2024, which will put Malta at the head of the EU leaderboard in terms of ultra-fast broadband connectivity.
"One cannot underestimate the importance of this project," emphasises Patil.
"10 to 15 years ago, many of us used the internet mainly to browse a website or send an email. Things have changed dramatically since then; today, we need the internet to speak to our loved ones near or far, carry out our banking needs, enjoy the convenience of online shopping, play online games, or watch our favourite TV content."
Equally, with more and more people working from home, reliable and fast internet connectivity is needed for remote or hybrid employees.
"More importantly, our reliance on the internet will continue to grow in ways that we can't predict, but what we can do today is provide access to a network that can handle our digital ambitions for the next 100 years – True Fibre is the answer."
GO's True Fibre network allows life to happen at light speed and is set to futureproof homes, businesses, and communities.
It hasn't been without its challenges, however, with GO learning a lot along the way. For example, it has since shifted to stone-coloured cabling to better blend with the Maltese environment.
GO has also developed faster and more efficient ways of deploying fibre and is managing to pull back its copper network on a case-by-case basis.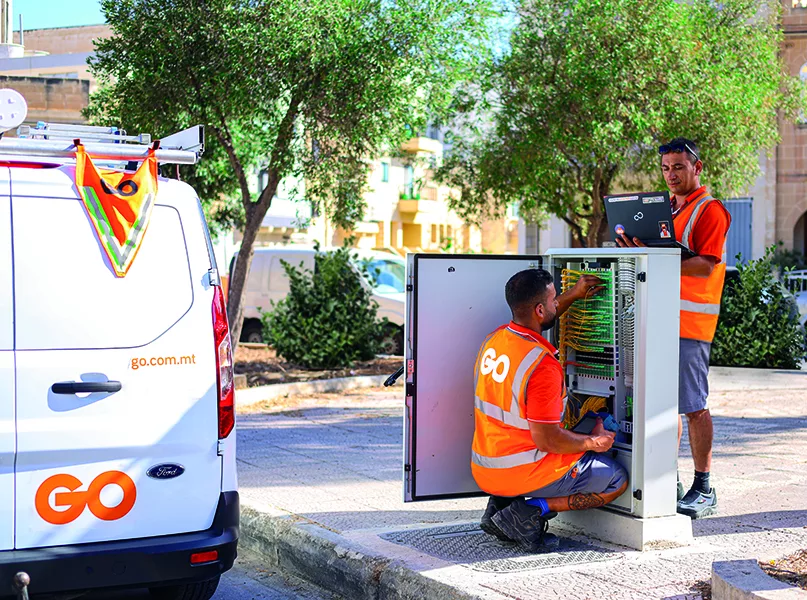 SYSTEM UPGRADES
As well as investing in Malta's digital infrastructure, GO has invested millions of euros over the last three years to upgrade its systems and digital platforms to become more efficient operationally and improve the customer experience.
Significant time and energy have been put into digitising GO's customer contact channels by providing a variety of mechanisms for customers to engage with GO and self-serve without the need to interact with a member of the team.
"Customers can engage with us via telephone, our chatbot, the GO app, Facebook Messenger, and also on WhatsApp," Patil informs us.
GO has subsequently seen a huge shift in this regard, with 53 percent of all customer interactions taking place digitally in Q1 2023 compared to 13 percent in Q1 2020.
Subscription renewal processes have also been digitised by the group, as well as contract management, which today is all done digitally via Scrive.
"Of course, moving customers to new ways of interacting is never without bumps in the road," acknowledges Patil.
"Some customers simply prefer to talk to a human, others are not very digitally literate, and there are some questions that a chatbot simply can't answer. The challenge is to support all customers through this transition and keep improving digital self-service and support so that sooner rather than later, it becomes the simple, seamless, and default way to do things."
In March this year, as part of GO's huge digital transformation, the group also successfully completed a significant upgrade to its billing system, which makes it better positioned to meet the ever-changing needs of customers while delivering more innovative services and reducing operational costs.
Considering over 180,000 bills are issued monthly, this upgrade took considerable planning and coordination due to its complexity.
To put things into perspective, it required over 26,000 manual and 1,400 automated tests, over 150 deployments, and more than 20 teams were involved in the process, whilst 36 million bills and 450,000 subscriber data were migrated to the new system.
"Of course, these are just a few examples of the numerous upgrades we have made to a number of business support systems, which may not involve a big change from the customer's viewpoint, but have been critical to ensure seamless operations today and in the future," Patil notes.
DEDICATED CHANNEL
Elsewhere, looking back on GO's TV journey, a lot of the group's investment had previously focused on the technology, platform, and user interface.
Over time, however, the group realised that if it really wanted to give customers the experience they were after, it had to deliver more of the content they loved.
Statistics also clearly showed that the Maltese community has a clear and strong appetite for local TV content, particularly dramas. On the flip side, GO recognised that the production industry in Malta was facing financial and other resource constraints, limiting the quantity and quality of dramas that could be produced yearly.
"We faced a situation where we had the technology, the resources, and the demand, so we just knew that content production had to be the next step in our customers' experience," Patil tells us.
GO therefore created its own dedicated TV channel, TOKIS, which is Malta's first ever library of local TV content. Furthermore, the group committed €1 million yearly to support the local film industry.
"The feedback so far has been phenomenal. We reach 155,000 daily views on TOKIS, now exceeding four million views since its launch just one year ago. Collectively, we offer over 5,000 hours of entertainment, with content growing constantly."
Today, TOKIS is ranked amongst the top three most viewed channels in Malta, whilst GO's on-demand content also gets over 320,000 views monthly, with the appetite of local producers reignited and an increasing number of collaborations bringing new, varied, and fresher content to customers.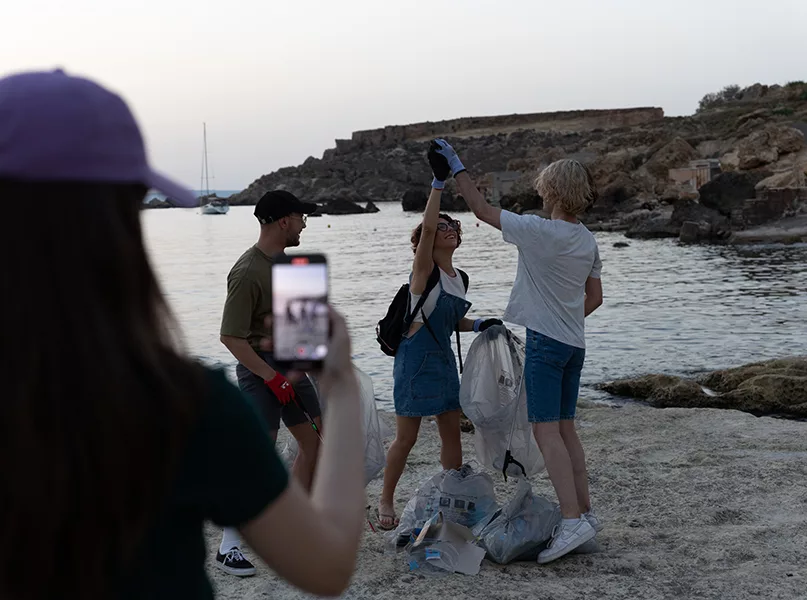 PEOPLE AND PARTNERSHIPS
GO cannot serve these customers, however, without its staff, partners, or suppliers, who are all essential to the group's operations and success.
"We have a nationwide copper network, are nearing completion of our True Fibre network, have rolled out a 5G network, operate three undersea cables, are at the tail end of our digitalisation journey, and have majority shareholding in six other companies – the complexity that comes with this and the specialised skills required in a number of areas need no explanation," says Patil.
With an operation of GO's magnitude, the group's overall well-being and strong business relationships with partners and suppliers are essential for mutual success.
Indeed, whilst GO is a technology group, its multicultural makeup of people from as many as 30 different countries is always at the heart of what it does.
"We have worked very hard on developing the right culture at GO that enables our people to grow both personally and professionally whilst striking the right work-life balance," Patil concludes.
GO PLC PARTNER