Spearheading Sweden's data centre colocation industry, Conapto goes one step above with its state-of-the-art data centre facilities that are evolving the country's capacity for global data diversification. CEO, Håkan Björklund, and CCO, Stefan Nilsson tell us more.
COLOCATION MADE IN SWEDEN
In the last five years, the European data centre market has achieved exponential growth, particularly in Stockholm, the capital of Sweden, which holds an internationally leading data centre industry and flourishing colocation market.
This is supported by a region that encourages technological innovation, further driving client demand.
"The data centre industry is in a great position currently, as colocation is evolving with new technological developments such as artificial intelligence (AI) and the Internet of Things (IoT), which is really driving the demand for sustainable power as well as secure locations to store data," opens Stefan Nilsson, CCO of Swedish data centre colocation frontrunner, Conapto.
Indeed, Stockholm is perfectly positioned to pioneer the sustainable shift that is currently taking place in the industry and is therefore an ideal location for Conapto, as it harnesses green energy and takes advantage of the eco-friendly practices of the city.
"Given that the colocation industry is consuming approximately two to three percent of all energy on Earth every day, our location in Stockholm puts us in a good spot where we can focus on sustainability and reduce our environmental footprint," introduces Håkan Björklund, CEO.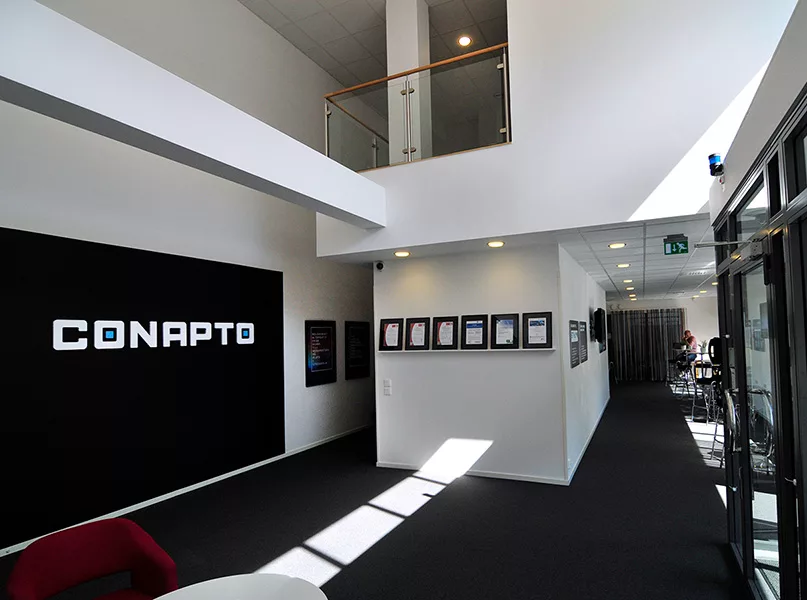 MAINTAINING GROWTH
Launching as a brand in 2018, Conapto comprehensively delivers secure colocation and cloud connectivity that is fit for purpose for international and domestic customers, delivering digital services that appreciate the close proximity to Stockholm, predominantly driven by connectivity demand and customer experience.
Furthermore, the company's colocation offerings also cater to IT service providers to ensure the efficiency of their equipment in delivering the outsourcing of data.
"The main objective for us at the moment is to really grow our available capacity and focus our efforts on the Stockholm market and our loyal customers in this space, as it is an attractive place for new workloads and evolution," elaborates Nilsson.
Conapto had spent several years prior establishing its market across Stockholm, which it divides via northern and southern campuses that house each project.
Regarding the former, Campus Stockholm North plans to cover 11,400 square metres (sqm), boasting a power feed of 26 megawatts (MW). In conjunction, Campus Stockholm South currently covers 10,100 sqm, with a power feed of 24MW.
Through the joint capacity of both campuses, Conapto's focus going forward is to diligently meet customer demands and expand the market in both sites.
Across both the northern and southern campuses, the company currently possesses three live facilities and is subsequently building a fourth as it plans further development.
Its current flagship project, Stockholm 4 South (STHLM 4 South), is a huge step for Conapto in terms of size and capacity, primarily because the facility will add 20MW and 8,000 sqm of space.
Thus, compared to other colocation facilities, this project is currently one of the largest installations in Stockholm.
"It has been both challenging and inspirational to be able to add that kind of capacity to Stockholm. It means that we can now cater to the specialised demands of our customers, whether it be higher densities, security, liquid cooling, or other innovations in the market," Nilsson elaborates.
Meanwhile, on the northern side of Stockholm, Stockholm 3 North (STHLM 3 North) has reached its 6MW capacity limit. As such, Conapto is currently developing Stockholm 5 North (STHLM 5 North) to provide for the increasing demand.
"It is important that we can meet and exceed the expectations of our customers to deliver a greater capacity and be a good partner as a data centre colocation provider," Björklund tells us.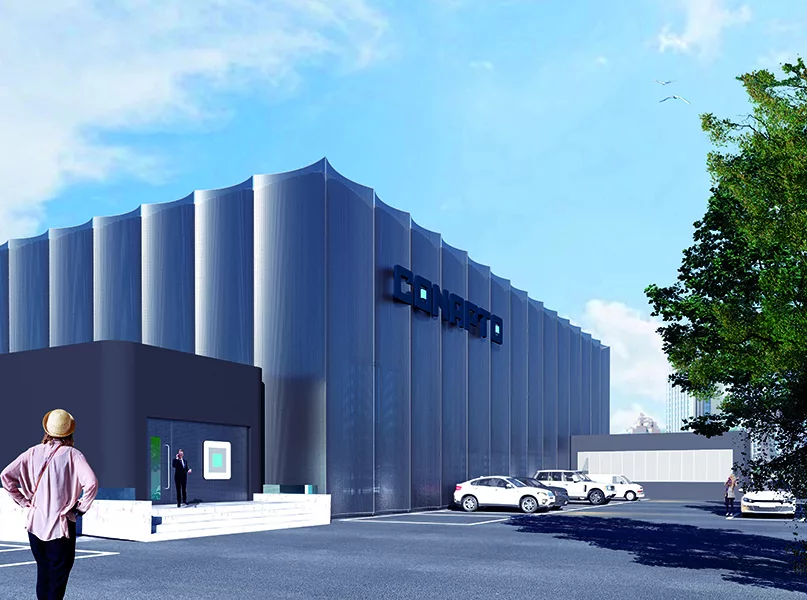 ENSURING ENERGY EFFICIENCY
On the highest level, the company is committed to not wasting more of the Earth's resources than necessary. Therefore, it continues to innovate and increase its capacity with a sustainable focus underpinned by energy efficiency.
This materialises in three distinct sustainable initiatives that each address the different facets of renewable energy technology.
Firstly, one of the company's main environmental practices is heat reuse, achieved by the installation of two heat pumps in Stockholm 2 South (STHLM 2 South), with a capacity of 1MW of heat, as well as the installation of four heat pumps in STHLM 3 North, with a combined capacity of 6MW of heat.
The goal of STHLM 3 North is to reuse at least 90 percent of the energy consumed and to become a vital part of the municipality's efforts to heat up thousands of homes through the district heating network. As a result, Sollentuna municipality will be able to replace less sustainable solutions with the heat from Conapto STHLM 3 North which is powered by 100 percent renewable hydro and wind power.
Thirdly, the company is utilising solar energy in partnership with Swedish power company, Vattenfall, to generate power via the solar panels on the roof of its STHLM 4 South facility.
With installation to start in late Q1 of 2024, the solar panel project is predicted to have a production capacity of nearly 300,000 kilowatt hours (kWh) per year.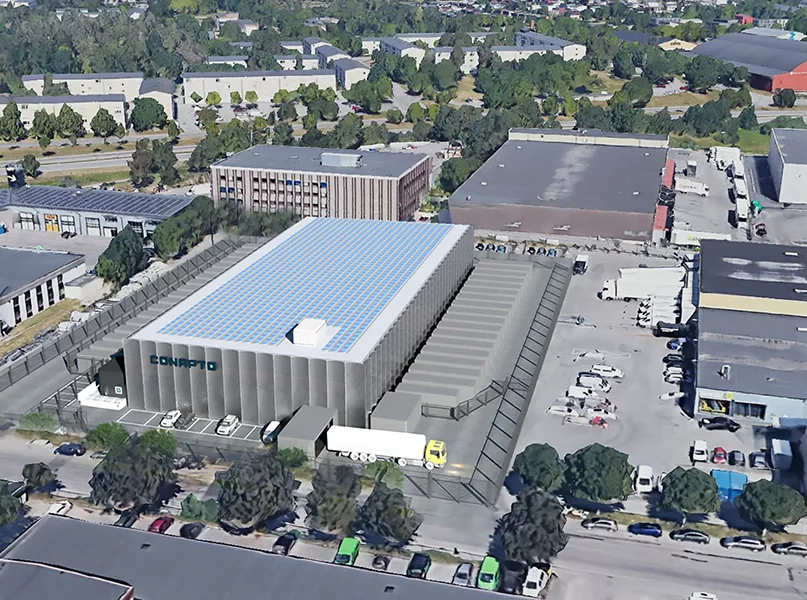 SUSTAINABLE STOCKHOLM
Being positioned in Stockholm allows Conapto to really take hold of environmentally-focused technology, with very competitive pricing and some of the greenest electricity in the world.
"Our location gives us a competitive advantage amongst our colleagues in the industry, who are situated in the likes of Frankfurt, London, Amsterdam, Paris, Dublin, etc. and all want a share of the global marketplace.
"Therefore, positioned amongst other Nordic countries and within Stockholm, we are in one of the greenest places you can ever consume data centre capacity," highlights Nilsson.
Within the context of other European countries, there is an industry-wide push towards environmental transparency, encouraged by recently revised EU legislation.
The Energy Efficiency Directive, in particular, promotes greater accountability regarding sustainability, with a principle of energy efficiency first. As a result, EU companies must consider their energy use in all relevant policies and major investment decisions.
Regarding data centres in particular, the directive dictates that each centre's performance must be monitored, with relevant energy consumption data collected and published.
"Due to the new directives from the EU, you need to show your performance in another way, which brings a whole new level of transparency into the marketplace," explains Björklund.
In response to this, as well as a wider commitment to its customer base, Conapto publishes a yearly greenhouse gas (GHG) protocol report that covers its entire environmental scope and ensures transparency around its sustainable practices.
The report can also be boiled down to a specific amount of GHG and emission statements so that the company's customers know the exact amount of CO2 generated by its facilities.
Through this report, Conapto is spearheading environmental transparency; as such, an open report will become mandatory for others in the industry, particularly in the wake of the Energy Efficiency Directive from the EU.
As the company looks towards 2024, it is focusing on its recent investments in frequency support for the national grid system. The implementation of the support system, projected for February 2024, will ensure that the country's power network is always in balance with an automated disturbance reserve.
"With heat reuse as well as grid support possibilities in place, Stockholm is a very attractive place to be for both data centre operators as well as customers that really sets out to make a difference for both society and the environment," Nilsson highlights.
The company also aims to develop its environmental position with the use of hydrogen as a long-term replacement for generators, consequently transitioning away from fossil fuels.
"Overall, we want to promote trust and transparency across both our customer base and staff members. We are very conscious about taking care of our people and ensuring that they enjoy their work as we further drive industry innovations," Björklund concludes.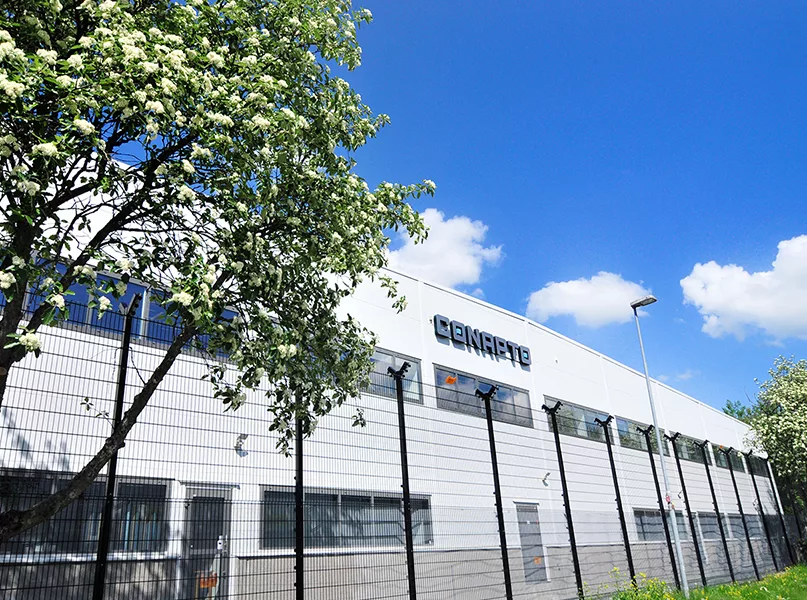 CONAPTO PARTNER