With more than 75 restaurant and café locations, Restaurant Company Europe is the largest catering group in the Netherlands. We peruse the company's menu for success with CEO, Sandra van Halderen.
SERVED WITH A SIDE OF EXCELLENCE
Across the globe, people eat not only to nourish themselves but also to celebrate, share special moments with loved ones, as well as to experience and broaden their horizons.
"It's a privilege to be able to contribute to these experiences and great to see that guests realise, after having to deal with restrictions during the COVID-19 pandemic, that they can go out once again," introduces Sandra van Halderen, CEO of Restaurant Company Europe (RCE).
The vast, and forever shape-shifting food and beverage industry is never stationary, presenting copious developmental opportunities within its constant cycle of transformation and innovation.
Furthermore, the enormous restaurant industry also exists as a showcase of what's happening in the world and how people react to it, acting as a mirror for new trends, interests, and developments. The increase in eating out, a greater focus on health, the digitalisation of the world, and the need for more social interaction between people is driving traction towards RCE restaurants.
"We also see people celebrating a night out, spending on premium products and sharing dishes more and more amongst each other. Speaking of sharing, our guests' journey starts way in advance on our digital channels and continues via social media long after," van Halderen adds.
In general, RCE believes that this is an exciting year for the European food and beverage industry. After the lockdowns and restrictions of recent years, 2023 marks the full return of the foodservice sector, or at least van Halderen hopes.
"We see exciting opportunities emerging across Europe, but at the same time acknowledge the challenges when it comes to high rent prices, increasing salaries and, above all, huge inflation and the increased cost of operations," she voices.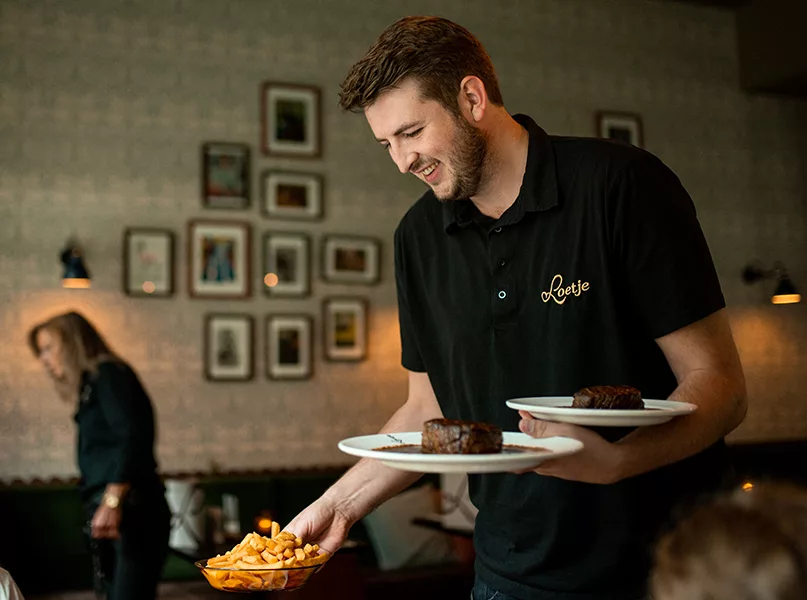 BUILDING A DIVERSE EMPIRE
Today, RCE is the largest restaurant group in the Netherlands, amassing more than 70 of its own restaurants in the casual dining and fast-casual segment.
Now private equity owned, the company was created in 2020, birthed from a merger between two restaurant groups. A fast-casual formula with several restaurants throughout the Nederlands. More broadly, RCE has four distinct major variations of restaurant formulas.
Firstly, Loetje is a successful casual dining formula with 34 restaurants, starting 45 years ago in Amsterdam as a billiard café that served the traditional dish of steak in gravy with bread.
"Nowadays, Loetje is an accessible restaurant for a broad range of guests, from families and groups of friends to business guests. The steak with gravy and whitebread is still the most ordered item on the menu, and we also serve it as a vegan dish," van Halderen tells us.
Elsewhere, Happy Italy is a fast-casual concept with 18 large contemporary restaurants, serving large portions of high-quality fresh pizzas and pasta for low prices. Additionally, unique to this formula is that every restaurant features a large indoor playground for children, making each site family-friendly.
Another proud staple of the company is RCE's Beers&Barrels formula, a concept with a modern restaurant and bar setting that serves a variety of beverages while also allowing guests to tap their own beers on its unique tapping tables.
"At Beers & Barrels, we serve an array of cocktails and our extensive menu has a vast variety of delicious dishes, including many vegan options and beautiful dry-aged steaks across the five locations," she adds.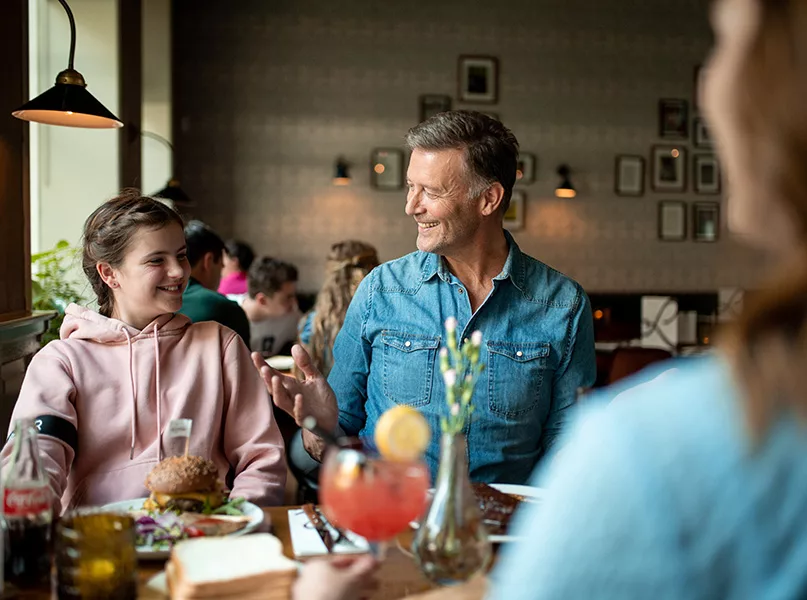 A QUALITY CULINARY EXPERIENCE
As a restaurant group, RCE operates in the middle of what the company refers to as a "high touch" environment.
"People visit our restaurants physically – there is always a large service component involved at the table, and our menus serve freshly made products. It's a part of our industry which is generally not dominated by large brands because of the complexity of running it," van Halderen sets out.
This high service component also means RCE exists as an extremely people-driven organisation. Although this is the nature of its business, this attractive quality is slowly fading away in brand-dominated segments of the restaurant landscape such as delivery, convenience, and quick service restaurants (QSRs). RCE, however, endeavours to build multiple brands around this principle and continues to standardise the guest experience while still scaling operations, which remains a unique, unmatched trait in the European catering and hospitality industry. This has helped build a fantastic reputation for the company and sets RCE apart from many of its competitors.
"Our expert team that handles formula management is dedicated to the in-house development of all of our brands. This group consists of experts in brand development, strategy, concept development, menu engineering, design and food development, and is working on our brands every day," she expands.
"To then operate these various brands by ourselves, not relying on franchisees or other operating parties, shows our expertise in managing the brand experience from A-Z."
Furthermore, RCE's focus on the customer journey is not only an accelerator of this process but also creates a highly guest-oriented focus. In every step of its journey, the company aims to standardise its activities, without standardising the guest experience.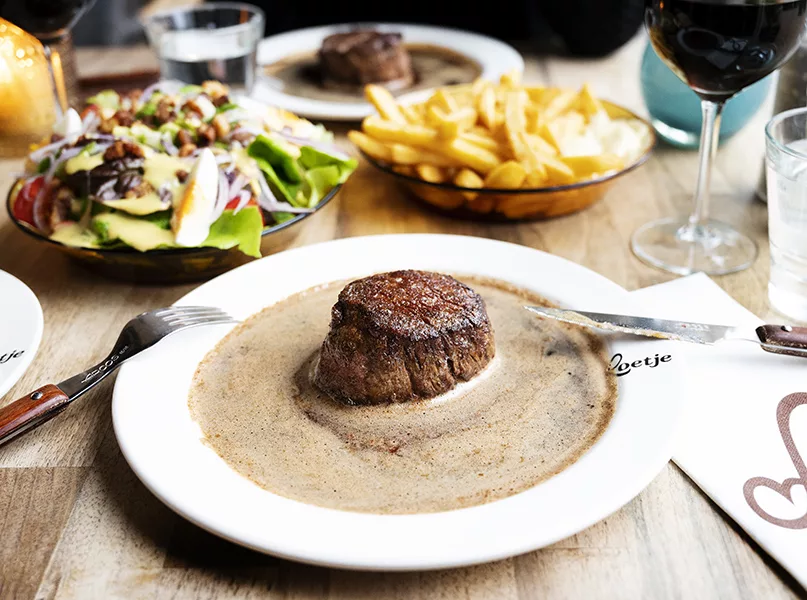 DISCOVERING NEW TASTE SENSATIONS
Never content with remaining stationary, RCE is always looking to add new brands and restaurants to its already impressive portfolio of success stories. The company now possesses myriad culinary experiences all under one umbrella, with each new chain representing a fresh innovative theme, menu, and dining environment to discover.
One such restaurant formula under the RCE umbrella is De Vooruitgang. An all-day concept in the middle of Eindhoven with a great ambience, delicious, shared dining platters and the best cocktails in town. The guests start their morning on the nice terrace with a cup of coffee, have lunch or dinner in the beautiful restaurant, and at night the tables will be set aside, as the place is transformed into a club with DJs where you can dance all night long.
Elsewhere under the RCE umbrella of brands is the Belgian Biercafé Olivier, located in an atmospheric old church, where the company serves the tastiest beers and Flemish classics such as tender stew and warm ham with authentic local hospitality. This restaurant is the perfect place for an extensive lunch or an evening of Burgundian enjoyment.
Another popular addition to RCE's catalogue of formulas is Café Weesper, bistro Amsterdam. This delicious drinking spot on the edge of the city allows guests to discover a French-oriented array of treats with a sprinkling of classic Amsterdam dining too.
"Alternatively, if you prefer American style tastes and flavours, in our Ebeling formula restaurants we revive old times, recreating the feeling of the roaring twenties in New York, but in the heart of Amsterdam. With the Leidseplein within walking distance, this is one of the best places for lunch, drinks or pre-drink dining in the city," declares van Halderen.
"The enthusiastic team at the Ebeling knows how to throw a party and provides every guest with good, affordable dishes and tasty drinks until late," she continues.
With this impressive lineup of formulas, RCE ensures it has a restaurant for everyone, regardless of what culinary tastes its visitors are seeking.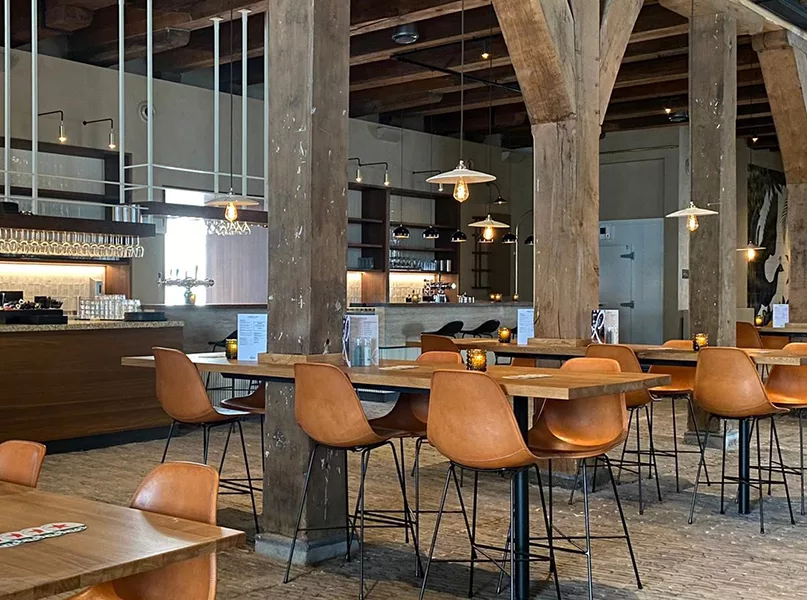 UNRIVALLED HOSPITALITY
Creating the ultimate guest experience is a quality that is ingrained deeply in the pores of RCE as a company and this remains its primary objective across all sites. Additionally, RCE strives to ensure an optimal experience for its staff as well as its customers.
From numerous company benefits, such as travel expenses and free food and beverages, RCE promotes a healthy work-life balance for all its colleagues. This is alongside plenty of career opportunities and ample development potential. RCE wants its people to grow in parallel with its company growth, sharing in its collective success story.
"In addition to working on your personal development, we believe in the importance of a healthy lifestyle. We cook for our employees every day and facilitate discounts on sports subscriptions to stay fit," adds van Halderen.
It is the firm belief of the company that it can work and grow together alongside its staff, clients and customers, savouring the glory and spoils of RCE as one large family.
In addition to working on the personal development of its people, RCE believes in the importance of encouraging an optimal, sustainable and positive way of life and therefore provides fresh meals for its employees.
"We see our staff as the best ambassadors for the company, from the scullery to the location manager, because only if you feel good about yourself and you use your talents, can we collectively get the most out of every working day together," she elaborates.
RCE is also enthusiastic about helping its staff to further develop their talent with various internal training options.
"If you have personal growth ambitions, we offer our people the opportunity to grow into the next position. This way, they can progress within their location, but also to one of RCE's other catering formulas or alternatively to a role in the service office.
"Within the food and beverage industry, employees are the most important value of your success. Although it is not the easiest industry to work in, I truly find it the nicest to be involved with because of the hospitality and the kind of people who work in it. It is full of very motivated individuals who are also highly dedicated and enthusiastic," van Halderen enthuses.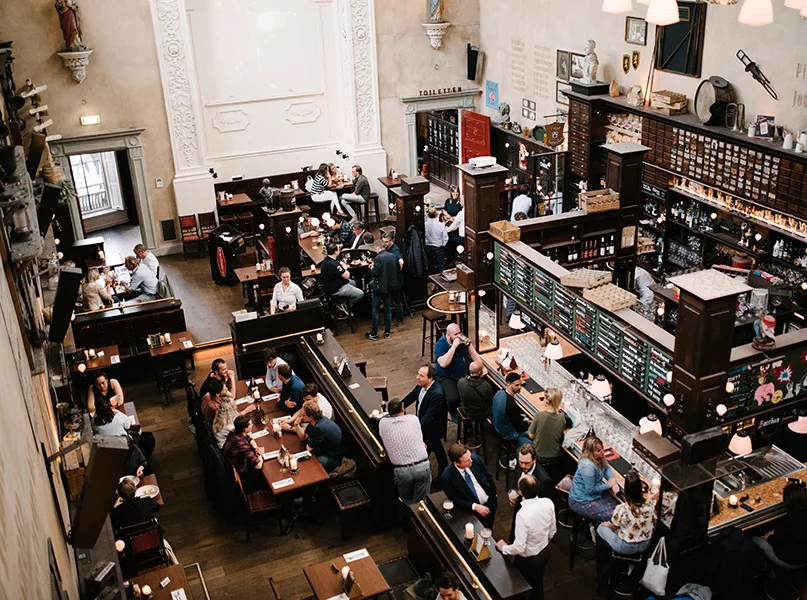 DATA-DRIVEN DECISIONS
Basing many crucial business decisions on key facts and figures that it has harvested through detailed analysis, RCE exists today as a modern, data-driven organisation. In this way, the company is constantly working on its own development and growth through a comprehensive data-driven approach. In general, many businesses across the vast global restaurant industry are emotionally driven, but for RCE, data is the backbone of every decision made and lays the foundation for each new direction for the company.
"Recently, we rolled out Apicbase, a purchasing, ordering and stock system with all the dishes and recipes across our formulas. Apicbase has a connection with our POS system, our finance system and our data lake," details van Halderen.
Utilising this impressive software, RCE can easily access insights for costs of sales and price development with its suppliers, and now has the ability to analyse financial margins. These insights are combined with extensive developments in POS integration, customer data, and other data points to generate comprehensive insights throughout the entire business.
One of the other major assets for RCE is its central back office, which now allows the company to streamline customer interactions, information, and all back office facilities, resulting in a 100 percent focus on its restaurants and day-to-day operations. Procurement, IT, guest care, marketing, HR and recruitment are all activities in which RCE's restaurants can rely on the expertise of professionals and the economies of scale of its 70 locations.
"For us as a group, we are able to innovate faster, leverage the expertise of the group, and control the customer journey even more now."
As van Halderen affirms, RCE remains extremely reliant on statistics, numbers, and figures in its decision-making process.
"In comparison to other casual dining restaurants in particular, we rely on our back office to connect the right digital partners through our own digital development department. Our focus is not only on collecting and securely storing the right data, but also analysing the research with our data mining specialists and using it to back our thorough fact-based decision-making process," she elaborates.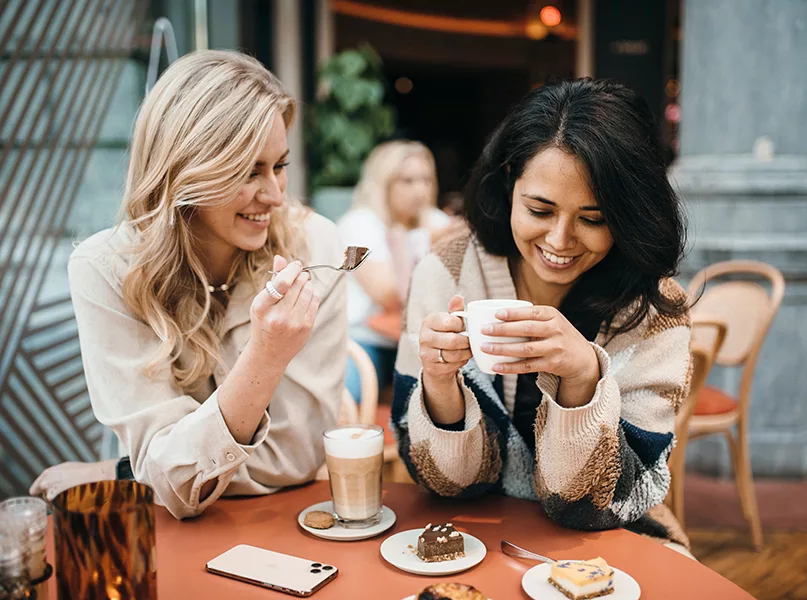 BECOMING THE NETHERLANDS' FINEST
One secret to RCE's ongoing success is its strong operational formula, which is now highly recognisable and displays the company's array of unique selling points.
Loetje, for example, is famous for its great locations, friendly employees, the quality of the food, and of course the traditional classics on the menu. This has evolved into such a popular concept, that when RCE opens a new Loetje restaurant it is an instant success.
"All in all, our consistent performance towards our guests, our employees and other stakeholders makes growth easier for us. If people, including investors and landlords, know what to expect, it helps you to create a stable growth path," van Halderen affirms.
One important factor for RCE to consider within the business is whether it is important to make each new location feel unique or to embrace the tradition of staying true to the classic brand formula.
"The level of uniqueness we include in the design really varies per brand. For example, within a format like Happy Italy, we try to really bring a consistent brand experience and recognisable design into new locations," she elaborates.
Loetje, on the other hand, leverages the specific features of the location where it is being opened. The setting, surrounding, heritage and history are captured in the design of each new store, with RCE's designers possessing the skill to do this while maintaining the Loetje feeling and trademark atmosphere.
The colour palette, materials and furniture may be different in every new RCE location, yet visitors always feel it's one of the company's restaurants.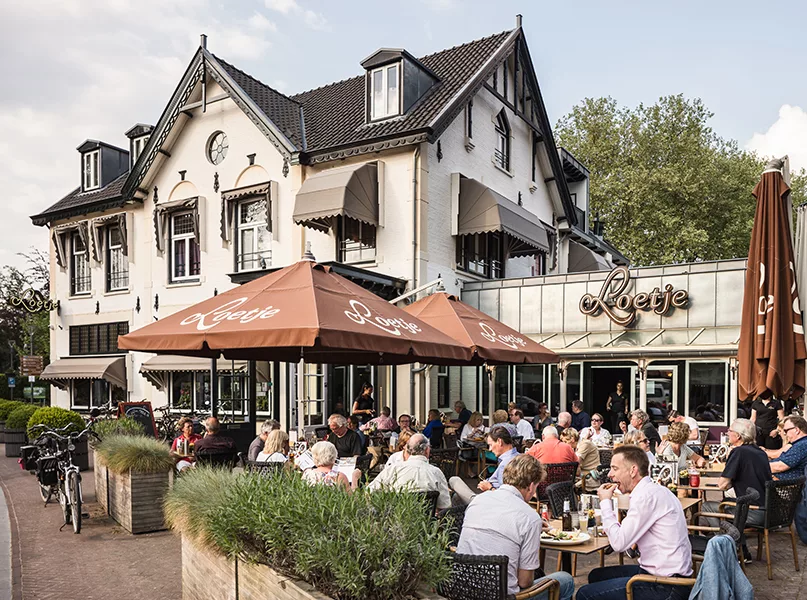 GROWTH AND EXPANSION
Continuing to add to its impressive selection of sites, on the 31st March earlier this year, RCE opened a brand-new Beers&Barrels location in the centre of Amsterdam.
Ideally situated amongst what the company refers to as a 'high traffic location', RCE has created a draft house which caters to the need of the tourists, groups and visitors of the iconic Rembrandt Square.
"On the 6th April, we opened our 32nd Loetje facility in Vught, existing as a completely different location, right in the middle of three smaller cities in the south of the Netherlands. The nature of this location aims to draw people in from the wider area," van Halderen confirms.
Elsewhere, on the 5th July, the company launched another restaurant in Nieuwegein, this time a Happy Italy. Situated in a food court, just off the highway and close to a residential area, this restaurant will mainly focus on the families and youngsters nearby.
"In August, September and December of this year we will also open three more Loetje restaurants in Zeist, Maastricht and Hilversum."
Aiming to develop the brand abroad as well as domestically, the first step in RCE's German expansion will be with its Loetje formula.
"It is important to focus here because it is a big step for us, and we really want to do it right. You never get a second chance to make a first impression, so having the right fit for the brand is key for us."
Looking ahead, RCE still foresees a lot of potential for new growth back home in the Netherlands, as its expansion path and development schedule fills itself, thereby creating many opportunities to chase.
For Happy Italy, van Halderen sees excellent opportunities for development in new channels like delivery, small store formats and integrated solutions. Lastly, there is always the potential for mergers and acquisitions, which may include buying other brands or multiple locations in one action.
"The main goal right now is to hang on to our proven location strategy, upon which we base our decisions for the right formula in the right location. With this proven strategy, we can make a big impact on the results of our company," she concludes proudly.
RESTAURANT COMPANY EUROPE PARTNERS