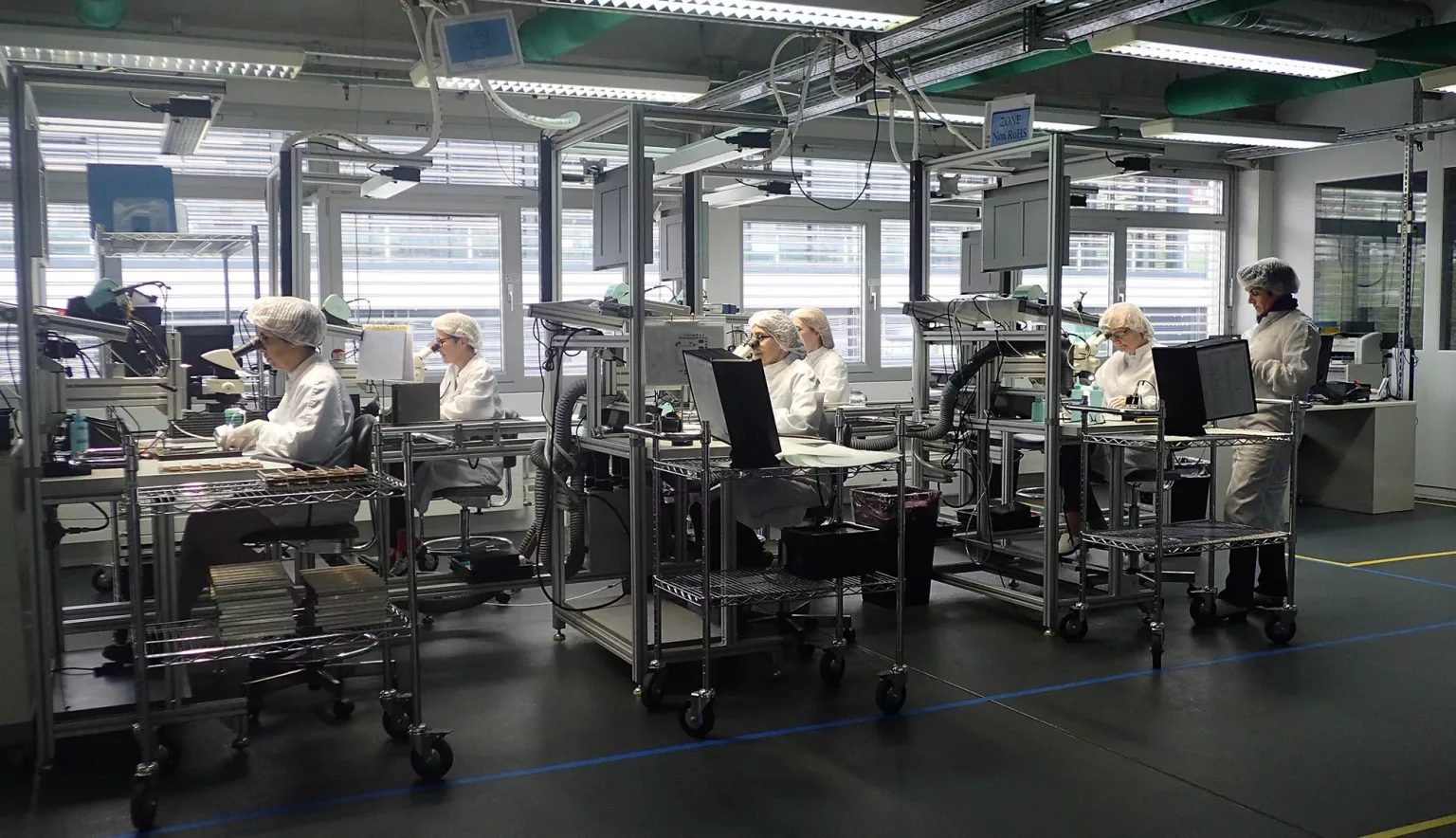 Enhancing Life
Valtronic continues to reset the boundaries of possibility within the medical device space, the contract manufacturer renowned for its formidable pool of industry skills and knowledge
Writer: Tom Wadlow | Project Manager: Matthew Taylor
There is no excitement without challenges. And there is nothing worse or more boring than keeping doing the same things the same way month after month and year after year."
The words of Rainer Platz could not speak more truly of the mantra adopted by Valtronic, the company he currently leads.
A Swiss-based contract manufacturer of medical devices, it has been at the forefront of innovation in this ever-evolving domain within healthcare ever since it was formed in 1982.
"At Valtronic, our business model and positioning has us continuously exposed to some of the most exciting technologies and therapies at the forefront of our customers' innovation roadmaps," Platz continues. "It is amazing to be part of an industry that improves therapies and patients' quality of life year over year. What has been impossible only a few years ago is becoming the standard of care."
Platz himself has enjoyed a career immersed in technology and innovation.
He joined Valtronic in 2015 and is now something of a medical device industry veteran – but despite being in this area for two decades, it was not necessarily a path he was destined to take.
"I have always been broadly interested in many things, from humanities over music to science," Platz says. "My PhD was in semiconductor technology, so at that time healthcare and medical technologies were not necessarily my focus.
"The one thing that has always been a driver in my life was to do something meaningful, and that is what I found when I started working as a project leader for a medical device company 20 years ago – it is an area that I have never left since."
Today he is responsible for steering Valtronic forwards. The company stands as a leading manufacturer of medical devices covering the full product lifecycle, from design and development to manufacturing on behalf of its OEM clients.
The name literally translates to valley of electronics, its 350-plus employees being spread across its base in the Greater Geneva area, North America hub in Ohio, USA, and manufacturing facility in Morocco. Its customers are OEMs of all sizes who generally demand highly complex devices produced in low-to-mid volumes, all to exacting standards and with enormous levels of quality control.
Setting the standard
Interestingly, the company also applies its capabilities to non-medical fields where advanced microelectronics are required.
This is testament to the wealth of knowledge and skills contained within the organisation, a facet which Platz believes stands Valtronic apart.
"Valtronic specialises in two areas," he explains. "Firstly, we have decades of experience and track record in extremely miniaturised electronic assemblies. Our engineers know how to reduce board space using literally all three dimensions, and our production technicians and operators know how to build the corresponding products to the highest quality standards. Both disciplines are of utmost importance when it comes to active implantable devices and other medical devices where 'minimally invasive' is a keyword.
"Secondly, and benefiting from being embedded in a micromechanics and micromachining environment here in Switzerland, we have over the last 15 years built up our 'mechatronics' business, which we define as the combination of active electronics with precision mechanical assemblies, integrating sensors, actuators, optics and sometimes fluidics into complex functional assemblies or full devices."
Valtronic indeed builds and ships complete devices (what are known as box builds), including final calibration and testing. Further, the company offers in-market services such as repairs and refurbishment.
In short, the firm pushes the bounds of what is possible and thrives in complexity, and backs it up with first-rate customer service.
As a mid-sized company, Valtronic is also able to move with the times extremely quickly, its agility being another hallmark that Platz recognises as critical to its success. "As I keep telling my teams, a good waiter anticipates the customer's wish and may even upsell with a desert to total customer satisfaction," he adds.
Such agility has been tested during what has been an extraordinary year.
The COVID-19 pandemic has caused enormous disruption to industries across all parts of the world, not least manufacturing operations which have had to either shut down or severely adapt in order to meet newly drafted safety protocols.
Valtronic has very much passed the test, its operations across all three sites continuing uninterrupted.
"Our global IT infrastructure has been able to smoothly support remote work for functions that are suitable," Platz adds. "Executing on our pandemic plans and, most importantly, the commitment of our employees worldwide, has allowed us to remain fully functional."
The CEO does reveal that overall business experienced some slowdown in the late spring and summer months, and that ongoing travel restrictions has disrupted collaboration on cross-border projects, but he also says the pandemic has opened the company up to some new perspectives among clients.
"The supply chain uncertainty has become a growing concern and companies are also realising that other events such as floods, fire, strikes or political instability can jeopardise their future," Platz continues.
"Taking these growing concerns into consideration, OEMs will need a contract manufacturer that offers stability and reliability with redundant sourcing and manufacturing capabilities, and which is operating in politically and economically stable countries. I think that the Valtronic footprint and offer are fully in line with these expectations."
The future of medical devices
This leads the CEO onto the topic of the future and what lies ahead for Valtronic in the coming years.
The future will be defined by innovation both in terms of product and process. For example, Platz reveals plans to greatly invest in digitisation and unification of systems across its three sites in what will be a major milestone on its developmental roadmap.
Indeed, Platz outlines an ambitious programme of investment which centres around expanding infrastructure across all three hubs, the Swiss centre also set to see its capabilities in microelectronics assembly enhanced.
"We strongly believe that the area of sophisticated highly miniaturised microelectronic assemblies, including but not limited to implants and sensors, will continue to be an enabler for novel therapies on the one side and a driver for the business on the other side," he explains.
Platz identifies a trend towards smaller, smarter, lighter, portable and inherently more complex medical device equipment that will likely steer Valtronic in the future.
Patients, he says, prefer to avoid extended hospital stays and sophisticated medical equipment is critical to ensuring that more treatment can be provided at home where they feel more comfortable.
The notion leaves the CEO resolutely optimistic about the next chapter of the company's development.
Bringing the conversation to a conclusion, Platz says: "In the future, more medical devices will evolve and include electronics. Existing devices will have to be redesigned as a consequence. It is exciting to imagine the next generation of devices that will further improve patients' lives.
"I believe that Valtronic is well positioned to be the manufacturing partner for this next generational wave. We have 35-plus years of experience in the medical device market and we are dedicated to the medical industry. The design phase is performed with the design for manufacturing methodology, meaning our engineering team knows all manufacturing constraints and takes them into account to allow for a smooth transition from R&D to industrialisation and manufacturing.
"I am proud to say that we are already working on several thrilling next generation projects for longstanding customers and also for new customers."
VIEW Valtronic BROCHURE