With the rapid growth of infrastructure in the Middle East, there comes increased safety measures. We discuss how technology is helping to progress construction site safety with Jamez Pecz, Head of Global Customer Service and Business Development at wireless solutions firm, Ramtech.
FIGHTING FIRE WITH WIRELESS TECHNOLOGY
Fire presents one of the biggest threats to construction sites, with a high risk of occurrence and quickly getting out of control.
In 2018, official estimates placed the value of construction in the Middle East in excess of USD$1 trillion. Saudi Arabian capital projects led the way at USD$1.2 trillion (pre-execution stage), while the United Arab Emirates (UAE) came second with capital projects valued at USD$713 billion.
Staggeringly, many of these areas of infrastructure have been built from scratch in mere decades; Dubai, for example, began its expansion phase from 1969 onwards.
With this has come a need for governments and associative bodies to consider expanding requirements around construction regulations and site safety, particularly when considering the huge size and scale of some of the region's most popular venues, such as the iconic Burj Khalifa.
"As experts in fire safety, it is our duty to help raise awareness of the ways in which we support development across the Middle East, working closely with fire regulators, association bodies, and contractors to ensure workers and their site assets remain safe and protected on temporary construction sites," opens James Pecz, Head of Global Customer Service and Business Development at Ramtech.
"With the right safety technology in place at the very start of a construction project, be that alteration, demolition, or new build, sites can be monitored 24/7 to spot potential fires and, if they do occur, allow these to be quickly halted from becoming an uncontrolled blaze."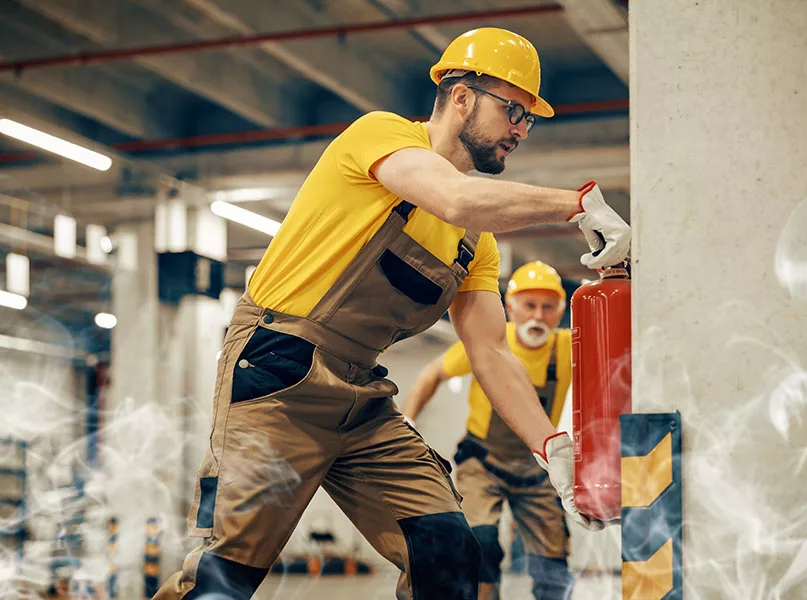 ANALYSING THE RISK
Fires can start on construction sites in a number of ways, which should be well-assessed prior to starting work.
This includes workers operating machinery that is often close to sources of ignition, such as highly combustible materials and solvents.
If fires break out during construction phases, there is the potential added risk that protection systems such as sprinklers, fire walls, and detectors have not been installed yet.
"In areas of extreme heat and weather, there is also an increased risk of fire from natural elements, so early identification and mitigation is even more crucial in these environments," notes Pecz.
Furthermore, construction sites are often open spaces and, therefore, more vulnerable to theft, vandalism, and arson, which can occur overnight when there is no one around or during quieter periods such as around annual holidays. On large sites, patrolling these areas is an enormous task, costing time and money – and is still open to errors.
While it is common knowledge for builders and insurance companies to know the threat of fire, many construction sites are choosing to operate with outdated methods of protection due to a lack of awareness or understanding, as well as cost.
"During my own experience of visiting clients and travelling across the world to discuss fire safety systems, I have seen traditional air horns and fire bells on trolleys used even in the most complex construction sites," Pecz tells us.
"This poses problems when the site is large, and the sound cannot travel as easily – particularly over the noise of machinery – and it does not help to pinpoint where the emergency is. While these traditional methods are readily available, it begs the question if these are really the best tools to rely on when so much is at stake."
To put this into perspective, it was widely reported that the UAE had experienced a significant increase in building fires in 2022, with civil defence teams responding to more than 3,000 incidents, including 2,169 building fires. This was an increase of three percent from 2021 and 10 percent from 2020.
In addition, firefighters from the Dubai Civil Defence (DCD) were recently involved in a five-hour-long fight to control a blaze which broke out in a multi-storey building which was under construction in Jumeirah Village Circle. Thankfully, there were no injuries caused by the fire, but there was significant damage.
"With more infrastructure advancements across the Middle East, including advanced projects such as NEOM on the periphery of Saudi Arabia, resilient and robust monitoring is critical," emphasises Pecz.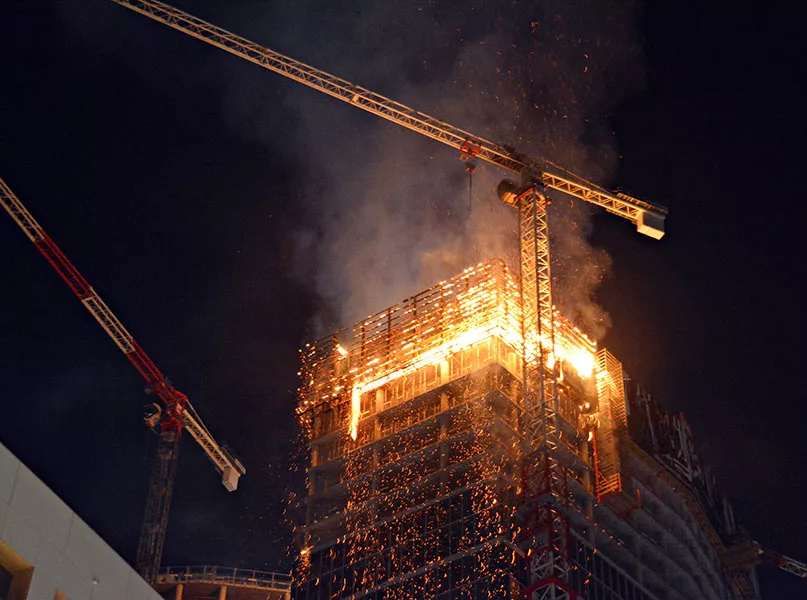 TAKING ACTION
The UAE Fire and Life Safety Code of Practice states that all construction sites of any scale or type must adhere to the code and be subject to approval by the DCD.
This includes a full risk assessment to note the potential hazards as well as building a fire safety plan for prevention, protection, and evacuation purposes that construction teams are made aware of.
The code also acknowledges temporary fire detection and alarm systems, and mentions wireless solutions as "best suited" for construction sites, as they "can be installed on a temporary basis without wiring".
Smarter wireless fire safety technology allows for enhanced site safety in a cost-effective way. These systems are versatile and reusable, with the potential to add smoke and heat sensors, as well as medical call features. They also eliminate the need for a hardwired power source – ideal for temporary or evolving sites.
Ramtech has been developing wireless safety systems for more than 30 years and works internationally on various sites, particularly in construction and temporary spaces.
The company has a growing number of clients in the Middle East, having already delivered on large projects, including a 36-storey tower, and is working on a residential project in the coming year, showing the value of WES3, Ramtech's wireless temporary fire alarm and evacuation alert system for construction sites.
"Units that can be mounted anywhere and relocated at any time, each powered by a battery with a three-year life under normal use, secure the job site during temporary phases of construction," Pecz informs us.
"With a fully customisable system, the units can be set out in the best-suited configuration."
On sites with hundreds of workers, WES3's site-wide alarm option is invaluable for worker evacuation during an emergency such as a fire, and with each unit numbered, it's easy to track the location of the emergency.
It also offers immediate remote notifications via SMS using its complementary REACT platform, so that project managers can have 24/7 peace of mind.
"The system is also designed to operate in temperatures of up to 70°C, and offers dust-resistant smoke detection, putting it at a significant advantage in hotter and drier climates," continues Pecz.
With work taking place so rapidly, and heavily budgeted costs, it is important that contractors are given smart options that don't require too much additional time to deploy and understand.
The WES3 system is quick and straightforward to set up, and Ramtech's team provides round-the-clock support for any queries.
"Wireless fire safety technology has made saving lives, protecting building infrastructure, and safeguarding communities more possible than ever before. Those who choose to take advantage of this will reap the benefits of a more secure and safe future," Pecz finishes.