Wayne Hodson, CEO, informs us about SPAR Poland's focus on increasing its footprint of stores and developing its private label products.
GROWTH IN GROCERIES
Poland's grocery market is highly competitive, with half the market being controlled by three players, namely Biedronka, the Schwarz Group (Lidl/Kaufland), and Eurocash.
The fourth largest is Dino, one of the fastest growing chains in a market that is broken down into four channels – discount stores, hypermarkets, supermarkets, and convenience, with Zabka controlling the latter with over 10,000 stores.
SPAR Poland fits into the 'underdeveloped' supermarket channel, where the strategy is not to be the cheapest but to be the leaders in service, quality, freshness, and range – all at a competitive price. 
The SPAR brand celebrated its 90th anniversary in 2022, having started out in 1932 in the Netherlands. Fast forward nine decades, and SPAR is now present in 48 markets with over 13,900 stores serving 14.7 million customers every single day.
SPAR has been in Poland since 1995, with the first store opening a year later. Today, following strong growth across the country, there are more than 200 stores across four formats – SPAR Express, SPAR, EUROSPAR and TOPS.
The store numbers were significantly bolstered in 2019 after SPAR International granted the license to continue to operate the brand in Poland to SPAR Group South Africa.
Along with the takeover of the existing license, the SPAR Group took over the support and supply of existing independent partners, located predominantly in the south of Poland. Soon after, the group acquired the bankrupt company, Piotr i Pawel, which consisted of approximately 100 stores.
Some of these stores were subsequently converted to the SPAR brand; as a result, in December 2019, SPAR Poland opened its first EUROSPAR store in Warsaw.
As well as having an extensive network of independent stores run by local entrepreneurs, offering customers everyday family essentials such as fruit, vegetables, and a wide selection of meats, cold cuts and cheeses, there are 16 corporate stores that are owned, operated, serviced, and looked after by SPAR Poland.
In a strategic alliance with AVIA, the company also supports a total of 43 SPAR Express stores at fuel stations across Poland.
"Our stores are located in the north and south of Poland, and are serviced out of two distribution centres – Koninko and Czeladz. We carry approximately 10,000 stock-keeping units (SKUs) in each distribution centre across all categories, with the exception of frozen, which is outsourced," details Wayne Hodson, CEO of SPAR Poland.
"Our head office is located in Poznan, along with a central production facility that produces fresh Polish cuisine for our stores. We currently have approximately 700 employees across our head office, distribution centres, and corporate stores."
Despite many challenges, not least the COVID-19 pandemic, which made it very difficult to grow the business, SPAR Poland has continued to rapidly expand thanks to its multi-format strategy, encompassing both independent and corporate stores, enabling the company to meet the shopping needs of customers.
This year has been no different, as SPAR Poland has already achieved its aim of opening 40 new independent or corporate stores in 2023, largely at petrol stations in partnership with AVIA.
"We have opened 40 new stores as of the end of August, and our target is to open 50 in this financial year," Hodson outlines.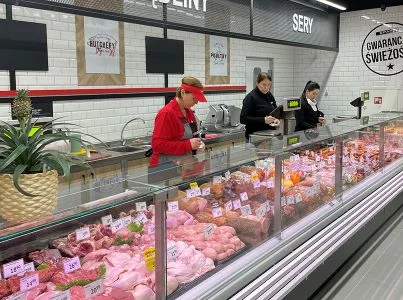 Heading into 2024, a key priority for SPAR Poland will be growing its footprint through new stores, along with the redevelopment of its existing outlets.
Another of SPAR Poland's big focuses is the development of its private label products. The company now has over 700 SKUs under its own private label, with its target being 1,000 SKUs by the end of 2023.
Marketed as top-quality products that are as good as the best for less, and ranging across all categories, 80 percent of these private label products are sourced and produced locally in Poland.
In 2022, SPAR Poland launched a new ultra-fresh range of ready meals and drinks under the Fresh to Go brand, including tortillas, sandwiches, pizzas, and juices.
A year prior, SPAR International also launched its new own-brand economy range across European markets, including Poland, under the SPAR N°1 label.
Complemented by SPAR Poland's focus on fresh foods and convenience solutions, such as the Bean Tree Café, SPAR N°1 supports a complete offer for customers and is a key addition to its multi-tier own-brand strategy, providing an even wider choice of quality, everyday essentials at great prices.
"Our strategy is driven across three tiers – economy, core, and premium," explains Hodson.
"We are also currently exporting some of our private label products to some Eastern European countries."
The development of private label across all categories is a big investment opportunity going forwards for SPAR Poland, whose focus is equally on the fresh fruit and vegetable, gastro, meat, and bakery departments within its stores.