Driven by innovation, engineered to perfection. We speak to the executive team at Commercial Vehicle Group about diversifying the future of manufacturing.
VEHICLE FOR CHANGE
"We find a way."
Problem-solving is in the DNA of Commercial Vehicle Group (CVG) and energizes every aspect of how it does business, from the people it hires to the products it makes.
Headquartered in New Albany, Ohio, CVG partners with companies leading the way in global commercial vehicles, technology integration, electric vehicle innovation and warehouse automation. With a strong worldwide presence that includes 39 locations across 10 countries, CVG is finding a way to solve the industry's toughest problems.
"Historically, we followed the legacy commercial vehicle manufacturers so that we were right where they needed us to be," says Rich Tajer, Enterprise CCO and President of the Electrical Group. "The pioneering spirit that CVG was built upon has helped sustain growth over the years while allowing us to confidently move into complementary markets to safeguard our future."
Since it was formed in 2000, CVG has experienced significant growth and is poised to further strategically expand operations across the globe. While the company remains focused on the design, development and continuous improvement of its core products, it has also positioned itself to move into high-demand growth markets.
Although CVG made a name for itself in the commercial and heavy-duty trucking industry, the company has recently seen substantial growth in the electric vehicle market and is ramping up production for its automated warehousing customers. CVG still offers the range of commercial vehicle solutions that it became known for, but also specializes in automated warehouse solutions and robotic assemblies, electric vehicle assemblies, and plastic molded parts across a range of industries.
"We've had a broad spectrum of capabilities that apply to multiple markets for many years, but more recently, we've expanded on this, and aligned ourselves with industries more heavily focused on technology and the environment," Tajer says. "As a result, we are changing our customer mix, value proposition, and the way we play in the market. One of our primary focuses is electrical system design, which will enable the vehicles and products of the future for our EV customers."
Expansion into key industries is one of CVG's strategic initiatives, along with core business growth and the strengthening of product design and innovation capabilities. CVG is rapidly moving into new markets and the company is well-positioned to handle this momentum to ensure stability, guided by one of its core values: meaningful growth.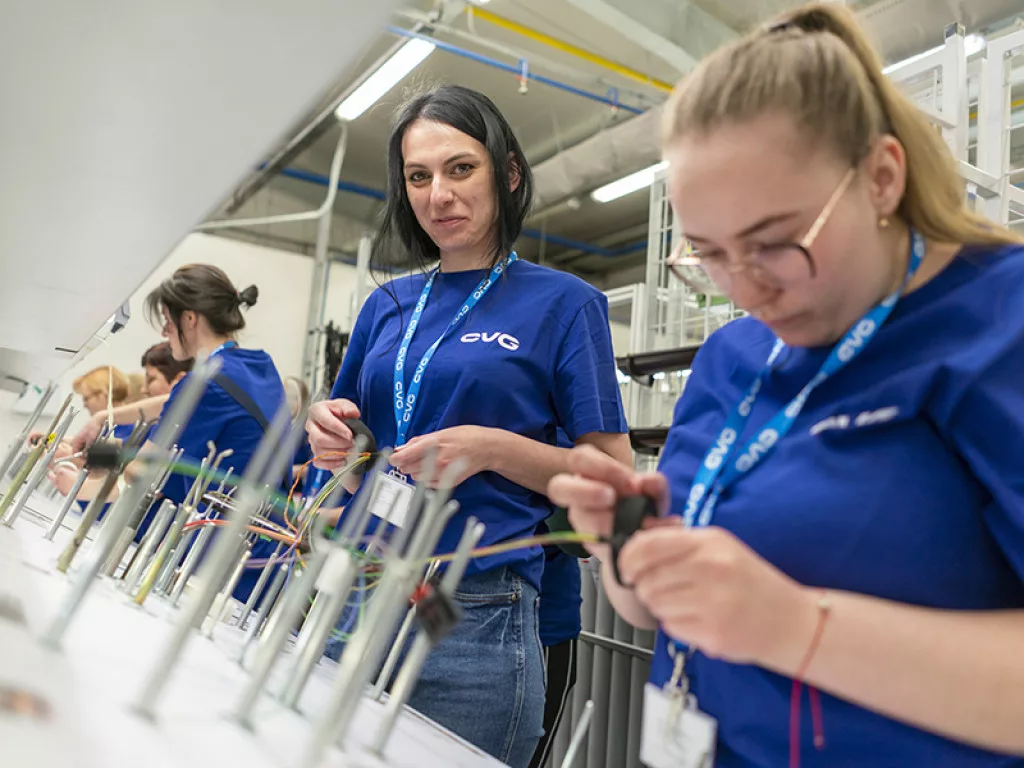 NEED FOR SPEED
The state of manufacturing is ever-changing as new technologies and global priorities emerge, so organizations must be adaptable and fast-moving to keep up. CVG has already shown its agility by pivoting to high growth industries and is further preparing for the future by injecting the organization with a breadth of talent while investing in innovation.
"We are bringing very talented, capable people into the organization, both from within the manufacturing industry and from other industries, who provide technical aptitude as well as other skillsets that round out what we are able to offer," Tajer tells us.
"We have the entrepreneurial spirit of a startup, but the experience of a global organization which gives us a unique edge. We're particularly excited about expanding our presence in markets that are rooted in environmental sustainability and technology, and we're unleashing that energy into the rest of the organization."
One of CVG's recent successes has been in digital wiring boards. These LCD screens replace traditional harness boards, and several can be strung together for larger harnesses.
Securing cables and wires and protecting them from wear and tear, wire harnesses are provided for a variety of industrial applications by CVG, whose electronic wire harness assemblies are integrated with its electrical distribution systems to provide user control over multiple operational functions and features.
CVG has already experienced the benefits of the innovative digital wiring boards on a global scale.
"Our digital wiring boards have been one of our key enablers for improving speed to market," Tajer explains. "The ability to move quickly is an integral part of our value proposition because it enables our customers to beat their competition to market and differentiate themselves with their new ideas."
While speed is one crucial factor in helping customers succeed, CVG's design and engineering capabilities provides its customers with even greater advantage in the market.
"We do so much more than creating parts to spec, although we can do that too; our real value comes to play when we can ideate, design and engineer alongside our customers to ensure that they are striking the right balance between materials, technology and function," says Tajer. "It could be part of our current mix of products or something new entirely – our capabilities are extensive and we're able to bring our expertise to many different markets."
CVG manufactures efficient, dependable and optimized cable assembly products for a wide variety of applications and will soon launch high-voltage distribution boxes and a revolutionary new seat for the entire industry.
Regardless of the product, CVG leverages state-of-the-art manufacturing capabilities to consistently delivery higher efficiencies and throughput, collaborating with customers to develop tested, reliable and expertly engineered solutions that stand the test of time.
ULTIMATE FLEXIBILITY
More than a manufacturer, CVG provides design and development, coupled with engineering capabilities, experience and scale to help customers across the product development life cycle. This allows the engineering team to anchor large-scale engineering programs, while the company's software platforms help OEMs and suppliers design electrical systems and save significant time and money.
A wide range of manufacturing processes provide nearly unlimited cost and design options, bolstered by CVG's engineering expertise which includes processes such as pre-launch inspections, routing consultations, document changes or improvements, and customisation of wiring systems.
This variety of processes and expertise provide the ultimate level of flexibility in terms of cost, design, lead time and styling options. As such, CVG can mix and match any combination of its engineering offerings to suit the needs of clients.
"We become part of their program teams – we understand the engineering they need to do and the standards they need to meet," Tajer states. "We embed our engineers into the customers' teams, meaning we take that product development weight off of them, develop it, test it and launch it."
It means that from the initial concept to the finished product, customers keep coming back to CVG for design, manufacturing and value-added assembly services. With years of experience in demanding applications, CVG quickly analyzes the challenges at hand and develops solutions best fit for each application.
"We're making a difference for customers with our products and our people, and we're trying to have fun while doing it. If we're not having fun, we're not doing it right," emphasizes Tajer.
As well as working together with customers, CVG collaborates with key suppliers to identify and implement saving opportunities for total cost improvement.
CVG's supplier partnerships deliver results that increase value for everyone, and create a mechanism to encourage and foster mutually beneficial ideas and shared goals. It is this exchange of ideas that provides CVG with the opportunity to improve margins for its partners, who can expect greater profitability through shared savings and the continual improvement of delivered products.
Likewise, CVG is committed to sustainability as it continuously finds new ways to improve its products and processes. The company believes that it cannot thrive without meeting the needs of employees and customers, giving back to the community, and minimizing its negative environmental impact.
For this reason, CVG strives daily to improve the company and explore progressive ideas, while building a company that its people, shareholders and global community are proud to be a part of. As commercial vehicle companies add electric vehicles to their fleets with the ultimate goal of carbon neutrality and a lower impact on climate change, CVG is there to support that goal with state-of-the-art technology and equipment.
"We know that the strength of our company comes from the diversity of our associates and the markets that we operate in because it gives us a broad range of ideas which makes us all stronger"

Kristin Mathers, Chief Human Resources Officer, CVG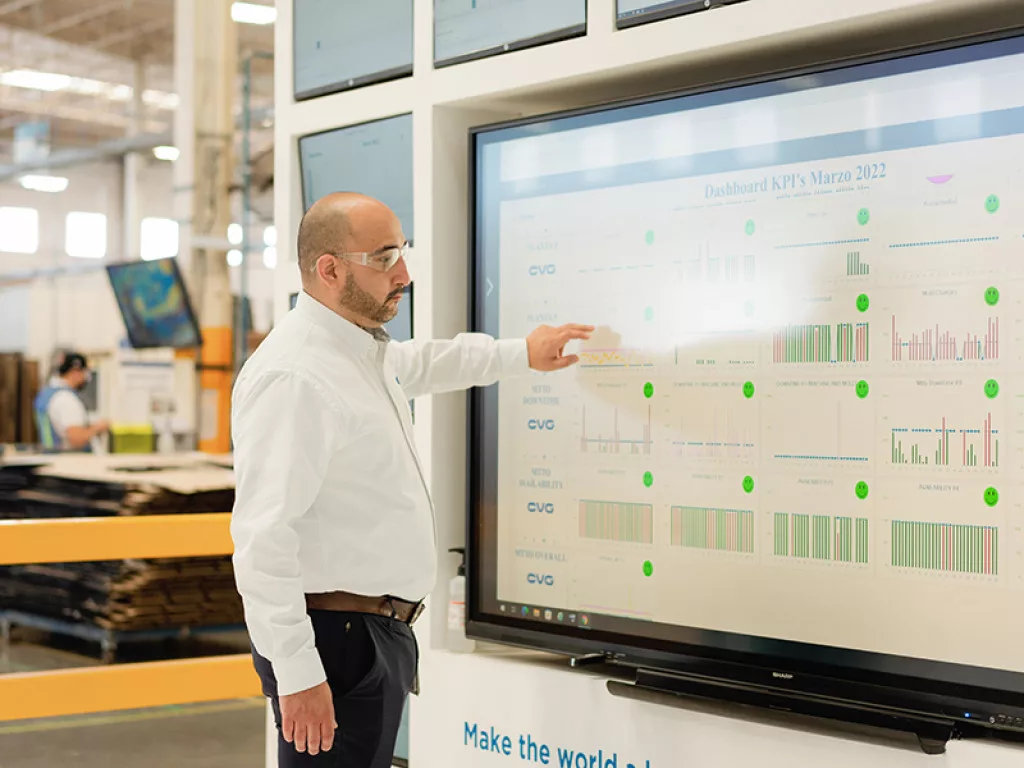 STRENGTH IN DIVERSITY
A company culture where people from all walks of life can connect and feel welcome continues to be cultivated by CVG.
CVG is committed to providing a safe work environment that celebrates different cultures, backgrounds and viewpoints. CVG is also building an inclusive community diverse in age, race, ethnicity, religion, gender identity, sexual orientation and more, and elevating its understanding of diversity and inclusion through training, workshops and honest conversations.
"We are committed to our diversity, equity and inclusion (DEI) initiatives. We know that the strength of our company comes from the diversity of our employees and the regions that we operate in because it gives us a broad range of ideas which makes us all stronger," says Kristin Mathers, Chief Human Resources Officer at CVG.
The business case for diversity and inclusion is stronger than ever. Companies that value diversity are widely believed to experience greater levels of both operational and financial success, courtesy of a greater capacity to solve problems and reduce bias. The most diverse companies are now more likely than ever to outperform less diverse companies when it comes to profitability.
DEI is therefore proven to drive business performance and innovation, as not only do companies with a more diverse workforce experience increased productivity, but they have been shown to have a competitive advantage in the industry.
As a global company, CVG strives to create a workplace that is reflective of the communities where it lives and works, recognizing the need for an environment where all backgrounds and perspectives are respected, and everyone can work to the best of their ability.
CVG's shared diversity mission is to build and sustain a diverse workforce, and to advance a global culture of acceptance and inclusion.
"We are a globally diverse company; of the 7,500 employees at CVG, about 80% are located outside of the U.S. While we're proud of that, we recognize the need to do more to ensure that everyone feels included regardless of race, ethnicity, religion, or other life choices they make." Mathers affirms.
"While every person in the organization needs to act on DEI initiatives for this to succeed, it's the responsibility of the leadership team to demonstrate their commitment and play an active role in moving the needle," she continues. "We're injecting DEI measures across the system, but leadership is taking it a step further with initiatives like our DEI Counsel where people can share ideas and we can really create change across the entire organization. It's tangible actions like this that will lead us to a stronger company, more integrated communities, and more fulfilled teams and individuals."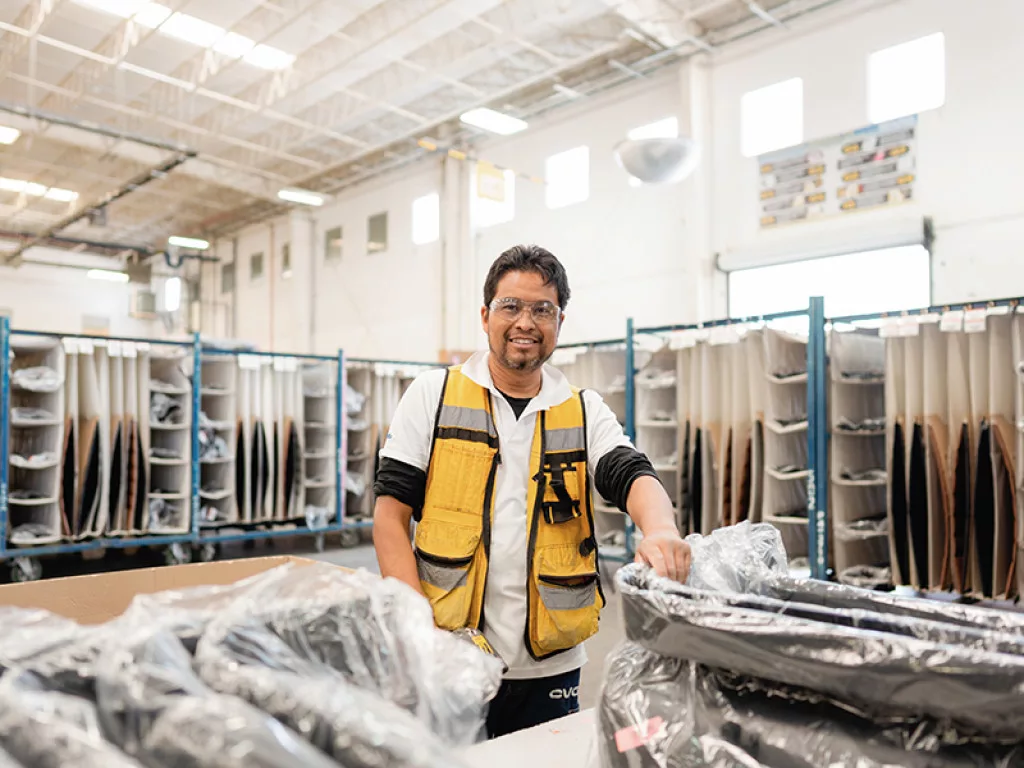 WOMEN IN MANUFACTURING
In the manufacturing sector, DEI is often focused on women because the industry has been historically male-dominated. Fewer than one in three manufacturing professionals today are female, despite the fact that women make up nearly half of the overall workforce in the US.
Women are also more likely to leave the manufacturing industry than their male counterparts, perhaps owing to a number of factors such as a lack of work-life balance and flexible working arrangements.
CVG is a proud member of Women in Manufacturing (WIM). WIM is the only national and global trade association dedicated to providing year-round support to women who have chosen a career in the manufacturing industry, working to empower female workers and strengthen the sector.
"While the manufacturing industry is known to be very male-dominated, CVG has done a tremendous job to ensure that women are represented in our facilities around the world, with nearly equal representation. Our real opportunity for growth is at the leadership level, where it's very difficult to acquire female talent," says Mathers.
While smart technology has facilitated the automation and digitization of manufacturing processes, and thereby increased female participation, the manufacturing sector still lags in terms of gender diversity.
"There is plenty of female talent out there, but it's up to us at CVG, and the manufacturing industry as a whole, to create the kind of careers that provide people with a good life; sure, part of that is competitive pay, but it's also job security, benefits, flexibility and a sense of belonging and purpose."
Manufacturing is an industry that is constantly innovating, and varied perspectives allow companies such as CVG to remain at the forefront of their sector.
A recent report by McKinsey found that companies in the top quartile of gender diversity on executive teams were 25 percent more likely to experience above-average profitability than peer companies in the fourth quartile.
Moreover, it found that companies with more than 30 percent female representation on their executive teams are significantly more likely to outperform those with a lower percentage of women in executive roles.
"We, as women, won't typically raise our hand unless we know we are 100 percent capable of doing the job. We need to get to a place where we are comfortable with 80 percent, so we are given the opportunity to show what we're really capable of."
Mathers joined CVG in September 2021, but she has already observed positive change at the company, after some restructuring that occurred as a result of the COVID-19 pandemic.
"What I've seen is the ability of the company, even in a demanding manufacturing environment, to remain flexible. We have a lot of essential workers that need to work at a physical location, but we can do our part to ensure that we encourage flexibility where possible for current workers and those coming in. This doesn't always mean work from home; it could mean flexible hours, part-time work or other ways of working differently in our manufacturing plants if they need it," Mathers notes.
"Culturally, we are now more accepting of remote and flexible working, and we ask all of our employees what they need from us to be successful, be it work environment or otherwise. We are figuring out what that balance is for us to ensure that everybody feels respected, engaged and happy."
Creating an inclusive community takes teamwork, and CVG knows first-hand how innovative a diverse team can be as it helps to shape the future of transportation.