Kandia Dulce SA has supplied confectionery goods in Romania for over 130 years. Dragos Militaru, CEO of the company, discusses its proud history and present-day developments in preparation for the future.
ROOTED IN ROMANIA
"We have a unique portfolio of authentic Romanian brands and products adapted to the tastes and traditions of consumption in the country. We are promoting Romanian pride and local traditions, and this makes us unique."
Romania exists as a cultural treasure trove in East Europe.
Boasting historic towns, rolling hillscapes and decorative traditions, the country is the proud home of a multitude of unique annual celebrations and folklore that has spawned tales and helped shape the course of modern literature, such as Bram Stoker's Dracula.
But one aspect that does not sit at the forefront of external association with Romania is its rich food and drink culture. Within this space, Kandia Dulce SA (Kandia) is the biggest Romanian chocolate and sweet snacks producer, and has been operating since its initial production of milk chocolate in 1890.
PAST TO PRESENT
"Today, after more than 130 years, we offer an extensive portfolio of 11 brands that are present in product categories such as chocolate, pastry, biscuits and confectionery," says Dragos Militaru, CEO of the company.
"The business and the Kandia brand have managed to navigate different regimes and wars, the move from communism to capitalism, changes in ownership, and have faced and endured all kinds of socio-economic challenges."
According to Militaru, Kandia stands as one of the most important employers in Romania, with a human capital of approximately 430 direct employees, of which over 300 work in manufacturing and operations. The company's social footprint results in an estimated 5,000 to 6,000 jobs generated indirectly.
"In the chocolate bars category, we lead with ROM, the iconic Romanian brand bearing the national flag on its packaging, and a product that has witnessed all of our history and development since 1964," he tells us proudly. "In the cakes space we have Magura, the benchmark of the category and the market leader since 1970s. When it comes to chocolate tablets and pralines, have with Kandia in dark chocolate, Primola in milk chocolate and Laura in the economy section.
"In sugar confectionery we have Sugus and Silvana, two sweet brands, and our biscuit, croissant and wafer options are addressed by our umbrella brands ROM and Magura, as well a specific one called Ulpio."
Outside Romania, Kandia currently exports to 17 countries mostly in the EU, with export activities generating approximatively five percent of annual turnover for the company.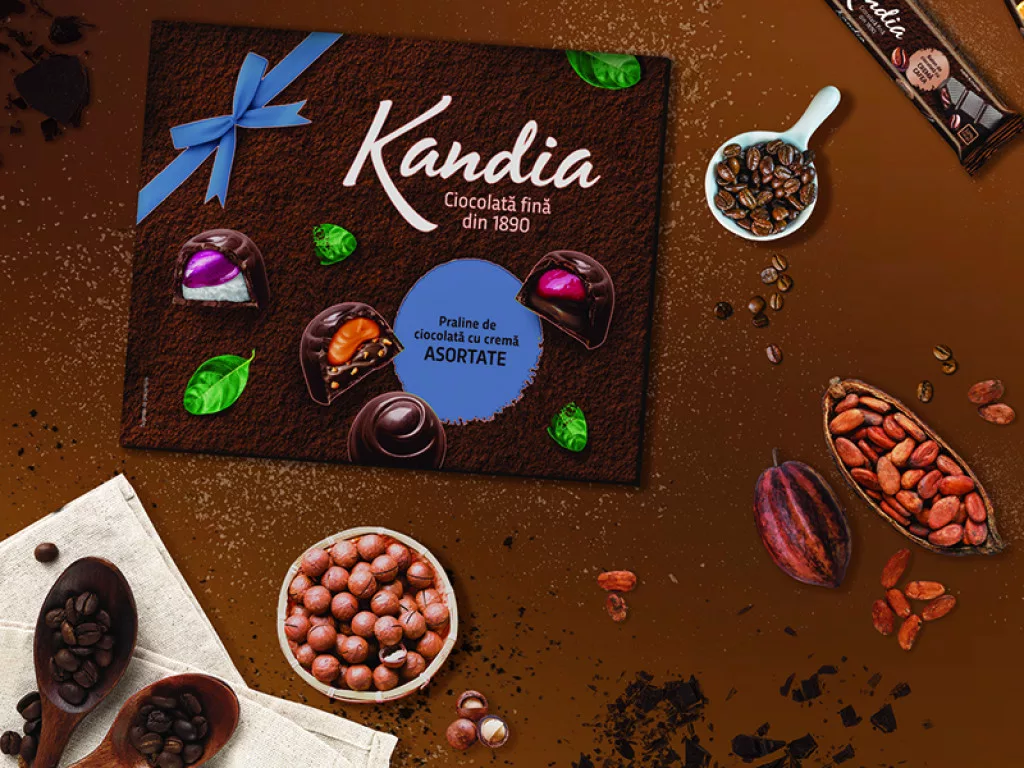 NEW GENERATION CONSUMERS
For the past two years, Kandia has had to adapt not only internally to safeguard its employees, but also to the shifts in market demand as a result of social restrictions and home-based living.
"The industry is very much challenged by consumption changes," Militaru elaborates. "On-the-go products have been largely replaced by those for in-house consumption, with a strong tendency for discount options versus others.
"On top of this, online working and education have made consumers buy and consume differently across the COVID-19 period in comparison to two years ago. In recent years, more and more Romanians are rediscovering our local beloved traditional brands and products, which are also brought into focus by retailers promoting products produced in Romania."
Alongside this, the snacking industry is expanding as younger generations replace traditional meals with alternative snacks.
"With the improved purchasing power of Romanians, we are enjoying a constant increase of overall sweet snack consumption," Militaru says. "During the COVID-19 pandemic, we were often overwhelmed by the speed of changes such as mobility restrictions, accelerated digitisation, legislative changes and the evolution of production technologies. The most important thing is to be in constant direct contact and dialogue with our consumers in order to observe and understand the changes in consumption and purchasing behaviours and to be able to adapt our products to new consumer preferences.
"We have a great advantage in that we are a Romanian company with products and brands built by Romanians for Romanians, and we manage to always remain in the top of their preferences."
EXPANSION AND GROWTH
Backed by its extensive roots in Romania, it is Kandia's priority to remain ingrained in the nation and grow with the country's future in mind.
"Having brands like ROM, Kandia and Magura in our portfolio, and with such a long history in the market, surviving and reinventing themselves generation after generation, it gives us strength as well as a huge responsibility to be relevant through the times," Militaru explains. "Apart from brand messages and behaviours, we had to adapt and expand our portfolio to suit the new generations' taste and expectations, in order to be able to meet the expectations of new consumers.
"Therefore, we have developed ROM and Magura as 'umbrella' brands, expanding them into new sweet snack categories and aiming to enlarge the brand franchise."
Kandia has undertaken substantial consumer research to understand its consumers' needs and expectations in depth and in connection with company brands, all to understand how far Kandia can stretch its brands without losing relevance and credibility.
"It is an R&D effort in connection with product and concept tests in order to validate with consumers any potential route for expansion," Militaru adds. "In the case of ROM, starting with the first original bar in 1964, this is how we are present in seven categories with 26 SKUs today."
When it comes to exports, Kandia's strategy has a dual focus. This is aimed at the Romanians living in other European countries, and those internationally. In both cases, Kandia aims to bring the beloved brands from the childhoods of those living abroad, such as ROM and Magura, so that export consumers can relive the familiar tastes of good quality and affordable products from their homeland.
AIMING FOR NUMBER ONE
Moving through the rest of 2022 and the years ahead, Kandia's foremost priority is to grow within Romania and maintain its mission as Romania's first choice in sweet confectionery.
"Our business started recovery after the first pandemic year, and we grew in 2021 by four percent in volume sold and by 14 percent in turnover," Militaru recounts. "The plan for the future is to continue fuelling our accelerated growth and deliver another double-digit performance in 2022.
"We are aiming to be the number one choice in the country. In Magura's case the challenge would be to preserve the leadership position on the market, as it is difficult to become number one, but is even more demanding to preserve it. Regarding ROM, we are a strong challenger, fighting neck to neck with well-established international brands. For these, we will continue to innovate by capturing not only the trends but also by monitoring closely how the Romanians' taste is evolving and keep being a national staple with newer generations as we have been since 1890."