Seamlessly weaving together tradition, imagination and innovation, Imprima has become a global player in the textiles manufacturing market. A company as unique as their custom designs, CEO Federico Benevolo discusses the prospect of a sustainable future.
REFASHIONING TEXTILES
Style, fashion and design are in our DNA," opens Federico Benevolo, CEO at the Imprima Group.
Imprima is a global holding company dedicated to quality textile finishing and printing.
Headquartered in Milan, it is unsurprising that such a company is based in the fashion capital of the world, at the very apex of Italy's industrial triangle.
Milan itself has been defined by the prominence and commercial success of its fashion industry since the early 1980s, as seen in the city's illustrious 'Golden Block', boasting salons of the world's most renowned fashion designers. You could say that textiles are woven into the industrial fabric of this city, but Imprima casts its net far wider than Italy alone. Their fabrics and textiles span the entire globe under the aegis of the Imprima Group.
The Imprima Group was formed in 2016, thanks to investments from Wise Equity SGR. As such, it is still a relatively young enterprise.
"Imprima is young at heart but at the same time full of expertise," Benevolo comments.
In spite of this, the company has already established its reputation as a global player within just a few years.
"Imprima is a global leader in textile printing and garment making. In our imprinting there is all the commitment of an international player in textile printing, together with the strong will to be first for quality and service," he elaborates.
With regards to Imprima's extensive reach, the company can be found directly in the Italian, German, Brazilian, Chinese, American and Moroccan markets. Indirectly, Imprima has a worldwide presence through their partners and trade network in North Africa, Asia, and Central and South America.
Indeed, it was Benevolo's international working background and understanding of this global mentality that secured his position at Imprima, after 25 years working in both European and American companies within sales and marketing roles.
"My personal experience matured in Italian family companies and in multi-brand situations but is also characterized by a consistent international experience.
"In terms of key competencies above the marketing capabilities, I developed skills to manage start-up and turnaround situations, re-defining the strategies both in sales and operations," he explains.
The company's infancy is deceptive since it is reinforced with the combined years of experience and esteemed heritage of its partners.
"The Group is an exclusive combination of brands with years and years of history in the textile culture," as Benevolo confirms.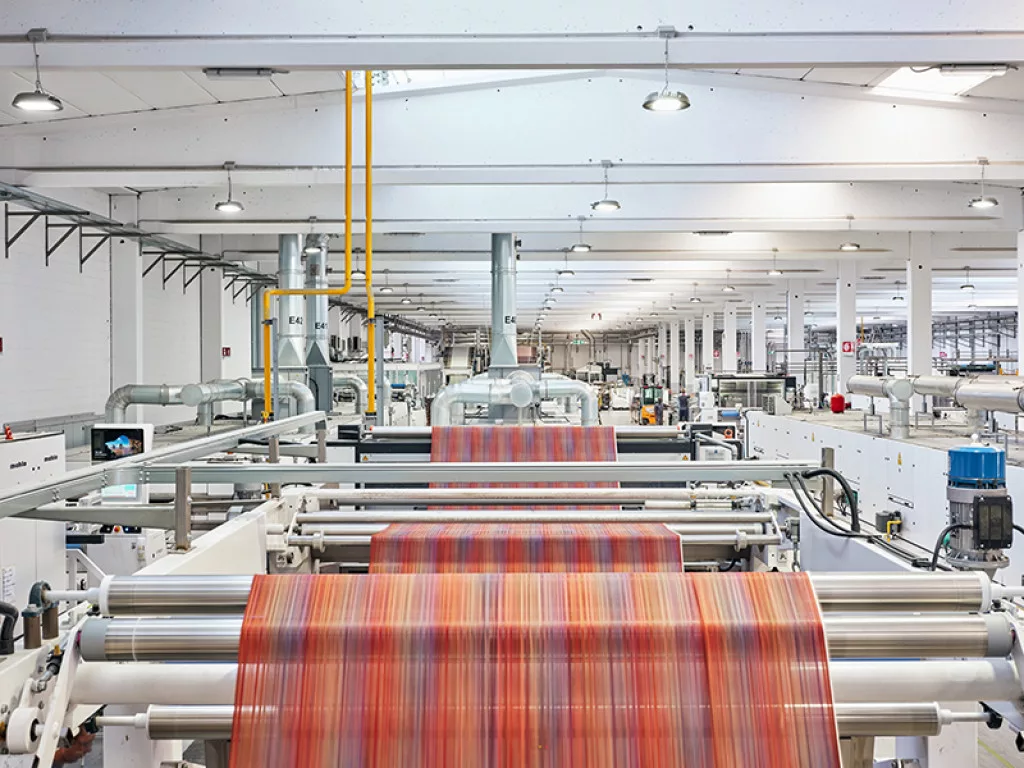 In Benevolo's opinion, it is this combined experience derived from Imprima's string of successful acquisitions that is to thank for the company's prestigious reputation, established within a relatively short time scale.
"One after the other, each new acquisition has added new skills, quality, glamour, creativity and service. That's how, in just a few years, Imprima has become a prominent brand in the market."
Consolidating these five companies within the group allows Imprima a variety that is matched by the diversity of its clientele, catering to an eclectic range of styles with their custom-printed products. Crucially, this also affords the opportunity to span different markets within European retail.
"Among the major textiles European companies, the Group acts successfully both in the "Collection" and "Fast Fashion" areas, with refined printed fabrics and finished trendy garments," Benevolo explains.
Currently, "the Group is rapidly enhancing the classic product range (fabrics) with garments, in order to provide turn-key or tailor-made solutions shaped on the client needs and personality."
Fittingly, Imprima works with an unparalleled variety of fabrics, synthetic and natural, including cotton, lycra, polyester, silk, and viscose, thereby accommodating a range of customer budgets.
"Imprima makes every client feel unique and at the centre of attention with a pool of brands, each with its own history, peculiarities and team of designers and salesmen. Thanks to them the Group is a unique and eclectic reality, capable of answering to every project and commercial needs," observes Benevolo.
In terms of their manufacturing processes, Imprima strikes a fine balance between tradition and innovation, respecting the heritage of certain techniques, such as traditional rotary press printing, whilst adapting to modern innovations based on entirely digital processes.
"What makes us really up to date is our continuous research in technologies and process innovation," quips Benevolo.
Essential for any modern contender on the modern marketplace, this is mainly evidenced by the incorporation of digital printing and the significant investments that the company have made in this area.
"We offer only the best technologies, both traditional and digital for all types of fabrics, as well as a high specialty in active and beach wear technical fabrics printing."
Digital printing is a fundamental necessity to ensure continued success for the company.
Indeed, Imprima recently invested €20 million across its two Italian production plants in state-of-the-art digital printing technology.
As manufacturers continue to be shaped by the technological developments of Industry 4.0, Imprima looks to advanced, leading edge technological solutions, entailing significant digital developments that contribute to streamlined, agile production systems.
Interconnectivity is implemented through the Internet of Things (IoT), establishing an interlinked, wholistic approach to manufacturing, driving growth and leveraging instant data to further improve processes. This is in aid of establishing lean production – a means of manufacturing designed to eliminate waste without compromising on quality, whilst furthering workplace efficiency. This refers to waste in the widest sense, including raw material but also factors such as time and the optimised use of equipment.
"In the near future a system will lead the company structure, founded on IoT and lean methods, to increasingly use 4.0 Industry future logics and therefore widen the offer of fabrics, printing types, processes and customised services, to give the client an active and leading role in the production process," Benevolo explains.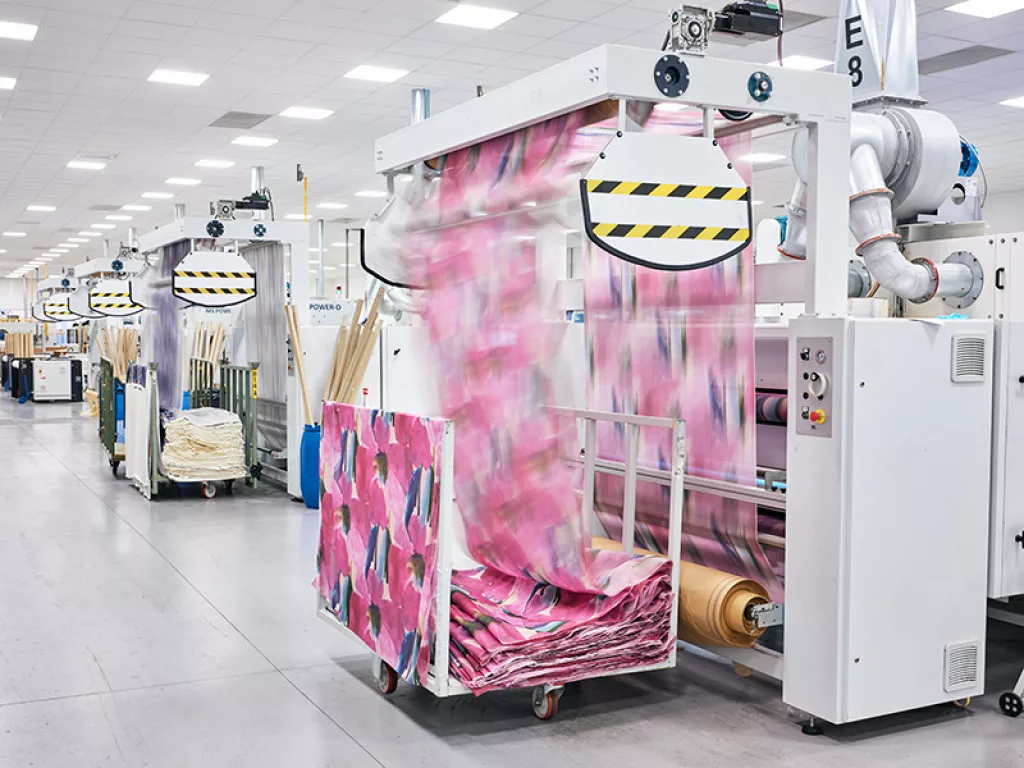 Lean production champions the shortest possible product cycle time through continuous improvements. Ultimately, the many benefits and improvements established by implementing this systematic approach results in higher profitability for the company.
"Future innovation is mainly oriented towards increasing the use of recycled and/or green tissues, accompanied by greater attention to the use of natural derivatives and low water-consumption technologies," comments Benevolo.
This elucidates the synergy that can exist between technology and sustainability; the two working in a complimentary fashion to further the company's goals and ethical commitments, as high-tech solutions continue to be developed.
The textiles industry worldwide has come under scrutiny in recent years for its environmental impact, largely due to the enormous water consumption that necessitates textile production and the water pollution that can result from textile treatment and dyeing.
Imprima acknowledges this matter of contention and as such, ensures that sustainability is entrenched into the company's operations wherever possible, doing what it can to clean up the sector by outlining future action.
"For sure our key word is sustainability and, in order to achieve it as quickly as possible, we act along two macro directions with selected activities in order to become the best in class," Benevolo explains.
A company that understands the importance of taking action today to safeguard tomorrow, Benevolo outlines the concrete action that Imprima will take to mitigate environmental impact.
"In detail, we will normalise our entire Quality System by combining current textile certification with the ISO standards (9000, 14000, 50000 and SA 8000) in the entire production process and regularise the energy, gas and water monitoring system.
"Imprima will also invest in the construction of photovoltaic plants, for the recovery of the energy collected and for cogeneration that will operate together with the already existing biological purification plants and chemical treatments for processing water.
"Last but not least, we believe that the other lever to speed up this path is to invest in our values, implementing a dedicated programme where sustainability is a pillar," Benevolo informs us.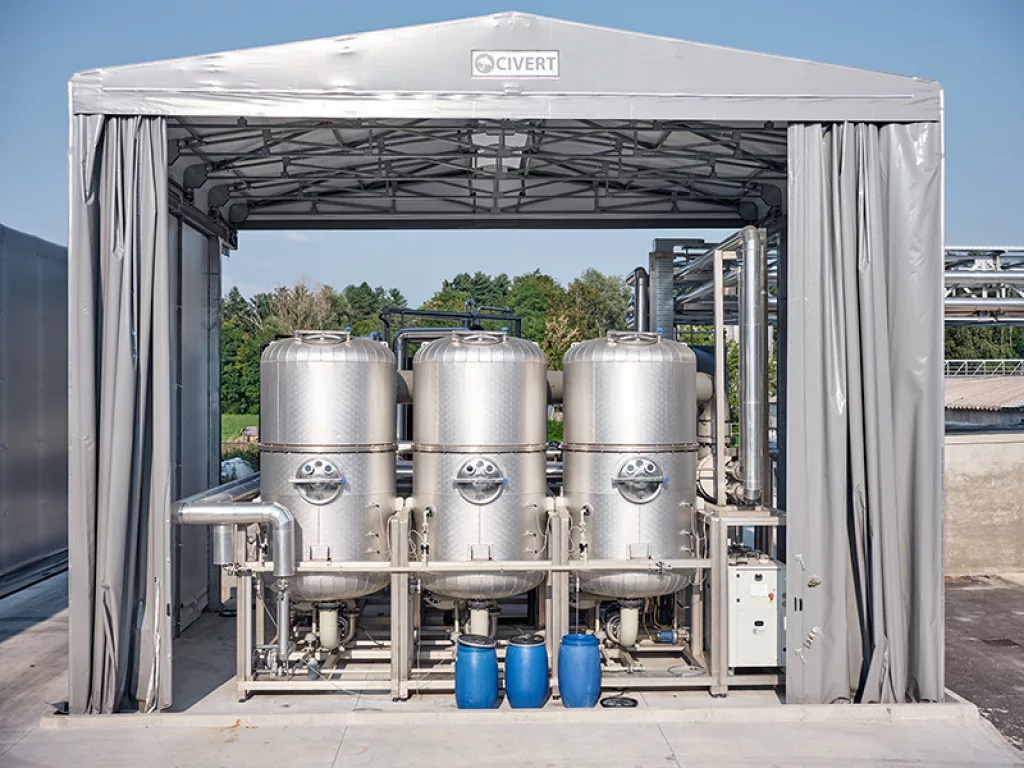 By implementing company-wide systematic changes, Imprima has given itself the ambitious goal of becoming a 'zero impact worldwide textile company'.
"All this will be driven to guide our staff towards the zero-impact horizon, to which we can all daily contribute even with small actions," he concludes.
For Benevolo, there is no undermining the seismic impact of the pandemic for textiles manufacturers. A relative newcomer to the Imprima Group, Benevolo had barely been with the company for a year when the pandemic came to fruition and turned the industry on its head.
"Because of the pandemic situation, I haven't been able to know a lot of clients," he tells us.
Indeed, this contributes to the "highly challenging" context that shapes the industry today, as the aftermath of the pandemic promises an uncertain future.
"I feel I can say that this market, one of the oldest, is deeply changing due to COVID-19 and this phenomenon will have a structural impact on the current logic, from the final customer habits to the entire supply chain," he observes.
"We are facing an unstable transition characterised by the ability to know how to anticipate and manage the future growing needs of the final customer," he comments, underscoring the unpredictable nature of ever-shifting consumer trends.
In terms of how the pandemic will affect supply chain operations, Benevolo believes that driving innovation will be essential to ensure that their partners remain competitive.
"These trends will directly impact our current partners, who have to be able to provide increasingly competitive responses by innovating themselves.
"The final effect is and will be a higher request to the suppliers of more performing processes and productions achievable and, in my personal opinion, this is achievable only through a lean culture and the introduction of the IoT," he claims.
This upheaval of supplier relations may provide ample opportunity, since this is an area that Benevolo identifies as somewhere the company can "dramatically improve its strength."
"We are re-thinking our approach thanks to new managers fully dedicated to the whole supply chain process. The actual suppliers become more and more crucial and vital for our performance and therefore we have to invest in a closer relationship with our partners through a mutual winning solution," Benevolo surmises.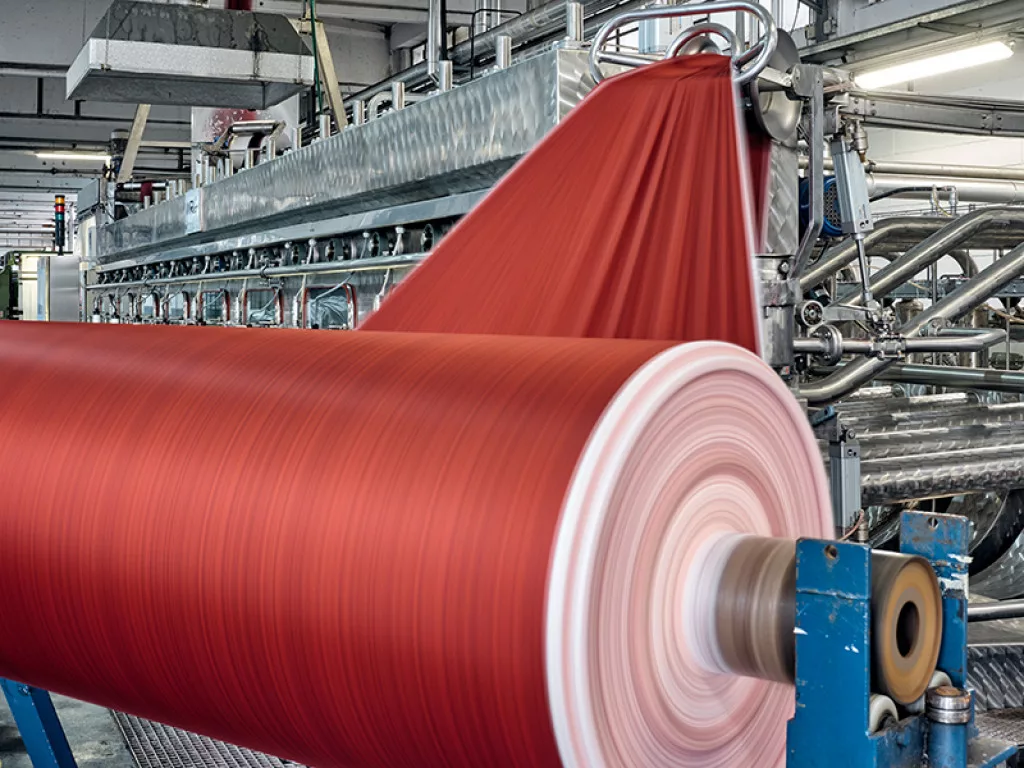 Moving forward, Imprima will be focussing its efforts on entering the 'athleisure' market', reinforcing operations in China and localising production in the United States. Alongside this, they will be developing their garment-maker proposal to further increase international coverage.
A strategic plan defined by three key pillars outlines the company's actions for the future.
"The first pillar is the world's sales development for both fabrics and garment, counting on a broader and deeper meaning of "customer service".
"The second pillar concerns a rethinking of the production process in terms of sustainable innovation, of process standardisation and production sites focus through the introduction of SAP (Systems Applications and Products) on national and international level on key flows of the company.
Lastly, the corporate and departments reorganisation within the Group, with centralisation of joint activities and greater focus of business brands, with great care to the professional growth of key resources," he explains.
Benevolo's closing sentiment resounds with optimism and faith in Imprima's vision.
"Ours is more than a mission. It's the desire of founding our work on imagination and creativity. We wish to be the benchmark partner in the global market, able to offer creative, innovative, sustainable solutions and textile products."
With its ambitious goals, admirable social responsibility, and commitment to innovation, Imprima proves that not all textiles manufacturers are cut from the same cloth and confirms its status as a mark above the rest.