Having doubled in size in just three years, Pizza Express UAE is reaping the rewards of a family- and respect-based culture which is seeing every employee sharing its success story.
THE PEOPLE'S BUSINESS
The UAE is home to more food and beverage outlets per head than anywhere else in the world barring Paris.
Around two thirds of people living in the GCC nation eat out at least once a week, an appetite for cuisine fuelled by the likes of Dubai which was home to more than 11,800 restaurants at the end of 2018.
It is an extremely competitive environment, one which requires a high-quality product, constant innovation and a memorable customer experience in order to succeed.
For Prashanth Menon, Operations Director at Pizza Express UAE, this dynamism is what makes the industry a fascinating one to work in.
"The market has really started to respond to trends with new and exciting options popping up all the time," he says. "This industry has taken off in areas such as delivery where I have witnessed value propositions in the UAE which are world leading.
"I personally love the fact that it has become so competitive because this is driving the sector to deliver higher quality, more innovation and a deeper understanding of consumer needs."
These observations reflect Pizza Express UAE's own recent growth journey since it was acquired by the UK-based parent company in May 2015, moving from the previous franchise model to an equity business.
Since then, its footprint has doubled from seven outlets to 14 spread across six of the seven emirates – seven in Dubai, three in Abu Dhabi and one in Fujairah, Ajman, Sharjah and Ras Al Khaimah.
"The key ingredients of our brand's success in the UAE have been consistently serving our customers high quality, freshly made food coupled with attractive restaurants and a warm team," Menon explains.
"The business has successfully appealed across different cultures and currently has a diverse segmentation between all the major nationalities in the UAE. We have been able to adapt and develop offerings which appeal across these various nationalities, including expats, many of which from the UK immediately identify with the brand."
Undoubtedly a turning point in the company's development, the shift to an equity-based model in 2015 also heralded a fresh approach to finance with the arrival of Yashin Lalloo.
Now serving as Director of Finance, the South African national moved from Etihad Airways having previously worked for accounting giant Deloitte in several countries around the world.
"My route here is a very different one to Prashanth, who has a great deal of experience in the UAE's hospitality scene," he says.
"The biggest thing for me when looking for my next challenge was the opportunity to drive growth and impart change, and Pizza Express has most definitely enabled this.
"I've only been in the industry for three and a half years, but I quickly learned that one of the exciting things about this environment is the autonomy Prashanth and I are given by UK head office to make decisions."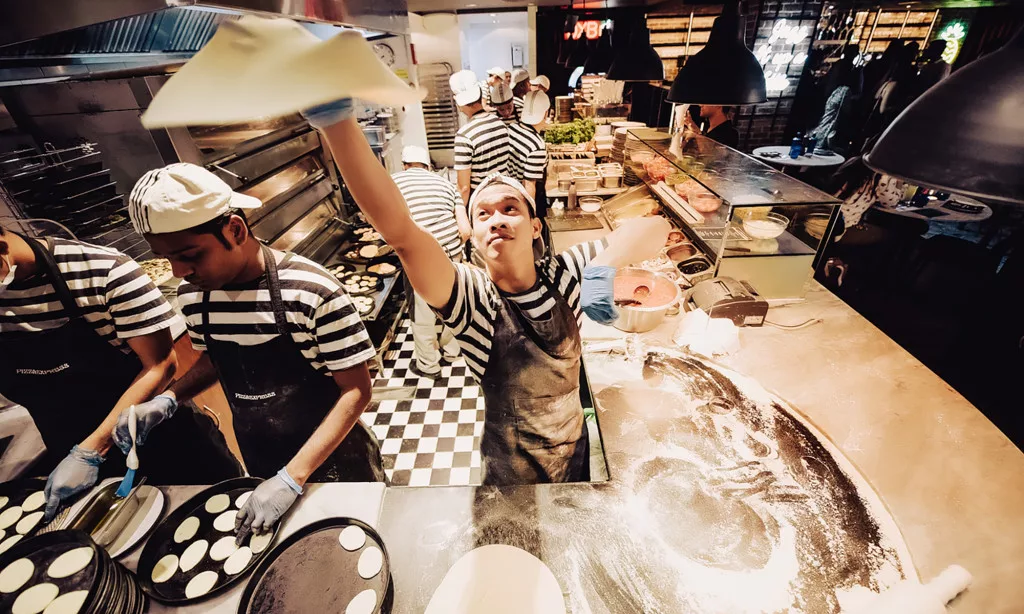 BUILT ON RESPECT
While Menon and Lalloo's journey to Pizza Express are entirely different (the former destined to become a doctor before a change of heart), a common lesson learned has centred around the importance and impact of people.
Having already cited the company's multinational consumer appeal, Menon further reveals that Pizza Express's own UAE team comprises people from no fewer than 14 different countries.
Indeed, for the leadership duo this is their greatest asset.
"What this industry has taught me is the value of patience and the unlimited potential to meet people," Menon says. "I have been introduced to so many different cultures and approaches to life, and it has been a tremendous learning journey and one which has always kept me on my toes."
"The other standout facet of Pizza Express UAE is the family-feel, respect-based culture we have managed to install," adds Lalloo.
"No matter your role in the company, the respect for everyone and each individual's contribution is engrained in our DNA.
"I have learned more about people management than anything else – many of our workers are expats and spend long periods away from home in order to provide for their families, and the fact we have been able to gel with these people and create that family feeling is so important."
This culture curation has led to the company being listed by Great Place to Work for both 2017 and 2018, an initiative held dearly by Lalloo and especially Menon, who proudly points to the firm's high staff retention rate.
"While the trophy and certificate were nice to receive, there is a bigger purpose here," Menon says.
"It is about laying the foundation for the future of Pizza Express UAE – yes, we have beautiful restaurants and a sound growth strategy, but what about the people part? We want people who want to work for us and who want to execute this vision and strategy."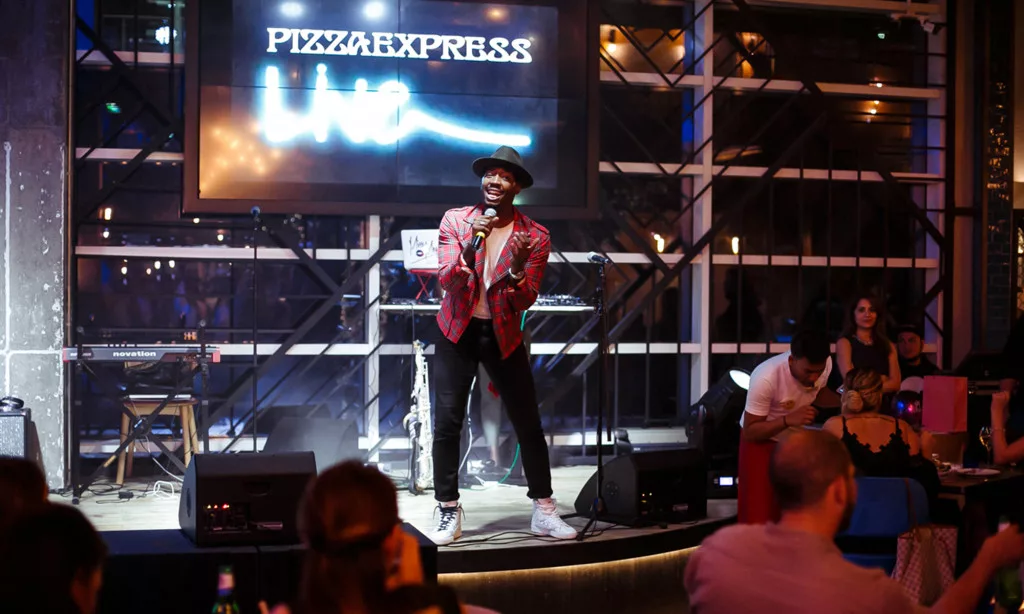 BEYOND CASUAL DINING
A key part of this vision is to differentiate in what is an extremely crowded market.
The company takes tremendous pride in the modern, contemporary and welcoming makeups of its restaurants, venues which are routinely upgraded and invested in.
Maintaining an attractive, high quality food offering is another vital component, as Menon explains: "The team is consistently developing new offerings which are based on trends and local preferences.
"Some of the innovative items introduced into the menu include the entire pasta range which is freshly prepared, side dishes including chicken wings and the Sujuk Reale Pizza which uses the Arabic sausage as a star in the dish.
"Alcohol restaurants have also developed an innovative bar snacks menu and cocktails unique to the UAE."
The latter statement refers to a particularly dynamic and successful part of Pizza Express UAE's business, the company operating three alcohol-licensed restaurants – two in Dubai and one in the World Trade Centre in Abu Dhabi.
Home to live music and a tailored food and drink offering, these restaurants have added an entirely new dynamic.
"Our Jazz@JLT alcohol-licensed venue in Dubai has been a massive success so far," says Lalloo. "It is one of the best-known, best-value drinking establishments in Dubai and has really transformed the perception of what a Pizza Express is.
"Rather than being a casual dining restaurant which serves alcohol, it is an entertainment venue, and this is a very big differentiating factor. I would go as far to say that this is the best Pizza Express in the world to be in on a weekend. The service is very interactive and Prashanth has done a great job in moulding the team to handle the pressures that such a venue provides."
This is reflected by a string of awards, including TimeOut 2018's winner of highly commended for Best Evening Brunch (Jazz@JLT), Best Live Entertainment Venue (Pizza Express Live), Best performance for under 500 people (Pizza Express Live) and the Whatson award for the Best Party Brunch for 2018.
For Menon, it comes back to the notion of standing out from the crowd.
"This was about how we differentiate, and we opted to create a venue where all parties feel welcome. Families with kids to expats enjoying a weekend party can all be accommodated in our venue," he explains.
"Another USP is that we offer different live music every day of the week as opposed to contracting a band for six months, which is the norm. We like to welcome local musicians on open mic nights and have been a platform for them to go on to bigger things, and this has been great to see."
REMAINING AGILE
Looking ahead, Lalloo and Menon identify three major objectives for Pizza Express UAE, targets which will only be achieved by maintaining its people-first culture and resultant high performance across the board.
The first of these objectives involves growth of the brand and keeping a strong focus on an offering of quality food in attractive venues at affordable prices. Outside of the restaurant, the second priority is geared towards exploiting the growing delivery segment through partnerships with the likes of Deliveroo and Dark Kitchens. Third is the desire to adopt a multi-brand approach in order to diversify the business, as has been the case with Pizza Express Live.
It is a dynamic, exciting period that lies ahead for the company's leadership duo, Menon concluding on an optimistic note.
"The economy has gone through challenges in recent times which has included job losses, lower oil prices and the introduction of VAT. Despite this, the market has still grown and been highly competitive with many new entrants being able to penetrate the market and have success.
"At Pizza Express, we are still optimistic about the industry as there is such a large appetite for dining out and delivery in the UAE. The market is constantly being flooded with new concepts, new entertainment offers and will continue to be this way going forward.
"The biggest challenge will be how agile businesses are in adapting to the conditions and developing a model which allows them to operate in all conditions."