Thanks to a reliable fleet of transport and an extensive network of depots and modern warehouses across Europe, Raben Netherlands is proud to deliver the highest quality logistics services. We track the road to success with Managing Director, Berend Jan Schuring.
ESTABLISHING A LOVE-FREIGHT RELATIONSHIP
Endeavouring to form exceptional working partnerships with our clients, together we aim to satisfy the customer of our customer."
Raben Netherlands (Raben) sits proudly as one of the 15 individual branches of the Raben Group, which specialises in road transport and contract logistics across a burgeoning multitude of locations in the Netherlands and across Europe.
"Together, we organise the best solutions to ensure all processes are as efficient as possible. At this moment, it is very important to offer a solid network with high performance for customers," introduces Berend Jan Schuring, the company's Managing Director.
At present, many prominent players in the transport and logistics industry are encountering problems with selling their stock. Consequently, this means warehouses are full and the throughput is lacking the ability to roll out enough product.
In the face of this struggle currently swamping the sector, Raben recently built two extra warehouses in Etten-Leur and Oss to increase its ability to store goods for both ongoing and new customers. This in turn facilitates the company's capacity and network to help new clients to achieve their best possible business outcomes.
Raben has almost 400 employees at present, dispersed to cater to a highly diverse client base of customers that profit from the company's full supply chain solutions for transport and contract logistics, such as MGA Entertainment and CM Logistics.
"Transport and logistics are always an exciting world to work in as every single day is different and you continually face new challenges, but it also gives you a lot of energy if you can help your customers to deliver the right service and provide solutions for them," Schuring sets out.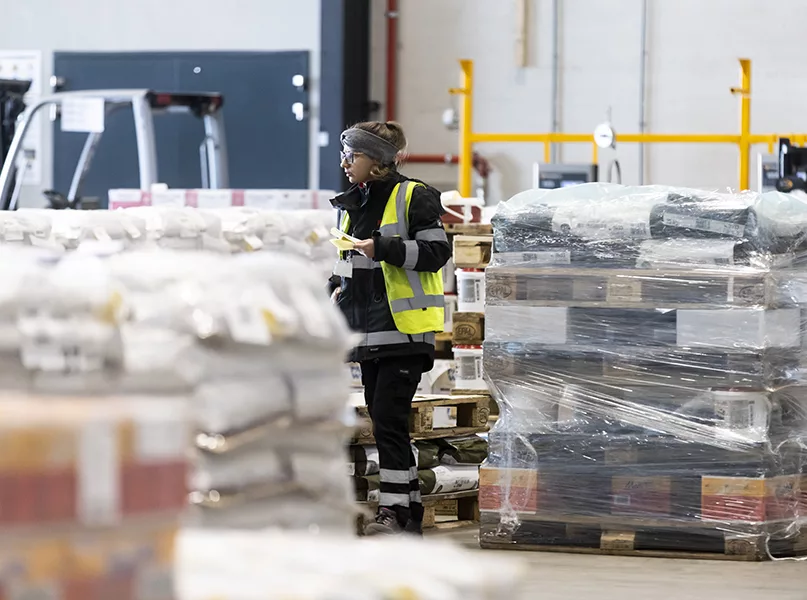 BECOMING TRUSTED OPERATORS
Although many of Raben's processes are automated and the company remains confident in its IT solutions, its trusted team members must still make the key decisions.
Raben's team plays the crucial role of supporting its clients, answering any questions and making sure that every transport link is safe, on time and serviced with a smile.
"Our international Raben network enables us to be the trusted local operator for our closest clients and an internationally established operator with transport solutions throughout the whole of Europe for the multinationals who seek the best performance," describes Schuring.
Furthermore, Raben is connected with over 160 depots in Europe, which are all designed for a combination of groupage, part truck load and full truck load transport. Additionally, by keeping most of its transport within its own organisation, the goods of Raben's clients are always kept in the safe hands of the company's people, trucks and facilities.
"We have a solid intermodal connection via rail between the Benelux region and Italy. This sustainable transport is part of the solution in reducing our CO2 emissions and we are currently piloting intermodal connections to other Raben countries, such as Poland as well," he tells us.
The invaluable use of IT solutions helps Raben make its services accessible to the company's valued customers. Clients can then simply request a quick price, put their order into the MyRaben system and follow their shipment with real time tracking information.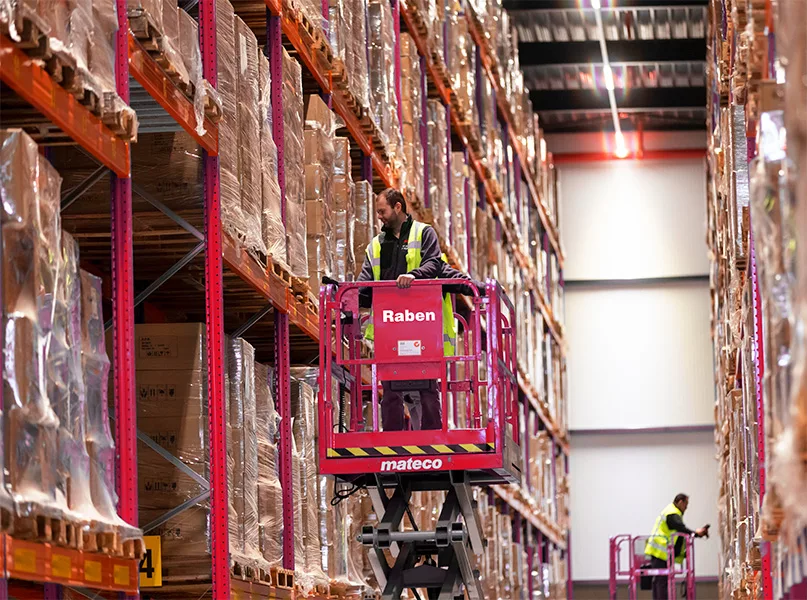 TAKING THE NEXT STEP
With the opening of its new cross docking terminal in Heerlen, Raben looks to take the next step in expanding its services throughout the Benelux region. This will make the company less dependent on third parties and gives Raben more exposure in a vitally important part
of its network.
Growth is always top of the agenda and remains a primary goal for the Raben Group as a whole, both within current markets and for fresh ones.
"We grow with the aim to provide better and more complete solutions for our customers, and the fourth Raben depot in Heerlen is a great example of this. We were already active in Belgium and Luxembourg, with Etten-Leur as the main hub for transport to the south, but now with the opening of the Raben Heerlen depot, our trucks can enter Belgium from two directions," affirms Schuring.
Another recent indication of the company's expansion into new markets is the intermodal pilot between the Netherlands and Poland.
"Because of the difference between regular road network and rail transport, we must adapt our solutions to a different kind of customer. We invested in new intermodal compatible trailers and now we must keep working on expanding our services even further."
If the solutions are reliable and customers know what they can expect from the company and intermodal transport in general, Schuring is confident that they will start to find their way to Raben in great numbers.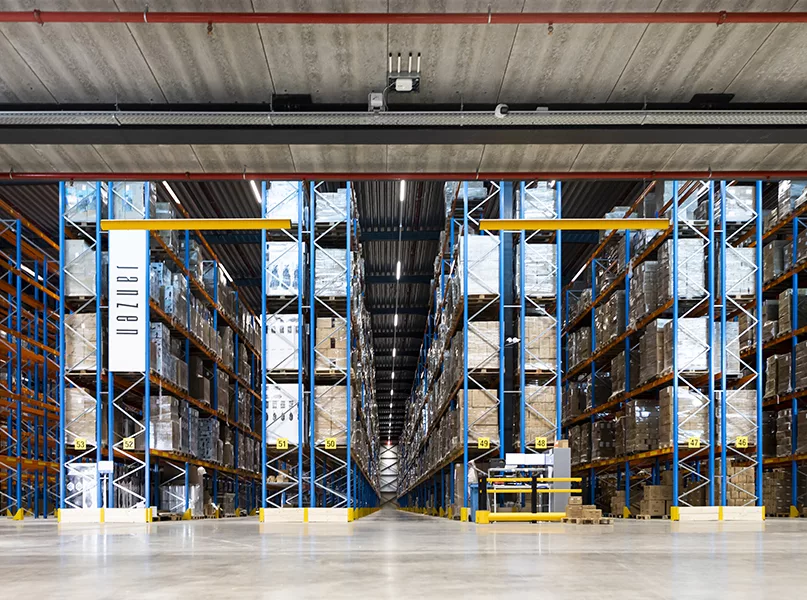 DRIVING AN ELITE TEAM
Raben is constantly on the lookout for people with drive, entrepreneurship and who proactively face challenges and take responsibility.
"Our employees get a lot of freedom within certain boundaries, and we believe that this empowers them to come up with solutions and really own their work," quantifies Schuring.
A productive workforce cannot exist without a comfortable workplace, both in a physical and sociological manner.
Addressing this concern, Raben uses fully adjustable chairs, sit-stand desks, height adjustable monitors, electric pallet trucks with active suspension adjusted to the weight of the user, pallet reach trucks with a rotating workstation to prevent neck and back injuries for warehouse employees, and fully optimised truck interiors for all drivers.
"We organise events for our depots and our entire organisation, like a big barbecue in the summer. We stimulate and support our employees by encouraging participation in sporting events and every Friday we end the week together in the canteen evaluating and sharing our weekend plans," he elaborates.
Wanting to create the safest possible environment for all its colleagues, Raben has appointed confidants who are there to address any difficulties or complaints that the employee may be having that they feel like they can't discuss with management. Raben employees can also enjoy a range of company training platforms.
"We have an internal training platform for all the systems we use in Raben, but we also made an online training centre available in which employees can follow classes on pretty much any subject."
The company's drivers are a prime example of this, receiving regular training and information sessions to keep them up to date on safe and economical driving and the best practices for unloading.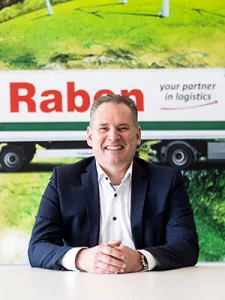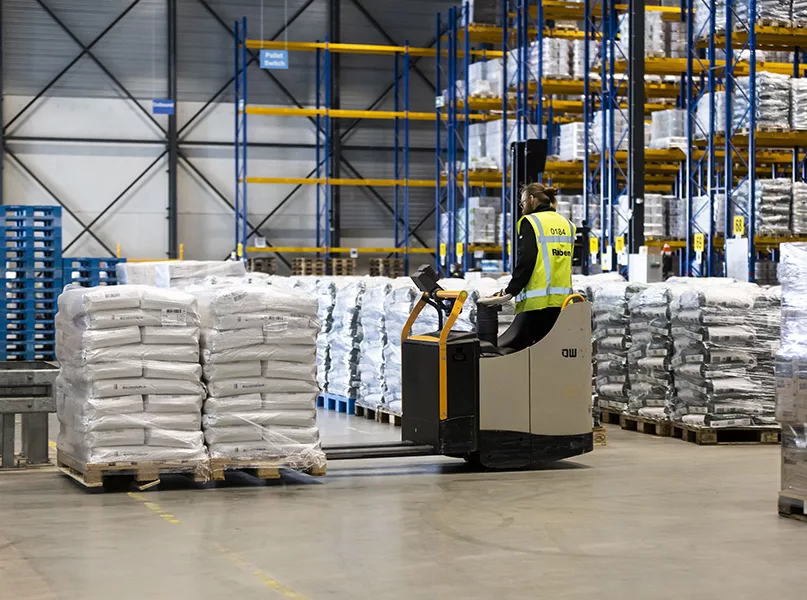 PLANS FOR PROGRESS
Pivotal to the company's future prosperity and strategic growth, Raben culminates this ambition with a set of carefully measured goals for both the entire Raben Group and within the local organisation.
The Raben Group's key goals to be achieved by 2025 include a 30 percent reduction in CO2 intensity from offices and warehouses and a 10 percent reduction from transport activities. This runs parallel to its aim of increasing the ratio of female managers from 29 percent in 2020, to 34 percent across the next two years.
On a more specific and local level, Raben's main objective for the coming years is to fill its own network.
"We aim to make the most of every trip. By filling every trailer, we reduce CO2 emissions per kilogramme. As a result, we can offer better pricing for our customers and at the same time gain a benefit in revenue," Schuring says.
The company is also looking to expand its warehouse capacity and services.
"With the completion of our warehouse in Etten-Leur in 2022 and the near completion of a new warehouse in Oss this year, we are really pushing our contract logistics services to a new standard. More capacity means more available space for us to find new customers and to expand existing partnerships, but it also means that there will be more opportunities for us to improve our services," he adds.
Elsewhere, Raben has set itself the target of increasing its Y-Z generation employees by 20 percent believing that whoever has the youth, has the future. In this way, the company aims for a sustainable organisation where people can grow together. Finding new talents and creating an environment in which they can and want to keep growing is one of the other main points of focus in the coming years.
Finally, although sea and air transport already play pivotal roles in Raben's operations across other countries, the Netherlands is yet to launch these solutions. Evidently there are plenty of opportunities to do so, considering the excellent geographical positioning between the harbours of Rotterdam and Antwerp and the airports of Amsterdam and Eindhoven.
This exciting scope for expansion and enhancement looks certain to catapult Raben straight to the very forefront of the transport and logistics industry.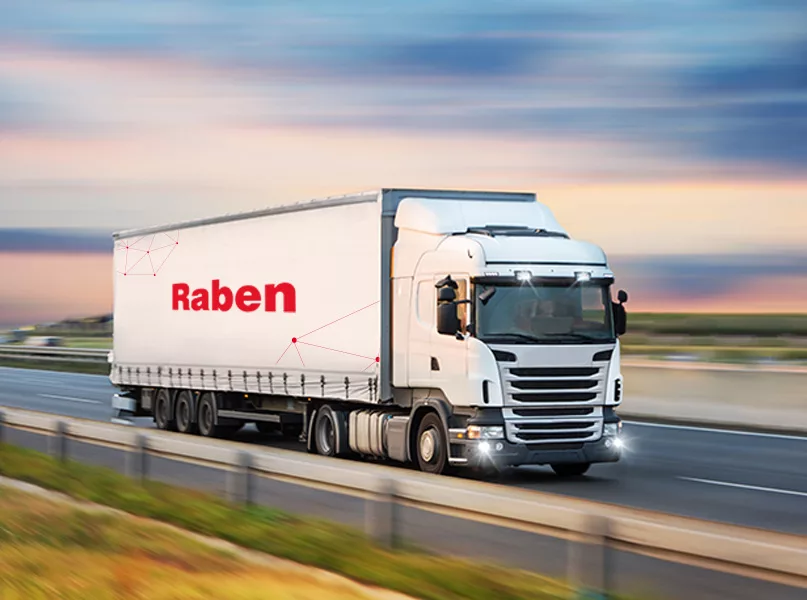 RABEN NETHERLANDS PARTNER