The vast maritime sector plays a huge role in the energy transition in Europe and elsewhere, as it facilitates the development of new offshore renewable energy infrastructure. Martin Helweg, Chief Executive Officer of P&O Maritime Logistics, explains how the company is spearheading this regeneration.
P&O Maritime Logistics is a leading provider of marine solutions with a focus on offshore energy, port services, and cargo transport, now operating in over 20 countries. By utilising its ever-expanding fleet, the company provides a wide portfolio of value-added marine services and has mastered the ability to integrate these offerings with its customers' operations – always with safety and the protection of the natural environment at the forefront of operations and processes.
With a sense of craftsmanship driving all that P&O Maritime Logistics does, the company works hand-in-hand with its clients, shipbuilders, and key suppliers, applying its skills to develop marine logistics solutions and design future vessels, as Martin Helweg, Chief Executive Officer (CEO), tells us.
Q&A WITH MARTIN HELWEG, COO, P&O MARITIME LOGISTICS
Can you introduce us to P&O Maritime Logistics?
Martin Helweg, CEO (MH): We are global leaders in the maritime industry, and our legacy spans nearly two centuries – over 180 years, to be precise. As a DP World company, our vision is to make trade flow and to change what is possible for everyone involved in the maritime industry.
Managing a fleet of more than 400 vessels, we not only deliver comprehensive solutions to our customers, but also serve the communities in which we operate through some of the most complex projects across the world.
Our dedicated team of over 3,000 employees worldwide ensure vessel moves are executed smoothly. We take great pride in our expertise in supporting liquefied natural gas (LNG) terminals, and our services extend to nine terminals globally. These figures highlight our extensive reach, operational excellence, and unwavering commitment to delivering exceptional maritime logistics solutions.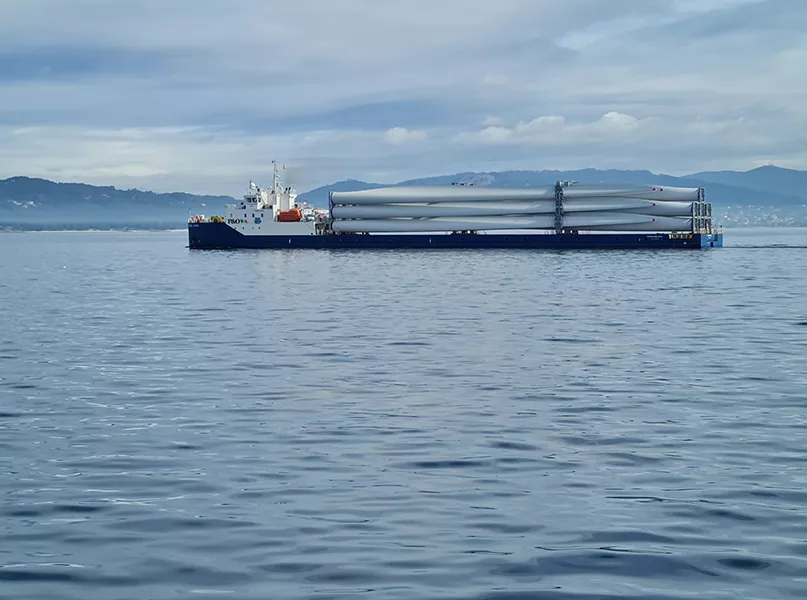 What is your take on the maritime industry in Europe at present, and have you identified any recent trends developing?
MH: Europe is a key player in the global maritime industry and features some of the most advanced markets. As for the industry at large, there are certainly several emerging trends, the most significant of which is perhaps the transition towards green shipping.
P&O Maritime Logistics, along with our contemporaries and other service providers, is looking at ways to speed up the adoption of greener practices to create a more sustainable business while remaining cost-effective. Alternative fuels, improvements in energy saving, the implementation of slow steaming, investments in renewable energy, and smart management technologies are among the many tools we are exploring. However, there is always scope for further improvement.
One key example is our ongoing work for a large-scale, 900-megawatt (MW) wind farm located in Germany's North Sea. Our support and contribution to the project will play a key role in helping the country reach its goal of meeting 80 percent of its electricity needs from renewable resources by 2030. P&O Maritime Logistics will transport components for a Spanish EPC company, which oversees the construction of offshore substations for the wind farm. Since November 2022, our vessels have made several voyages, carrying components from pre-fabrication yards in Turkey to assembly yards in Spain.
Elsewhere, we are also involved in the development of offshore wind farms outside Europe, such as the Greater Changhua wind farm off the coast of Taiwan, which has powered 4.35 million homes. Additionally, we are also working on a five-year project to support the Coral Sul Floating LNG production unit in Mozambique.
What are the most challenging elements of the business that you are currently encountering and how are you overcoming these?
MH: Global trade has suffered a series of shocks and shortages in recent years, which has proven the importance of supply chain resilience to economic growth and quality of life. Through our talent, technology, and world-class infrastructure, we are helping build more resilient supply chains for our clients and their customers.
To achieve this, we have streamlined our operations to provide an end-to-end service to our customers. Our new operating model includes all our services – both offshore and in port – and is fully scalable across vessels, operations, and geographies. Through the use of technology and real-time data, we're able to maximise efficiency and provide a flexible yet resilient service offering that is changing the face of the energy logistics industry.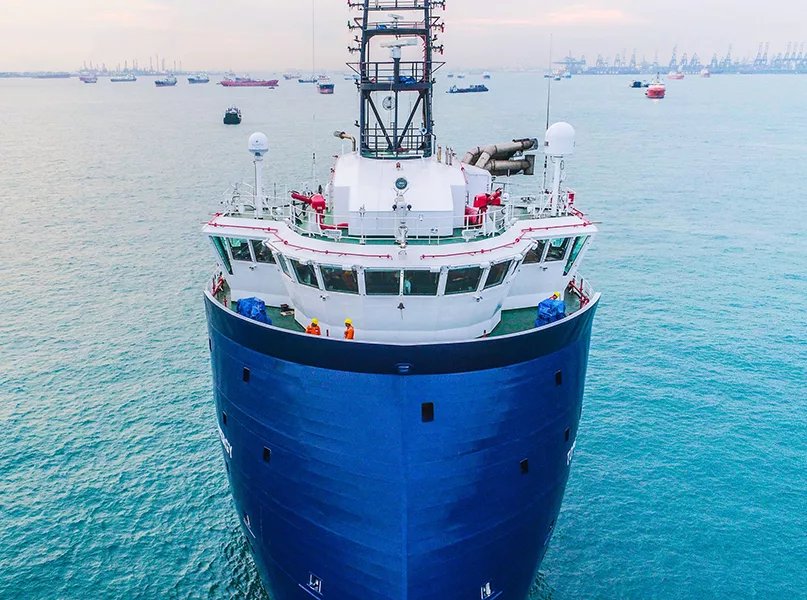 Can you tell us about some of your recent or upcoming projects?
MH: We manage a range of complex and purpose-driven projects for our clients. One of our most recent projects was to help build Saudi Arabia's bourgeoning tourism sector. P&O Maritime Logistics was chosen because of its unique capabilities and ability to protect the project's fragile marine environment.
The multi-carrying vessels (MCVs) used were serviced in drydock facilities before the contract to limit their possible impact on local marine life – and their ballast systems were filled with water from the Red Sea to reduce the chance of introducing foreign organisms. The shallow draft of the MCVs and their versatile thruster arrangement meant that there would be minimal disturbance to the shallow seabed.
Supported by our versatile feet of MCVs, we transported off-site manufactured, pre-finished, volumetric hotel villas to the Sheybarah Island Resort on Saudi Arabia's Red Sea coast. The resort, a cornerstone project that is part of the Saudi 2030 Vision, will consist of 73 uniquely shaped and prefabricated villas, some of which will hover above the island's diverse ecosystem. With mangroves, beaches, and coral reefs, the resort will utilise the latest sustainable technologies to preserve and enhance the local environment.
Additionally, our MCVs' shallow draft made them ideal for accessing areas where larger ships are unable to fit due to their size. The vessels have the unique ability to allow efficient and timely delivery to the site using the just-in-time principle, with minimal congestion for the production facility and project site, delivering a cost-effective customer solution.
This is just one of many examples of how we navigate complex client projects worldwide.
What, for you, differentiates P&O Maritime Logistics from the competition?
MH: Our biggest differentiator, and what sets us apart from other providers, is that we are focused on the impact we are making through our work. Just like our parent company, DP World, we are not only interested in enabling our clients' projects, but in how we make a positive contribution to the communities we operate in while protecting the environment.
With this in mind, we offer cutting-edge marine solutions to connect and simplify the cargo journey across offshore, port services, and cargo transport, building on the rich expertise we have gathered over our 180 years as leaders in maritime logistics.
With an emphasis on employee safety and the environment, we are able to deliver some of the most complex projects, tailoring solutions to cater to the needs of our clients and the end consumer.
What do the next 12 months look like for the company?
MH: Driven by DP World's ambitious decarbonisation goals, P&O Maritime Logistics' vision is to offer an integrated, expert service that helps our customers overcome industry barriers. By providing critical marine solutions and logistics services across relevant industry segments that are both innovative and cost-effective, we are eliminating friction from the cargo journey and helping make supply chains more resilient – this will remain our focus.