We spoke to Botan Osman, CEO of Restrata, about the company's place and provisions within the wider software space within the UK and beyond.
Founded in 2006, Restrata is a British-owned group with international offices born of the need to address IT safety and security solutions from a consultative perspective. Restrata was created with the mission to build client resilience and optimise operations through effective management of safety and security risks.
At the company's core is the Restrata Platform, which is an integrated safety, security and mobility cloud-based software. The platform is designed to manage the safety of people across sites, offices and countries around the globe. In response to the global pandemic, Restrata developed a COVID-19 safe component within the platform, creating a technology-enabled bio-secure environment for the safe return to operations in any industry – whether it be major sport tournaments such as the Indian Premier League, critical industries (such as offshore energy companies) or companies in the non-essential business sector.
Restrata offers a wide range of complimentary services to support clients. These include consultancy, security technology design, threat and risk assessment, crisis, emergency and incident management planning, 24-7 monitoring and response, and IoT tracking technology.
Botan Osman has been CEO of Restrata for the past four years, previously having served as Global Director for Business Development. He joined Restrata back in 2013 from the Kurdistan Regional Government of Iraq, where he founded the KRG Department of IT and served as its head. During that time, Osman also served as the IT Advisor to the Prime Minister, and has proudly held a career that totals over two decades of experience in technology and security industries in the UK, Europe and the Middle East.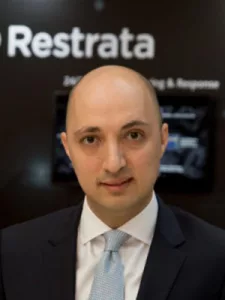 Q&A WITH BOTAN OSMAN, CEO, RESTRATA
So, tell us what sets Restrata apart from its competitors?
Botan Osman (BO): The Restrata Technology Platform tackles challenges head on, ensuring that managing global risk is built on the foundation of accurate live operational data from any and all systems. We not only provide this SaaS platform to our clients but also use it ourselves in the most critical of environments to respond on behalf of our clients at all times.
Our in-house experts understand the risks our clients face across all stages across operations, from design to preparation, and when a response is needed. Our technology supports this at every stage. On top of this, our agility and adaptability to working in sensitive and high-risk environments, or delivering biosecure bubbles (for live sporting events, workplaces or offshore energy oil rigs), exceeds professional requirements.
In short: we put people first.
Can you talk us through your platform? What are its benefits?
BO: We believe the future of security is knowing the present.
There is widespread resignation that managing security and safety across a global enterprise will be through a series of fragmented systems. There is a belief that including live and accurate data from the last mile is just too hard, so we must try to make a 'best guesstimate' as to where people might be or what the reality on the ground is when making decisions globally.
We have seen first-hand how fragmentation of local and global safety and security operations can create gaps which risk lives, and cause inefficiencies. We exist to end fragmentation. Our Restrata Platform digitises operations that builds a global picture; empowering safety and security for customers to assess, operate and respond via leading edge cloud, IoT and mobile technologies.
The Restrata Platform ends this fragmentation. Our platform digitises operations at the last mile while using the same platform to manage incidents, global travel, and build a global picture, multiple vantage points, and a unified system – that's how the magic happens. Every person, incident and asset counts. Creating a central nervous system for HSE and security.
The Restrata Platform globally enables customers to monitor the safety and security of their global workforce across all their sites combined with global travel and risk intelligence as part of day-to-day business operations or during a major incident. Locally, it integrates and deploys technology into your most critical operations. It enables your safety and security teams to manage your workforce and local incidents with the appropriate response.
Cloud born, mobile ready, and scalable, the Restrata Platform is equally ready to deploy globally for a conglomerate, or for a single site. The digital transformation of safety and security is a journey, and the platform takes the organisation through each stage of that journey.
Tell us about the evolution of digital transformation and what it has meant for services such as yourself?
BO: The rapid evolution of technology is creating two key trends in the world of safety, security and risk management. This includes the expectation, not just a possibility, to be a connected enterprise. The technology is ready to serve real-time data anywhere, so with lives at stake, there will be increased pressure to ensure that everything is connected, both to make life easier and to be analysed against potential threats. The cloud, IoT and 5G connectivity will mean the days using travel data only to know where somebody may be and take a best guess of whether they are impacted, these days are long behind us.
On top of this, another trend is remote work that has exploded throughout 2020 and into 2021, which means people now expect to work anywhere. That also means managing critical operations anywhere, so there is a serious expectation on companies to access safety and security data anywhere. Their systems, therefore, must be ready to understand what is happening right now, anywhere.
With the future in mind, what are your key priorities for the coming year?
BO: We will continue to invest in the technology, we have an ambitious roadmap which will keep us busy for many years to come and believe that the mission of building a central nervous system for HSE and security is worthy of tremendous effort and resources.
The technology we have built has delivered tremendous value to our clients, and for the coming year, we would love to get the word out and enable others to obtain the same value whether for their local operations, their global footprint or both. Our mission is to empower every organisation with the digital transformation of security and HSE to safeguard their workforce and assets.