Unique, smart, sustainable; headquartered in Vilnius, Lithuania, Staticus are the innovators of façade manufacturing. We discuss operations with CEO, Aušra Vankevičiūtė.
THE FACE OF FUTURE URBANISATION
By 2025, 75 percent of the global population will live in cities, translating to over six billion people. Within today's construction sector, innovation and sustainability are the prevailing factors that will lay the foundation for cities of the future, as the foundational concepts to create harmony between human beings living and working in an urban environment.
Adjacent to the advent of 'smart buildings', the market for façade engineering has grown from a niche industry to a significant field within the construction sector. Across the global market, the façade industry is projected to reach a valuation of $336.6 billion by 2028, with the European segment a major contributor to this dynamic growth.
As the skin to coat a building, facades play a fundamental role in bearing the brunt of the elements and protecting the building, determining the structure's long-term behaviour. Yet as technology advances, these 'climate skins' are becoming increasingly intelligent, harnessing light, ventilation, shade, and temperature to create spaces that deliver energy efficiencies. The building's first defence, facades and their cladding must respond to stringent regulations regarding fire safety in particular, requiring thorough risk assessments, defect analysis, technical audits and monitoring, adding to the technical speciality of the field.
Equally important to the architects behind the design, a façade symbolises the harmony between aesthetics and performance of a building. As such, façade engineers are often likened to the true artists of construction, blending the essential components of appearance, safety and serviceability into an elegant final solution.
As the envelope to encapsulate the spirit of a building, it is this aesthetic potential that attracted Aušra Vankevičiūtė, CEO of Staticus, to the industry. Originating 20 years ago as a small family-owned enterprise, of which Vankevičiūtė is a member, her current tenure may be seen as a natural progression for someone "born and raised in this environment."
"For me personally, it's about the architecture – the art behind it, and the idea of knowing what cities are going to look like in the future, and how we can make an impact upon it." she muses. "It's amazing and inspiring.
With an esteemed reputation as innovators in the field, Staticus and their industry leading façade solutions, are at the forefront of this space, with over 150 façade solutions to date spread across the skylines of six European countries.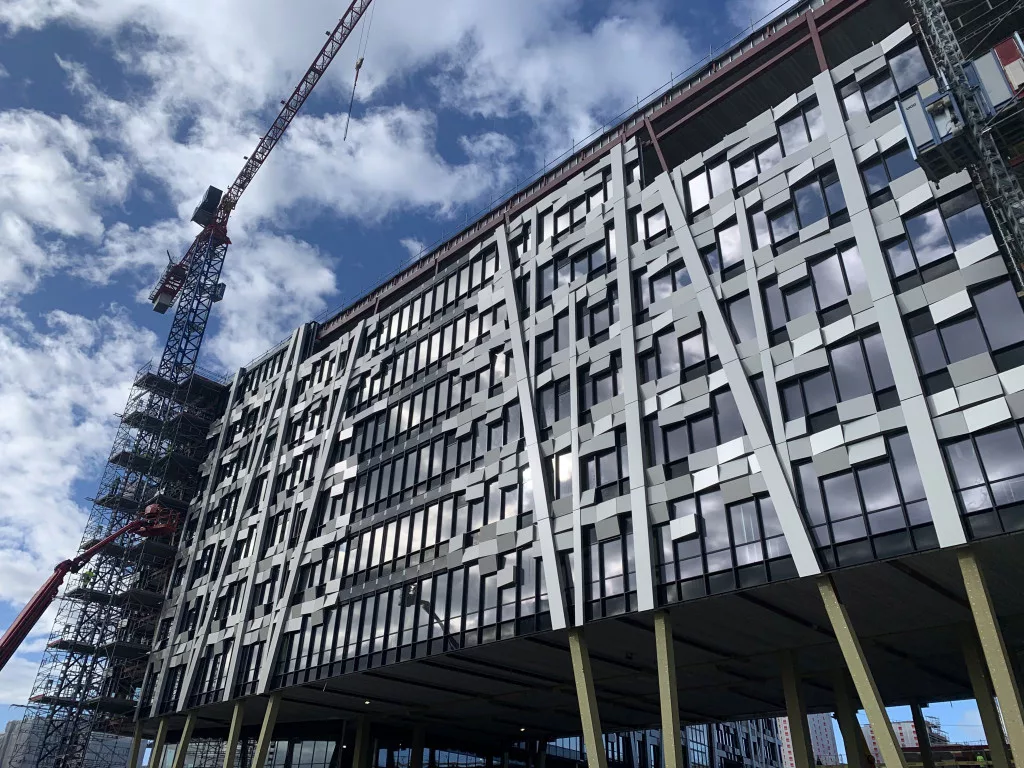 STATICUS: UNIQUE, SMART, SUSTAINABLE
As one of the largest façade constructors in Northern Europe, the Staticus Group have over 20 years' experience in the market, pioneering unique, smarter, and sustainable buildings, leveraging cutting edge façade production technology to surpass architectural briefs with sophisticated and intelligent designs.
"Our headquarters for production are here in Vilnius, Lithuania. We currently have around 600 employees spread across our five offices in Oslo, Stockholm, London, Vienna, and Basel, with that number fluctuating depending on temporary installers and factory workers," Vankevičiūtė explains.
Distinguished by their industry-leading in-house value chain and laudable prioritisation of sustainability and eco-friendly business practices, the Staticus Group preside over the design, fabrication, and installation of their facades.
Business is entirely centred on large-scale projects, with notable examples including what has been hailed as 'The Greenest development in Norway' – Økern Portal, and London's Tottenham Hale Tower, amongst an impressive roster of others including Sweden's Gothenburg City Gate and Lexington, a New-York style tower currently under construction at Princess Dock in Liverpool, UK. Perhaps most notably, Staticus are also the name behind the Via Vika building in Norway – the first building in northern and eastern Europe to use Closed Cavity Façade (CCF) Technology. These iconic buildings have cemented Staticus' esteemed reputation, reaching Scandinavia, the Baltic countries and the UK.
"In Scandinavia, we are definitely a market leader," Vankevičiūtė comments. Indeed, Scandinavia is a suiting playground for Staticus as a forerunner of sustainable designs, where the Group has worked with major construction companies including SKANSKA, PEAB and NCC. As Vankevičiūtė elaborates, "we have a very strong focus towards energy efficient solutions, and I must say that Scandinavia is a true leader in implementing these requirements."
The advent of 'green' buildings necessitates advanced materials and complex modern methods of construction (MMC), which in turn has prompted an increased demand for high-transparency glass (to allow passage of light whilst maintaining heat resistance), and recycled building materials such as aluminium – a Staticus speciality.
"We focus on aluminium unitised structures – that's our know-how and knowledge."
The greatest challenge that Staticus faces in recent times, along with the rest of the construction sector, is a lack of availability in the materials of their craft.
"It's never boring in the construction industry – you always need everything yesterday! But currently, our greatest challenges are the fluctuation in material prices and shortages," Vankevičiūtė observes.
That being said, such impediments have not hampered Staticus' progress in the space. Indeed, we catch up with Staticus in the wake of an impressive 2020 which bought landmark achievements for the company, as Staticus demonstrate the resiliency and adaptability encapsulated by their facades.
Thanks to well-strategised contingency plans and adaptable staff, Staticus were able to implement new initiatives whilst maintaining a high standard. Indeed, 2020 was met with a 100 percent rate of construction site projects completed on time.
One such initiative concerned the opening of the Staticus Basel office in Switzerland, as the Group finalised on delivering the Staticus brand into new international markets.
"Our Basel office is focused on business development and sustainability engineering," Vankevičiūtė informs us. "We are also strengthening our position in the UK market, where we are a very strong player, by expanding our team alongside our offices in London," she adds.
Bolstered by the strength of their in-house supply chain and highly talented team of qualified engineers, Staticus are fully equipped to excel at customer satisfaction with their clients and partners from the point of the design's conception to installation, and on to post and long-term warranty services.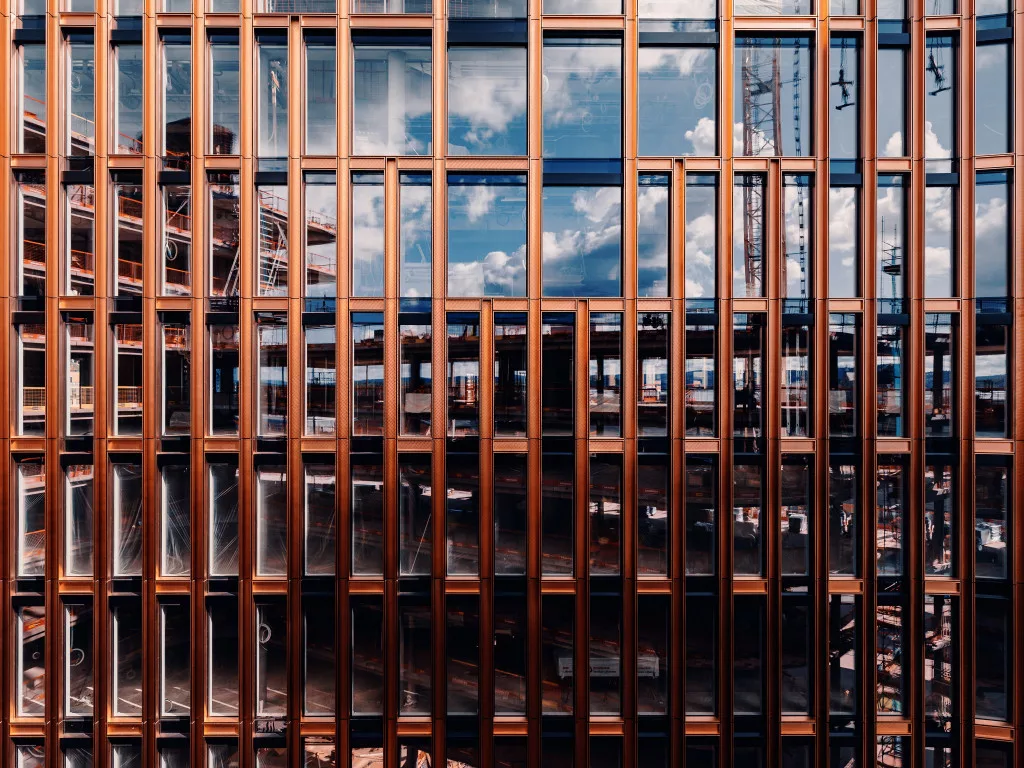 SUSTAINABLE SOLUTIONS
It soon transpires that for Staticus, the concept of sustainability and implementing low carbon construction methods is paramount, with Vankevičiūtė fully alert to the detrimental role that construction can have on the environment.
"Construction is one of the biggest polluters overall. I strongly believe in boosting sustainability and green requirements within the sector," she comments. "At Staticus, we did not just start this in recent years, when sustainability became a kind of trendy buzzword.
"We are one of the first companies to use recycled aluminium profiles and carbon footprint calculations for each project. We have just finished a project with entirely recycled aluminium profiles, but the development itself began in 2015. So, for us, it's nothing new!"
The project that Vankevičiūtė refers to – Økern Portal – is one of Norway's largest, and greenest construction developments. Composed of 75 percent recycled aluminium, which in turn contributes to 45 percent of embodied carbon savings in the building envelope, the Økern Portal façade exemplifies how Staticus maximise the use of recycled and environmentally friendly materials in their designs.
"Sustainability and what that actually means for the business, our clients and the end users, is one of Staticus' strategic priorities and initiatives," Vankevičiūtė comments.
Within the company itself, as of 2020 Staticus HQ and production facilities became 100 percent powered by renewable energy, with LED lighting installed across sites. In terms of logistics and transportation, throughout the course of 2021 Staticus has pledged to collaborate with industry partners and institutions to develop environmentally friendly alternatives to product packaging, whilst also reassessing the transport network of the logistics between companies.
"We are committed to reducing our environmental impact on the planet and continually strive to improve our environmental performance as an integral part of our business strategy and operating methods. As building façade contractors, we recognise our responsibility to protect the natural environment, improve our carbon footprint and endeavour to Reduce, Reuse, Recycle wherever possible."

Staticus
The aforementioned Basel office is the true nexus of these ongoing efforts and sustainability commitments.
"The steering of these strategies and initiatives come from this office, alongside managing our new markets," Vankevičiūtė explains.
Here, Staticus have implemented Sustainability Management and a team for Environmental Strategy Development within the office, presided over by Chief Business Development Officer, Aulikki Sonntag. This is instrumental in driving Staticus' attainment of their ambitious sustainability goals, including long term targets of reducing 50 percent of the CO2 footprint arising from their production chain by 2025.
In order to do so, Staticus will only procure materials in line with the Paris Climate Agreement criteria with all of Staticus' suppliers providing Environmental Product Declarations. By 2030, 80 percent of the entire Staticus project portfolio will comply with these requirements. This agreement has effectively set the criteria to guide the shift to a low-carbon world, which construction industry players must adhere to.
The company's sustainability commitments are also reflected on the wider scale of the ecosystem that Staticus enforce, and the role that the company adopts in contributing to the standardisation of sustainability assessment across the façade industry.
Staticus upholds a holistic vision that assesses the entire life cycle of their solutions – from the purchase of raw materials to the end-of-life phase of the installed façade. Life cycle assessment is leveraged to calculate carbon footprints of ongoing projects iteratively and using a high degree of automation. Wherever possible, these components of the building materials are then reused and recycled. As Vankevičiūtė comments,"We are seeking to disturb our industry by applying re-think, re-use, re-do methods."
Staticus also adopt an educational voice in this field, organising workshops to exchange awareness among partners, from architects to suppliers, in the pursuit of sustainability solutions for the façade industry.
"We will continue to focus on sustainability and to sharpen our knowledge in this case by best understanding the benefits that we can bring to clients and society. This thinking from a green point of view will become more and more technological in our structures, for instance with the development of replaceable skins and bringing products back into the loop," Vankevičiūtė adds.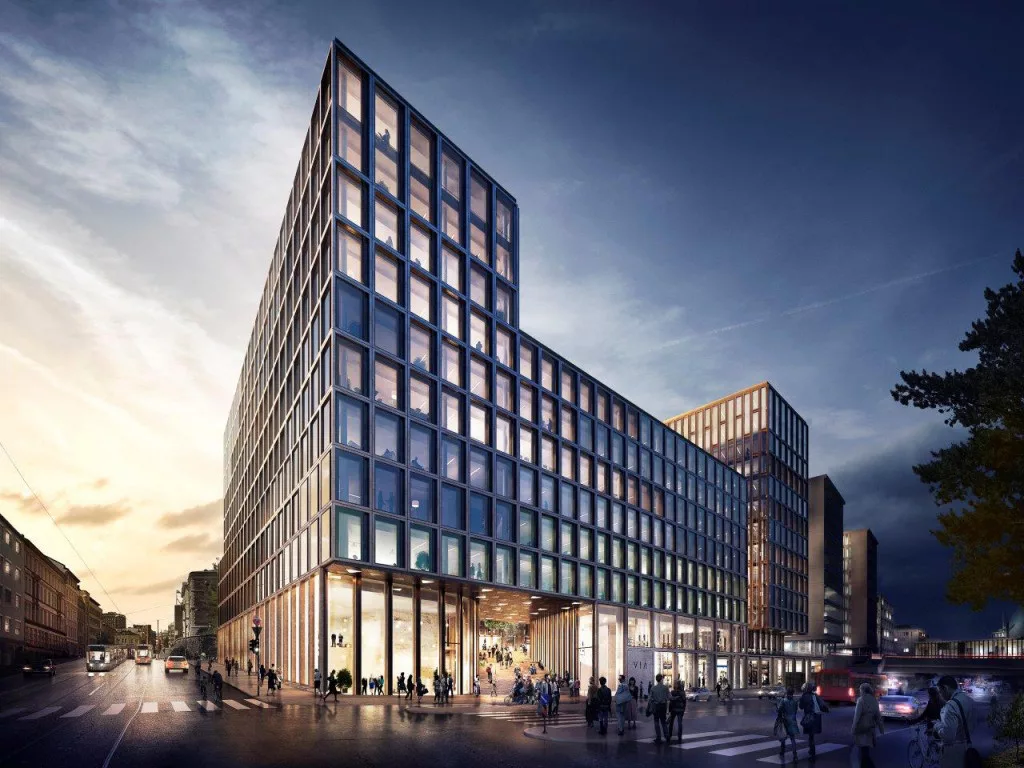 VALUE CHAIN VISIBILITY – FROM IDEA TO REALISATION
Ensuring that the company has full visibility over their entire value chain is an undeniable asset for Staticus, thereby allowing the company to champion their sustainability goals and stringent regulations by selectively working with vetted suppliers to ensure transparency and guarantee environmental quality.
"Since we have our whole value chain in-house, we do not subcontract for installation or production. We have our own capacities, and this is one of our key strengths, compared to other market players," Vankevičiūtė comments. "Sure, sometimes it's a headache, but overall, it's definitely a huge benefit."
This robust structure has been instrumental for the company in cementing exceptional, trustworthy relationships as a reliable partner to architects, developers and contractors over the past twenty years. Clients have the peace of mind that Staticus are equipped to deliver fully-assembled and high-quality products, thanks to their prioritisation of innovation and the proficiency of their engineers.
All qualified engineers are experienced with Green Labelling Certifications, including BREEAM (Building Research Establishment Environmental Assessment Method) and LEED (Leadership in Energy and Environmental Design).
The development of the 'Staticus Cares' unit, dedicated to extending the relationship with clients is also instrumental in this respect, as a branch within R&D that also pertains to repair establishment and façade maintenance. Thereby, Staticus inspire trust and team ship amongst all parties involved in a project's development – whether that's architects, engineers, clients, investors, and contractors.
The Via Vika commercial office building in Oslo aptly elucidates Staticus' engineering proficiency coupled with technologically advanced solutions to guarantee superior energy performance within the building's envelope. An industry first, Via Vika is Northern and Eastern Europe's first and only building to implement closed-cavity façade technology (CCF).
Ensuring efficiency without compromising on quality, throughout 2020, Staticus effectively piloted and implemented agile methodology within project management, resulting in increased engagement and satisfaction for project team members. Through this approach, budget execution improved by 28 percent.
At the centre of those benefitting from the implementation of agile methodology were the invaluable workforce behind Staticus' operations. As such, the company's traditional hierarchical structure was dropped to ensure autonomous and empowered teams of employees, disbanding a waterfall approach in favour of team-based working which ultimately resulted in improved project management.
"Our staff are one of our key priorities. At a senior management level, one of the questions that we ask every day, and include within both our long and short-term goals, concerns our people and the engagement of our employees," Vankevičiūtė tells us. "No people, no business!"
Staticus strive to be the most appealing employer in the sector, by recruiting top talent and motivating employees to upskill and explore a wide spectrum of experiences within the business, whilst contributing to its overall success.
The company's commitments to their own staff is also reflected in their corporate social responsibility practices, where Staticus endeavour to inspire and educate younger generations.
"We cooperate a lot with universities. Before COVID-19, we used to work with youth schools by inviting them to our factories and presenting the different positions and showing the students what they might choose to study," Vankevičiūtė explains.
Staticus also support and endorse various social projects and initiatives throughout Lithuania, applying their industry expertise to worthy causes showcasing laudable philanthropy.