Providing sustainable district heating in Finland, we speak to Jouni Haikarainen, CEO of Lahti Energy, about the company's progressively green mission for carbon neutrality.
NORDIC ENERGY
Europe is a leading continental player in the global sustainability sphere.
From cities such as Copenhagen (Denmark), Amsterdam (Netherlands), Stockholm (Sweden), Helsinki (Finland), Berlin (Germany) and Vienna (Austria), that are each some of the most sustainable destinations in the world, to industry developments such as green steel, promoting environmentally friendly practices is at the forefront of European development.
Finland stands out as one country that is a key promoter of such practices. As well as having been deemed the happiest nation in the world, its city of Lahti has also been awarded as Europe's Green Capital 2021.
Lahti not only aims to become completely carbon neutral in the next few years but has already implemented its greener mission across the board. This ranges from industrial scale sustainable methods to individual CO2 budgets amongst inhabitants to help reduce carbon emissions and increase greener and healthier forms of travel, all the way to domestic green energy usage.
And Lahti Energy is one of the fundamental elements to the provision of the latter. Lahti Energy is a subsidiary of the City of Lahti and acts as a versatile and environmentally responsible energy company, with its main products being generating and supplying electricity and district heating that are produced at its two power plants within the area, which are almost 100 percent based on renewable energy. In its heat production processes, the company uses small power plants located in different parts of the distribution network, as well as peak and backup district heating centres predominantly during the winter season.
Over 90 percent of people within the Lahti area live in housing connected to the district network allowing the company to supply the vast majority of people with domestic green energy.
"The industry in Finland as well as globally is quite exciting and interesting. There are a lot of things going on in the energy industry at present," begins Jouni Haikarainen, CEO of Lahti Energia.
"When you look back 10 years a lot has changed. The energy efficiency business is growing fast and this goes alongside heavy investments within the space."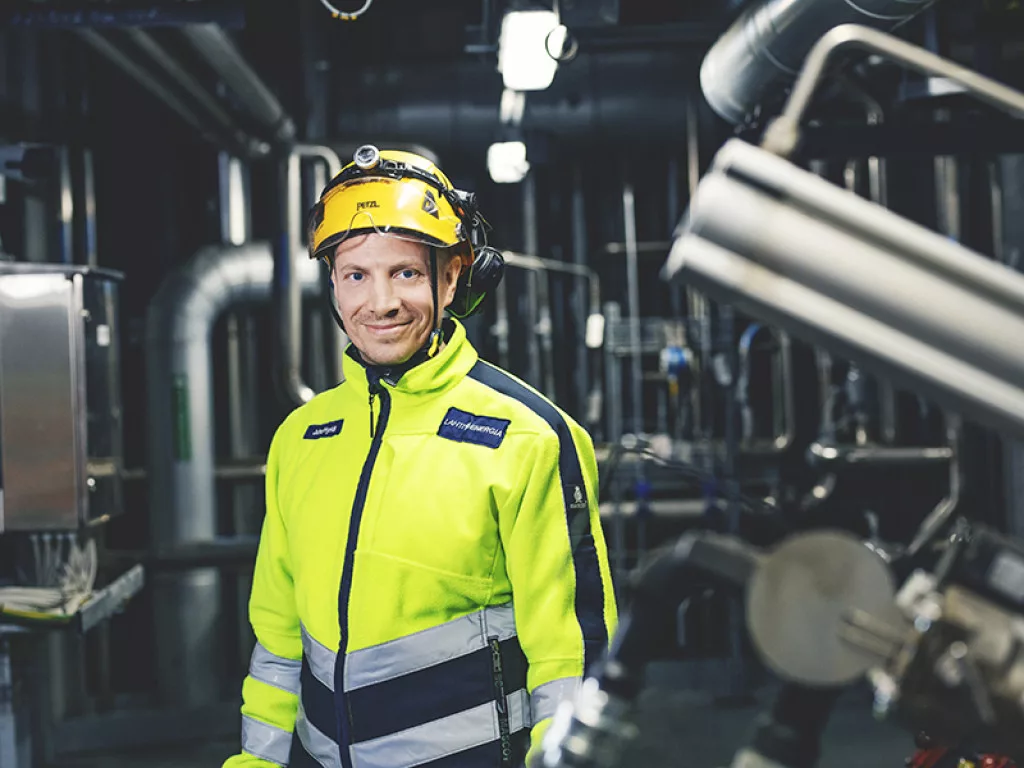 Haikarainen's path into the energy sector began at university, where he graduated in Energy Engineering in 1990. Afterwards he took up the position of Consulting Engineer becoming part of a variety of projects for energy companies as well as heavy industrial firms.
As part of his consulting career Haikarainen spent time working in Portugal before moving back to Finland and becoming a Production Director for energy company E.ON Finland. From here he was given the opportunity of becoming Vice President at Fortum, before becoming Senior Vice President of Gasum Oy, both positions totalling over 14 years in the energy sector.
"In 2020 I joined Lahti Energia as CEO," Haikarainen tells us. "I started in the energy industry and it has interested me ever since."
Lahti Energy prides itself on providing CO2-free energy on a mass scale. In 2020, the company commissioned a biomass boiler that has enabled Lahti Energy to provide CO2-free heat to the city.
"We are also continuing our investments into wind power as a part of increasing our power portfolio," Haikarainen informs us. "There are actually two other companies through which we are partnering to develop wind power plants for the increasing development of sustainable energy."
What keeps these progressive projects moving forward is Lahti Energy's many suppliers and employees.
"It would not be possible to run our business without reliable partners and suppliers," Haikarainen affirms. "Our service stems from well-known and reliable partners.
"In Finland during winter months the temperature can often drop to –25 degrees. This means that everything has to work reliably, and if something goes wrong then we and our partners have to be able to react swiftly. This encompasses the whole region and is the number one priority for us and our customers."
It is the highly professional company staff who ensure that risks and problems are limited throughout the company's operation. Lahti Energy continuously develops in every aspect of its operations and recognises that its employees are the ones keeping the company moving forward, with clear management targets to guide each individual in their important work.
Alongside the quality management of company employees, which includes celebrating meeting company targets, safety is paramount for Lahti Energy.
"All our activities strive to create a completely safe work environment from which all parties involved return home healthy and with positive well-being," Haikarainen tells us. "This is a vital aspect of our company."
Lahti Energy promotes a sustainable modern world above all else. Yet as a people centric company it also ensures that it gives back to the local community.
The company provides sponsorship to a variety of youth sports clubs and events. It also supports local schools and educational institutions by promoting entrepreneurship with pupils and students.
Into the future, Lahti Energy aims to develop and introduce new products for the district heating customer, on top of improving its service so that the company can better respond to the heating market competition.
Spearheading the sustainable energy frontier in Finland, Lahti Energy is well worth keeping an eye on in this increasingly progressive, innovative and green decade.