A brick-and-mortar business dominating the Nordic's optical retail sphere, Synsam Group are synonymous with constant innovation. We speak with Chief Innovation Officer Martin Daniels to discuss consumer-led improvements and forging a brand identity with sustainability at the fore.
SUSTAINABLE VISION
We have built a culture of innovation into everything we do."
As Chief Innovation Officer at the Synsam Group, Martin Daniels has been at the helm of their development since joining the visionary eyewear retail chain back in 2014.
With an extensive network of stores covering Sweden, Denmark, Norway and Finland, Synsam are an established name within optics retail, spanning both Eye Health and Eye Fashion. In Sweden, Synsam have a strong number one position in the market which accounts for half of the Group's business.
"We offer eye exams in all of our stores and prescription glasses are the majority of our sales. We also offer contact lenses, sunglasses, and some additional eye health related medical services in some outlets," Daniels outlines.
"We're a brick-and-mortar business, although many of our customers also engage with us via online channels. You can book an eye exam, virtually try on frames, and even complete the purchase online, but most of our customers will come into the store at some point. With our second banner Ai Eyewear, customers can even perform an eye test online – albeit with certain limitation," he continues.
Prior to joining Synsam, Daniels found his feet in the world of business with a working background in consulting at the Boston Consulting Group (BCG). Reflecting on his journey into the optical sphere, he comments, "I was looking for a company with ambition to grow, to do something, to transform. I wanted to go into an industry that had growth potential and a product I could relate to, such as retail. It was more of a coincidence that it became optical retail."
Daniels' hope for transformation was soon fulfilled, as he joined the company at a defining time of renewal. When Synsam Group was acquired by CVC Capital Partners in 2014, Daniels' name was put forward by a contact at BCG.
"An opening came along at Synsam taking part in the planned transformation and that was the role that I went into. It was a mixture between business development, strategy and product management. Over time, that evolved into something new, more innovation focussed," he comments.
After identifying a drop in business, Synsam undertook an extensive period of fact-finding to lead a company-wide transformation. During this time, every detail of the stores was reviewed and reconsidered, using the figure of the consumer as the point of departure.
"What we did was to think about how we can build a differentiated offering in the market, so we're not only competing with price and the physical locations of our stores. We reviewed the entire business from the store layout, the logo, the look and feel of the marketing, and the products, to the way that we present our assortment. We redesigned the stores and did things across the board," Daniels adds.
Although a significant undertaking, the invaluable findings from this time continue to define Synsam as a market leader.
"Before starting the transformation in 2015, we found a lot of alarming insights regarding the way that Synsam was seen in the eyes of the consumer. In essence, most Synsam customers – 20 percent – said that next time they were going to go somewhere else to buy their glasses."
From this disconcerting starting point, Synsam's business proposal was renewed and updated. Recognising the somewhat unique position that optics occupy within the retail sector as a relatively niche product serving a medical purpose, Synsam looked to other retail segments that championed a more developed, 'customer-oriented' structure and business model.
"Optical retail comes from a medically focused heritage," he explains.
"Compared to a lot of other retail sectors, optical retail has been relatively immature in the sense of looking at it from a customer perspective. Other areas are more developed in terms of online penetration, the way stores are constructed, products are presented, and the way that customers are met in the stores," Daniels adds.
This functional, basic model of fulfilling a customer's medical prescription whilst accommodating their most basic need for vision, allowed some room for differentiation and a relatively underexplored creative potential in terms of store designs and the display of products – not to mention the range of products that were on offer.
Indeed, this was the state of the industry across Europe in general just a few years ago when competitive pricing was the primary means of differentiation for market players.
"Over the past few decades in the Nordics, pre-2015, there was not a lot of innovation going on in the industry. The only major thing that had happened was the entrance of low-cost players around the millennium, then one or two smaller chains emerged. Other than that, the industry was very traditional and there was a lot of copying between competitors in terms of campaigns…the only differentiating aspect was price," Daniels concurs.
This key shift from a medical focus towards a more personalised consumer approach entailed a renewed concern for aesthetics that applied to both the product and the stores themselves.
Most significantly, the Group launched Synsam Lifestyle – a pioneering glasses leasing service that further distinguishes the brand from competitors. Through this subscription service, consumers are offered the variety of three pairs of glasses minimum with no high upfront cost, rather a fixed monthly fee. Allowing for greater variety depending on style, customers are also able to exchange one of these pairs every year with new lenses, in sync with the wearer's changing vision. By tackling the customer problem of variety and cost, the Lifestyle Subscription effectively overcomes a pain point, in line with Daniels' definition of what makes a 'good innovation.'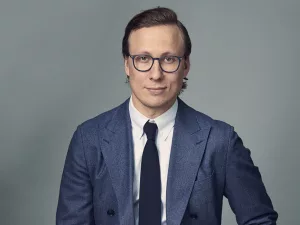 "We started with the customer problem that we are trying to solve. Equally important is something that suits your style and fits your needs."
Effectively, this translates into a subscription to perfect vision, rather than the products themselves.
"Across our stores the products were presented either on the brand, frame, price point or sex, and that didn't really make a lot of sense from a customer perspective. So, we redesigned the stores and the way the products were presented – we went from Him/Her to more of a lifestyle or style grouping of products," Daniels explains.
Fittingly, Synsam also turned their attention to building their own labels, developing a portfolio of House Brands alongside their attractive offering of designer frames and sunglasses.
"We also found out that the brand of the frame was not as important for end consumers as you would think, so that's when we started building our own portfolio. We curated the assortment and picked frames so that we could have more of an offering to the consumer – including a strong focus on sustainable materials and designs."
Taking greater agency over their products, Synsam introduced their Recycling Outlet concept – a separate retail banner that combines sustainable eyewear choices with low prices. The concept dispels the myth that sustainable choices come at a greater cost. As Daniels explains,
"We make this possible by re-selling old glasses in the recycling outlet store. It may be glasses the subscribers hand back to us when they do their yearly swap, or old collections that are removed from 'standard Synsam stores'."
In an increasingly digitalised world, Synsam values the power of face-to-face consumer contact and places great importance on this first physical point of interaction.
"We invested a lot of time money and effort into training our staff to become more proactive and really engage with and understand the customer's needs before recommending products.
"Rather than just a transaction, we really try to understand who you are and what your needs are. That goes into building more of a relationship business," Daniels comments.
Sysnam Group continue to develop their physical presence, using their increasing network of stores to embody the concept of their modern lifestyle brand.
"We are pushing our digital channel, but inherently the eye exam is still physical and so are the products. There's a strong preference for customers to try on the product, to see if it suits your face etc, so we believe strongly in the physical store network."
The stores themselves are a constantly shifting phenomenon.
"We launched an early version and then we refine from that. We are now at version 12 or 13 of our store concepts. There are always new improvements. That's the culture of the business that we're now running, it's constant innovation," Daniels surmises.
Of course, the Group recognise the synergy that can exist between both digital and physical concepts, leveraging the possibilities of technology in-store to maximise user interaction and improve the consumer experience.
"We invested a lot in the digital side when reworking the entire business. Organisation wise, IT, HR, Logistics – we did a complete rebuild."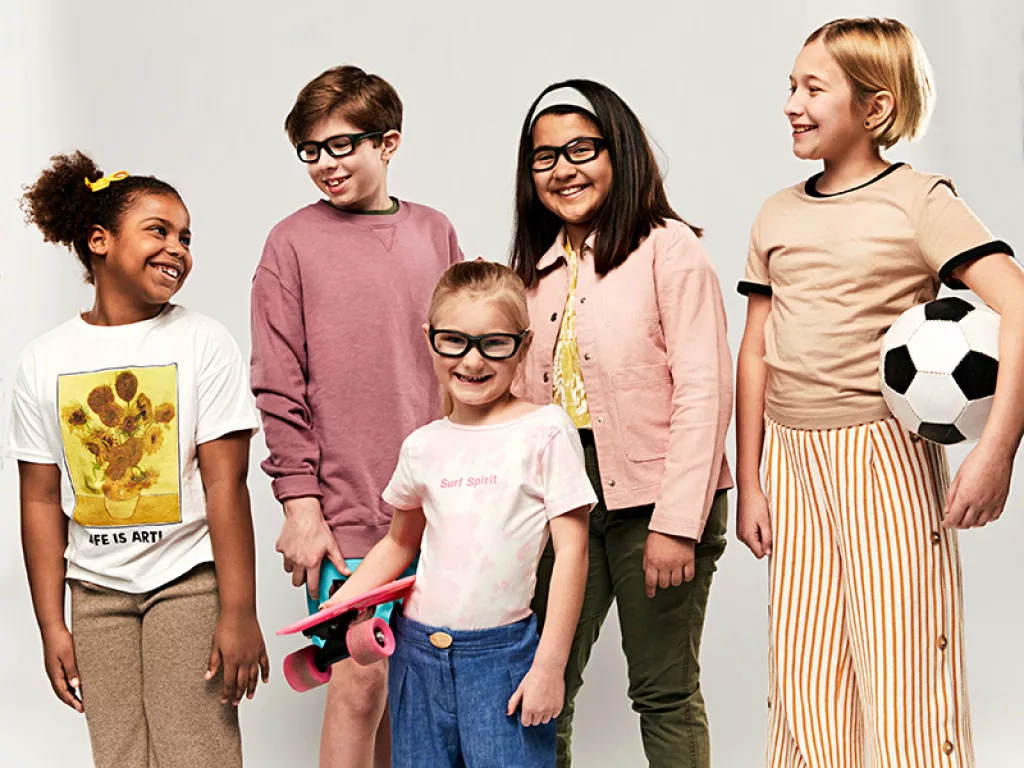 Synsam Group are far from short-sighted when it comes to their responsibility as a corporate citizen.
Sustainability is embedded into operations and Synsam strictly adheres to the UN's sustainability goals as outlined in Agenda 2030. In both 2019 and 2020, the Group was voted Sweden's most sustainable optician in the Sustainable Brand Index.
The aforementioned house labels that Synsam built whilst undergoing transformation are instrumental in establishing the brand's sustainable identity.
In Spring 2019, Synsam launched the "Fellepini x Sea2See collection – which is a spectacle collection made entirely from recycled ocean plastics collected by fishermen and transformed to glasses together with the Spanish partner company Sea2See.
"We built these brands as standalone brands and invested a lot in those frames and building a sustainable identity through products and collections. This now represents over 50 percent of our volume."
In a region that is reputed as a global leader in terms of sustainability and eco-innovation, most significantly, Synsam are leading the way in reclaiming their manufacturing and relocating the production of their private label brands from Asia to Sweden. The move to localised manufacturing has been a significant one and will occupy the Group for the year ahead.
"Previously, we had partners in Asian factories producing our frames. Now, to become a more sustainable business, we're opening a factory in the north of Sweden. It's being built as we speak and the plan is to get access to the building this year and open production in the first half of next year."
Synsam pioneers a circular collection, whereby all old frames are recycled, after being collected in-store. By championing a means of circular consumption, Synsam collaborate with recycling centres across Sweden to sort materials.
"We also have collections made out of old frames that are being shred down into material that we can build new frames from," Daniels adds.
The Group's ethos of sustainability connotes a wider understanding of the term that extends beyond environmental concerns, as evidenced by the launch of their pioneering subscription model and charitable initiatives. Championing a 360 perspective of sustainability, Synsam are mitigating transport emissions by bringing the product closer to the end consumer and shifting towards sustainable production materials.
"We believe that sustainability is not an option, it's a requirement for employees and for the customers," Daniels states.
Looking ahead, the future is promising for Synsam Group.
"We are growing significantly – we are already one of the leading players worldwide in terms of organic growth and profitability. We're strong performers in that sense," Daniels concludes.
Nevertheless, Synsam will continue to develop and grow through the lens of physical expansion, innovation, and sustainability.