A key player in the European automotive manufacturing industry, we speak to Valmet Automotive about the company's multiple business lines and its roots and growth into the up-and-coming EV manufacturing space.
THE FUTURE FROM FINLAND
Europe is home to a substantial vehicle and automotive industry.
Mercedes-Benz, Porsche and Saab are just a few of the well-known and respected brands that come to mind. And throughout Europe it is the many manufacturers that keep the wheels of the industry turning.
Valmet Automotive is one such company and a key driving force of automotive production in the European space. Having been founded in 1968, the Finnish company employs approximately 4,500 people across Finland, Germany and Poland, and has been providing quality automotive manufacturing services for over 50 years.
Valmet Automotive's core is made up of three primary business lines; at the heart of this is the manufacturing business line. Within this area the company provides contract manufacturing from its headquarters in Uusikaupunki (Finland) as Olaf Bongwald, CEO of Valmet Automotive, explains.
"Here we produce cars for all kinds of original equipment manufacturers (OEMs) in the automotive industry," he tells us. "We started with Saab and then we produced Porsche, and since around 2012 we began producing cars for Mercedes-Benz.
"Our second line of business we took over in 2010, and this consists of roofing and kinematic systems for convertible cars, cabriolets, and in doing so have expanded our portfolio to include things such as adjustable spoiler systems that are designed to perform the important task of reducing energy consumption while driving."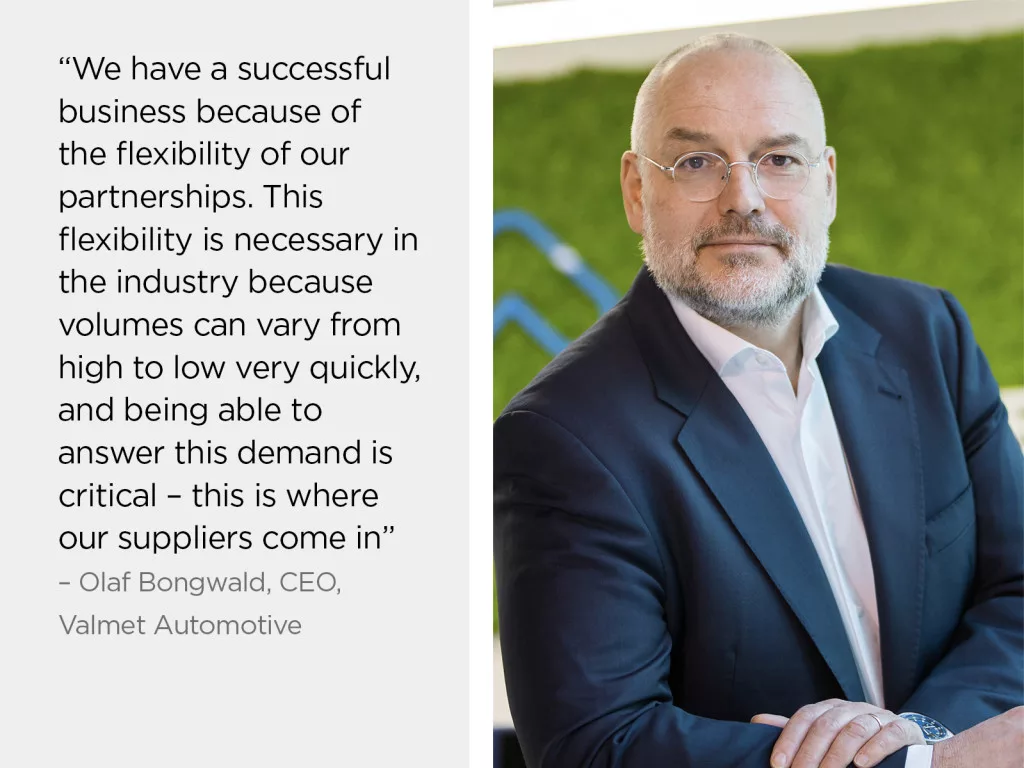 On top of this, Valmet Automotive's third business line concerns electric vehicles (EVs). Having been started up at the beginning of 2019, the company's movement to increase its focus on EV manufacturing was aimed to answer the growing demand of the EV market; a space that has only kept growing since, with many regional and global automotive producers investing in the sector.
"In this area we manufacture everything involving battery systems for the electrification of the cars," Bongwald says. "We started with 48-volt systems produced in a former Nokia plant and we then extended our portfolio to higher voltage systems for hybrid EVs as well as full battery EVs. Valmet Automotive manufactures and offers the full range of modern battery systems that are supporting the industry transformation into automotive electrification."
Bongwald had always held an affinity for machines. In his youth Bongwald's interest in vehicles and technical innovation led him through education and all the way to studying Mechanical Engineering at the University of Dortmund.
"Of course, this topic automatically leads you to the manufacturing industry somewhat," he points out. "My focus at the time lay in organisation and management as well as technologies. So, I ended up in the automotive industry that I have remained in for 26 years."
Bongwald has witnessed the automotive manufacturing industry change during a revolutionary period of time. The recent COVID-19 pandemic has impacted and shaped every industry in its own way, and alongside the increasing focus on sustainability, Bongwald has been able to become a part of the latest innovations in the space.
"For a couple of years now we are undergoing the most exciting period of the automotive industry that has occurred for decades," he reflects. "We are seeing a big transformation from combustion engines to electrified vehicles and this is a substantial challenge for all the key players in the automotive industry to adapt to.
"But at the same time, it is very stimulating. The company has been presented with many new opportunities in the field and will give us a real chance to show what we can do."
Valmet Automotive is incredibly customer-orientated in its services. Flexibility is a core aspect of the company's operation and helps maintain its reliable and effective reputation in automotive manufacturing. This flexible approach to business allows Valmet Automotive to serve the unique and varied demands of its customers to the highest standards.
"Contract manufacturing is by nature a volatile business," Bongwald informs us. "We have been able to show for over 50 years now that we as a company are committed to supplying our customers with all kinds of car variants, and volume changes required, and being able to react to these changes with great speed and efficiency.
"This is only possible due to our dedicated work staff throughout the entire company, and our flexible partners and suppliers that are key to our fluid operation. This was great to see when I was allowed to take over as CEO during 2018. It was a very positive experience to find that I was in charge of a wonderful workforce that produce high-quality products."
This people-centric focus is perfectly exemplified by Valmet Automotive's in-house Culture Change Programme that was started up in early 2019. In this programme the company outlined its five commitments that defined its culture so that everybody involved, from employees to management and partners, feels appreciated and at home when working in association with Valmet Automotive. The company commitments are as follows: always learn, show entrepreneurial spirit, deliver, lead at all levels, and lastly respect throughout the organisation.
It is Valmet Automotive's aim to maintain and continue implementing these commitments into the future to for the benefit of company members, partners and customers, so that they can each work together to achieve success or learn and build upon any failings that may occur.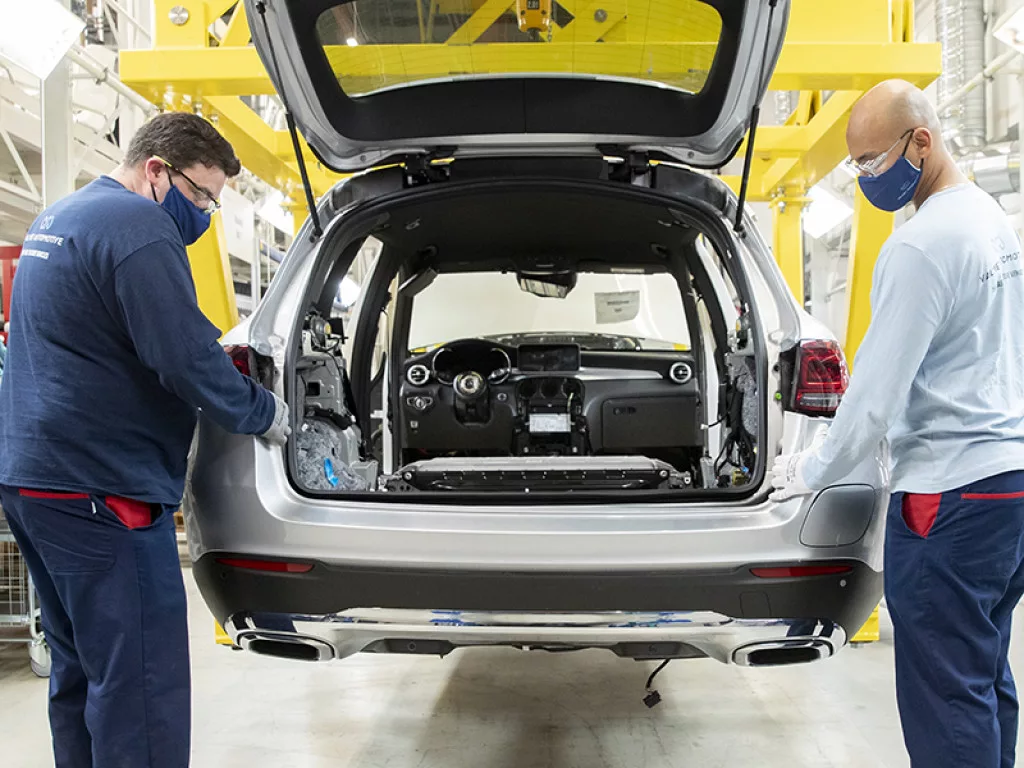 "Our focus is on our customers, partners and employees. We have introduced online training and so far have seen approximately 1,500 employees trained in this way," Bongwald elaborates. "This is aimed to both improve operations and help make the transition of introducing new employees a smoother process.
"We perform an annual check in which we collect data and employee requests or statements so that we can measure and adapt our in-house way of things while comparing it year from year. But Valmet Automotive also makes sure to be open and easy to reach by any one employee across the organisation.
"We have had in place over the past two years an internal online channel called 'Questions to Olaf', where each and every person has the ability to ask me company questions personally, and I will reply.
"In this way we have full communication across the varying levels of the company, and everybody has access to management when they need it."
These employees and company partnerships are vital to operational business, and their combined efforts have culminated in Valmet Automotive achieving incredible projects and results.
One such project involved the use of an old Nokia plant to answer the demand of a customer in the EV space. Around the end of 2018, Valmet Automotive was approached by a customer who required electric battery systems on a large scale, that required both increased physical plant space as well as peoplepower. In a short space of time Valmet Automotive was able to accommodate the space by locating a former Nokia plant, signed contracts in April of the same year, received the necessary components to build assembly lines, and were able to deliver the first electric batteries in the October that followed.
"It was an incredibly fast operation," Bongwald tells us proudly. "We went from ground zero to hiring around 200 people who went through training to maintain the assemblies of battery systems.
"We had never done this before, but this process was complete in record speed and was really amazing to see come together. The customer was incredibly happy with the result that had stuck exactly to the pre-planned timeline, and we did not lose a single day or battery throughout the process."
After answering such a unique demand, Valmet Automotive had revaluated its investment strategy to best suit the ever-changing and innovative automotive manufacturing industry; it's primary investments currently concern the EV space.
In the present, the company is investing in an extension to the aforementioned EV battery plant. After one and a half years in operation this plant was at full capability with regards to producing battery systems and employee numbers. The project includes a 4,000 square-metre building extension as space has become the primary requirement for the company in the EV business line. This investment project alone shows Valmet Automotive's commitment to the progressive and up-and-coming EV sphere.
"We are now getting more and more into the manufacturing of high voltage battery systems," Bongwald elaborates. "And we need more space to expand our production of battery modules and battery packs. This plant will give us the opportunity to do so.
"The ability to produce batteries for EVs or hybrid vehicles has the benefit of sufficiently reducing and promoting the reduction of our CO2 footprint which is an advantage in the German market and better for the environment."
In addition, Valmet Automotive is currently expanding the Uusikaupunki car plant with a high-volume battery plant – SOP in second half of 2021 and will be rebuilding a former industrial plant as a battery plant in Kirchardt, Germany. The work will start during the second half of 2021 and will begin production in first half of 2022.