As the world's leading pizza chain, Domino's Pizza is a global name. We take a look at the company's history, its presence in the EMENA region, and the passion for produce that drives the business forward.
DOMINATING THE PIZZA SPHERE
Domino's Pizza (Domino's) is the largest fast-food pizza chain in the world, standing above other giants in the industry such as Papa John's, Pizza Hut and Little Caesars.
The story of Domino's began in 1960, when Tom and James Monaghan opened the first "DomiNick's" store in Michigan (US). A year later, Tom traded his car to buy his brother's share of the store and later renamed the business Domino's Pizza, and the three dots on the company's logo represent the three stores that Tom originally planned to open.
The business idea was simple: to deliver hot, freshly made pizzas as quickly and safely as possible, while playing an active role in the local community. Through a little-known format, now called franchising, Tom enabled other people to invest in opening their own stores.
Domino's then expanded overseas; the company came to the UK in 1985, with the first store opening in Luton, Bedfordshire. Today, there are now over 1,200 Domino's stores across the UK and the Republic of Ireland, with 35,000 team members delivering over 106 million freshly handcrafted pizzas a year. The expansion of Domino's has also enveloped the Middle East, North Africa and Pakistan (MENAP).
Saudi-based Alamar Foods Company (Alamar) is a quick service restaurant (QSR) operator and the master franchisee of Domino's, boasting more than 540 stores present in the MENAP region. For example, Domino's Oman launched online pizza ordering in 2016 and revolutionised the online delivery experience by launching the innovative Pizza Builder and Domino's Tracker tools.
In the same year, Domino's Oman launched the Domino's Oman website, featuring the Pizza Builder which was a step forward in ordering food online, allowing customers to see their pizza come to life on the computer screen. Domino's Tracker, meanwhile, was an innovation in food delivery, allowing customers to follow the progress of the order from the time it's placed until they receive it.
The company also added pizza offers to the website in order to provide even more value to customers, allowing more people to get their hands on the brand's most-loved flavours and high-quality ingredients, from chicken to beef, with a variety of vegetarian options and more. In 2020, Domino's had 24 outlets located throughout Oman, a number that is continually increasing in order to serve more pizza lovers across the Sultanate.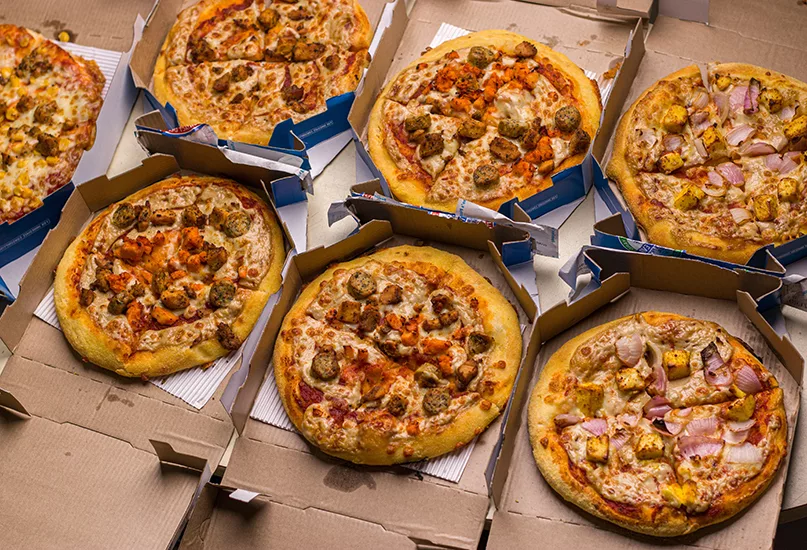 QUALITY AND CUSTOMERS
It is due to the company's long-standing mission that Domino's has expanded and succeeded across multiple continents, with a passion for delivering hot, great-tasting, freshly handcrafted pizzas to customers. This relentless focus has helped Domino's become a globally leading pizza brand in a number of countries across the world.
Quality is a key part of this mission as Domino's is committed to offering choice, and with thousands of combinations on its menu, customers have plenty of options. Its pizzas are made with great quality sourced ingredients, such as creamy 100 percent mozzarella, vine-ripened tomato sauce, and the company's signature fresh dough.
As well as having great tasting pizzas, Domino's is relentless in its pursuit when it comes to using technology, to help make its customers' lives that little bit easier. The company works hard to make ordering quick and easy, putting customers in control, whilst a tireless focus on innovation drives continual improvements and ensures customers are always at the heart of all the great new products that are developed.
This customer-centric focus can be seen in the accessibility and ease of the Domino's app, able to be downloaded on mobile phones for click-and-collect or delivery, including both order tracking and an up-to-date feed of the latest deals on offer.
The Domino's vision is a simple one – to be the favourite food delivery and collection brand, with pizza at its heart. The company's purpose, therefore, is to deliver a better future through the food that people love. For its customers, this means going above and beyond on quality and great value. Thus, Domino's aims to innovate and consistently deliver a better food experience, while bringing people together to share in their love for pizza.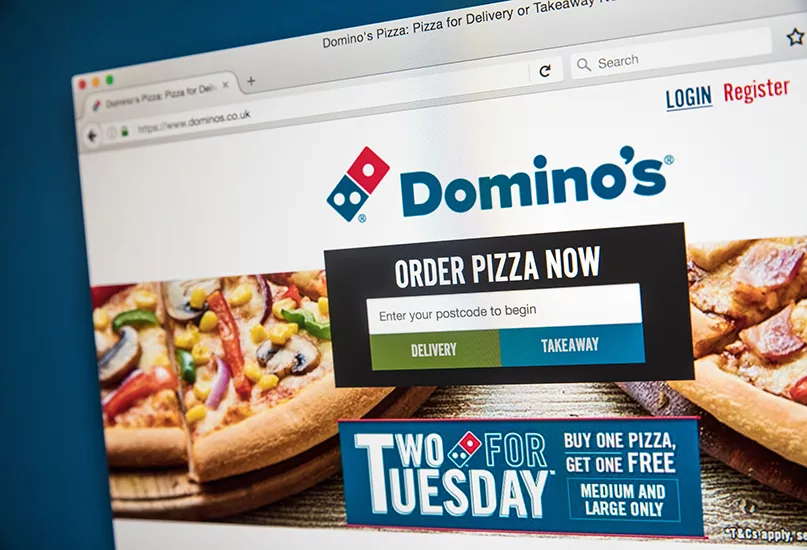 A PASSION FOR PIZZA
People are at the core of Domino's. For colleagues and team members, this people-centric dedication means that there are opportunities to create and develop an exciting and rewarding career at the company.
Domino's embraces diversity and fresh thinking and celebrates individuals who bring new experiences and ways of doing things to help Domino's continuously push boundaries to drive improvement.
For the communities Domino's serves, this means constantly seeking ways to deliver positive change for people and the planet. The company supports its local communities and believes growth and sustainability go hand in hand. When it comes to the company's entrepreneurs and investors, Domino's makes decisions that support long-term growth and is open and transparent about the progress it is making.
This attitude encapsulates the importance Domino's places on its many international partnerships. In the Middle East, one such partnership is with the global Lactalis Group (also known as Groupe Lactalis), of which Lactilis Saudi Arabia is a key dairy product manufacturing partner of Domino's.
The Lactalis Group is a family-owned company driven by a passion for dairy that was founded in 1933 by André Besnier in Laval, France. A global player in the production and distribution of foods that are essential for everyday wellness, such as milk, dairy products (yogurt, cream-based sauces, desserts and cheese) as well as fruit beverages, the Lactalis Group is the number one dairy company worldwide.
Lactalis Saudi Arabia is proud to provide quality and healthy dairy products locally and internationally to partners such as Domino's through its trusted brands: Président, Galbani, Pride, Bridel, Valbreso and Yasmin. The Lactalis Group offers a wide variety of products in different forms, including cheese, cream and butter, and it is partners such as Lactilis Saudi Arabia that help to drive the likes of Domino's Oman in the region.
Domino's passion is built on the collective values of the company workforce, values that everybody shares at the company. These guide everyday actions across the business, from Domino's stores through to its supply chain centres and support office.
Domino's intends to always do the right thing when it comes to its impact of the brand, colleagues, communities, and the wider world. Because of this, the company is proud to drive forward and keep its corporate promises.
Domino's respects and celebrates its entire team for who they are and the value each individual brings. As such, the company grabs amazing opportunities to grow, succeed and ensure that its workforce operates at its best.
On top of this, customers are at the heart of every decision and action that Domino's takes. The company listens to customers and creates great experiences to delight them and keep them coming back for more, and it takes courage and determination to lead the field. The company's hard-working employees are bold, entrepreneurial, and aren't afraid to innovate and learn fast to become better every day.
Most importantly, Domino's ensures that all of its people grow and win together, sharing big ambitions, a growth mindset, and subsequently enjoying success as part of the team.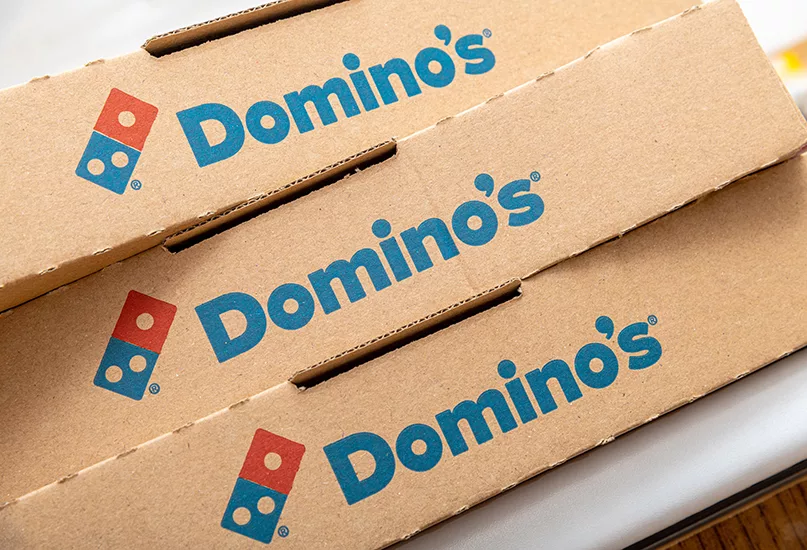 DOMINO'S OMAN PARTNER