From fresh recipe kits to premium takeaway meals, Pasta Evangelists delivers a taste of Italy across the UK. Chris Rennoldson, co-Founder and CEO, discusses scaling up and becoming the authority in fresh pasta.
PREMIUM PASTA EXPERIENCE
A tavola non si invecchia".
This beautiful proverb, which translates to "at the table, one does not age", sums up the Italian approach to food.
Italians enjoy eating together with loved ones and take their time when doing so, and the lengthy process of hand-making and consuming pasta is emblematic of this experience.
A love of pasta is therefore at the heart of Italy's connection to food, something that has been embraced in the UK by Pasta Evangelists.
"We have built a brand and a reputation amongst customers for quality and having novel, exciting pasta recipes," opens co-Founder, Chris Rennoldson.
When Rennoldson started Pasta Evangelists with fellow co-Founders, Alessandro Savelli and Finn Lagun, they wanted to show that there is much more to pasta than meets the eye – a world of craftsmanship, centuries of artisanal tradition, and above all, some of Italy's finest dishes.
Rennoldson was first introduced to Savelli in October 2016, who presented his business idea and mission to become "the authority in fresh pasta".
"What we wanted to do was deliver an amazing, premium experience. That is important to us and has been the mission of the business from the very start," he outlines.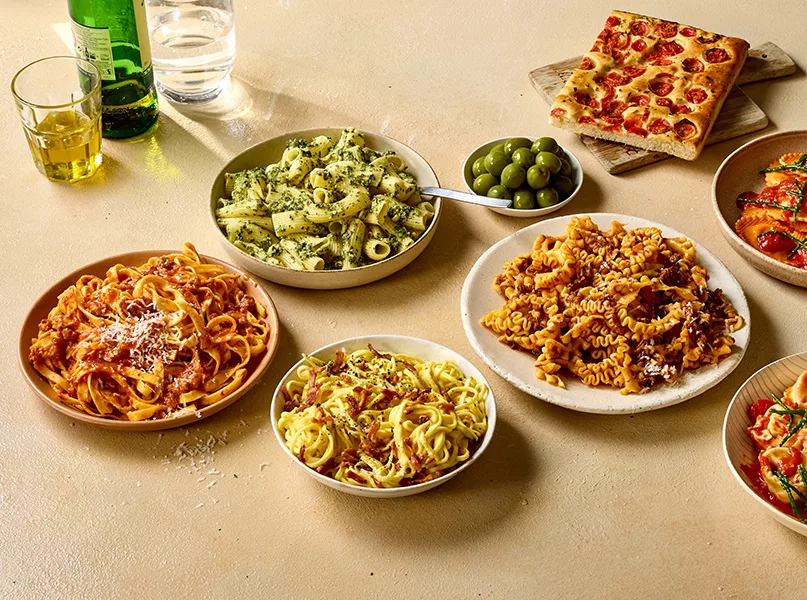 MULTI-CHANNEL APPROACH
Pasta Evangelists was originally founded as a direct-to-consumer, cook-at-home recipe kit business, delivering fresh handmade pasta, sauces, and garnishes across the UK.
In as little as five minutes, the company's recipe kits transform into a 5-star pasta dish, impressing amici and delighting famiglia.
"They're special meals because it's something you can't get in the supermarket. The recipe kits were a way of getting into the market quickly by sending this differentiated product to people at home," Rennoldson says.
Whilst people were confined to their homes during the COVID-19 pandemic and resulting lockdowns, the company experienced exponential growth.
The pandemic changed the way people buy and consume which naturally had a massive impact on Pasta Evangelists, who has now served over 400,000 recipe kit customers to date.
"That was a crazy time, but it has still shaped a lot of what we see today. People have got used to the idea of home delivery, and this is one industry where a lot of new habits have stuck," observes Rennoldson.
Pasta Evangelists also committed to serving takeaway meals just as the pandemic struck, having struggled to sell cook-at-home recipe kits on takeaway delivery platforms.
The company opened its first dedicated takeaway kitchen in March 2020 in Clapham to sell hot, freshly prepared food over the likes of Deliveroo, Uber Eats and Just Eat, and now has more than 40 of these kitchens across the country, serving over two million takeaway meals a year.
Adopting this multi-channel approach has been important for Pasta Evangelists to meet the needs of customers, as there is something for everyone.
"Trying to sell recipe kits through takeaway providers didn't really work because that's not what people are expecting on those platforms," Rennoldson explains.
"A lot of restaurants had to embrace takeaway to survive the pandemic, and that's opened up a new premium takeaway segment where we now find ourselves strongly positioned.
"Even during the cost of living crisis, many people still look for ways they can treat themselves, and we make sure it is a complete 'premium' experience in terms of the food, the packaging, and the way we interact with our customers," he adds.
FRESH PASTA FACTORY
As Pasta Evangelists has been extremely busy growing the company during the pandemic and building its various business channels, it has now invested in its own pasta manufacturing facility in West London which is set to be the largest in the UK.
"We've reached a scale where there isn't a large enough base of fresh pasta manufacturers and producers in the UK for us to call upon," elaborates Rennoldson.
The factory, which will be operational in the coming weeks, will allow the company to make enough fresh pasta and sauces to meet growing customer demand.
It will also enhance the quality of Pasta Evangelists' recipes even further, something that the company is renowned for amongst customers.
"If you ask people about Pasta Evangelists, the first thing they will talk about is the quality of the food and how it's something they can't get elsewhere. We are a premium product, which means every single bowl of pasta we send out needs to be perfect; that quality is critical to our customers," he emphasises.
The factory's new pasta production lines will be difficult to replicate, therefore increasing quality to a level that will be hard to match and bringing a significant competitive advantage to Pasta Evangelists.
"There's a need for us to continue to improve the quality of the product, and that's what we're seeking to achieve with this investment."
The rate of innovation at the company will likewise improve, thanks to the new technologies being built into the facility.
"If you are partnered with third party suppliers, then pushing innovation through takes much longer," notes Rennoldson.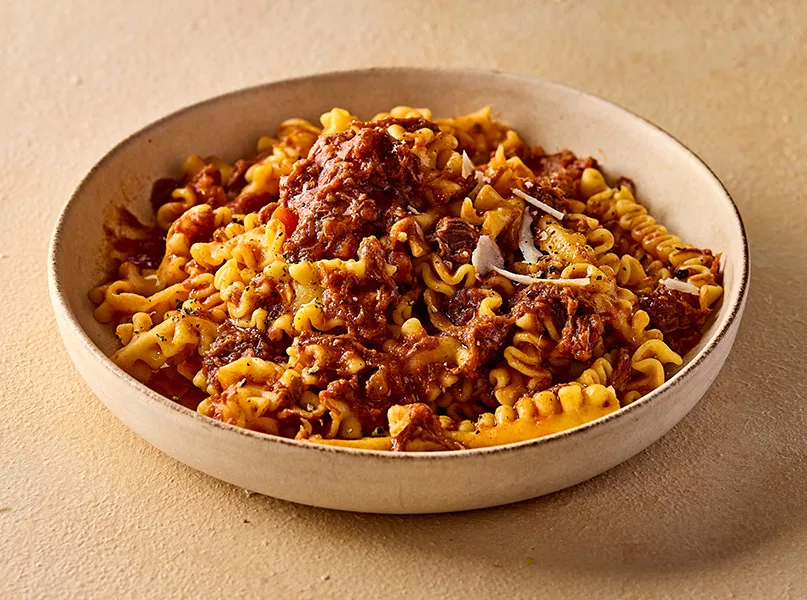 FRANCHISING PLANS
Following on from its factory investment, Pasta Evangelists plans to grow its takeaway locations through franchising.
The company now has more than three years of experience and expertise in takeaway operations since opening its first kitchen in 2020, and believes it can learn and improve by partnering with franchisees.
"We're just starting out with franchising, which is the next evolution. The thinking is that we don't have to own and operate every single Pasta Evangelists restaurant," Rennoldson tells us.
"I think we'll learn an awful lot because we'll be partnering with people who are experts with decades of experience."
Whilst Pasta Evangelists will benefit from the help of franchisees to grow the business further and faster, franchisees will take advantage of Pasta Evangelists brand and recipes.
Through franchising, Pasta Evangelists can be confident that it is putting the brand into safe hands.
"Once you partner with a third party, they expect more formal operational discipline around brand guidelines, ways of working, and so on," says Rennoldson.
This is something that has grown organically with the business, and franchising will discipline Pasta Evangelists to document its processes more thoroughly.
"Being a scale-up, as opposed to a start-up business, means putting together more processes, and behaving in a slightly more mature, corporate way without losing the essence, fun, speed, and entrepreneurial spirit of the company.
"We need to communicate more clearly and uniformly as we scale up, and it's something that franchisees will expect from us," Rennoldson acknowledges.
Equally, as Pasta Evangelists continues to scale up, it is building a culture of togetherness across all locations and ensuring the company is a fun place to work as it expands.
"We want to create a strong set of Pasta Evangelists values and a 'work hard, play hard' ethic amongst our whole team. We're on a fantastic journey together, so we're very conscious of making sure that we don't lose what's special about being a part of the team that works here."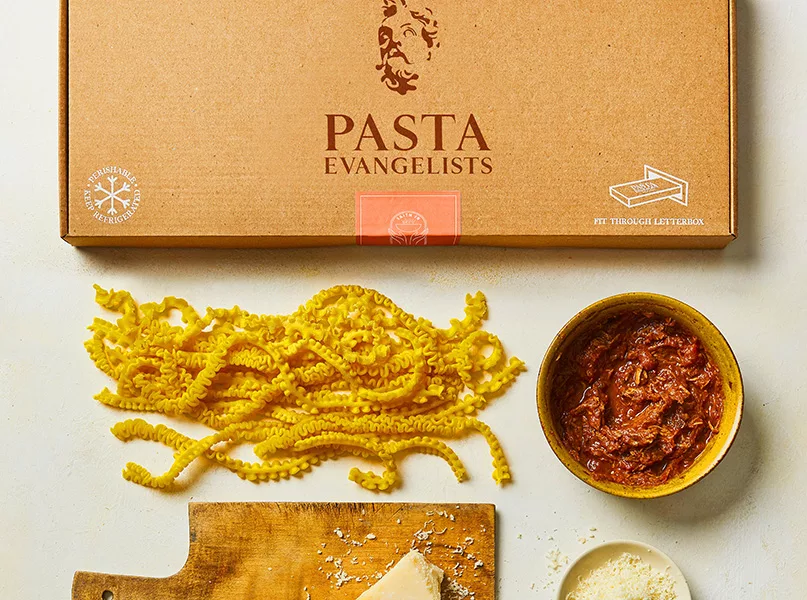 HARRODS VENTURE
Pasta Evangelists has also embarked on its very first restaurant venture at Harrods, in the world-famous department store's prestigious dining hall.
The restaurant combines a modern Italian menu with the company's signature indulgence, with exclusive dishes that celebrate the artisan quality, flavours, and traditions of authentic Italian pasta.
It goes one step further than the concession launched by Pasta Evangelists in Harrods, which first branched out the brand in 2018.
The opportunity to open a restaurant in Harrods was precisely the kind of fast, calculated risk expected of Pasta Evangelists by Barilla, the world's largest pasta producer, who recently acquired the company.
"We started speaking to Harrods in 2021, just before shops and restaurants reopened, about a partnership to run the pasta bar," reveals Rennoldson.
"This was not something we had entertained at the time we were going through the transaction with Barilla in late 2020. It came as a surprise, but it was exactly what Barilla wanted to see and why they partnered with us."
The restaurant epitomises the spirit of partnership between Pasta Evangelists and Barilla, which is built upon allowing the former to move fast and make its own decisions.
"What's been great about the partnership is it has absolutely lived that out," Rennoldson concludes.