Supporting the growth of the Middle East for over 40 years, Euro Mechanical is committed to innovation, In-Country Value and unwavering integrity. CEO, Jon Rawding, tells us more.
THE MECHANICS OF SUCCESS
The Middle East, particularly the United Arab Emirates (UAE), offers a captivating growth environment for the burgeoning energy sector. Amidst the ongoing discussions surrounding the region's ambitious energy transition, the leadership in the Middle East, specifically in the UAE, continues to adopt a pragmatic approach.
Recognising the importance of all available energy sources, the Abu Dhabi National Oil Company's (ADNOC) Maximum Energy, Minimum Emissions initiative conveys the need to prioritise cleaner energy today while investing in renewable sources for the future.
Another significant trend that remains transformative across the region is the focus on harnessing the wealth of national talent and resources within each country. Furthermore, the UAE's National In-Country Value (ICV) Program and Emiratisation Initiative are actively reshaping the landscape and workforce, creating new opportunities for local individuals and industries.
A pivotal and prominent player within this regional reshape is Euro Mechanical, an experienced Emirati company that has played a pivotal role in supporting the growth of Abu Dhabi's energy sector for over 40 years.
"We take immense pride in delivering effective solutions and leveraging our expertise to benefit the entire region," opens Jon Rawding, CEO of Euro Mechanical.
Burning bright at the core of the company's operations is its specialised teams, which excel in construction and maintenance services.
"We offer comprehensive solutions, including fabrication, maintenance, modification, demolition, and construction of onsite packages, pressure equipment, and structural piping tailored specifically for the energy sector," he details.
Manpower Services Division has deployed Euro Mechanical's highly skilled and dedicated employees who have been renowned for their professionalism and strong work ethic for over 40 years. It also possesses the largest fleet of bolting and machining equipment in the UAE, ensuring its capabilities remain unmatched throughout the sector.
Through strategic partnerships, the company now facilitates the introduction of cutting-edge technologies to the region. By collaborating with sophisticated software companies and state of the art manufacturers in its field, Euro Mechanical aims to attract companies to establish manufacturing operations in the UAE, and by doing so, contributes to the advancement of the local industry and promotes economic growth.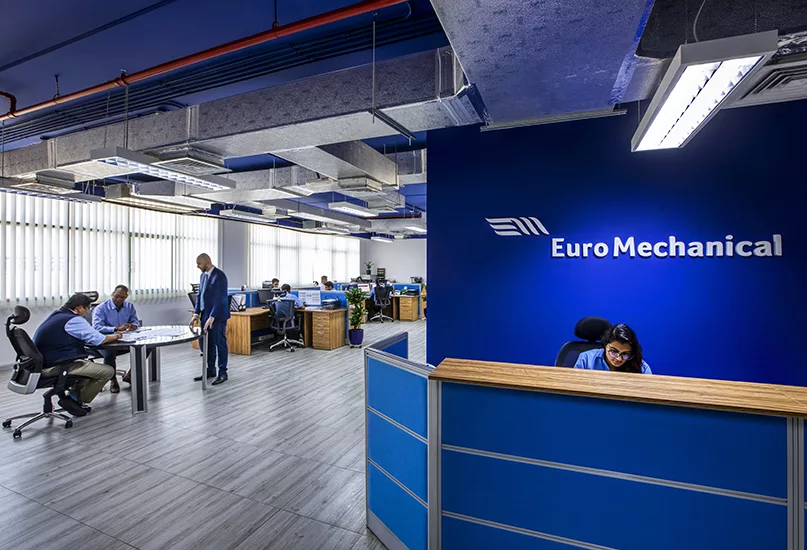 DRIVEN TO MAKE A DIFFERENCE
Committed to delivering on its promises, Euro Mechanical distinguishes itself from other companies that make similar claims and firmly believes that fostering long-term relationships is crucial for achieving success and remains vital for the company's existence.
"In the dynamic business landscape that we operate in, every interaction holds significant value, contributing to our ongoing sustainability. We embrace a continuous learning mindset, remaining adaptable to the ever-changing environment," Rawding affirms.
Through actively engaging with its employees, partners, and clients, Euro Mechanical has recognised the important role the company has to play and how its collective efforts contribute to the more significant cause of establishing a sustainable economy in the UAE, the wider region, and beyond.
"We perceive the world as a vast interconnected ecosystem, and in line with this view, we seek collaboration with like-minded organisations. By becoming a trusted partner to all those who interact with us, we strive to make meaningful contributions and drive positive change," he adds passionately.
Dedicated to upholding its commitments and acting with integrity in relation to environmental sustainability, social responsibility, and good governance practices, Euro Mechanical's focus is now on translating its promises into concrete actions, implementing sustainable practices across its operations, and actively contributing to the well-being of its communities.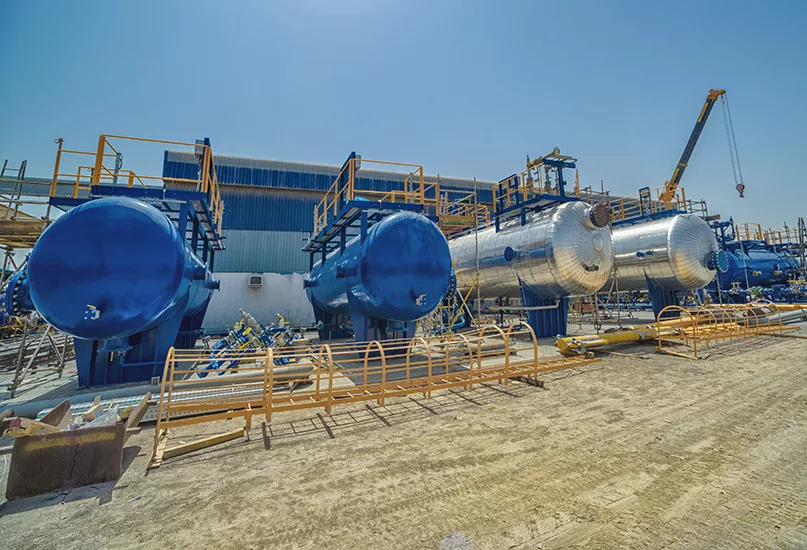 EFFICIENT PROJECT EXECUTION
One recent achievement that Euro Mechanical points to as one of its most notable successes is the export line repair and replacement shutdown project, completed on Zirku island for ADNOC Offshore.
Throughout this impressive project, Euro Mechanical successfully executed the comprehensive repair, replacement, and rectification of operationally critical assets, achieving exceptional results with zero lost-time incidents (LTIs) or production downtime beyond the planned shutdown. The work also entailed mobilising, coordinating, and managing a highly skilled team of over 200 technical staff on Zirku island.
Through effective planning and efficient execution, the entire scope was completed an impressive two weeks ahead of schedule, highlighting Euro Mechanical's commitment to delivering projects on or ahead of time.
"Since the project's inception, we have been actively participating in the planning, technical survey, detailed engineering, and offshore execution phases. Leveraging the expertise of three separate Euro Mechanical businesses and collaborating with trusted subcontractors, the project was executed seamlessly, resulting in the utmost satisfaction of the end user," Mike Purkiss, Euro Mechanical's COO, enthuses.
Euro Mechanical's comprehensive involvement ensured a holistic approach to the project, allowing for effective coordination across all aspects and disciplines. Through clear communication channels and efficient project management strategies, the company always strives to achieve outstanding outcomes, exceeding expectations and leaving the end user delighted with the results.
With an elite level of dedication, expertise, and seamless collaboration, Euro Mechanical has demonstrated its ability to successfully execute complex projects while prioritising safety, efficiency, and customer satisfaction.
"Our ownership and involvement from the project's inception showcase our commitment to delivering comprehensive and reliable mechanical solutions," he tells us.
In this way, Euro Mechanical continues to be a trusted partner in the industry, consistently delivering exceptional value to its clients.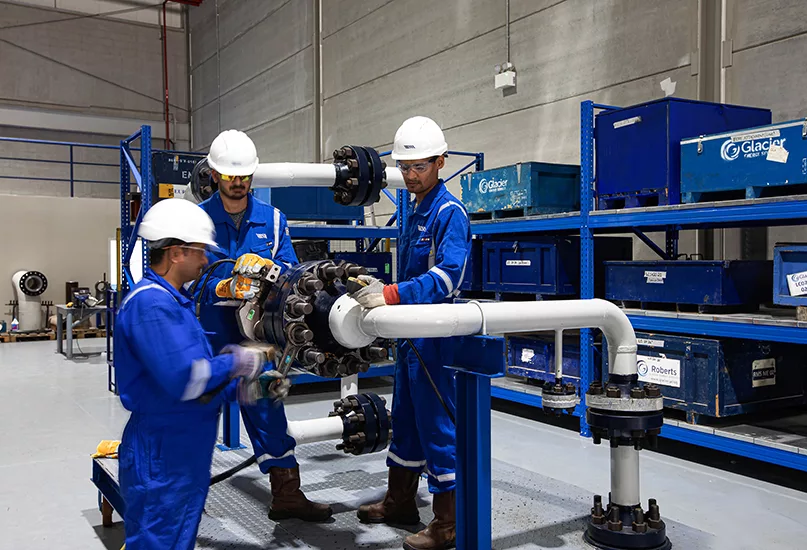 BECOMING FUTURE-PROOF
Moving forward, Euro Mechanical recognises the importance of several key focus areas to drive the company's future growth and contribute to advancing both the industry and the region.
"Firstly, we are committed to ensuring the integrity of our data and optimising project delivery processes. By implementing robust data management systems and practices, we enhance the accuracy, accessibility, and security of our information," explains Rawding.
This empowers Euro Mechanical to make informed decisions, streamline operations, and deliver projects efficiently, meeting and exceeding client expectations.
Regarding leadership development, building a solid team is crucial for long-term success. To ensure this, Euro Mechanical invests in the development and growth of its employees, providing them with the necessary skills, knowledge, and resources to become influential leaders.
"By fostering a culture of continuous learning and professional development, we cultivate a talented workforce capable of leading us into the future," he adds.
Elsewhere, as the company embraces the wider energy transition, it remains determined to play a meaningful role in advancing alternative energy sources and actively seeks opportunities to support and implement renewable energy initiatives aligning with the region's vision.
"By leveraging our expertise and collaborating with like-minded partners, we contribute to developing and adopting sustainable energy solutions."
Looking ahead, Euro Mechanical also acknowledges the importance of diversification and exploring opportunities beyond the traditional energy sector. By adapting to new market trends, technologies, and industry landscapes, the company looks set to place itself in a prime position to both contribute and thrive moving forward.
Through a strategic focus on these critical areas, Euro Mechanical aims to drive growth, embrace sustainability, foster leadership excellence, and expand its contribution beyond traditional energy realms. By remaining agile, proactive, and committed to its core values, the company is confident in its ability to shape a successful and impactful future.