As an innovative construction business with a diverse workforce underpinning a creative approach to its extensive project portfolio, Bouygues Travaux Publics is thriving. We explore further with Executive Vice President, Vincent Avrillon.
FABRICATING SOLID FUTURE FOUNDATIONS
Europe's construction industry is intrinsically bonded to the prosperity of the European economy.
This plentiful sector provides 18 million direct jobs, contributes to around nine percent of the EU's overall GDP, and possesses the crucial ability to create new employment opportunities, drive economic growth, and provide solutions for social, climate and energy challenges.
Part of this vast network is Bouygues Travaux Publics (BYTP), who has evolved efficiently to secure its esteemed standing as a global player in construction. Founded in 1952, BYTP remains family owned to this day.
The vastly experienced company designs, builds and operates projects in the building, infrastructure and industrial sectors, and as a responsible and committed leader in sustainable construction, BYTP sees innovation as its primary source of added value. This crucial quality is viewed by the company as "shared innovation" that benefits its customers, whilst simultaneously improving its productivity and the working conditions of its 32,400 employees.
"I was immediately attracted to the construction industry, as it's something that I believe some people just have in their blood," introduces Vincent Avrillon, Executive Vice President of BYTP.
"I started off by resisting many other career paths, such as joining a car manufacturer or chemistry company. Banks at that time were also starting to recruit lots of engineers, but I was attracted by construction only, and the nature of seeing the things being built every day was really important to me."
Having joined the company in 1990 as part of an overseas training programme, launched as a specific French opportunity, Avrillon travelled to Australia to continue his development, later moving to Hong Kong, then back to Australia once more, before returning home to Paris with BYTP.
"I now focus on managing tenders, delivering projects, trying to build success and training people to be the future of the company," he sets out.
DEFYING AN INDUSTRY IN CRISIS
Avrillon believes that the European construction market finds itself in a difficult position at present. The UK, for example, is having to navigate the ever-increasing difficulties left in the wake of the complicated fallout from Brexit and now more recently, the war in Ukraine.
These challenges continue to have a negative effect and slow progress on all current projects for the entire construction industry.
"Despite these obstacles, the French market remains prosperous, mainly thanks to the Grand Paris Metro Project. Apart from that, however, it's not a booming market across Europe right now," he explains.
Ever since it was founded, BYTP has consistently sought to bring people together by combining aesthetics, technicality, practicality, and safety for users through total mastery of all the techniques involved in the construction of bridges, tunnels and other projects.
"We have always tried to be at the forefront of the market in terms of innovation, safety, the equipment we are using on site, and design," Avrillon informs us.
"We are very proud of our design approach, as when we look at a project, the first thing we do is try to challenge the design, change it, modify it and find alternatives that will save time and money, and we regard this as our greatest strength."
Some of the bridges that BYTP has built have become casebook examples for the construction industry, such as the Hong Kong-Zhuhai-Macao Bridge, the world's longest sea bridge between Macao and Hong Kong, the Avignon Viaducts and the New Coastal Road viaduct, linking Saint-Denis to La Grande Chaloupe.
One particularly successful project that remains very special to the company is the Grand Paris Express, Metro Line 15.
"Paris is our garden, so we definitely wanted to be involved with building the Grand Paris Metro. When the project started five years ago now, we had not built tunnels in France for maybe 10 years, so one of the challenges for us was to upskill a new generation of tunnellers, workers and young engineers," Avrillon illustrates.
"Traditionally, we are very good at design and building when we work overseas, but we were not always so successful in France, so it's the start of a new era and a new way of delivering major projects in France," he details passionately.
Another key area of development for the company is through investment in the offshore wind farm business.
"We acquired a design concept of a floating solution last year, as the offshore wind farm market is an important target for us. It is a marine works, heavy concrete structure, and will allow industrialisation of the construction as well as being a way to demonstrate our ambition in terms of our ongoing carbon emissions reduction strategy."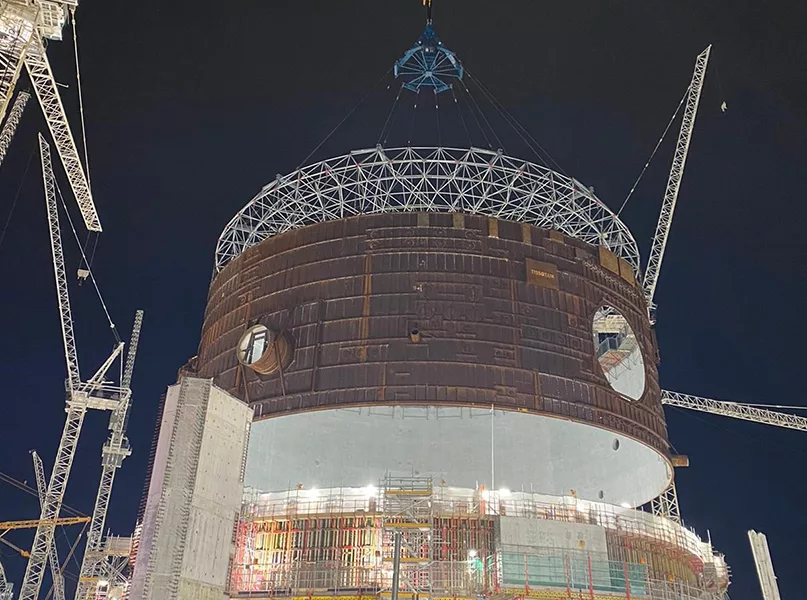 PLACING TRUST IN PEOPLE
Above all, BYTP is committed to building a workplace in which all individuals feel supported and respected. To get the best from its highly valued staff, the company knows that it must nurture a culture and an environment that embraces difference.
"To remain competitive and to differentiate us in the construction market, we know that our people will be more productive and engaged if they feel 'well' at work," explains Avrillon.
"We aim to educate all members of staff about the importance of a diverse and inclusive workplace to achieve business success, and we focus on providing career opportunities for all key talent in a fair and equitable way," he adds.
BYTP's diversity and inclusion goals are supported by graduate schemes and comprehensive learning and development programmes throughout the employee life cycle, including mentoring and recruiting activities.
"To be even more specific, in a male dominated industry, we aim at realising gender equality throughout all key employee experiences including recruitment, performance and remuneration reviews and development opportunities," Avrillon elaborates further.
Additionally, BYTP has envisioned several key gender balance objectives, as the company remains convinced that it needs to change. Today, all executive leader bonuses are tied to different targets, including gender balance goals, as BYTP strives to ensure that its workforce is free of any harassment or discrimination.
As a company, BYTP believes that whatever the level of someone's profession within its structures, training is a key driver in the development of people. In this way, careful attention is paid to every individual's needs to help them develop towards their highest potential. Everyone's career path is treated in an individualised way, which opens the maximum number of opportunities for career development within the group.
ESTABLISHING SUCCESS IN THE UK
One of the signature projects of BTP's ever-expanding portfolio is HS2, a high-speed rail line that will provide a non-stop link between Birmingham and London, UK, which is a prosperous market for the company.
The Align joint venture, consisting of BYTP, Sir Robert McAlpine and Volker Fitzpatrick, is managing the design and construction of the 21.6 km Central 1 (C1) section, to the north-west of London, which includes a 3.4km viaduct over the Colne Valley and a twin-bore 16km tunnel through the Chiltern hills.
"HS2 is the longest tunnel we have ever built, and together with the viaduct it is quite a sophisticated and iconic project. The project is on-track with reference to budget and timing, so it's a real success in the UK, and we are very proud of it" Avrillon acclaims. 
Align is using variable-density tunnel boring machines, a technology that has already been used by BYTP across projects in Hong Kong and on the Grand Paris Express project, which adapt excavations to the specific geological conditions of the terrain. 
The complex work carried out also included the construction of cross passages between the two tunnels, as well as the installation of five ventilation shafts.
Also located in the UK, BTP is particularly proud of the Hinkley Point C (HPC) project. This sizeable undertaking consisted of the construction of a power station that houses two nuclear reactors.
EDF Energy awarded the project to BTP, working as part of a larger consortium with the British company Laing O'Rourke, taking on the contract to construct the buildings that will house the two European pressurised reactor (EPR) nuclear reactors at HPC. With a total capacity of 3.2 gigawatts, the plant will supply a staggering seven percent of the UK's electricity consumption and provide power to over five million homes.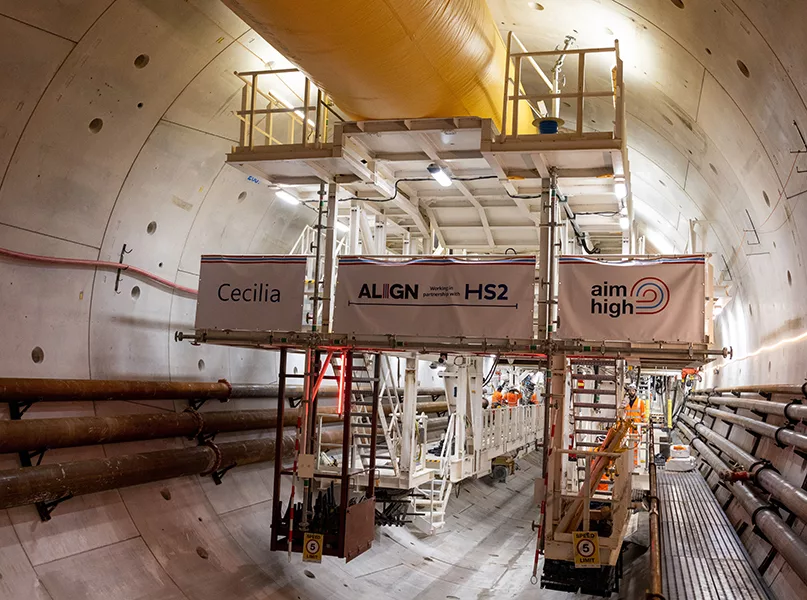 EXPLORING BROADER MARKETS
BYTP has identified that the key to growing the business further, is to constantly endeavour to develop a diverse pool of international talent.
"The construction industry is not what it once was, and we now need to make sure that our partners, suppliers and contractors will stay in the business with us for 10, 20 or even 30 years to help build mutually advantageous relationships," Avrillon outlines.
Looking forward, North America will certainly play a crucial part in BYTP's expansion strategy for new projects, as the company has collectively decided to focus more on the US market.
Now, with a strong team established in Miami, BYTP has secured several ongoing tenders, which are mainly tunnels because of the positive reputation that the company has forged in this project category.
"We are well established in Australia, Hong Kong, France and of course the UK, so now the focus is on the US," he continues.
"The competition is sophisticated, with many local and European contractors working out there, and the level of the financial returns is good so it's a place where we really want to work more regularly. We must seduce US contractors to work with us and demonstrate what we can bring to the table."
"We must seduce US contractors to work with us and demonstrate what we can bring to the table"

Vincent Avrillon, Executive Vice President, Bouygues Travaux Publics
Continuing to build prosperous relationships with local partners will be at the forefront of the new strategy across the US. Similarly, thanks to the HS2 and HPC projects, BYTP now boasts an impressive and growing pool of talent in the UK, and offers to relocate staff to the US, Australia, Hong Kong or elsewhere for future jobs and new contracts if they are interested.
"Ultimately, we need to make sure that we are not only a French contractor employing French people working overseas. Instead, we must be seen as a more international company with international talents at our disposal," he concludes.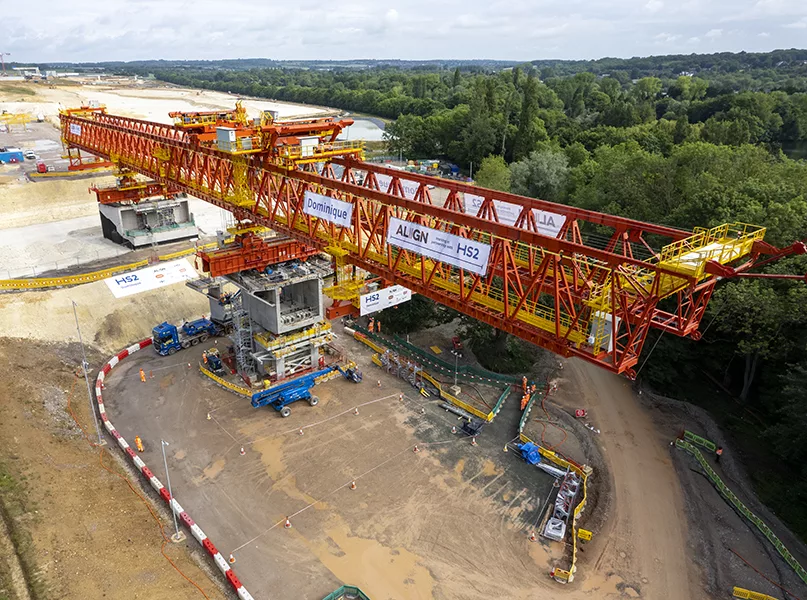 BOUYGUES TRAVAUX PUBLICS PARTNER