Van Moer Logistics is changing the face of European logistics. Founder and CEO, Jo Van Moer, discusses the latest developments in the space centred around helping people and the planet.
GREEN CARGO LAND AND SEA
"The economy is now running at full speed playing catch up. We have been seeing higher volumes in the port of Antwerp (Belgium) and there are now peak volumes coming in, with everything being stored here centrally for further distribution to Europe.
"Shippers are now storing more safety stocks in strategic locations such as Antwerp to ensure they can deliver on time due to the major hiccups in the global supply chain. As a result, we are also experiencing higher demands in storage, handling and even value-added logistics."
The introductory statement from Jo Van Moer, founder and CEO of Van Moer Logistics, highlights the dramatic shift in pace for the European supply chain following the complete reopening of companies and kickstart of activity across the continent.
Van Moer Logistics is a Belgian-based inter-European logistics giant that specialises in transport and distribution, warehousing and value-added logistics, port and intermodal logistics, and bulk and tank container logistics. On top of this, the company's supporting services include cargo forwarding, customs solutions (such as import/export declarations and inspections), on-site logistics, and lastly IT and automation (integrating and deploying systems to meet customer standards).
"Van Moer Logistics is a one-stop-shop; we offer the in-house logistics chain from A to Z, from forwarding to transport and storage. Our own assets within inland shipping are also very strong. We are unique thanks to the combination of our own barge terminals, barges, truck fleet for first and last mile and combined with water-bound warehouses," Van Moer tells us.
"On top of this, our flexibility and manoeuvrability stand us apart in the sector. As a young family business, we have a very short decision-making process, and we continue to invest. We can act quickly on market opportunities and follow the needs of our customers. It is often by following the needs of our customers that we launch new business developments and new locations that follow our clients, including abroad. We are also pioneers in sustainability, not only because of our unique approach to inland navigation, but also because of constant investment in the latest technologies and developments in our equipment and IT systems, which ensures a high-quality standard."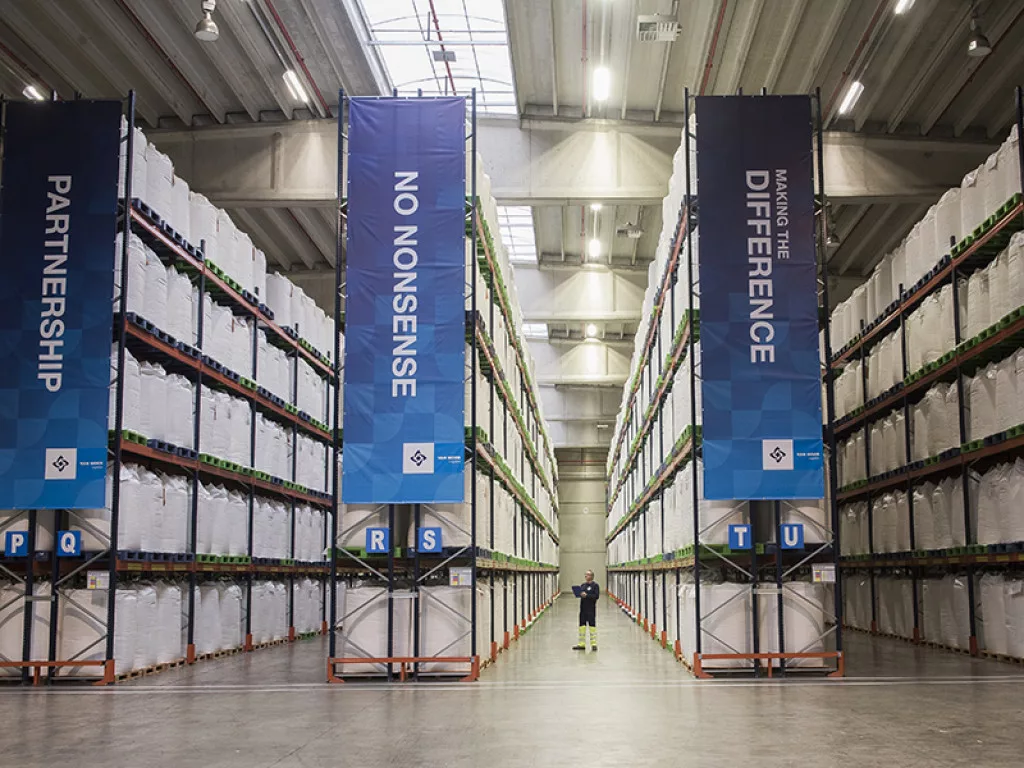 OPTIMISING OPERATIONS
As a multimodal logistics chain, Van Moer Logistics seeks to fully relieve its customers in their increasingly complex and circular supply chains.
In doing so, the company strives for a balance between economic, ecological and social considerations. Van Moer Logistics is committed to collaborating with various partners to realise the multimodal shift collectively.
"The way transport is controlled, or better, directed, has a major effect on the environmental impact through greenhouse gases, namely CO2, CH4, NOx and particulate matter," Van Moer says. "Our contribution lies mainly in making infrastructure and capacity available for inland navigation and road transport, optimising the use of each modal form, the energy efficiency of each modal form, and offering a mix that balances economic, social and environmental parameters."
According to Van Moer, certain optimisations only come with sizing up business. Van Moer Logistics is sufficiently horizontally integrated and has the volumes and capacity to achieve economies of scale. In addition to this, through the company's acquisition policy, it has vertically integrated a part of the chain.
"With our direct access to maritime transport, our inland terminals and regional hubs, 500,000 m2 of warehouses with rail connections, unloading quays, transhipment sites, and our fleet of nine inland barges and 500 trucks, we can realise an integrated multimodal approach. This enables us to optimise transport and logistics for our customers," Van Moer explains.
For Van Moer Logistics, inland ports are essential in the transition to a greener supply chain. These serve as the start and end points for maritime transport. Inland ports can be an "extended gate" where no intermediate customs checks need to take place.
"In this way, the transport time is optimised," Van Moer continues. "Today we have eight terminals along Flemish and Brussels waterways. Some were constructed in partnership to suit a customer or specific traffic. Others are open to a broad container flow and are considered fully-fledged regional hubs because of the framework.
"You can find the idea of partnerships in our warehouses as well. Some serve as a hub for a particular customer or specialise in a certain type of goods, for example, chemicals, paper, granulates, food, fast moving consumer goods (FMCG) and even e-commerce. Other warehouses even have a direct connection with the client's production hall, whilst some are storage and transhipment hubs for a multitude of goods."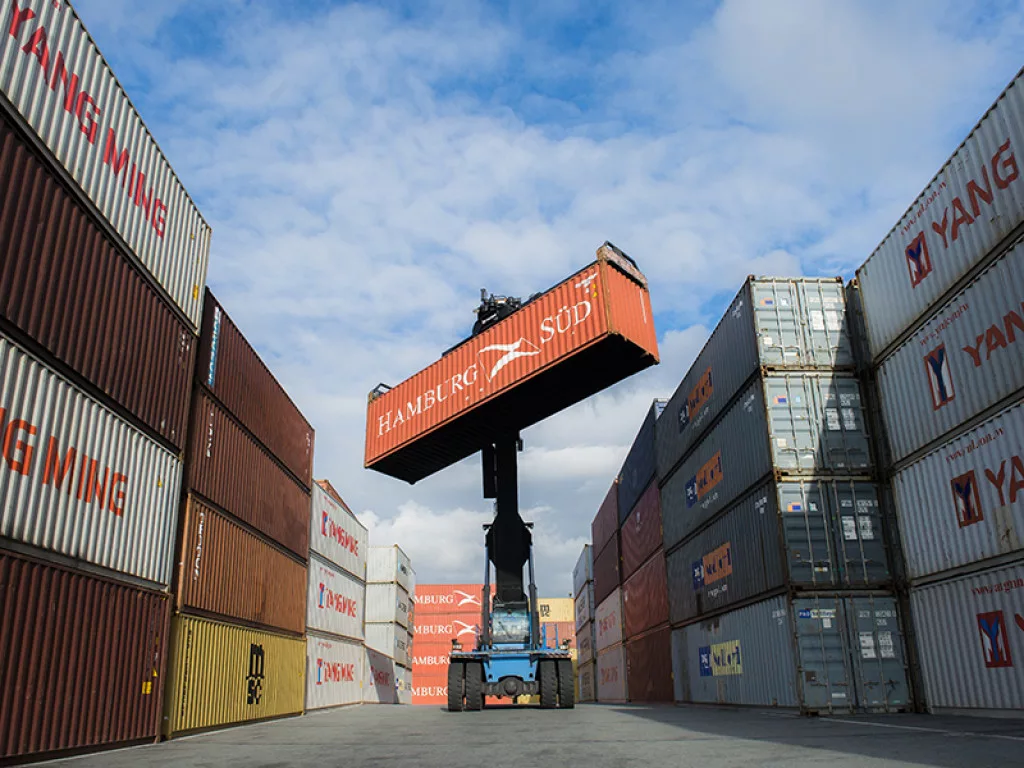 GREEN DEVELOPMENT
Working towards a greener future is a core part of Van Moer Logistics' mindset and focus when it comes to its internal developments and operations.
"We believe in hydrogen for heavy traffic; CMB.TECH is our Belgian technology partner who is working with us in this sphere of development," Van Moer tells us. "We are starting with dual fuel to be able to create more volume of hydrogen, and once the critical decrease has been reached to gain volume benefits, more filling stations and other infrastructure will be added. The dual-fuel technology is an ideal means to initiate the greener transition, while respecting an economically viable way of working."
June of 2021 saw CMB.TECH present its multimodal hydrogen refueling station in Antwerp, and also introduced its first hydrogen truck, which the company tested with Van Moer Logistics in December 2021. Thanks to its dual fuel technology, the truck has several advantages over other hydrogen trucks. The truck type has a longer range, is cheaper to buy and has no loss of cargo space on the trailer.
The dual fuel hydrogen truck can add hydrogen as a fuel in its converted diesel engine to consume less diesel and reduce CO2 by up to 80 percent. If necessary, the engine can also run completely on diesel, making it a flexible system and diesel use a secondary solution if required. In addition to CO2, NOX emissions are also reduced by up to 70 percent, but given the very ecological after-treatment on new diesel engines; this also results in a reduction in AdBlue (diesel exhaust fluid) consumption.
By using the existing diesel engine and drive train, the investment cost of this truck can be reduced to one third of an alternative zero-emission option. With a full tank of hydrogen, the truck has a range of 1,000 kilometres (km) and if necessary, the truck can continue to run on diesel for another 3,000 km.
After the test phase of 12 months, it will be determined how the technology developed by CMB.TECH can be further rolled out in the 500 truck Van Moer Logistics fleet.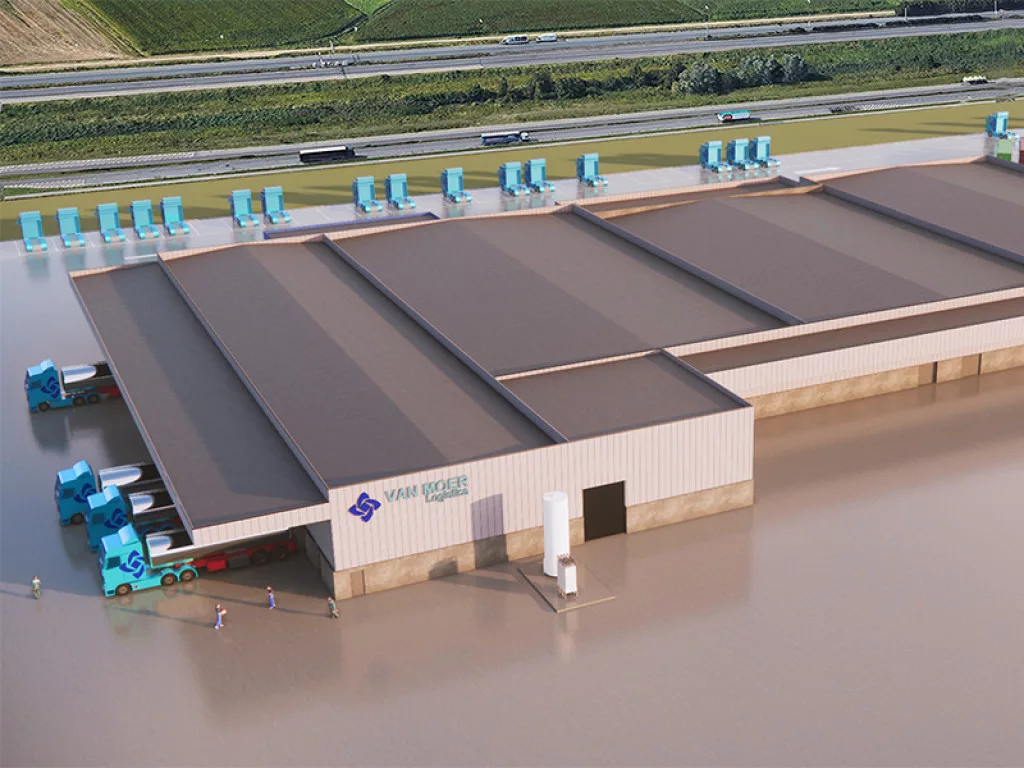 SCALING UP SOLUTIONS
Beyond the dual-fuel trucking solution, Van Moer Logistics is planning to grow through the expansion of its current sites and locations.
"Our ambition is also to continue to expand, not only through acquisitions but also through organic growth. To this end, we mainly listen to the needs of our customers. Currently, we are concentrating on further expansion of our 27 existing locations, including Belgium, Germany and Romania."
For example, at Van Moer Logistics's site in Zwijndrecht (Belgium), a BREEAM certified ADR (dangerous goods) warehouse with five filling lines is being built. The new complex of 7,500 m2 will be integrated within the company's current Seveso site.
"The ultramodern, fully automated filling lines have an annual capacity of 100,000 tonnes and will mainly repackage tank containers into drums or IBCs (intermediate bulk containers)," Van Moer tells us. "The filling installation was developed with the highest safety and environmental standards in mind and will handle hazardous, non-hazardous and strongly odorous chemicals.
"Work will start at the beginning of August with the aim of commissioning the filling facility in January 2023. The entire complex will be completed in April 2023 in order to further expand the adjacent storage activities."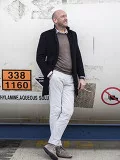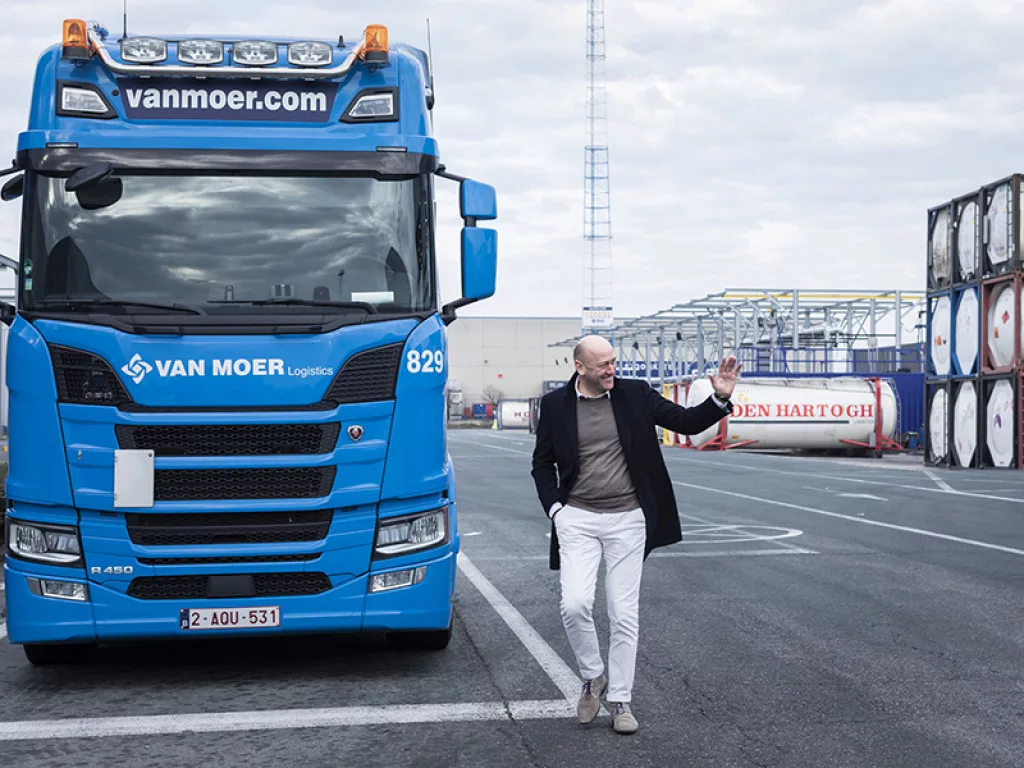 PREPARING FOR THE FUTURE
Van Moer Logistics recognises the importance of people and the communities that they operate within.
Earlier this year, the Van Moer Academy was launched. By centralising existing training initiatives, expanding them and looking for the right partners both in-house and externally, the company aims to commit to a culture of lifelong learning.
"The academy is there for blue-collar workers, white-collar workers and managers alike," Van Moer informs us. "The onboarding process and the guidance of new employees within Van Moer Logistics will also receive special attention. Extra people will be recruited to further develop the academy, and it is made up of a physical and online learning platform.
"We are increasing our driver coaching when it comes to safe and ecological driving through a monthly driving report, as well as ensuring that our drivers each have a personal development plan in place to make sure that they are aiming for their own personal goals in the company."
Moving ahead, Van Moer Logistics' focus is set on the aforementioned expansion of company infrastructure through acquisitions and growth. On top of this, sustainability remains a critical aspect of the present and future, with Van Moer Logistics aiming to streamline its operations in line with much-needed support towards environmental health and consideration.
OVER THREE DECADES OF LOGISTICS
Since childhood, Jo Van Moer had always been fascinated by industry vehicles, such as those used in his father's ground and demolition company. At the age of 18, Jo completed his technical training as a welder, and thereafter bought a few dilapidated trucks that he single-handedly converted into one solid vehicle. Van Moer was allowed to use them for a neighbouring transport company. However, securing the necessary return loads and earnings proved to be much more difficult than expected.
The turning point came when Jo met Anne Verstraeten, his future wife, in the Antwerp port area. Both soon formed a close couple and in 1990 they started working together on their careers in the transport sector. Using only a telephone, Anne looked for transport assignments which Jo carried out. Such a working method would now be business suicide, but almost three decades ago, this tactic still worked.
Unfortunately, it soon became apparent that the earnings did not correspond to the hard work that Anne and Jo invested in their transport company. At that tricky moment, Jo's father Hector Van Moer donated half of a 2.5-hectare industrial site in the Pas-de-Calais (France) to his two sons. Jo had a 3,400 m2 warehouse built on his land with the intention of renting it out. Anne wrote to companies in the Antwerp forwarding sector.
Almost immediately, the enterprising couple received positive reactions from interested companies who, because of the traffic congestion, wanted to locate their logistics activities just outside the overcrowded port area.
This was when the ball started rolling for the enterprising couple. In 1993, they opened a new warehouse in Temse (Belgium) of around 7,500 m2, and just three years later the very first warehouse in the port of Antwerp (Kallo) was a reality. Through the latter building, a train connection was built to facilitate the handling of large paper and steel trades.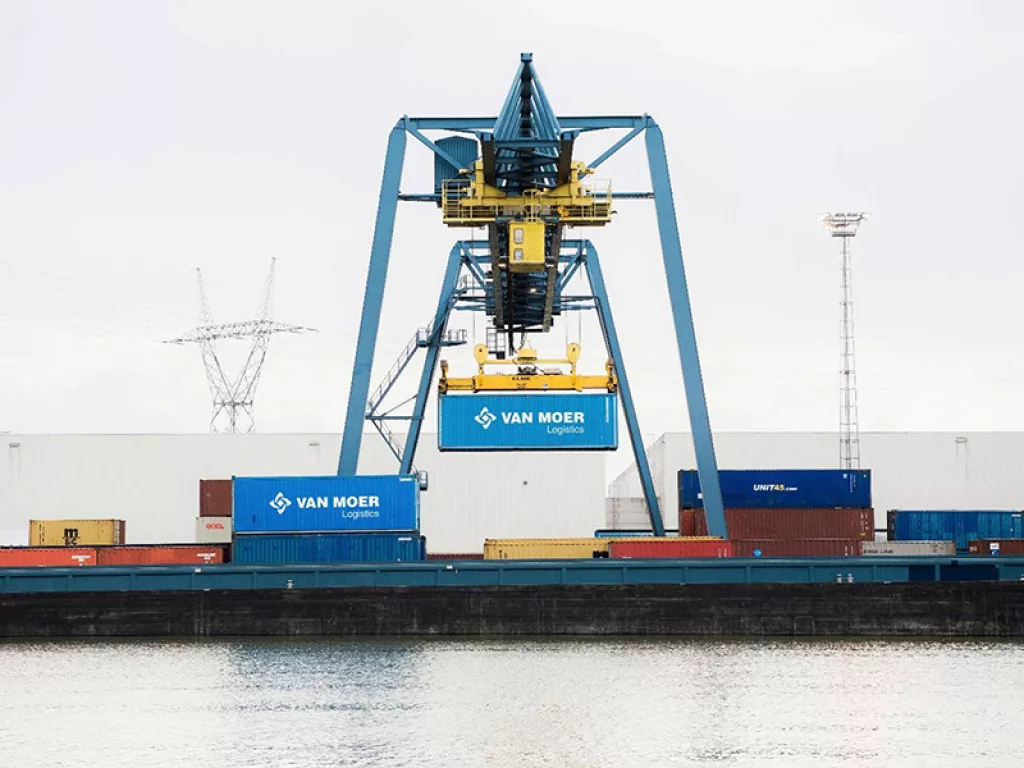 GLOBAL CHALLENGES
Through hard work and a dose of luck the company was saved, and the name Van Moer Logistics became known far beyond the Antwerp region. Thanks to strategic acquisitions of other transport companies, Van Moer Logistics' fleet numbered approximately 50 trucks.
For the young company, a successful time had begun; this was until the 2008 worldwide financial crisis erupted. At the same time, the brand-new head office in the Port of Antwerp, an investment of 25 million Euros, was put into operation. Orders fell by more than 40 percent, around 30 lorries were left idle on the company premises and warehousing activities came to a standstill – the economic crisis had arrived.
After the initial burst of growth, the company was in dire straits. The manager was at a loss what to do and considered all possible avenues.
After days and nights of careful consideration, Jo and Anne made a brave decision to gamble. They invested all their personal financial resources and sold their private house in an attempt to get the company back on its feet.
After a while, the tide slowly turned, volumes recovered somewhat, and Van Moer Logistics came through the crisis largely unscathed.
IN THE CLEAR
In 2011, intermodal activities took off thanks to the opening of the inland container terminal in the Brussels region and new storage facilities were opened in Antwerp and Ghent. The distribution department in Brussels was further developed.
With an additional acquisition, a shipping department was added to the Van Moer Logistics portfolio. As of 2012, the company experienced an annual growth of more than 10 percent. It was around this time that Jo decided to install a management team in order to further develop all activities.
In 2016, the logistics service provider noticed the impact of the enormous traffic load on society and the environment, and because of this, it switched to the next gear in the field of intermodal transport.
In addition to the already active container terminal region of Brussels, WeBarge was established as a subsidiary of Van Moer Logistics. WeBarge manages and operates inland waterway vessels to transport goods by water to their final destination. Today, WeBarge owns nine barges and five push boats. They sail on the axes Antwerp – Brussels, Antwerp – Grobbendonk, and Antwerp – Leuven.
In three decades Van Moer Logistics evolved from transporter to provider of all logistic activities.