When it comes to navigating the often-challenging European construction industry, Staticus has taken centre stage for providing long-term value for its clients, partners and society. We catch up with CEO, Ausra Vankeviciute, on smart building concepts and construction with an environmental conscience.
CONTRACTORS IN VIRTUOSITY
"For me personally, it's always been all about the architecture – the art behind it, the idea of knowing what cities are going to look like in the future, and how we can make an impact upon that. It's truly amazing and inspiring."
It was this original allure of the construction industry that enticed Aušra Vankeviciute, CEO of Staticus, to dive headfirst into the sector in which her family was already immersed.
From humble beginnings 20 years ago as a small family-owned enterprise, which Vankeviciute was born into, her current tenure and career to date can clearly be seen as a series of natural progressions for someone born and raised in such a construction-oriented environment.
"In general, it's very interesting to see what is happening in construction across Europe at present," she opens enthusiastically.
"Firstly, there was the chaos of the COVID-19 pandemic which brought challenges for the supply chain and required adjustments. Now, with the war in Ukraine, the European market has once again been affected by a shortage of materials and prices have continuously been raised, which has happened alongside the rising costs of the energy crisis, so there have been several major hurdles to overcome in recent years," she continues.
However, Vankeviciute remains optimistic despite these recent obstacles; "as Winston Churchill once said, never waste a good crisis!"
As a company, Staticus believes that this is the perfect time to bring about real change in the industry and improve on current issues such as sustainability. The belief is held that the entire construction sector must now all work together to find solutions for the long-term, in an industry that is forced to continuously shift and mutate in response to new challenges.
"Departing an era where most of the industry relies on Russia for gas, we can now embrace renewable energy, so we must dive deeper into using new technologies to decrease our carbon emissions in the construction industry. I find with all these new challenges we have been encountering, that it is vital to spot the opportunities and to remain optimistic about the bright future of the industry," offers Vankeviciute.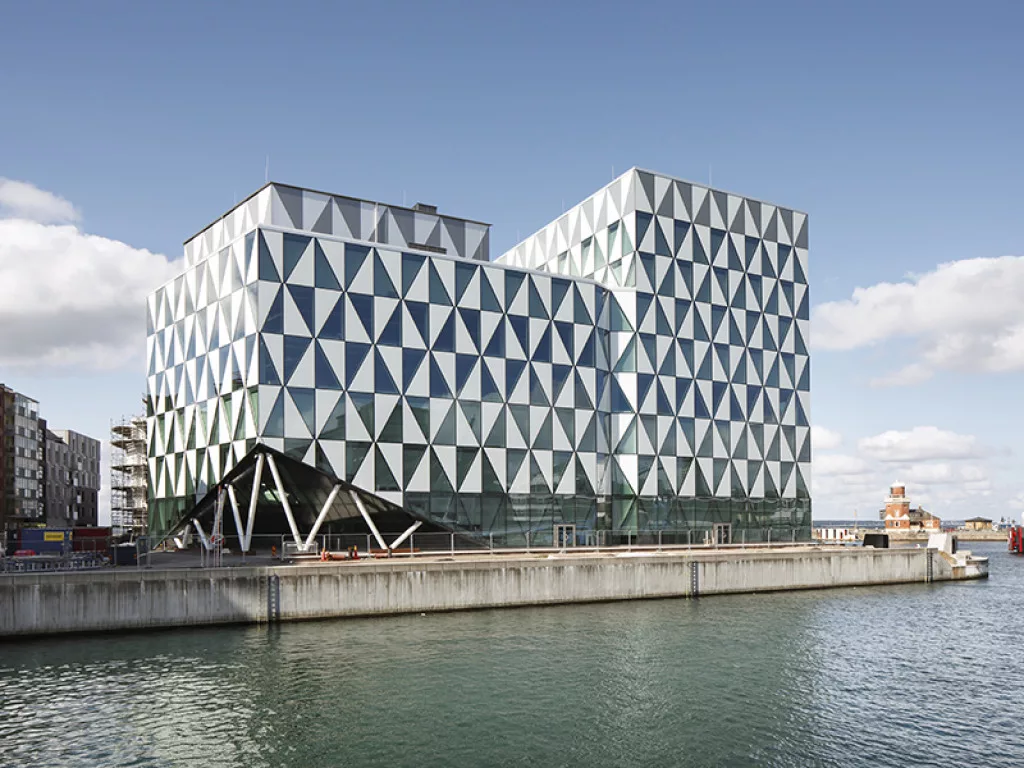 A FOUNDATION OF SAFETY
Through constantly developing processes, investment in R&D, and commitment to incorporating the very latest technologies, Staticus enables its clients to set new standards in aesthetics and sustainability with every project.
"We build lasting partnerships, and we ensure people always come first. We also understand what it takes to make partnerships work because we have spent 20 years building them.
"For us, long-term cooperation is always rooted in aligning different interests and knowing when and how to be flexible," says Vankeviciute.
Health and safety is the foundation of all work, culture and practices at Staticus.
"We never compromise when it comes to keeping our team, our partners, and the public safe. Respect and the continual pursuit of knowledge and excellence are also central to our culture," she adds.
It is through this cautious and effective methodology that Staticus has expertly carved out a solid industry standing as a leading façade contractor in Northern Europe, specialising in unitised curtain wall systems.
"We now leverage a wealth of experience and our strong competencies in innovation to deliver benchmark-setting projects that maximise long-term value for our clients and society," says Vankeviciute.
As a family-owned business that has grown and developed sustainably over a substantial period, the company understands the importance of having a long-term perspective, a key trait for securing longevity in the ultra-competitive construction industry.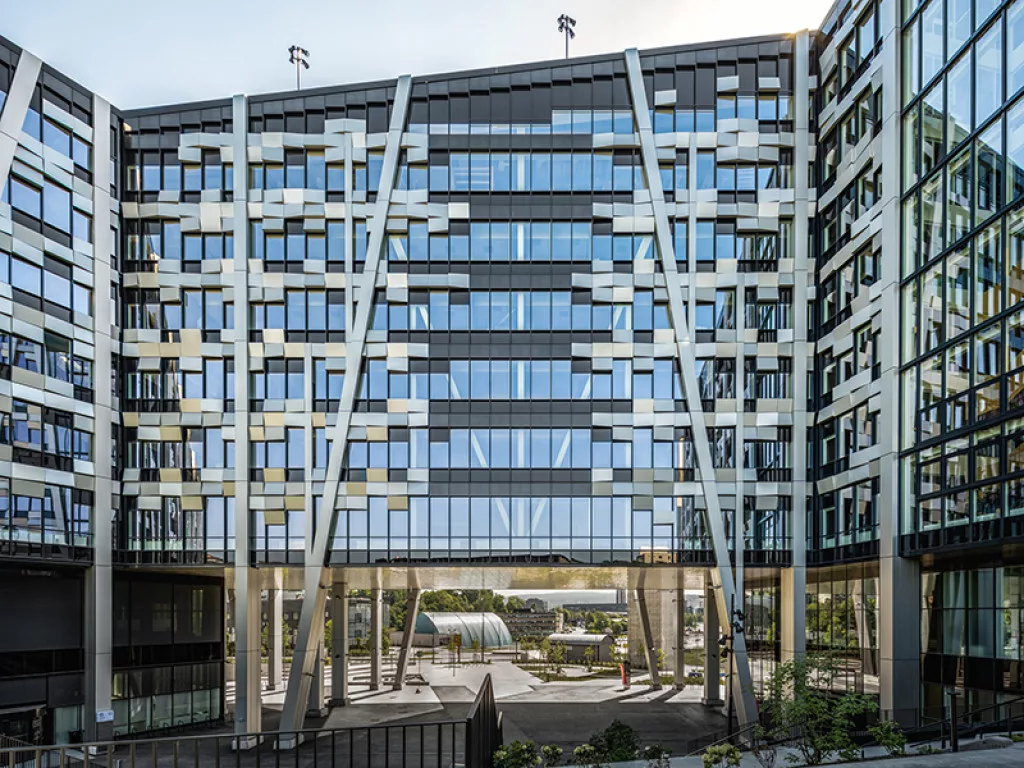 COMMITMENT TO EXCELLENCE
Staticus has made commitments to looking after and preserving the natural environment of the planet. The company's dedicated sustainability team oversees each individual project, assessing the carbon footprint of the façade's design and production.
"We totally commit to our partners, building close and collaborative relationships with the clients and suppliers we work with. This includes taking a proactive approach to each project we work on. Our experienced team provides early-stage interventions to ensure the best possible result in terms of architectural vision, performance, and sustainability," Vankeviciute adds.
Alongside this, the company's end-to-end value chain enables Staticus to implement genuine life cycle thinking. Furthermore, this is combined with the constantly improving environmental performance of the facilities and the plan to dedicate time and resources to developing lower-carbon façade technologies.
"Above all else, we also commit to people. We subscribe to the very highest standards of health and safety in the industry in order to keep our team, our partners, and the public safe. Our people-first culture within the company aims to create the conditions for every team member to develop and thrive," she describes.
Staticus has been consistently delivering innovative, high-quality façades for two decades now, and this long-term, safety-conscious and sustainably-minded approach is what enables the company to consistently win and implement such impressive and benchmark-setting projects.
"We now have a very strong track record across the Northern European market and have built a reputation for going the extra mile. We have also delivered the first ever project in the region to use Closed Cavity Façade technology. And, with our R&D team working on new innovations in Internet of Things (IoT) and hybrid façades, we aim to continue leading the way in the façade industry.
"Recently our building 'VIA vika', in Oslo has been shortlisted in two categories at the Façade 2022 Design and Engineering Awards. The winners will be announced on the third of November 2022, and this is already a huge win for the company," Vankeviciute acclaims.
ENHANCING THE STATICUS BRAND
The Staticus team and its slate of exciting developments continues to grow at record speed.
"We are currently focused on entering new markets, as this year saw the company secure its first projects in Denmark and Iceland. We are also continuing to roll out agile project management, on top of working on pioneering R&D projects, and there is a lot more happening even beyond this."
After last year's major drive on rebranding the business, Staticus has embraced a new visual identity.
"We realised that our visual branding and company identity wasn't keeping up with all these other key developments. It did not fit an innovative international company working on complex and cutting-edge projects, so needed upgrading," she adds.
With this in mind, Staticus has created a new visual identity that better represents the company as it exists today. This was of course completed with one condition – that it still reflected the reliability, high-quality standards, and, most importantly, a commitment to the long term, all of which remain key to the core brand values that Staticus has worked tirelessly to establish.
"Our new visual identity is fresh, employing clean elements to efficiently communicate how innovative and forward-thinking we are, while its timeless visual language also reflects our commitment to the long term, and to our partners."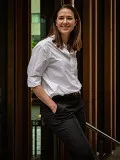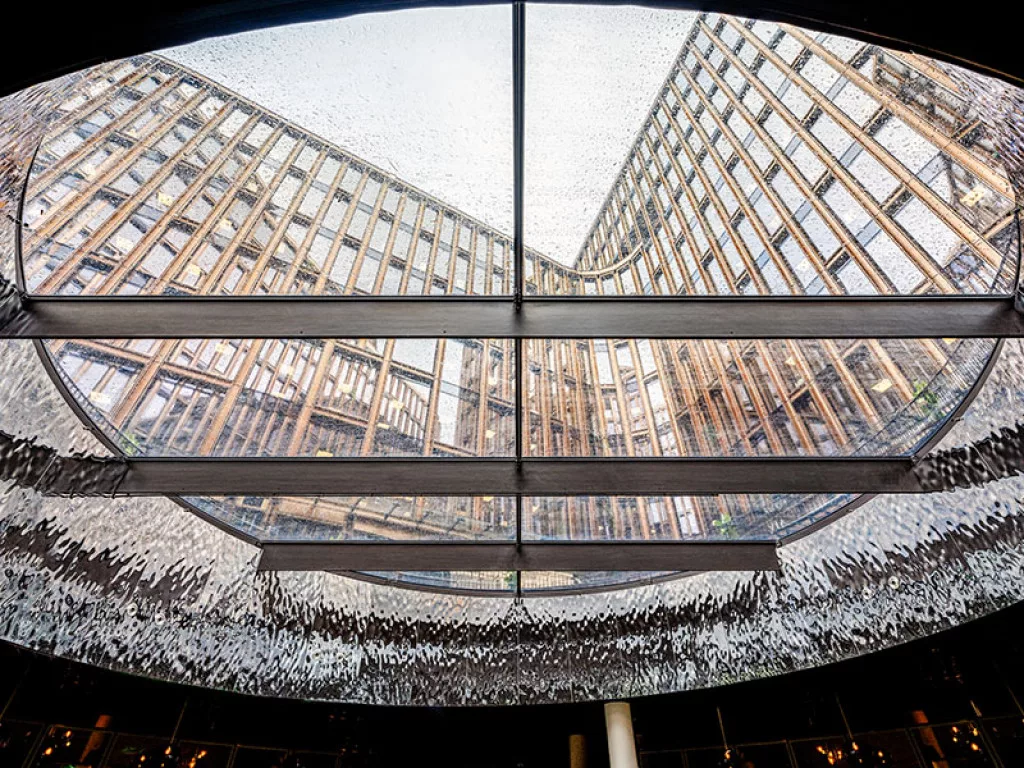 EXPANDING ACROSS THE CONTINENT
Staticus is a truly international company and continues to expand its presence both in terms of where its team is based, and which markets it operates in. Comprising more than 600 staff members, the company has delivered or is currently working on projects in seven different countries: Norway, Sweden, Denmark, Finland, the UK, Iceland, and Lithuania. This is in addition to Staticus' active operations in the Netherlands, Belgium and Luxembourg.
"Our international team has seven offices at present and our headquarters and production facilities are located in Vilnius, Lithuania, with our sustainability team based in Basel, Switzerland. We also have offices in London, Vienna, Kaunas, Oslo and Stockholm, and our team members come from all four corners of the European continent."
Creating a motivational work environment has been a key attribute to Staticus' ongoing success. In this way, working with non-traditional structures has helped to showcase the company's refined qualities of adaptation and innovation.
"We are hungry, open to new possibilities, and very transparent in our way of working. Our agility to introduce new technologies is a source of great pride for the company. We see ourselves as pragmatic visionaries with the ability to stay agile, unlike many traditional construction companies, and it's been a beautiful journey so far," concludes Vankeviciute triumphantly.