Sahem Azzam, Senior Vice President of Orange Business for the Middle East, Africa, and Turkey, highlights how the company's partnership with the Kingdom of Saudi Arabia's financial district spearheads smart urban development of the future.
OPTIMISING THE SMART CITY EXPERIENCE
As the enterprise division of telecommunications (telecoms) giant, Orange, Orange Business is an industry-leading network and digital integrator. Operating across 65 countries, Orange Business provides end-to-end services that are instrumental in transforming its customers' telecoms footprint.
In the last decade, Orange Business has been involved in the innovative next generation of city planning and digital infrastructure, materialising in the smart city projects that have been taking place in the Kingdom of Saudi Arabia (KSA) and the wider Middle East region for the last 10 years.
In the continuation of its transformative optimisation of developing cities, Orange Business recently joined forces with the King Abdullah Financial District Development & Management Company (KAFD DMC) to design, build, and run its Smart City Platform in the region's prime business district.
The agreement between the two industry trailblazers was signed in early September this year at a ceremony hosted in KAFD during a panel discussion, 'Secure, Smart, Sustainable: The Future of Smart Cities'. This sets the tone for the significant and vital impacts of the partnership between KAFD and Orange Business, as it steers urban development in the right direction.
"The Smart City Platform will be designed and built to integrate artificial intelligence (AI) and data analytics into existing KAFD digital infrastructure and will enable the district to optimise data and advance its smart city experience using new technologies," opens Sahem Azzam, Senior Vice President of Orange Business for the Middle East, Africa, and Turkey.
Orange Business will also provide a variety of highly comprehensive Digital Master Systems Integration services and manage its partner ecosystems by working alongside company experts on systems integration and new use cases.
The partnership between KAFD and Orange Business is a major step towards the creation of a future-proof and business-friendly hub in Riyadh, KSA's largest city. KAFD is the optimum location for the Smart City Platform due to its status as a world-class business district that is also one of the most sustainable.
By integrating AI and data analytics into existing business infrastructure, KAFD can become a global pioneer in smart urban development as it transitions to the next level of smart city evolution – the cognitive city.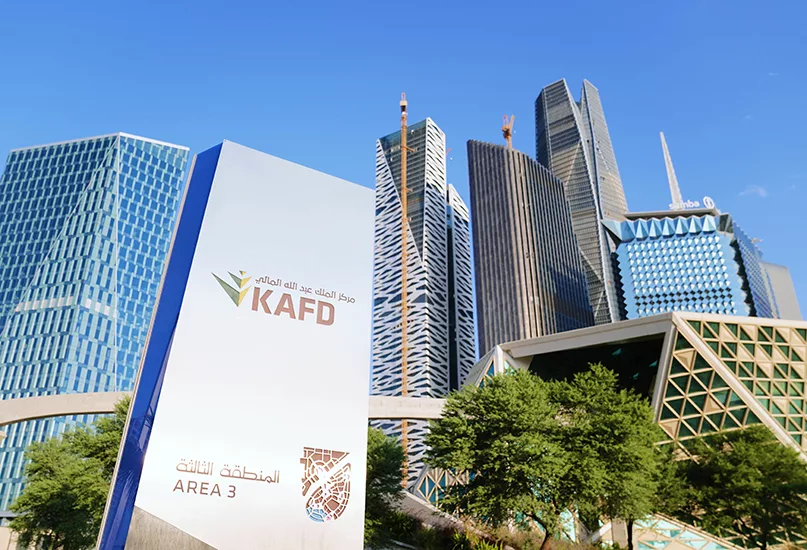 SMARTER URBAN DEVELOPMENT
As the rate of telecoms infrastructure rapidly advances, smart urban development is at the forefront of town planning and social development in some of the world's most digitally conscious countries.
The Orange Business Smart City Platform is heralded as a trailblazing strategy, thanks to its compatibility with a wide range of systems and technologies that encompasses data management; descriptive, predictive, and prescriptive data analytics; and governance.
"AI-related use cases will include geolocation-based sentiment analysis of social media; analysing, collating, and sharing contextual data in areas ranging from water supply to traffic situation awareness; and energy optimisation across commercial office buildings," Azzam explains.
Evidently, the Smart City Platform will permeate every aspect of business development, from the most significant forms of data management to controlling office lights. Therefore, the partnership helps facilitate a high-quality urban environment and advances lifestyles not only for businesses in the district, but also residents and visitors.
The Smart City Platform falls in line with the Quality of Life Programme which is spearheading the government's Saudi Vision 2030, the impacts of which can be felt far and wide as it aims to enhance the liveability and competitiveness of KSA's cities.
As part of the programme's socio-economic impacts, smart city urban development will have many positive impacts on KAFD's environmental footprint, a district that was already considered one of the world's most sustainable business hubs.
Through the collection of data and by leveraging AI and analytics, the Orange Business Smart City Platform will help provide deeper user insights as a basis for new use cases, revenue streams, and innovative services for the city's population.
"It will also optimise city operations – making them better, faster, and safer," Azzam concludes.