Drydocks World has worked relentlessly to establish itself as a leading provider of marine and offshore services to the shipping, oil and gas and energy sectors. We delve deeper into the key to success and the exciting future of the company with CEO, Captain Rado Antolovic.
INTRODUCTION
Drydocks World provides unrivalled shipbuilding and repair services, as well as expert ship maintenance, rig building, refurbishment, and offshore fabrication services from its industry leading facilities in Dubai, UAE.
Conceived as an ambitious project under the guidance of H.H. Sheikh Rashid Bin Saeed Al Maktoum, the late ruler of Dubai, the yard has grown spectacularly over the past 40 years.
Q&A WITH CAPTAIN RADO ANTOLOVIC, CEO, DRYDOCKS WORLD.
Could you briefly introduce us to Drydocks World?
Rado Antolovic, CEO (RA): Strategically located in Dubai, a rapidly developing region of the world, we have been able to take advantage of the Emirates' political and economic stability to grow our reputation as a reliable, cost-efficient one-stop shop solution for our customers. On average, we complete over 300 projects a year, with a record of handling 42 refurbishment projects simultaneously. Located next to Dubai's Port Rashed, our yard is spread over 200 hectares, and includes three dry docks, one wet and dry basin for docking small vessels and a floating dock, as well as more than 3,700 metres of berth space. It also boasts an in-house-built floating crane, which can lift 2,000 metric tonnes, including the weight of lifting gear for all types of heavy lift operations.
Our workforce can only be described as a beehive: we currently employ 9,000 employees. As we are constantly looking for the best possible talent, we also employ over 3,000 subcontractor personnel – making our total workforce of 12,000 some of the best talent in the industry. Our specialised project management team, comprised of marine engineers, naval architects, and ex-classification society surveyors, have the expertise and training to deliver projects on time and service clients locally and globally. This comes in handy, as our clientele is truly global, spanning from the Middle East and Europe to South America, Africa, and Asia. Aside from the retrofitting, new-build, and conversion services that we offer at our yard – including complete solutions for fabrication of offshore projects, turret systems, modules and specialised vessels – we're able to provide global offshore services at short notice at any location.
These facilities have allowed us to break records in constructing some of the largest new build offshore fabrications in the world. But we also know that while reputation is hard won, it's also not easy to keep. That's why we aim to consistently deliver excellence and position ourselves as an international yard of choice by constantly upgrading our facilities and investing in expanding our capabilities. Overall, we like to think of ourselves as a piece of the UAE maritime industry's success story.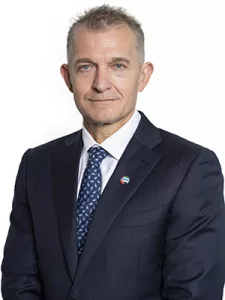 What is your take on the shipping industry in Europe at the moment?
RA: Europe's trade development is deeply intertwined with shipping, and it remains central to the region's economic outlook today. Whether that's making use of the rivers that run through the region or its access to trade-prone seas such as the North and Mediterranean basins, its economy lives and breathes trade. In terms of trends, I've identified two that will affect the rest of the global shipping industry in some capacity – the turn towards "green" shipping, and geopolitical energy strategy protection, or the shortening of the energy supply chain, further concentrating trade within the region. Both these trends are full of opportunity for private businesses to innovate, so it's a space we're excited to see grow and develop.
What are the most challenging elements of the business and how are you overcoming them?
RA: The main challenge in the industry and for our own business is meeting the increase in demand for our services post-pandemic. However, to pre-empt these capacity pinch points, we have been investing to expand and upgrade our yard's facilities for years so we're confident that we will be able to navigate these headwinds. Our South Yard expansion has been one of the recent developments which will increase our fabrication capacity area by 70,000 square metres, which is set to add one more load out facility in the yard.
We have also made sizable investments in equipment including recent purchases of new cranes, as well as hydro blasting and other equipment, to increase our efficiencies.
Alongside our hardware upgrades, we are also in the process of implementing a new state of the art Internet of Things (IoT) system that will help us streamline our production and project management planning and execution to avoid capacity congestion. The aim of our digital transformation journey is to digitalise the existing processes that are currently being done manually, to increase productivity, optimise costs, enhance staff performance, and provide real-time data for immediate business decision making.
Are there any ongoing or recent projects that the company is particularly excited about?
RA: There are several projects we are excited about, including our own business transformation and work we are undertaking for our valued customers.
We are set to begin work on upgrading the Petrojarl Knarr floating production storage and offloading (FPSO) vessel for deployment at the Rosebank field offshore of the UK. The contract is a joint venture with Aker Solutions, and under the agreement, we'll be responsible for the construction and life extension of the FPSO vessel, which will operate for 25 years at the Rosebank field without drydocking.
Among our FPSO and FSO conversions, we are working on a few retrofitting and upgrading projects with various sustainable technologies. The FPSO Firenze is getting ready to sail away from our yard, set to operate in the Baleine Field, off Ivory Coast. This major renovation project was a huge undertaking by the Drydocks team and had crossed four million Lost Time Injury (LTI) free manhours by January 2023.
Our contract with Malaysian FPSO specialist Yinson in 2022 to upgrade, refurbish and convert a vessel due to be deployed at Enauta's Atlanta field offshore Brazil is another one we're proud of, as it is truly symbolic of our global reach and our growing importance for customers around the world.
Last year, we also signed a contract with Norway-based Kanfa to deliver a topside module for a floating production storage and offloading vessel, scheduled for delivery in Q2 2023. The module will be used to process crude oil received from oil wells and will be placed on the main deck of the FPSO.
On the business transformation side of our work, we're looking to expand our capabilities in the maritime energy construction sector. To echo DP World, our parent company, the international maritime and energy sectors need smart, integrated solutions to ensure sustainable production and to successfully transition equipment and vessels for the future.
What differentiates your company from the competition?
RA: Drydocks World's unique value proposition is a result of a mix of factors, including our service offering matrix, our strategic location in the UAE, and our standard for excellence. We are constantly investing in increasing our yard capacity and upgrading our technology to better service our customers, which, coupled with an ever-expanding range of services offered, make us uniquely placed to handle even the most bespoke requests.
Being located in Dubai, and part of the DP World portfolio of companies is also a huge advantage for us. Not only is the UAE's strategic location connecting us with the rest of the world through important trade routes, but Dubai is also renowned for being an economically, politically, and socially stable country. This means that we're able to work on projects that take multiple months to complete without interference.
Lastly, our reputation precedes us. We are known in the industry for our punctuality, standard of excellence, and thoroughness. This is our business card in the industry and is one that we take great pride in, but we also know that without our people's talent, our restless drive to innovate, and our ambition to expand into more areas of the market, we wouldn't be where we are today.
What does the next year look like for the company?
RA: The industry at large may face some headwinds in the next 12 months, but I'm excited about the opportunities that lie ahead. We're expanding our yard, investing in new technologies to grow our service offering, and working with new clients to venture into new markets.