Combining the community and environment, Entropic exists as an architectural practice promoting urban ecology. We speak to Geoffrey Eberle, co-founder of the company, to learn more.
REDEFINING URBAN SPACE
Operating predominantly across northern Europe and the Middle Eastern markets, Entropic exists as a practice that works on the urban architectural stage.
Entropic is committed towards reimagining the built environment with a focus towards liveability, contemporary challenges, and architectural innovation, with its multi-disciplinary team consisting of architects, urbanists and engineers. Entropic's Barcelona studio works within both the local and global markets, and the firm believes that engaging the urban challenges of one city can help inspire new solutions for others.
"We are a small office but collaborate with many companies," Geoffrey Eberle, co-founder of Entropic, begins. "Typically, clients and collaborators work with us for projects that require something unique, or have a strong vision, but are yet to be formulated into a coherent and exciting design.
"For some, our best value is unlocking potential investors for a large-scale project that needs an extra push, for others it is helping to deliver a dream home, intrinsically linked to a client's lifestyle and philosophy."
Entropic works on a variety of building typologies, maintaining the firm's diverse, fresh and innovative drive towards architecture. Moving from project to project, Entropic combines its collective knowledge and experience to better its future work.
"Our mission is to unlock freedom and activity through design innovation," Eberle tells us. "Much of our cities today are based on outdated presuppositions on what a building or city should be and should do, rather than examining the challenges and opportunities that our changing world is facing.
"Our cities have previously been a reflection of how cultures have operated economically, socially and culturally, but the speed in which our world has changed, with the digital revolution, changing temperatures, rising sea levels and soon the advent of automated vehicles, many cities are faced with either forced ad-hoc transformation, or due to inadaptability, gradual decline. There are many current issues that need addressing, and instead of thinking about design as a fulfilment of expectations or a basic aesthetic endeavour, Entropic looks for where to re-challenge norms, find the potential space where others have not and bringing new optimism to our built environment."
This progressive and environmentally focused mission is reflected in the company's many projects; the Nature Gate exemplifies this, as Eberle explains. "Entropic's 'The Nature Gate' was an experiment project into how we could organise a kindergarten and library compactly on a sensitive site in rural Poland. Several aspects stand out; rather than placing the playground on the ground floor, children have the entire roof space for recreation.
"This move offered not only the chance to create the coolest play space in the city, but also to prevent intervention and damage to the existing forest. We then created a gateway between the buildings to the forest creating exciting internal spaces forming a sloped gymnasium and an auditorium. The project is entirely designed in wood, radically reducing the carbon footprint, whilst effortlessly merging into the forest behind."
The Floating Gardens project is a storm surge protective infrastructural response in Vejle, Denmark, that safeguards the city from rising sea levels, whilst providing a series of public gardens activating the city's waterfront. The rising seawater level challenges Vejle's existing harbour edges. By the late evening, storms that could raise sea levels to elevations of up to two and a half metres will disable the entire port area and parts of downtown with flooding.
Entropic's vision proposes the landscaping solution made of inland and floating islands designed to secure the coast to an elevation of three metres. Since the project is completely conceived to be floating, the water edge condition, ideal for jumping in and out of the water, is maintained consistently, regardless of sea-level height.
On top of this, Entropic's Bergen Innovation City project reimagined what a new technologically oriented Norwegian district could be for both the inhabitants and the city at large.
"We imagined a highly sustainable timber city where streets would be carved by the flows of a natural stream and green spaces would be maximised," Eberle says. "The city would feature a bridge accompanied by unique public spaces in the centre of the river for citizens to enjoy Bergen's incredible sunsets over the sea.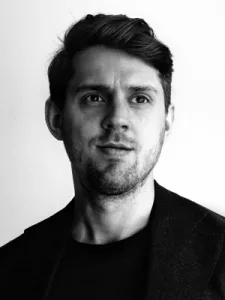 "Each building celebrates a unique theme, such as facades that allow the public to climb to the top to enjoy views over the city, to residential apartment blocks with urban farming allotments, and a renovated factory into a flexible co-work village."
Continuing its progressive architectural works into this relatively fresh decade, Entropic is currently exploring the potential of developing unique bespoke façade elements with 3D printing. The company's goal is to bring ecological potential to standard building systems in order to give rise to cities which are greener, more protective for endangered species, and promote a promisingly sustainable future for urban areas.