We sit down with the executive team at CIS Group, whose integrated services and solutions strive to improve on-site comfort and wellbeing.
LOCAL ENTITIES, INTERNATIONAL STANDARDS
A single point of contact for tailor-made solutions on the African continent.
Since 1992, this has been the defining role of CIS Group (CIS). Constantly adapting to the most isolated environments, CIS has supported the remote offshore and onshore projects of major players in the fields of energy, mining, construction, and the armed forces for three decades.
With a total of 290 operating sites and 15,000 employees, CIS' subsidiaries support extreme zone operations in 19 countries worldwide, 14 of which are in Africa, where it has been present for more than 28 years.
From large-scale mining projects in Mauritania to operations in the Katanga jungle, from oil platforms in the Democratic Republic of the Congo (DRC) to oilfields in the Algerian desert, the group's local companies are dedicated to providing quality, international-standard services to its clients.
Isolation, fast-paced work, and crowded conditions can compromise and complicate on-site lifestyles and living environments; as such, improving the quality of life for people on-site is CIS' ambition for all four corners of Africa and the rest of the world.
52 percent of CIS' revenue was generated in Africa in 2021, with more than 26 million meals provided across the continent. Catering has been the core business of CIS from the very beginning, around which it has developed smart, innovative solutions for remote sites.
Bringing turnkey solutions to clients to optimise daily on-site management and improve the quality of life of residents, CIS optimises the supply chain and guarantees best practices in food safety.
"On-site mealtimes are convivial in their own right, and our chefs are the masters of this," acclaims Eugène Badji, Executive Chef within CIS since 2006.
CIS' catering teams do everything possible to develop recipes that combine conviviality, culinary expertise and nutritional balance, while respecting eating habits and customs as well as international quality standards.
Working closely with clients to develop menus that are adapted to their residents, the chefs at CIS also prepare traditional dishes every month or during dedicated events, whilst through its health4you nutritional programme and colour-coding system, the group promotes balanced, healthy diets on-site.
"On-site mealtimes are convivial in their own right, and our chefs are the masters of this"

Ibrahim Kalilou, Director, CIS Niger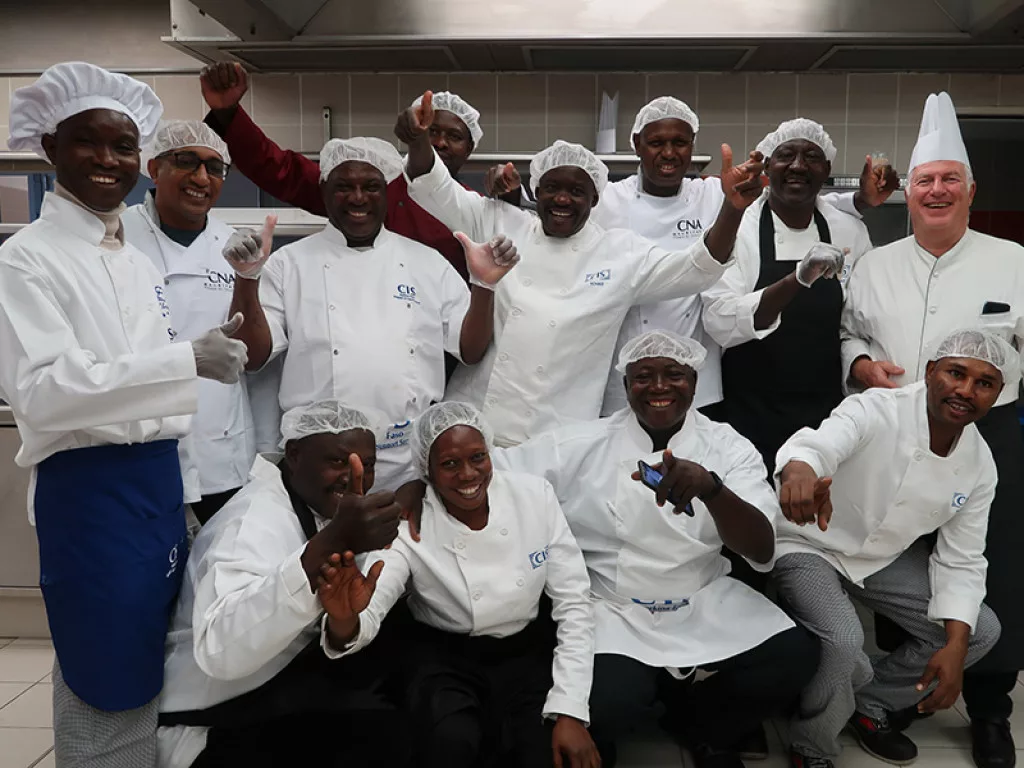 FIGHT AGAINST FOOD WASTE
CIS addresses the environmental footprint that can arise from introducing community projects, through multiple initiatives and by encouraging conservation as part of a sustainable strategy.
"CIS deploys a connected scale solution through food waste monitoring, to limit food waste and better manage our kitchens," says CIS Managing Director, Yannick Morillon.
"Out of a total of six scales installed on our sites, CIS was able to avoid 42 tonnes of food waste in 2021, the equivalent of 79,000 meals! With organisation, good tools and good products, you can perform miracles."
Together with real expertise in accommodation services and facility and utility management, such as water/wastewater treatment and multi-technical maintenance, the safety and comfort of residents is secured, as is the performance of on-site equipment.
CIS, whose activities in Eritrea are carried out at an isolated site on the Dahlak Archipelago, is a true showcase of the group's full catering and facility management expertise.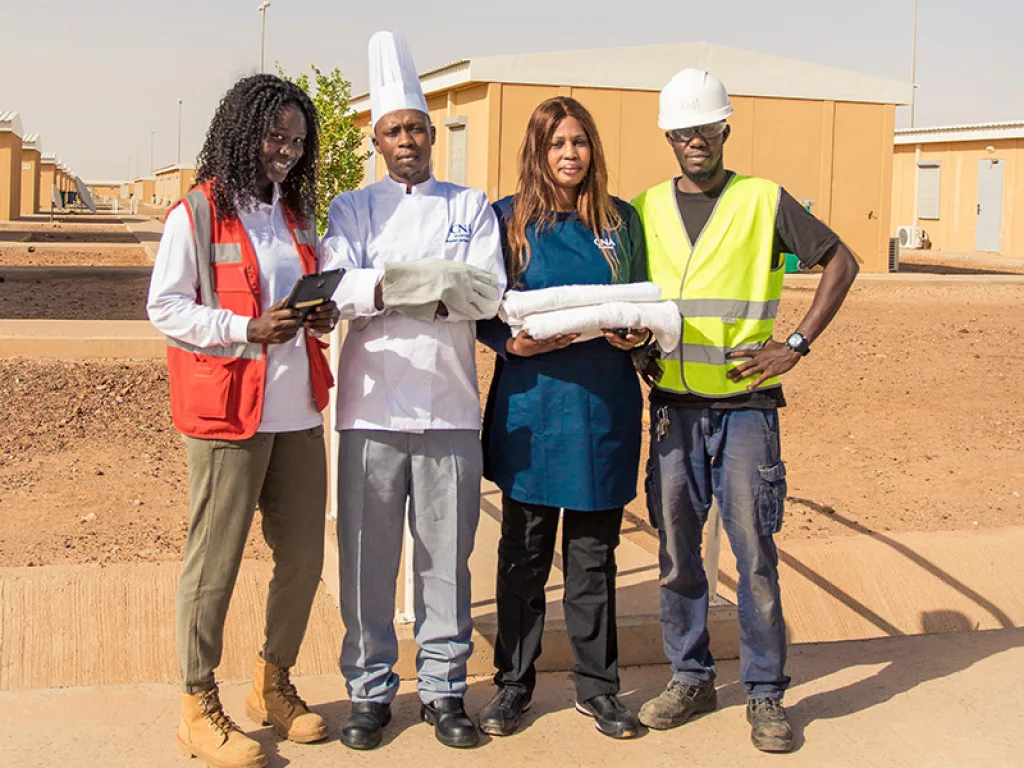 OPERATIONAL EXCELLENCE
Because CIS plays a central role in the wellbeing of thousands of workers around the world, the group is committed to operational excellence for all customers.
Health and safety is a fundamental principle for CIS, and the continuous pursuit of 'zero incidents' is therefore a top priority.
2021 saw CIS Chad celebrate a record 16 years without a lost time injury (LTI) at the Komé 5 site, with more than 13.8 million hours of work completed without an LTI.
CIS' Mauritanian subsidiary also recently celebrated 10 million hours without an LTI in April 2022, thanks to the commitment of its teams to limit the risk of accidents.
INNOVATION AT THE HEART OF CIS' STRATEGY
Through its Innovation Committee, CIS integrates technological developments into its services to anticipate future needs and bring added value to its operations.
"The growth of CIS is based on our capacity for innovation, anticipation, and adaptation to the future needs of our customers and residents," notes Morillon.
It is CIS' range of value-added services that differentiates the group, as it seeks to improve on-site quality of life, work with customers and partners on the living environment of the future, anticipate the energy transition, and reduce its environmental footprint.
Around its core business of catering and facility management, CIS has developed smart4you, a complete range of smart solutions to bring comfort and safety to residents, and contribute to the performance of customers through the daily management of their sites.
"The solutions implemented by the group are based on the smart4you brand, which is built around the four pillars essential to life on-site: safety, wellbeing, monitoring, and performance."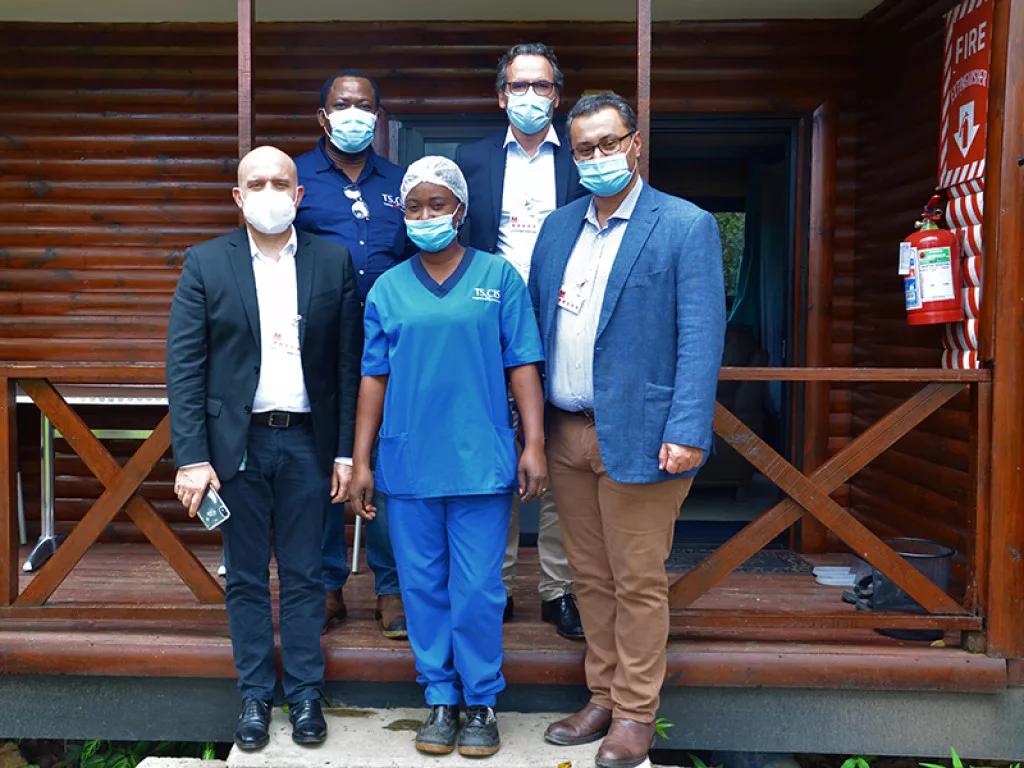 LOCAL CONTENT
As CIS is usually one of the first organisations to establish a presence in the vicinity of major new industrial projects, the group always pays particular attention to the local area in all operations.
CIS is committed to sustainable development, and has put in place policies and actions to advance the socio-economic and environmental prospects of local populations.
Over the years, CIS has been able to develop its operations in the DRC and diversify its client base. The DRC is the second-largest country on the African continent and is rich in natural resources, which is why it is considered by the group as having strategic importance and great potential.
"In 2021, CIS' subsidiaries in DRC had more than 500 employees and 17 operations," Andreas Michelis, Director of Subsidiaries in Congo, tells us.
By promoting local employment, CIS further contributes to local economic development in its countries of operation in Africa. Over the past ten years, a policy of nationalising management positions has been implemented, enabling the group to achieve a 99 percent local employment rate.
In Chad, for instance, all management positions have been nationalised and all staff dedicated to the operations of CIS client, EEPCI (ExxonMobil), are Chadian nationals.
"Today, more than 99 percent of our staff are Chadian, and there is real pride in seeing compatriots hold management positions and deliver both qualitative and quantitative performance," states Haroun Yaya Sabre, HR Director of CIS' Chadian subsidiary.
Training is also an essential tool for enhancing skills, enabling employees to improve their abilities, adapt to change, and foster their professional development. Last year, 71,000 hours of training was provided within CIS, up from 54,000 in 2020.
In addition, 11 African chefs from Chad, Mali, Burkina Faso, Mauritania and Senegal took part in a unique training course in France in 2019 with an experienced chef.
"This is a real opportunity for the evolution of the skills of our chefs in terms of culinary techniques, food safety and brigade management.
"Significant training programmes have enabled nationals to reach the management positions they hold today. I am an example of this, after 18 years with CIS Chad," Sabre adds.
To improve employees' learning capabilities, CIS is implementing a virtual reality training project in its kitchens that will be gradually rolled out to its African subsidiaries in 2022-23.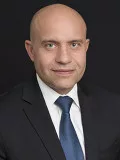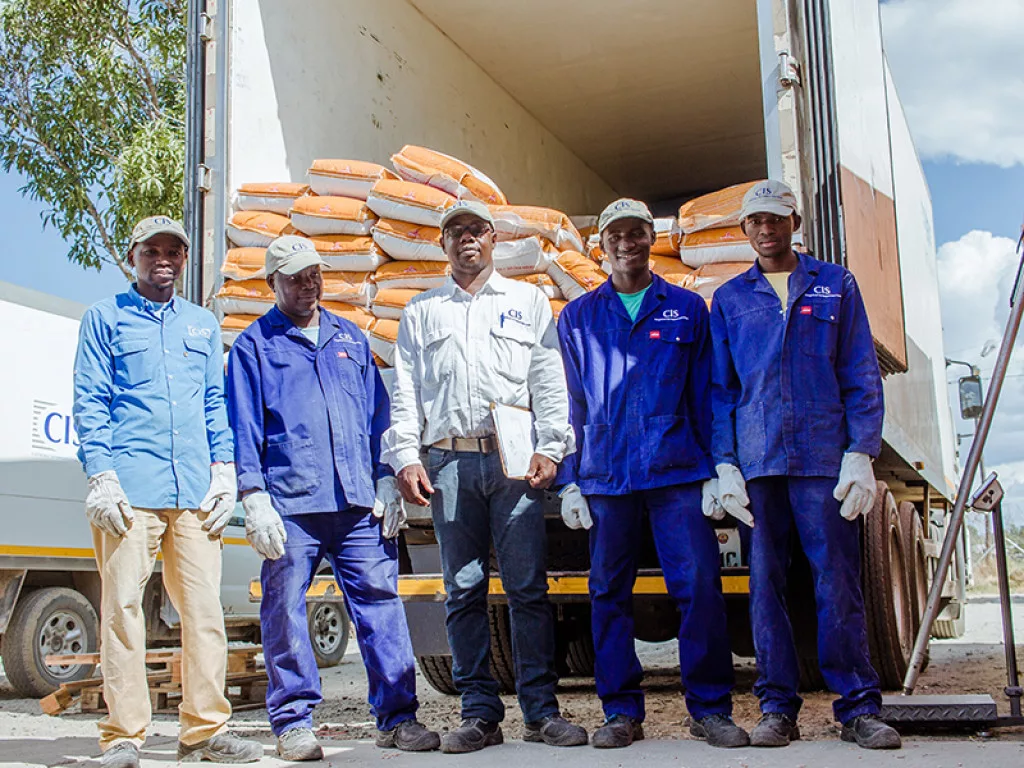 SOCIAL PROJECTS
Complementary to this, CIS is supporting local agricultural production by developing partnerships with local suppliers and creating cooperatives with local farmers.
In 2021, at the group's Tasiast site in Mauritania where it has been operating continuously for a decade, two thirds of purchases were made with local suppliers.
"Our Mauritanian subsidiary in particular obtains local flour from Grands Moulins de Mauritanie, and most of its meat comes from Mauritanian livestock (sheep and camels)," shares Morillon.
In Burkina Faso, meanwhile, CIS supports an agricultural farm that produces vegetables without pesticides or chemical fertilisers, purchasing 4,000 chickens per month from a local family business. Agricultural groups are likewise supported by CIS in Mali, where the group incidentally contributed to a spraying campaign against Malaria in more than 10 villages in the town of Yanfolila.
An agricultural programme has also been set up in the industrial Arlit region of Niger, with a direct economic impact on the employment of 50 women and indirectly affecting more than 1,000 Nigeriens in the area, where a drip irrigation system has been installed to limit water consumption.
"Since September 2021, our Algerian subsidiary, Cieptal, has been implementing a local fruit and vegetable direct-to-farmer project where 45 tonnes of local fresh fruit and vegetables are delivered twice a week, stored in a new warehouse in Algiers, and then transported to the site," Morillon continues.
"Without intermediaries, Cieptal can better control the supply chain, as well as the quality and freshness of the goods to the satisfaction of its customers.
"Finally, the Mozambique First project encompasses all aspects of CIS' local content and sustainable development initiatives in Mozambique. In order to be fully integrated in each country, we work in close collaboration with national and regional authorities, as well as with local entities, and encourage the employment of citizens from the populated areas near the project," reveals CIS Mozambique Site Manager, Sérgio Moreira.
CIS' sustainable development programme, 'A Brighter Future', was launched in 2018 in Chad, through which the group carries out social projects each year in villages close to its operating sites.
Support for orphanages, donations, village electrification, access to drinking water – the list of social actions goes on, carried out with the sole aim of improving the standard of living in local populations.
"CIS participates in many community support efforts through sponsorships and other means. We are particularly committed to helping the most disadvantaged, and finances and supports orphanages in Burkina Faso, Chad, Congo and Niger," Morillon confirms.
"In Burkina Faso, CIS purchases soap from a women's association, allowing them to benefit from a monthly income. Last year, the group also helped to finance a soccer tournament in Darou Fall, Senegal to strengthen peace and social cohesion in the village.
Social and environmental concerns in the context of CIS' activities, and relations with stakeholders, have always been at the heart of the group's priorities.
It is up to CIS to intensify this virtuous model, which will also enable the emergence of new drivers of sustainable growth.