Andy Gatesy, CEO and Chairman of Toly Group, tells us about the company's origins beginning with his father, and the people-centric nature of the business that has not changed to this day.
50 YEARS IN BEAUTY
We are in the beauty industry, leading with quality, innovation and family at heart – that's our makeup."
In 1956, a Hungarian man by the name of Dr. Zoli Gatesy left his country of birth for the UK.
A toolmaker by trade, Zoli's entrepreneurial spirit led him to establish a toolmaking and injection moulding business 10 years later. While looking for suitable manufacturing locations he turned his attention to Malta, where he founded Toly Products in 1971; the foundation of an internationally spanning business that exists today.
For Toly Group (Toly), the wholesome family core of the company has not changed since its infancy, but rather grown with the mantle of leadership having been taken up by Zoli's son, Andy Gatesy, in 1991 – a position that he still holds. As the current CEO and Chairman of the group, Gatesy has – and continues to – carry these family values, ensuring that they exist throughout the business.
"We are celebrating 50 years in Malta this year, it's quite the milestone!" Gatesy announces proudly. "Our heritage stems from the production of compacts for products like face powders, blushers and eyeshadows; that's how it started. But all these decades later we are able to offer packaging solutions across the whole makeup category as well as those classic products we started with.
"Through our wide network of partners, we have the ability to offer complementary technologies in the beauty space, such as custom fragrance caps and skincare packs, and we have built our business serving the large legacy brands across the industry."
FROM HUMBLE BEGINNINGS TO A GLOBAL LEADER
Toly remains a privately owned company with a continuous focus on the beauty industry, and one that has expanded internationally in recent years, consequently diversifying its product base to include makeup, skincare, fragrance and promotional packaging. Toly's services also include Toly Research, Toly Design Studio, manufacturing and a full-service solution designated to speed-to-market, ultimately giving each Toly customer a unique experience.
"In 1990, Toly was approached by a large legacy brand – Chanel – to invest in a new plastic coating technology for a high gloss resistant surface," Gatesy says. "Originally, we were a good manufacturer with a competitive advantage and great quality, but we didn't have state-of-the-art technology at the time. This investment and partnership with Chanel really changed our business; it was a real turning point in our company history."
And for Gatesy, Toly's history means more than just the development of a company, it is the legacy of a dedicated founder and father.
"Unfortunately, my dad passed away in 1991," Gatesy reflects. "I took over as CEO and Chairman at 27 years old; I was young and at the head of a company during a critical growth period. We were at around the six-million-euro mark when it came to business value, but over time we have grown, our team has worked hard and two years ago we reached the 100-million-euro mark working with 29 out of 30 top beauty brands worldwide.
"We are very proud to have moved forward so successfully while retaining the values that my father laid down since Toly's beginning."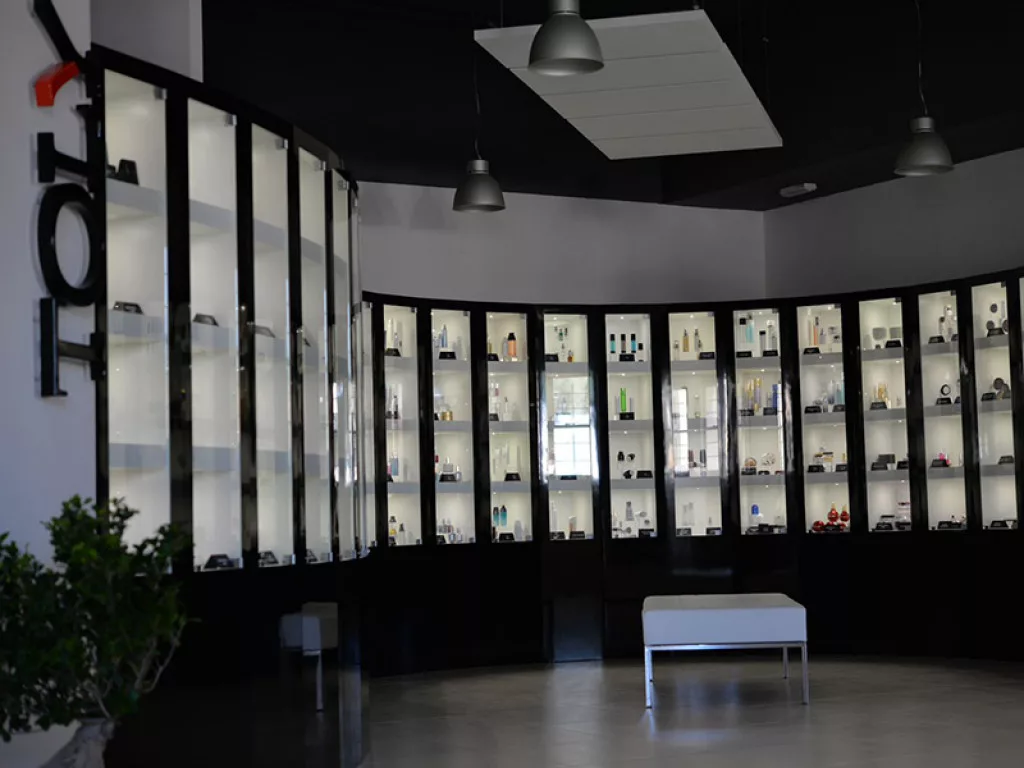 STAFF-CENTRIC BUSINESS
Despite the overall success of Toly, the past two years has been a challenge for the company, and indeed the wider sector. By the nature of its business in the beauty industry – one that focuses on marketing image and presence – the worldwide impact stemming from the COVID-19 pandemic has been substantial.
"Over the course of the pandemic it was fragrances and cosmetics that were most impacted," Gatesy explains. "If you think about it, the reason is quite simple. People wear makeup and dress up when they head out to the office, or to a party, or out for dinner, and when people were stuck at home during lockdown these activities became non-existent for the most part.
"Face masks didn't help either, covering half of the face, especially as wearing less makeup was better for mask cleanliness. Last year our business was impacted around 17 percent top line, and to combat the decline caused by COVID-19 we worked together. Everybody at Toly, from management down, made salary sacrifices, and brought these back up to 100 percent over time."
By doing so, Toly protected the employment of its staff and kept its people safe. For Gatesy, the company's manufacturing plants in Asia provided the business with the advantage of foresight.
"Our plants in Asia were hit by the impacts of the pandemic first, so we were able to learn and adapt early on and apply these teachings throughout the company as COVID-19 spread internationally," he tells us.
"We are driven by our core values that are simple: people, passion, pride and creativity"

Andy Gatesy, CEO and Chairman, Toly Group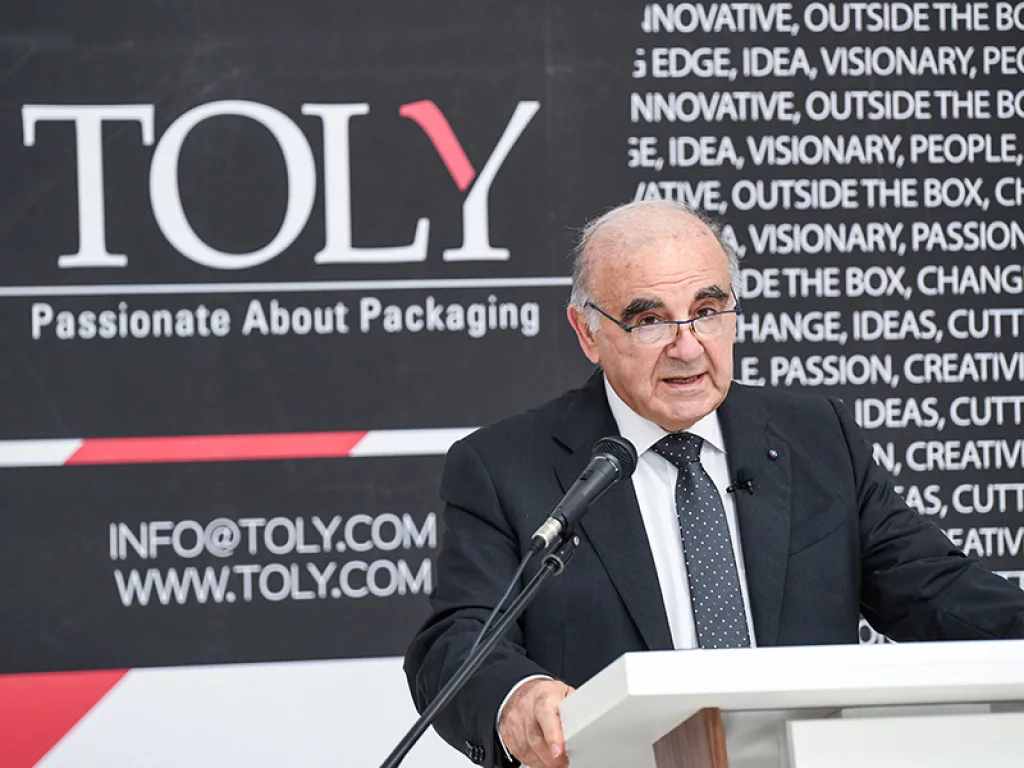 RETHINKING MANUFACTURING
Toly's presence spans the globe, with offices in the US (Los Angeles and New York City), Europe (France, Belgium, the UK, and Malta), and Asia (Hong Kong, China and South Korea).
On the manufacturing side, Toly also boasts a 20,000 square-metre factory plant in Malta.
"The plant opened up two years ago and operates with a core focus on sustainability and agility in mind," Gatesy explains. "Through this factory, we are rethinking manufacturing, and this is a really important aspect of us being a sustainable company.
"We are a plastics manufacturer but also offer glass and paper packaging and have a global network of partners that look into sustainable solutions. Our joint venture with a partner in Hong Kong offers and promotes paper packaging, and we are always on the lookout for partners who offer sustainable concepts."
This variation in services and offers sets Toly apart from the traditional industry models seen in the manufacturing space. It is the company's vision to create a global beauty product development platform made up of a network of internal capabilities and external partners, in order to form an ecosystem that offers an innovative new full-service.
Toly's strength lies in its ability to offer its customers not only diverse and sustainable packaging solutions, but also design and branding services, and even audio and visual production to support customers and meet their needs.
At the core of the company, Toly's vision is to grow from its primary position as a packaging manufacturer to a beauty development platform.
"Our mission is to partner with our customers and world leading brands, as well as new brands, to help them launch and bring their amazing products to the market," Gatesy adds.
For Gatesy, the company's purpose is to make a positive impact on everybody and everything it reaches. It is the lives that the business impacts and makes better, rather than the money made, that separates Toly from the rest of the industry.
"It's not about the money and growth," Gatesy affirms. "If, on our journey forward, we lose our passion, family spirit and soul at the expense of profit and growth, it will be the biggest mistake in the history of our company.
"We are driven by our core values that are simple: people, passion, pride and creativity, and these will remain central to our business in the future as it has been in the past.