In a country that is crazy about coffee, we chat with Gudmundur Halldorsson, CEO at Te & Kaffi, to examine what drives his organisation forward.
PASSIONATE ABOUT COFFEE
In a country as glacial as Iceland, keeping warm is essential. So, it is no wonder the people of Iceland are passionate about coffee.
In fact, Iceland takes its coffee so seriously that the country hosts competitions which place baristas and roasters against the other in a bid to find the country's highest quality brew.
Every year, the average Icelander consumes around nine kilograms of coffee beans which makes the country the world's third largest coffee consumers per capita after Finland (in first place) and Norway. In its capital city of Reykjavik, there isn't one corporate coffee chain in sight, instead Te & Kaffi is the major player amongst smaller, independent coffee shops scattered across the city.
Te & Kaffi is a family-owned coffee roastery and considered one of the leading coffee industry players in Iceland. From humble beginnings operating as a small tea shop in Reykjavik, Te & Kaffi has grown to become a major coffee brand in Iceland and possesses a 27 percent market share in supermarkets, nine coffeehouses in Reykjavik and has a partnership with well-established wholesale company working within the B2B market.
Initially founded in 1984 by Sigmundur Dýrfjörð and Berglind Guðbrandsdóttir, who is still the owner of the company, Te & Kaffi's primary focus is on coffee production and currently employs more than 100 people across nine outlets, aside from production and offices.
Guðmundur Halldórsson is the CEO at Te & Kaffi. Originally joining in 2004, he worked as a Salesman and a Sales Manager until he stepped into his current role as CEO in 2013. Having been with the organisation a number of years, Halldórsson acknowledges how challenging 2020 was but highlights how well Te & Kaffi overcame such difficult challenges.
"The industry has been different this year because of COVID-19," says Halldórsson. "There's been difficult challenges but at the same time, it has also provided a lot of opportunities.
"This year has been about keeping your head above water from day to day but also keeping an eye on how the pandemic can create business opportunities for the future. A wise person once said: 'Bad companies are destroyed by a crisis, good companies survive them, but great companies are improved by them.' We intend to be a great company."
Coffee production is an essential part of Te & Kaffi's operations. With the increased awareness of consumers about high-quality coffee, the organisation's opportunities have scaled dramatically over the years. Te & Kaffi's coffee shops provide a range of brewing methods as well as seasonal beverages.
Following the introduction of new roasting technology, the quality of the organisation's coffee is fundamentally better. The organisation has complete control over how its ingredients taste in all its beverages, while its units is a hub of innovation.
Despite the success the organisation has achieved in recent years, Halldórsson is adamant he doesn't want to get carried away and remains focused on future achievements.
"It's very important not to rest on your laurels," he explains. "You constantly need to think ahead and see how the market needs are changing. Innovation and introducing new products have been the cornerstone of our success, especially during the last few years."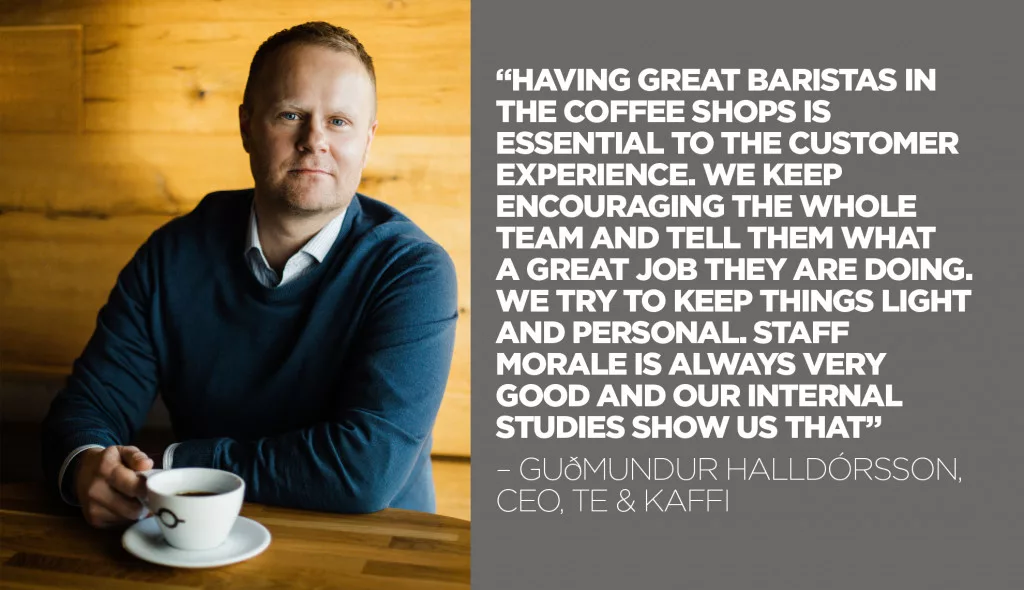 These days, companies place significant value on adopting a greener approach into operations. In the case of Te & Kaffi, the organisation is switching from propane gas to the use of cozane gas for energy source for its coffee roastery which is 100% renewable energy.
Subsequently, Halldórsson recognises how vital a more sustainable future is – not just for Te & Kaffi but for Iceland and beyond.
"Almost all electricity in Iceland is produced using renewable energy sources," he says. "We use an afterburner which is a pollution control device that allows roasters to comply with environmental regulations and to reduce gases efficiently.
"Also, we're investing in a range of packaging options designed to meet the needs of the current environmental issues whilst promoting a truly circular economy. For example, our newly launched Nespresso compatible capsules are made from plant starch and leave nothing but great taste."
Back in 2017, the organisation decided to carbon offset all its direct emisisons by the end of 2018. At the time, emissions measured at 504 tonnes, of which 90 percent lay in the roasting of coffee beans where cozane gas is used.
"It's a pleasure to announce we're already in the process of replacing cozane gas with environmentally friendly gas and using methane gas to roast our coffee from the beginning of 2021," Halldórsson adds.
At the start of 2020, Te & Kaffi set a target of becoming even more environmentally friendly. As such, it was decided that the firm would measure its carbon footprint every two years. In order to bring this vision to fruition, a team was assembled to manage reducing food waste – replacing packaging with environmentally friendly alternatives began the road to carbon offsetting.
Over the past few months, the organisation has begun to use biodegradable takeaway cups and lids which can be thrown in organic waste to break down in place of the waste produced by single-use plastic.
Indeed, during the course of 2021, all of Te & Kaffi's coffee on the grocery market will make use of environmentally friendly packaging, followed by B2B packaging and micro roast coffee and tea packaging too.
"It's our goal to continue the journey to making the company as environmentally friendly as possible and we hope that employees will take an active part in that journey," affirms Halldórsson.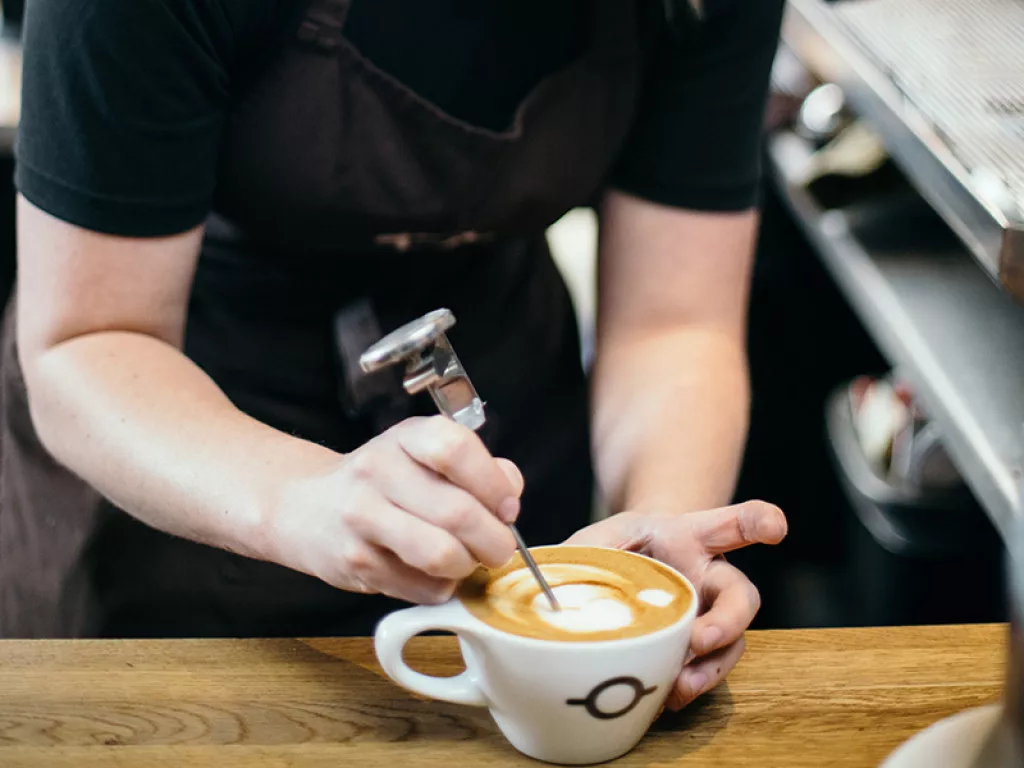 Now with over 100 employees across its units, Halldórsson is adamant that staff are the key ingredient and are at the heart of operations.
"Staff are the most important part of our success," he explains. "One of our core values is knowledge, and we take that very seriously. We have good training programmes in place on all levels.
"Having great baristas in the coffee shops is essential to the customer experience. We keep encouraging the whole team and tell them what a great job they are doing. We try to keep things light and personal. Staff morale is always very good and our internal studies show us that."
Establishing and maintaining a positive working relationship with partners is essential to long-term success and growth. In order to make this possible, Halldórsson believes that close collaboration with vendors is vital to sustained growth.
"Having great partnerships is very important," he tells us. "We work closely with our main suppliers in raw coffee beans and state of the art suppliers in all machinery; both for the coffee shops and even more importantly for the roastery."
With future expansion on the horizon, Te & Kaffi's 10th coffee shop will open its doors in the coming months which Halldórsson believes will bring even more opportunities.
"We expect it to have massive potential," he explains, ending on an optimistic note. "We're also thinking about exporting opportunities, but time will tell whether we will pursue that. We have the capabilities to produce coffee for exporting but need to build a strategy to move forward through suitable partners and a product portfolio."