Makstil is at the fore of environmentally friendly steel production practices. We speak to General Manager, Marija Dukovska-Pavlovska, about industry changes and challenges in North Macedonia and beyond.
TRANSFORMING TRADITIONAL INDUSTRY
"Makstil finds it extremely exciting to showcase itself as a true example of having transited towards cleaner production processes, and we work hand in hand with the Ministry of Environment to reach our goals."
The words of Marija Dukovska-Pavlovska, General Manager at Makstil, encapsulate the active change currently being undertaken in the European steel industry.
Majority-owned by the Swiss company Duferco, Makstil is a North Macedonian regional steel industry leader with a headcount of approximately 1,000 employees that operate across two production sites, namely the Steel Shop and the Plate Mill. Makstil's Steel Shop consists of an electric arc furnace (EAF) to produce liquid steel, a ladle furnace for secondary refining, and three continuous casting machine lines to transform liquid steel into slabs, with the company's production capacity amounting to more than half a million tonnes per year.
The Plate Mill makes up the production side of the business, where produced slabs are reheated in a pusher furnace and rolled into plates in a high reversing mill, levelled, then cooled on cooling beds and mechanically cut or flame cut to the ordered size.
The steel plates are used for applications such as shipbuilding, pressure vessels, bridge construction, mining and industrial machinery, and windmill structures, all of which require high quality and high strength. The Plate Mill gives Makstil the opportunity to offer its clients rolled plates with various dimensional ranges adapted to their needs. This represents the company's trademark and is recognised by Makstil's clients across Europe.
"As steel is an industry that has historically been associated with large amounts of emissions, I am very happy to say that is now in the past. We express pride in confirming that we are causing no direct harm to the environment through our production activities, and we have clear visibility on the impact of the Carbon Border Adjustment Mechanism (CBAM)," explains Dukovska-Pavlovska.
Makstil traditionally serves its domestic regional market and neighbouring countries, such as Bulgaria, Croatia and Serbia, with the majority of its sales in the markets of the European Union (EU), which North Macedonia is foreseen to join in the next decade according to the government's predictions. Moreover, for Dukovska-Pavlovska, the market seeing the biggest growth of late is Turkey, where Makstil's customers take advantage of the geographical proximity and availability of the company's final production output. Makstil's distinctive adaptability towards its clients' needs is also recognised across the pond, as the company exports non-negligent quantities towards the US and Canadian markets. However, Makstil's operation in the steel industry has not come without its challenges.
"The steel industry is facing particular issues linked to the availability and sourcing of the raw
materials and ensuring the uninterrupted supply chain needed in our production processes. In addition, it must confront the volatility and unpredictability in terms of prices," elaborates Dukovska-Pavlovska.
"This can create confusing ground for us, as we want to maintain optimal prices for our clients, but we also need to fulfil the various commitments that Makstil has. This includes transitioning to a more resource-efficient production process, having the least possible environmental impact, and contributing to and supporting the local communities where we operate. We also want to be at the forefront of circular economy practices, not only within the North Macedonian industry, but also regionally."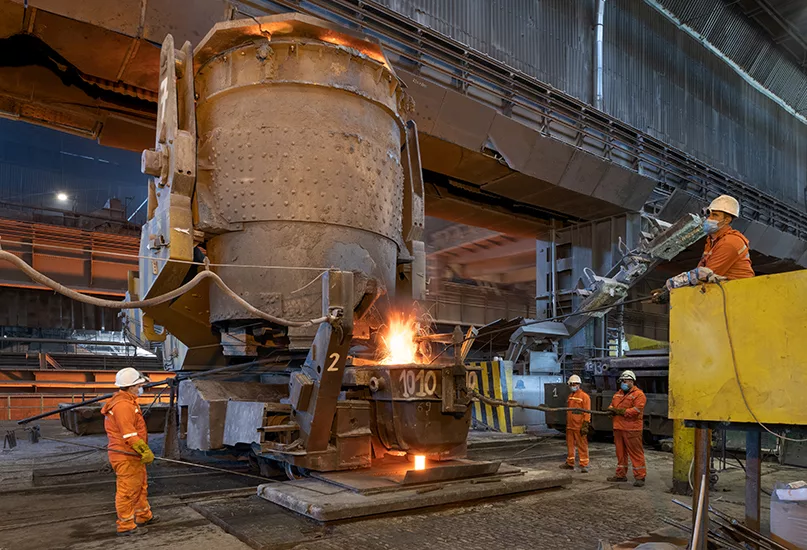 SCRAPPING OLD STEEL
By design, Makstil is a mini steel mill. Unlike the integrated mills that produce new steel from iron ore in a blast furnace (BF), mini steel mills such as Makstil melt, refine and recycle scrap metal by using EAF technology. By using this technology, Makstil belongs to the 30 percent of steel producers in the world leveraging this more environmentally friendly method compared to BF. Furthermore, as an active participant and supporter of the circular economy, Makstil only uses scrap metal as an input material for the production of slabs and hot rolled plates as a final product.
"Makstil is focused on saving the resources we use in our production processes (natural or otherwise). We actively support the concept of the circular economy by encouraging the rational use of secondary raw material (steel scrap) as well as the reduction, reuse, and recycling of waste," says Dukovska-Pavlovska.
"All metal waste generated during the production process, and part of the refractory waste, is returned to the very same production process. The remaining waste that cannot be recycled is further selected and disposed of, to be handed over to authorised and trusted partners for their own use downstream."
According to Dukovska-Pavlovska, any inert and non-hazardous waste, such as slag from an EAF, through the process of crushing and separating, is divided into fragments and is transformed from waste into raw material where it can be fully used as a buffer for road construction, as well as a foundation for an asphaltic or concrete pavement, cement, and various cement products.
This circular economy is designed to save natural resources and energy, creating added value and ultimately a healthier and cleaner environment with new employment opportunities. On top of this, it improves product competitiveness, focuses on positive society-wide benefits, and provides increased earnings that contribute to the sustainable development of modern civilisation and an economy fit for the challenges of the years ahead.
"At Makstil, we are proud to take the lead on these initiatives and believe we are setting an example not only for other fellow companies in our industry, but also towards those working in fields very different from our own," Dukovska-Pavlovska adds.
"I am especially humbled by Makstil being awarded as the most environmentally friendly company, granted by the municipality where we are based (which is also home to other heavy industry actors). The Green Agenda award from the Economic Chamber of North Macedonia further confirms Makstil's contribution towards safeguarding the environment as well as our commitment to zero waste."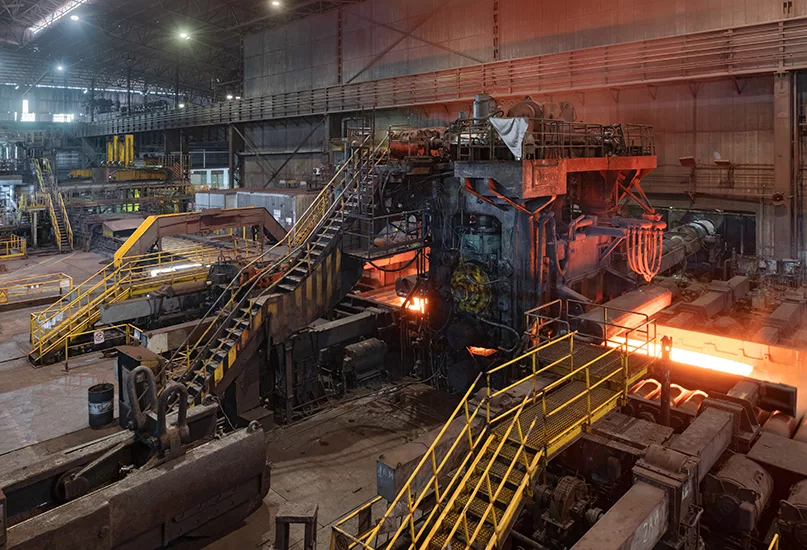 LEADING GREEN
Despite its size as a mini steel mill that produces steel plates from recycled scrap, Makstil is present in the markets of more than 40 countries and collaborates with approximately 500 customers, reaching trading destinations in several continents and meeting the needs of the most demanding clients. Makstil prides itself on offering a 45-day delivery window, with the flexibility to provide specific materials necessary for projects at the exact requested time, and answers to complicated specifications with no limitations in terms of the number of ordered pieces, dimensions, and qualities within the company's product range.
"We are recognised for our excellent after-sales service with a prompt response time, yet one of our key features of business for clients is our dedication to practices that are more environmentally friendly," Dukovska-Pavlovska says. "One of our leading environmental protection activities, from both a technical and financial aspect, was the installation of the Dedusting System in the Steel Plant (Filter Plant – FP) carried out back in 2015. Thanks to this investment, we succeeded in almost completely absorbing the dust particles emitted during the melting process. This dust is then packed, and we get further value from it as we collaborate with verified external partners for its collection and distribution outside Makstil.
"For more transparency with our stakeholders, Makstil continuously monitors the dust emissions in the air and on a quarterly basis publishes the results that are fewfold lower than allowed by local and EU norms. Makstil continued the practice of publicly announcing the emissions of solid particles emitted from the production chimneys during the operation of the factory, which once again confirms the company's commitment to promoting full transparency in its business operations."
Makstil is the first company in the country to obtain an Environment Product Declaration (EPD) for hot-rolled plates. With the EPD, Makstil confirms its commitment to protect and preserve the environment by continually reducing the environmental impact of its products. The declaration provides an overview of the objective, verified, and comparable environmental performance of the hot-rolled plates manufactured on the company's production site.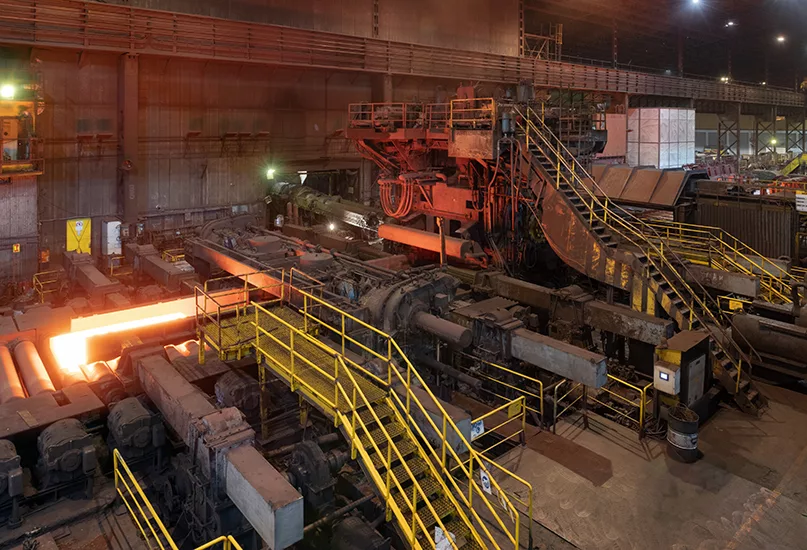 A LOW CARBON VISION
The environment and employee well-being are the twin pillars of Makstil's vision. Regarding the latter, the company has achieved significant results in employee retention and satisfaction through renewed and innovative solutions aimed at better engagement and fair reward systems and plans for its workers. Yet the business' operational focus is set on the continued sustainability-centric mission to help alter the industry for the good of the planet.
"Overall, the industry is dealing with different sets of specifics; regulatory, environmental, availability of raw materials, or qualified staff – you name it," Dukovska-Pavlovska tells us. "Adjusting an entire robust steel-making organisation with traditional business practices to new production process trends is a challenging enough activity for a female leader, especially with the new challenges regarding the transformation of production towards green steel. It is an industry environment where personal resilience and the ability to innovate is critical to staying ahead while fully satisfying and retaining the loyalty of our clients. Nevertheless, Makstil has successfully proven that this is an achievable goal despite the challenges posed."
Viewing itself as the frontrunner of environmental improvements in the heavy industry sector in North Macedonia, Makstil is following a vision to produce steel plates that satisfy the needs of its customers in an environmentally sustainable way, and it has already started with activities related to the decarbonisation process that it will continue moving forward.
"Decreasing greenhouse gas (GHG) emission levels requires the introduction of some changes in all production aspects as well as delivering goods and services. In this context, Makstil has already introduced investments in renewable energy and carbon-free sources," Dukovska-Pavlovska concludes. "We are proud of what we have achieved thus far, and we thoroughly follow the European Commission's goals of reaching net zero by 2050."
MAKSTIL PARTNERS