We speak to Marco Rossi, CEO of IRSAP SPA, about how combining design with smart and sustainable heating systems is driving the company forward.
RADIATING SUCCESS
Founded in 1963, the Italian company IRSAP SPA (IRSAP) specialises in designing and manufacturing heating systems and has gained recognition for its innovative and energy-efficient solutions in the heating, ventilation, and air conditioning (HVAC) industry.
As a leading manufacturer of designer radiators and towel rails, the family-run business began with the CEO's great-grandfather, who implemented many industry firsts.
"For example, we were the first to introduce the towel rail. Consequently, it has functions apart from heating, which is hanging towels, of course," introduces Marco Rossi, CEO of IRSAP.
After a career in consulting in Mumbai and then Milan for almost three years, Rossi joined IRSAP, which cultivated his interest in this innovative industry.
"It is an exciting sector to work in as it incorporates other industries, such as energy consumption and building efficiency. Heating is a big chunk of what we consume and produce, so we must rethink our products and how the radiator can help the transition to green energy in the future," Rossi concedes.
IRSAP strongly emphasises eco-efficiency and sustainability, with many of its products designed to optimise heating and cooling performance, while minimising energy consumption and helping customers reduce their carbon footprint.
"We can introduce innovation because the customer relationship and how we connect with clients is changing. We now receive more requests from end users interested in the product's fancy designs, colours, shapes, functionality, and sustainability.
"For example, plumbers will direct their customers to us as they are not seeking assistance in the technical field, which is an immense source of information and the first time we receive feedback. It is conducive to developing smart home products, as we now interact with the customer on how the products are used and their habits," Rossi enlightens us.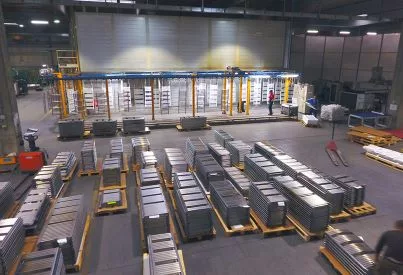 FUNCTIONAL DESIGNS
Known for its commitment to design as well as industry-leading services and products, IRSAP has worked with universities across Milan to create bespoke pieces. The company also collaborates with renowned designers to create aesthetically pleasing and functional products that blend seamlessly into various architectural styles.
"We opened the doors to design students in 2006, and Milan University was a major contributor. We gathered a lot of ideas from interior design architects; the brief at the time was that we didn't need a product that looked like a radiator, and they succeeded," Rossi recalls.
The end result was instrumental in increasing the brand's value and the perception of the company's branch of architecture. Furthermore, the products challenged IRSAP's technical office and R&D team to develop new materials and a new way to build radiators.
The resulting products were made from marble or stone, in a shape that could only be created by hand, which was the company's first approach to serious design.
"We always combine design with science and wanted to get insight from the outside. For instance, our recent smart heating system was designed together with the European Institute of Design in Rome," he states.
The students were challenged to design an innovative heating system, with the winner having a prototype made and displayed at IRSAP's stand at Salone del Mobile, the most important design exhibition for furniture in Italy and among the most prominent in Europe. Several of the designs were developed with Desall, an open innovation platform with a European-wide community of architects.
"You give a brief and then you set an award for the winner. We received an incredible number of proposals, so it was difficult to choose. We understood that climate solutions had to fit in with smart applications, and that affected the design aspect of it all," Rossi explains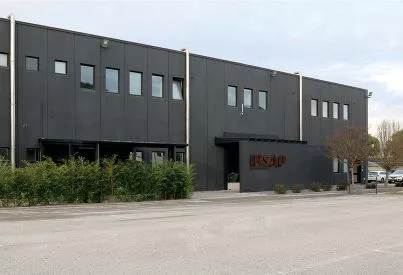 A CUTTING-EDGE COMPANY
With a global presence, IRSAP manufactures a wide range of products characterised by design, energy efficiency, and a commitment to sustainability for residential, commercial, and industrial settings, contributing to comfortable and environmentally responsible living and working spaces.
Products include radiators, towel warmers, fan coils, convectors, and other heating and cooling solutions, and the company invests in R&D to stay at the forefront of HVAC technology and provide customers with cutting-edge solutions. Moreover, IRSAP was also the first company to introduce tubular and coloured radiators to Italy.
"The next challenge is understanding how the radiator can contribute to reducing home emissions. The primary issue is the boiler or heat pump, but there are two ways in which service offerings can be improved. The first is smart devices, which can be very precise in managing the temperature at the right time in the right room – regulating the system means managing the pressure and the power of the boiler," Rossi details.
"The second step is having products which operate better at a low temperature so the heat pumps can work at its best. Even if a boiler works at 50 or 70°C, the heat pump functions better at 30 to 40°C. Usually, radiators can work at this temperature if they are the correct dimensions, which can result in a larger product. Alternatively, the answer for smaller radiators is to add ventilation."
IRSAP has launched a smart system composed of smart valves for radiators and connected thermostats to control boilers or heat pumps, allowing the end user to set different temperatures in different rooms at different times by regulating water flow within the radiator and the heat generator accordingly.
It has also expanded the smart home system to include mechanical ventilation, the type of innovation that has preserved the company as one of Italy's leading designer radiator manufacturers.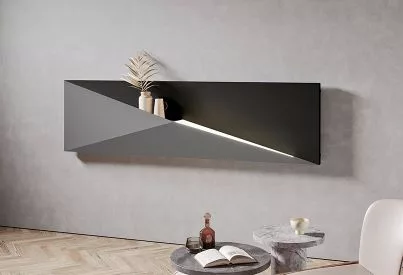 STRATEGIC COMMUNICATION
Connecting IRSAP's three product families – radiators, smart homes, and mechanical ventilation – are new communication protocols that will unlock a significant opportunity for the company.
These protocols will connect products to the ecosystems and apps of larger companies, such as Apple, Amazon, and Google, enabling products to talk to each other.
The products can automatically heat rooms faster without continuously exchanging data with IRSAP. Examples include the mechanical ventilation of air through electric radiators if the cost of electricity is lower than gas, the boiler if the use of gas is more efficient, or a combination of the two if the temperature gap is too high.
"If I want the house to be 22°C but it's at 10°C, every system will be pushed to bring comfort to the home, as the new protocols will allow us to connect everything. Therefore, technically, in the future, you could turn your mechanical ventilation system on and off, or use your heating system via your Samsung television," highlights Rossi.
Although the integration of these protocols is a huge change and creates an unpredictable future for IRSAP, Rossi believes it will add more value to its products as the protocols indicate a significant stream of investment to diversify smart systems and connect all products, whether it is hydronic radiators, electric radiators, or mechanical ventilation.
For the first time, IRSAP has launched a five-year strategic plan to drive the succession of the company from father to son. The target is to double IRSAP's revenue in the next five years, pushing the core of the business by significantly investing in connectivity, particularly mechanical ventilation – a major future trend in the HVAC industry.
"We set six pillars. Firstly, we want to see growth in markets such as the US that we are not currently present in. Additionally, we need to work on our efficiency, not only in production but also in the digitalisation of office processes.
"Design and innovation are also important, so we need to invest in sustainability and secure our workforce by creating a safe environment in which our talent can grow and develop. The final pillar is customer centricity, which dictates having a satisfied consumer," Rossi concludes.