Taking the helm of one of the largest privately owned business houses in the Gulf region, we spotlight Mohsin Hani Al-Bahrani, CEO of the ACERE cluster at Mohsin Haider Darwish LLC, as an inspiring business magnate on a mission.
A LEGACY OF AMBITION
As one of the leading conglomerates in Oman, Mohsin Haider Darwish LLC (MHD) has a prestigious legacy. Since its inception in 1974, and its subsequent establishment as a corporate entity in 1987, MHD has followed an impressive trajectory of growth and progress.
Equally impressive however, is the rise of Mohsin Hani Al-Bahrani, who at just 25 years old takes the helm as CEO of MHD's ACERE (Automotive, Construction Equipment and Renewable Energy) cluster.
A family-run business, Al-Bahrani was not deterred by the potentially daunting prospect of following in his grandfather's footsteps in joining and scaling the company.
"It was imperative, and in many ways, my responsibility, to one day receive the baton and take on the task of driving the organisation to new heights," he shares.
Through both tenacity and ambition, Al-Bahrani's efforts within the business are noteworthy. Within just one year of joining MHD as Director of Automotive, he had been promoted to CEO. This came at a critical time, as all companies were forced to weather a storm of economic turbulence during the COVID-19 pandemic. Not long after, in 2022, Al-Bahrani was ranked as a key figure in the prestigious Forbes 30 Under 30 Middle East.
"It is extremely gratifying to be acknowledged for your work and to know that you are on a good path – a path that leads to the greater good of all," he says.
"I am honoured to be a part of this illustrious group of achievers. But more than that, it's a reaffirmation of the work I have done and the impact it has had not just on our employees, but also on people at large and the nation in general."
A NATIONAL LEADER
As Al-Bahrani suggests, the welfare of the nation is a key concern for MHD as an enterprise founded on far-sighted entrepreneurial values of responsible corporate citizenship whereby both country and company benefit. Indeed, from the company's very beginning, its development and successes have been intrinsically linked to the progress of Oman as a whole.
"The growth of the company has kept pace with the tremendous progress the Sultanate of Oman has achieved under the wise and able leadership of the Late His Majesty Sultan Qaboos bin Said and continues to align with the new renaissance under the able leadership of His Majesty Sultan Haitham Bin Tariq Al Said," he comments.
"MHD has been a great partner in the nation's progress over the past few decades and it was only logical for me to align with and join in this path to greatness that Oman has embarked upon."
Several initiatives pioneered by Al-Bahrani have been instrumental in this regard, including the introduction of iconic brands within the automotive segment that have led to the creation of much needed employment opportunities while also contributing to Oman's overall socio-economic development.
"Drawing on my business acumen and resilience, I was able to bring in niche brands such as McLaren Automotive, ABB EV Chargers, Varta Batteries, XCMG, and Weir Trio,"
he says.
Other developments within this branch have included merging the Tyres and Batteries division, to facilitate the growth and expansion of major names including Michelin, BF Goodrich, Riken, and Eneos.
"I have also been active in promoting MG Motors in the Sultanate. In 2019, the brand ranked 15th in terms of local sales volume, according to the MEAC Report. Now, it occupies second position behind Toyota," Al-Bahrani shares proudly.
This increasing prominence for MG Motors is largely thanks to MHD ACERE's launch of e-commerce operations for the brand, whereby consumers can purchase a car in just three clicks.
"This launch was intended to help MG reach a wider customer base and maintain a continuous relationship with current customers and partners. In addition, to provide a premium, personalised experience to our niche customers, I enhanced the e-commerce platform of Jaguar Land Rover," he continues.
With regards to the MHD ACERE entity as a whole, Al-Bahrani has overseen significant expansion across the sales and aftersales network in the wake of the COVID-19 pandemic, establishing seven new sales facilities across Oman and increasing its aftersales facilities from three to 12 in the space of two years.
"These moves have enabled MHD ACERE to achieve its goals of delivering utmost customer satisfaction and improving overall brand awareness," he affirms.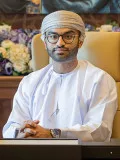 DRIVING DIVERSIFICATION
A key part of Al-Bahrani's strategy as CEO is centred on diversifying MHD ACERE's operations, setting up new verticals to enhance its reach and product offering. To date, this has included the launch of MHD Leasing LLC, which caters to Oman's tourism industry, and its newly formed healthcare division which fulfils a critical role in supporting the nation's well-being in a practical and physical way.
"Under my remit we have partnered with some of the leading global brands in the medical sector such as Spark Meditech, Comen, Schrack Seconet AG, FUJIFILM, and Sonosite, to bring some of the best medical equipment and practices to the Sultanate," Al-Bahrani elaborates.
"This HospiCare division of MHD ACERE also supplies intra-aortic balloon catheters, hernia repair meshes, and other vital equipment to top medical organisations and hospitals in the country."
As with all socially responsible corporate citizens, MHD ACERE demonstrates an awareness of environmental concerns, and seeks to tackle the immediate threat of global warming and climate change.
"I have introduced sustainable business practices to MHD ACERE and established the Renewable Energy and Electric Vehicle (EV) Chargers division" he shares.
The aim of this division is to drive technological innovation, powered by clean energy. In addition, Al-Bahrani recently signed a contract with ABB, a pioneering technology leader focused on digital industries, for the supply of high-power EV chargers that will be installed throughout the country.
"There is no doubt that e-mobility is growing across the globe and my aim is to be among the pioneers providing the best green and sustainable solutions in Oman."
Through this powerful combination of passion and ambition, Al-Bahrani will continue to build on the legacy of MHD while developing the nation with a focus on sustainability, and innovation.
"Our ambitions are not just limited to the organisation but transcend to a national level. We are one of the key partners in Oman's Vision 2040 plans and as such, seek to be the biggest contributor to the achievement of the charter and the eventual progress of this nation," affirms Al-Bahrani, hinting at the pursuit of greater expansion across both sectors and geographies.
"For us, the sky is not a limit."