Michael Peither, CIO and co-Founder of VoltStorage GmbH, tells us about the company's innovative battery storage solutions that are spearheading the renewable power sector and aim to provide industry-leading energy security.
CLEAN ENERGY DAY AND NIGHT
VoltStorage GmbH (VoltStorage) is pioneering the field of redox flow storage technology as it strives to provide the ultimate usability of renewable energy with forward-thinking solutions.
To further its objective, the company's technologies and applications are significantly contributing to a sustainable future. It is regarded as a gamechanger in the provision of renewable energy and the much-needed energy transition, providing resource-efficient and environmentally-friendly storage solutions.
With its services and developments, the company aims to deliver to both commercial enterprises, offering storage solutions based on Vanadium redox flow technology, as well as industrial enterprises with its Iron-Salt-Battery (ISB) technology, which is utilised for large-scale and grid facilities.
"With sound industry expertise, we are continuously optimising redox flow technology for various areas of application," Michael Peither, CIO and co-Founder of VoltStorage introduces.
"This means that we rely on a multi-technological approach to cover various application areas of stationary battery storage solutions."
Due to VoltStorage's proven and tested technology, customers from a variety of sectors, including trade, industry, and agriculture, will be able to secure their energy needs during periods of low wind or low sun – times in which conventional forms of renewable energy might struggle.
In addition, the company's active R&D on redox flow technology represents a revolutionary resource for energy companies and their respective long-duration energy storage (LDES) needs. Consequently, the benefits of these developments are endless.
"Due to its unrivalled low costs and particularly high-temperature resistance, redox flow technology and ISB can ensure the provision of base loads from sustainable energies.
"This includes a 100 percent integration of renewables across the year (inter-day/inter-week storage), the replacement of gas peaker plants, and reducing the load on the power grid," Peither explains.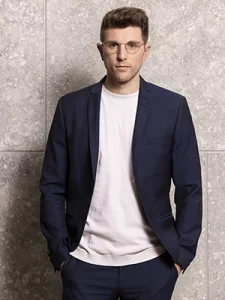 A BATTERY-POWERED FUTURE
In the current technological landscape, battery technology is crucial for the integration of renewable energy sources into the wider national grid. This is thanks to the guaranteed storage of energy that redox flow battery power facilitates, ensuring an optimum energy supply at times when the sun and wind are absent.
Alongside the dynamic development of the renewable energy sector, the cost of batteries has reduced in recent years, and this is expected to continue. Additionally, innovations in materials, manufacturing processes, and economies of scale are expected to further decrease the cost of batteries, making them more affordable and accessible for widespread use.
Furthermore, ongoing R&D efforts in the battery solutions sector are focused on improving the energy density, lifecycle, safety, and efficiency of battery technologies, whilst new chemical processes are being researched with a view to improving performance and sustainability.
The adoption of distributed energy storage systems is expected to rise, enabling VoltStorage to store excess energy and use it when needed, thus reducing reliance on the grid and contributing to its stability.
"This highlights how important it will be to develop battery solutions based on non-critical raw materials with secure and reliable supply chains. This is a crucial aspect in today's energy storage, as most current solutions depend on material that is problematic and has unstable supply chains," Peither informs us.
"We see ourselves in a developing market with potential growth, particularly in response to many governments and regions implementing policies and incentives to promote energy storage deployment – including subsidies, tax credits, and regulatory frameworks that encourage investment in battery storage," he adds.
SOLUTIONS FOR TOMORROW AND BEYOND
In July this year, the European Investment Bank (EIB) announced that it would support innovative projects with a venture debt loan of €30 million to co-finance the development and commercialisation of VoltStorage's innovative redox flow battery technology.
This will address both the needs of commercial and agricultural businesses, and contribute to scaling up the development of the new and groundbreaking ISB technology.
On top of this, the EIB's loan will accelerate the company's mission of making renewable energy available day and night and advance the transition to a more sustainable and resilient future.
"Our vision of "100 percent clean energy day and night" leads to diversified technology solutions for energy storage, built on non-critical raw materials and reliable supply chains.
"By doing so, we want to provide answers for today's and tomorrow's energy requirements, as well as aiding the utilisation of clean energy for commercials, small to medium enterprises (SMEs), and grid-scale installations, contributing to a much-needed energy transition," concludes Peither.
---
VOLTSTORAGE MANAGEMENT EXPANSION
Since October 2023, VoltStorage has expanded its organisational structure as it commences its next stage of development. The company has elevated previous efforts in innovation, business advancement, and R&D to new strategic heights.
Effective from the 1st October 2023, Michael Peither, co-Founder and former CTO, is taking on the newly created CIO position, whilst the former COO, Verena Graf, will succeed him as CTO of the company. New to VoltStorage, Michael Reinartz, former Vice President for Production and Logistics at solar energy specialist Sonnen GmbH, will assume the role of COO, overseeing production organisation, warehousing, and logistics. Reinartz will also be responsible for establishing the mass production of the redox flow storage solutions.
With the expansion of the leadership team and the redefinition of the company's areas of expertise, VoltStorage will be able to further advance its growth strategy, characterised by the development of two technologies in the field of redox flow batteries.
By the end of this year, the company will have moved to a brand-new production and office facility, tripling the size of its current facilities and allowing for state-of-the-art R&D as well as production and service.