"We are driven by an absolute passion for the sustainable future of transportation." We speak to Madelein Smit, CIO of EVBox Group, about the company supplying Europe with the most advanced EV charging solutions.
EURO ELECTRIFICATION
As of the past few years, the international manufacture, production and purchasing of electric vehicles (EVs) has swelled in line with a growing global recognition of environmental betterment, and the increasing efficiency and performance of EVs themselves.
And naturally, alongside this rising mass-use of EVs, domestic and public charging points have become a must-have for many households, and certainly a necessity for cities and urban infrastructure – introducing EVBox Group.
At the forefront of the EV charging space, EVBox provides flexible charging solutions for businesses and homes, empowering forward-thinking customers to help build a sustainable future. These scalable charging solutions allow businesses to incorporate EVBox's solutions en masse and completely revamp the way they operate.
"We have over 250,000 charging ports across 70 countries," Madelein Smit, Chief Information Officer (CIO) of the company, tells us proudly. "Mobility is a key part of our everyday lives and EVs have reinvented the way we travel, especially when you realise that traditional fossil-fuel road transport is one of the largest contributors to global pollution."
For Smit, this mission of replacing the wide use of traditional fuel use to electrification is at the heart of the company. Founded in 2010, EVBox exists as the oldest EV charging solutions provider in the whole of Europe.
"By 2023, we aim to have installed one million charging ports and will have made an even greater mark on European transport, making it increasingly cleaner and allowing EV charging to be more accessible and supported by infrastructure expertise and software to help customers," Smit explains to us.
"We are driven by an absolute passion for the sustainable future of transportation."
And this aim is not simply a distant ideal – it is very much a present need.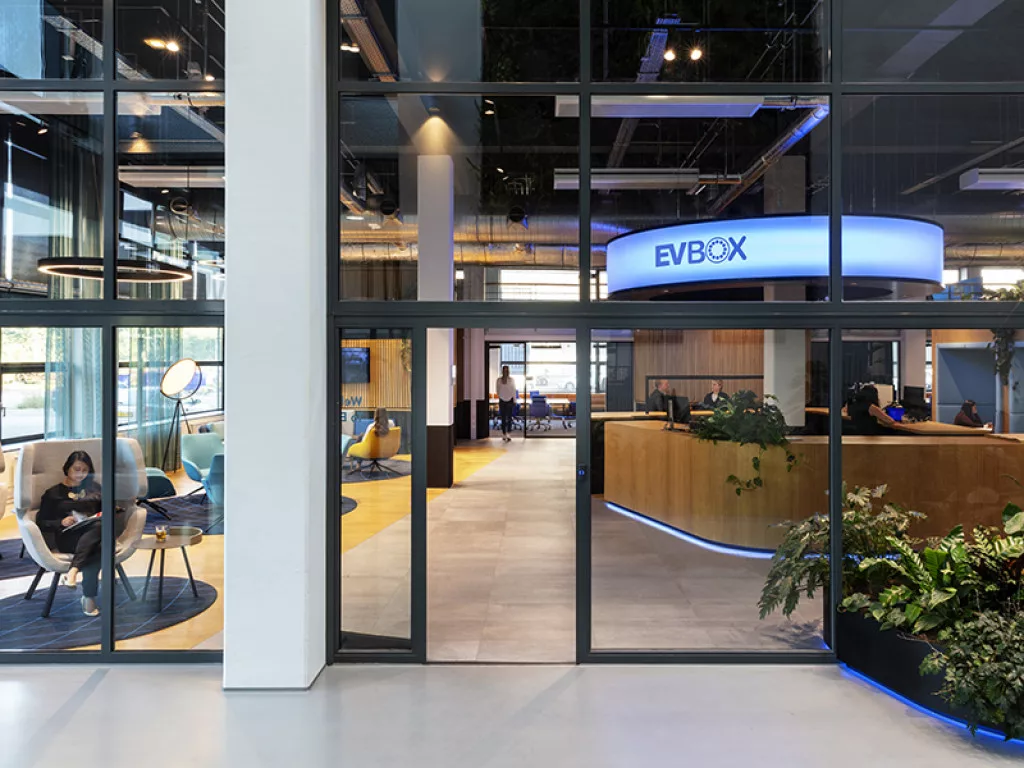 AT THE FOREFRONT
Headquartered in Amsterdam, the Netherlands, the country serves as a constant reminder of the large-scale issues that man-made environmental issues could cause. 26 percent of the Netherlands itself sits below sea level, and the very real notion of climate change, rising sea levels and flooding forces the nation to think about how people can prevent disasters and coexist with the environment for the betterment of both.
"Climate change is very real for people in the Netherlands," Smit elaborates. "Cycling is a primary form of transport, and the country is making huge investments in the hydrogen space. It is also presently the country selling the most EVs proportionally.
"The Netherlands, alongside the Nordic countries, are taking the EV change very well and has made the EV charging space incredibly exciting. Amsterdam is effectively the Silicon Valley of EVs."
In order to expand the reach and use of EVs, EVBox offers its customers a full portfolio including hardware, software and services, while boasting one of the fastest charging solutions in the market, as well as employing teams of dedicated professionals who make EVBox what it is.
"We have great R&D facilities that we keep investing in, but the most important and greatest asset we have is our people," Smit continues. "We ensure that EVBox is an exciting and interesting company to work for in order to attract and retain the best talent in the field.
"We put our people first so that they can put customers first. I think that really makes the difference, and as one of the oldest companies in this industry, our long track record of positive employee experience."
EXPERTISE IN THE FIELD
On top of its teams of experts spearheading the company's operation within the EV charging solutions space, key business partnerships stand out as another primary driving force behind EVBox's continental coverage.
"We are only as strong as our network, so our partners are a core element of EVBox," Smit explains. "We really have to build and grow these relationships. In IT for instance, we have a great cooperation with Accenture and Salesforce who support our functionality.
"Accenture and Salesforce provide us the ability to scale up our operations, for example scaling up our IT support for our new assembly and distribution plant opening up in Libertyville, Illinois (US), where logistics and organisation in the face of differing time zones becomes an important aspect of the company's success. We are already the market leader in Europe, and we made a very conscious decision to enter the US. We already have small sales offices in New York City, San Francisco, and Los Angeles, but Libertyville will really become the hub of our American operations for distribution, assembly and modular manufacturing."
Building these relationships is key to EVBox's ambition towards becoming a platform company and exist as businesses that play a critical part in the company's facilitation of products.
"We are only as good as our supply chain, and our relationships show how dependent we are on each other to provide the best EV charging solutions in the market," Smit assures us. "We are driven to develop products that fit in an ecosystem of collaboration and facilitation."
EVBox's association with external companies also encompasses becoming a part of something larger than itself. Linking directly with a core mission of increasing sustainable transport across Europe (and beyond), EVBox has become a company aiding this mission at the highest levels, as Smit explains.
"Governments and authorities around the world are trying to figure out how they are going to go green and how they are going to deal with their climate goals," she tells us. "EVBox has partnered with Tesla among a consortium of 20 other companies to put forward proposals to governments regarding the delivery of smart energy, such as solar panels and EVs, in order to build an ecosystem based on large-scale collaboration."
"Empowering forward-thinking customers to help build a sustainable future"

EVBox
A DIGITAL FUTURE
Having entered the industry as a modern start-up back in 2010, EVBox has the advantage of being established during a progressively digital period, allowing a more seamless integration of digital tools and platforms to help it operate.
"We run a Google Cloud Platform stack for everything, and we can keep refining the way that we support customers," Smit elaborates. "Since the beginning we have been able to work from anywhere with any device, and especially in the past year this has meant that we have been able to provide this support during a time that was trying for many companies and people.
"It is important to maintain this digital nature as a backbone for EVBox while we scale and grow."
This scalability is key to EVBox's current plans for its entrance into the US market; a new frontier for EVBox in the EV charging solutions market. On top of this, EVBox's aforementioned aim to establish a substantial total of one million charging ports across Europe by 2025, reinforces its sustainability mission that sits at the core of its operations. With this mission at heart and its continual expansion, it is safe to say that EVBox could soon not only be the market leader in Europe, but across the pond as well.